––Adrian Hayles Yonge Street Mural 22 storeys high just south of Carlton St in downtown Toronto. Including video clip and photo from street level view
Adrian Hayles Yonge Street Mural
One by @adrianhayles from last week during that heat wave.
The only way to show this is via video from street level. He has been working on this for weeks on that window cleaner type ledge. Twenty Two Stories high !
FYI for out of the city people – this is on the busiest street in the city in one of the busiest parts of the downtown core.
He did the other side of this same building last year with a similar theme. Its various Canadian musicians.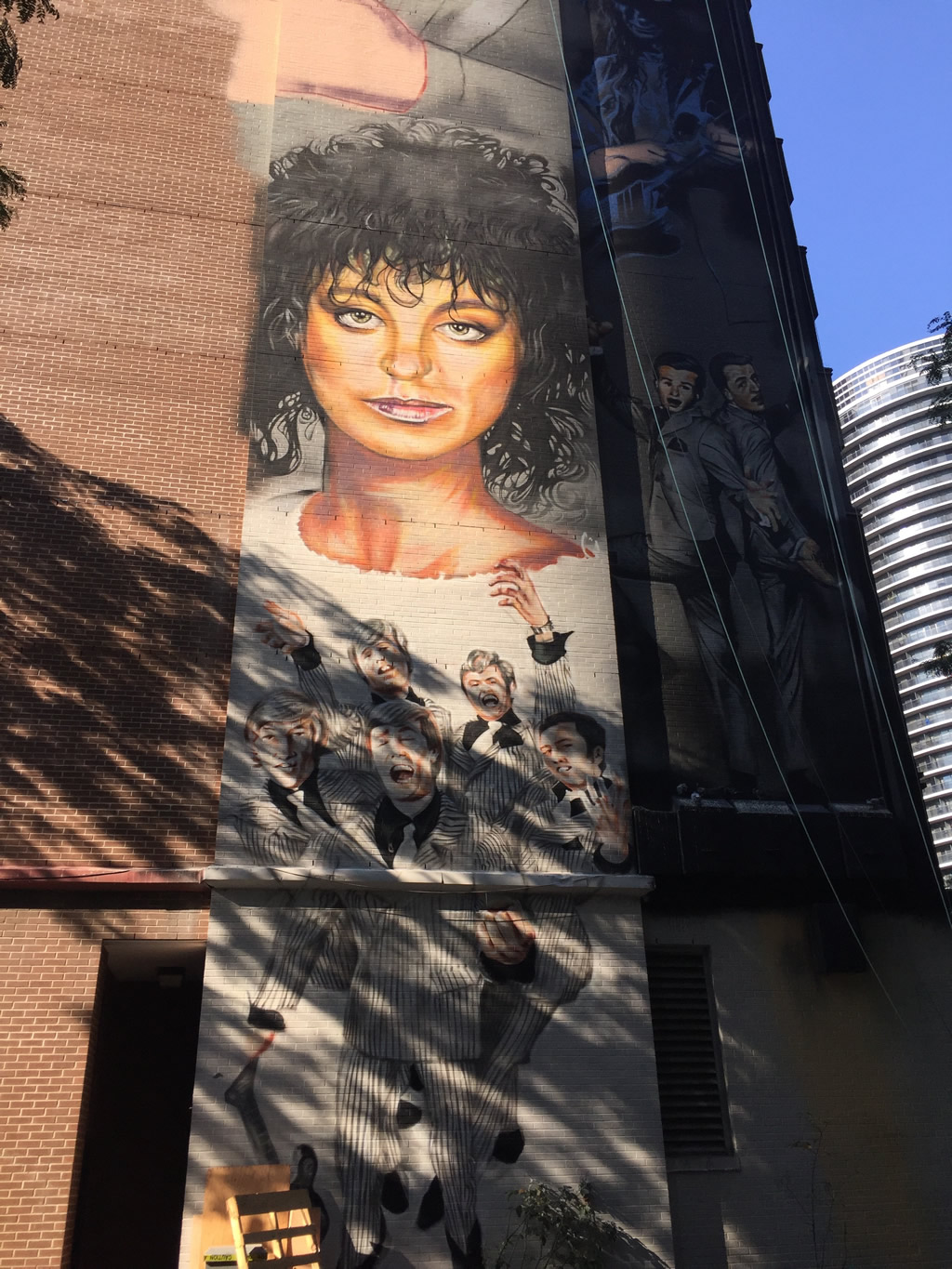 The lady in white is Carole Pope (who I met once at a music award party). The rest of the people he has listed on his instagram.. some of them I don't know.. Here are the ones that he has listed Mandala – John Lee and the Checkmates – Dizzy Gillespie – Rush (everyone probably has heard of them) – Goddo – Salome Bey – Jay Douglas – Lonnie Johnson – and The Band – up at the top… I think.
When I went by last week… he wasn't working on this.. but it was 31C degrees outside and really humid. Plus, it gets hotter the higher up you go. It looks like @bkez is assisting on this. She assisted last year 2 on the other mural.
When I was taking pictures of the art on the building two people were asking me who did the mural. Once guy actually works there and was really blown away by this mural. Then a lady asked him who did the art and he referred her to me.
This mural artist is a DJ as well – which might explain why a lot of his murals have musicians featured. I've noticed 3 of his now with Canadian artists in them.
Can't wait to see more of this …as it progresses
Toronto Street Art Graffiti At this Location