KJ Bit Laneway Garage Door Mural Jam
Over 30 artists were participating this year. The weather wasn't the best but that didn't dampen the mood. I popped by a couple of times to see the ongoing progress.
Some of the artists I've known from different projects and others I have never seen their work before. I'll probably do a few posts for this project.. but I wanted to show the vibe from one of these laneway sessions.
Drippin Soul Mural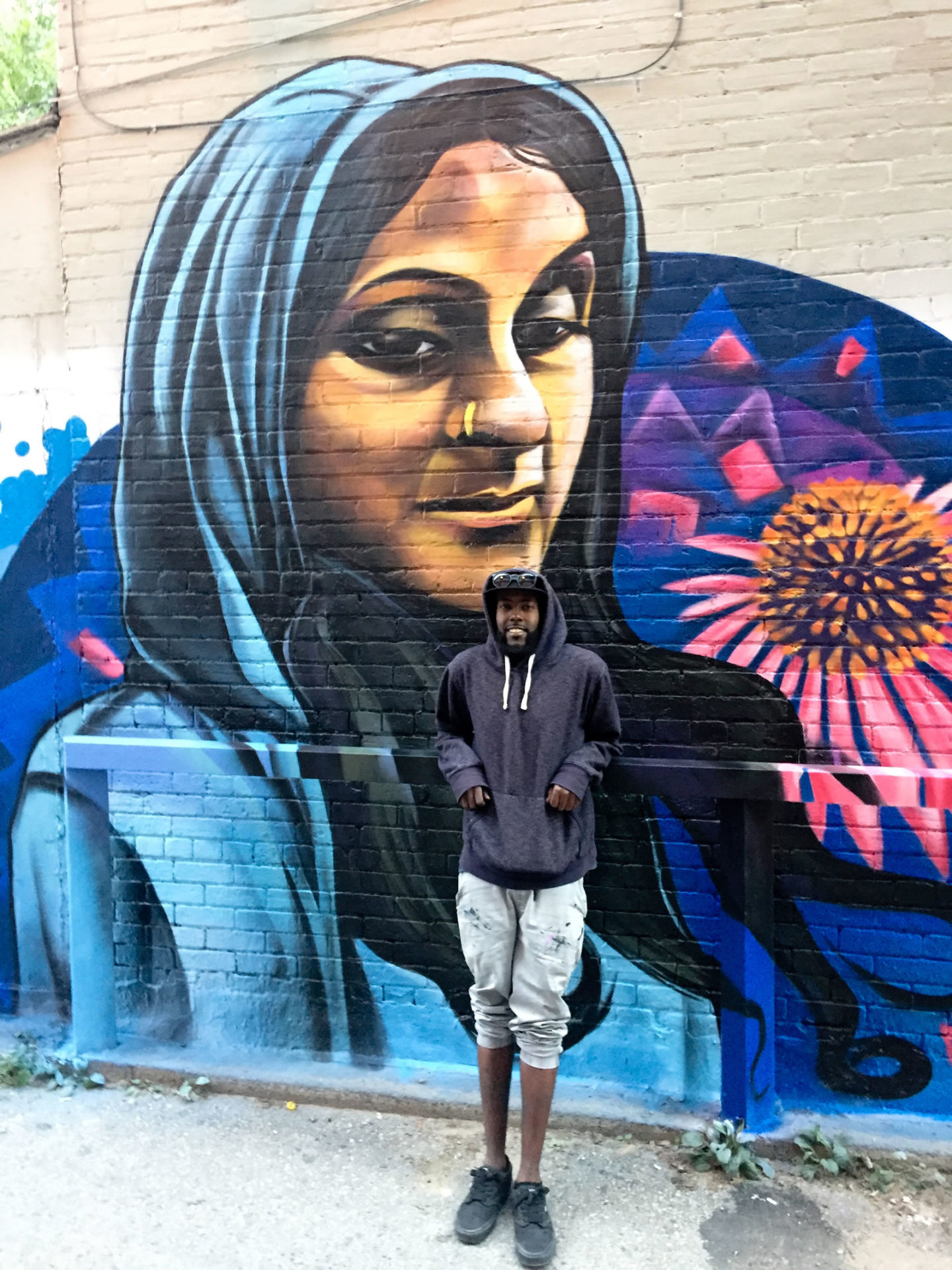 Drippin Soul made this one at the entrance to the alley and it's of his wife ! For her birthday ! How romantic !
Had a bomb time at the #bitlane painting with a bunch of artists….thank you @kj.bit and @start_streetartoronto for having me…still a few touch ups to go!
Happy Birthday @namagiri_s ! ❤

Instagram
(b. 1982, Ethiopia) I am a multidisciplinary artist specializing in figurative and iconographic paintings and murals. As a muralist I have successfully completed projects for a variety of clients and stakeholders including the City of Ottawa, City of Toronto, Vanier BIA, Byward Market BIA, Ottawa Art Gallery, as well as many private commissions and community murals.

http://www.kalkidan-assefa.com/
Frannie Potts Garage Door Mural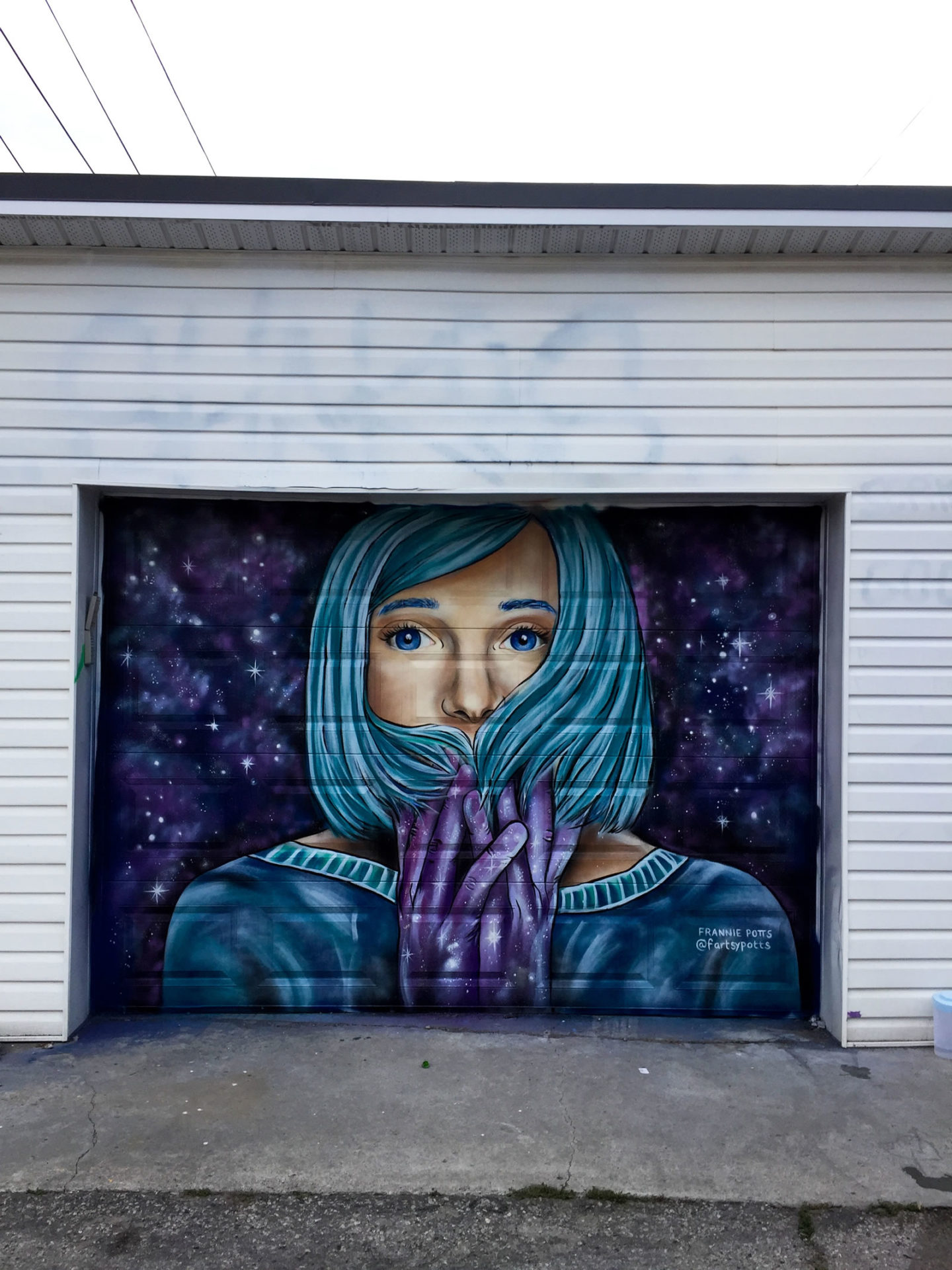 I don't much about this artist even though I've seen her working a couple of times.
From her Instagram:
🎨#Toronto based #painter and facilitator
🌸 DM for commissions or inquiries
Gosia Komorski Garage Door Mural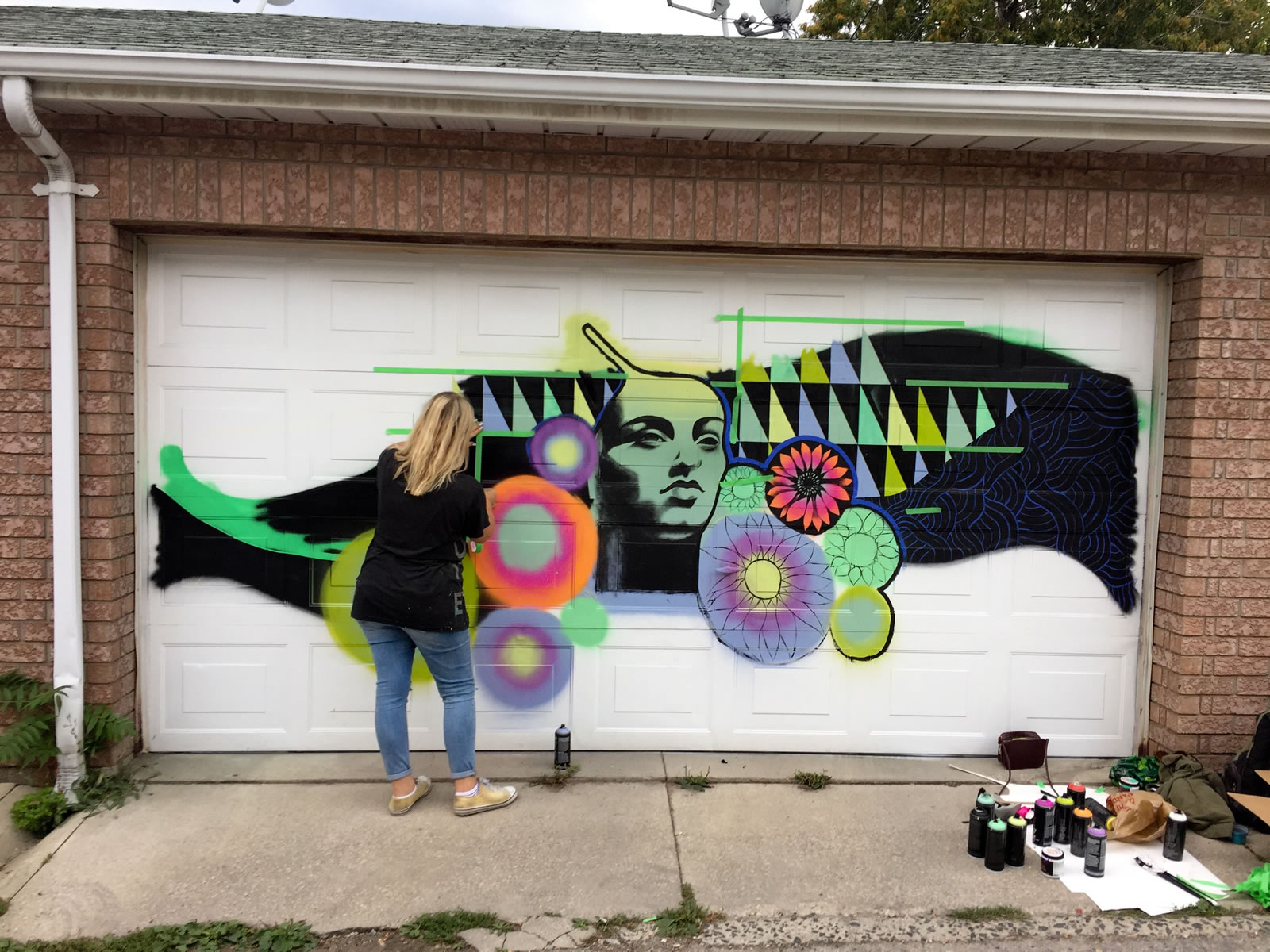 I've met Gosia a few times now.. she describes herself as a "Mixed Media Artist".
Julia Prajza Garage Door Mural
First time meeting Julia and she's really nice ! Her work incorporates a lot of typography.
I took a look at her website:
By day I work as an Art Director and Graphic Designer at a creative agency downtown. And by night, (and on weekends) I transform into a Hand Letterer, Muralist, and most recently a Calligrapher.

http://www.juliaprajza.com/calligraphy
Meaghan Claire Kehoe Mural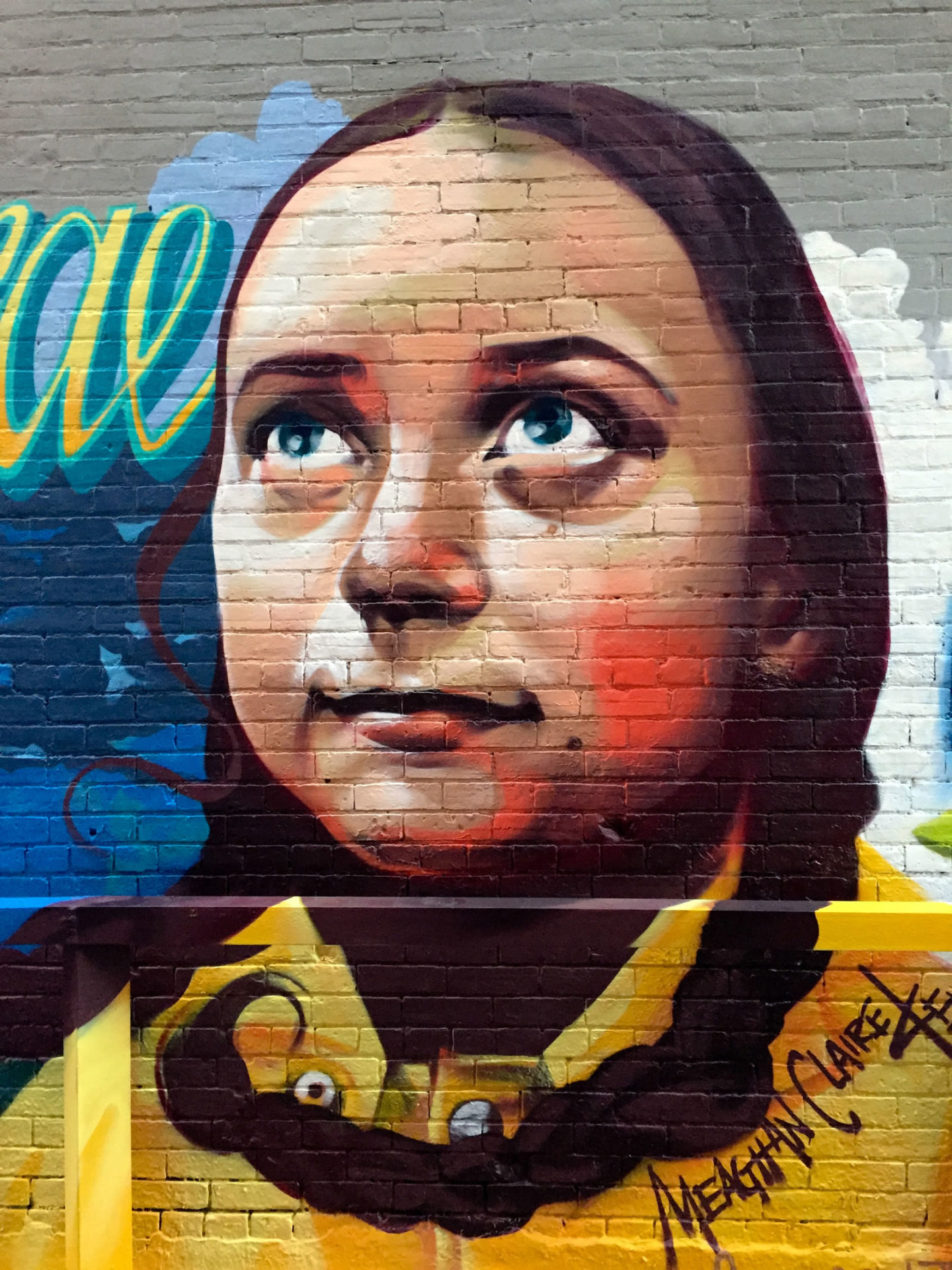 This is of Greta Thunberg the Swedish teenager who is bringing awareness to the climate crisis. This is actually next to the Drippin Soul mural.
"Meaghan Claire Kehoe is an emerging full-time artist local to Oshawa, Toronto and Waterloo.
Her murals can be enjoyed in over 50 Starbucks cafés across southern Ontario as well as in other commercial and private spaces like Food Basics and Brickworks Cider House, as well as public areas such as Toronto Underpass Park, London Convention Centre, and Kitchener City Hall.

https://www.meaghanclairekehoe.com/about
Oriah Scott & Anya Mielniczek Mural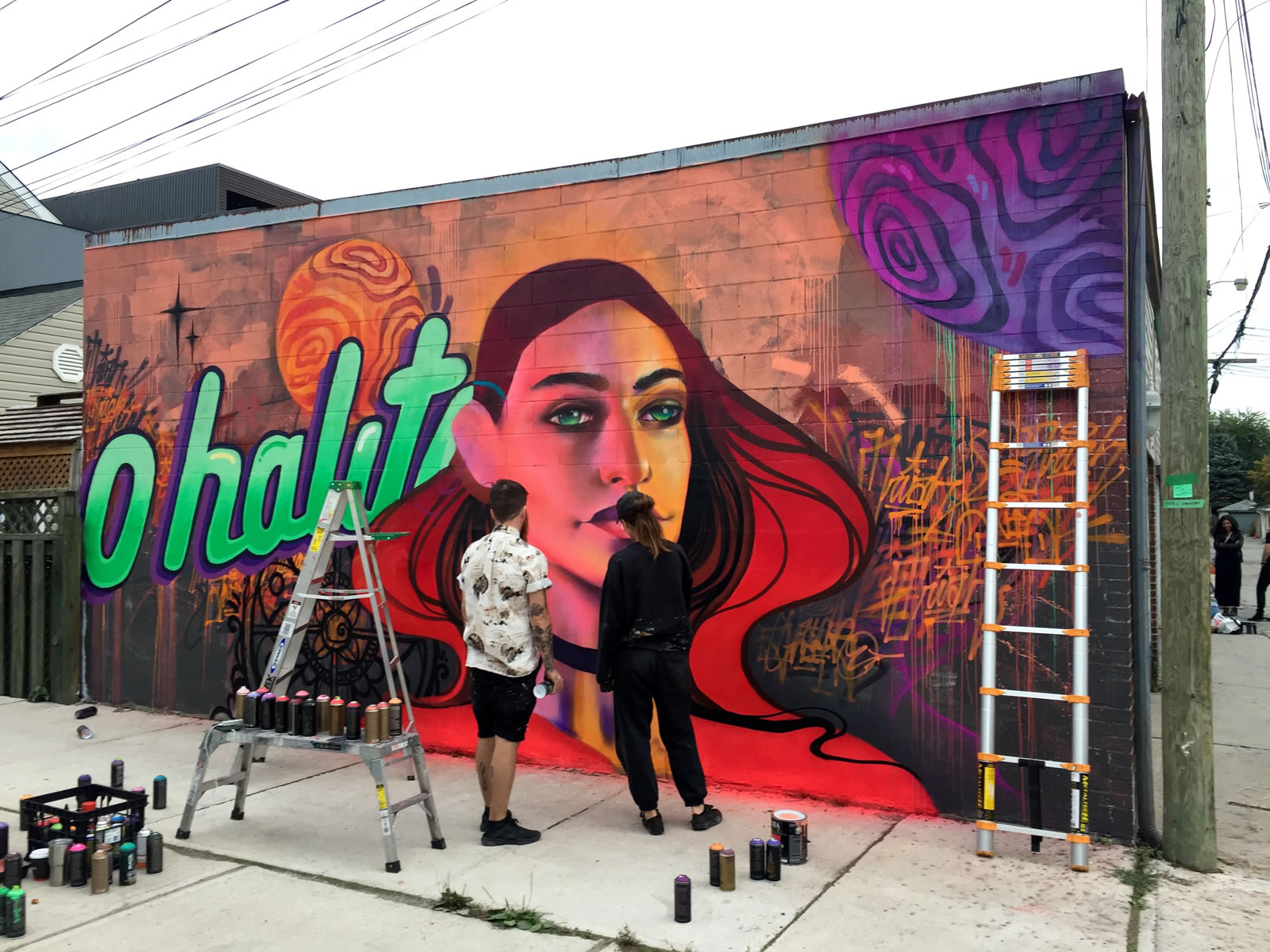 Oriah and Anya were working on a collaboration. It's about the Amazon and bringing awareness to the environment.
Ren Lonechild Garage Door Mural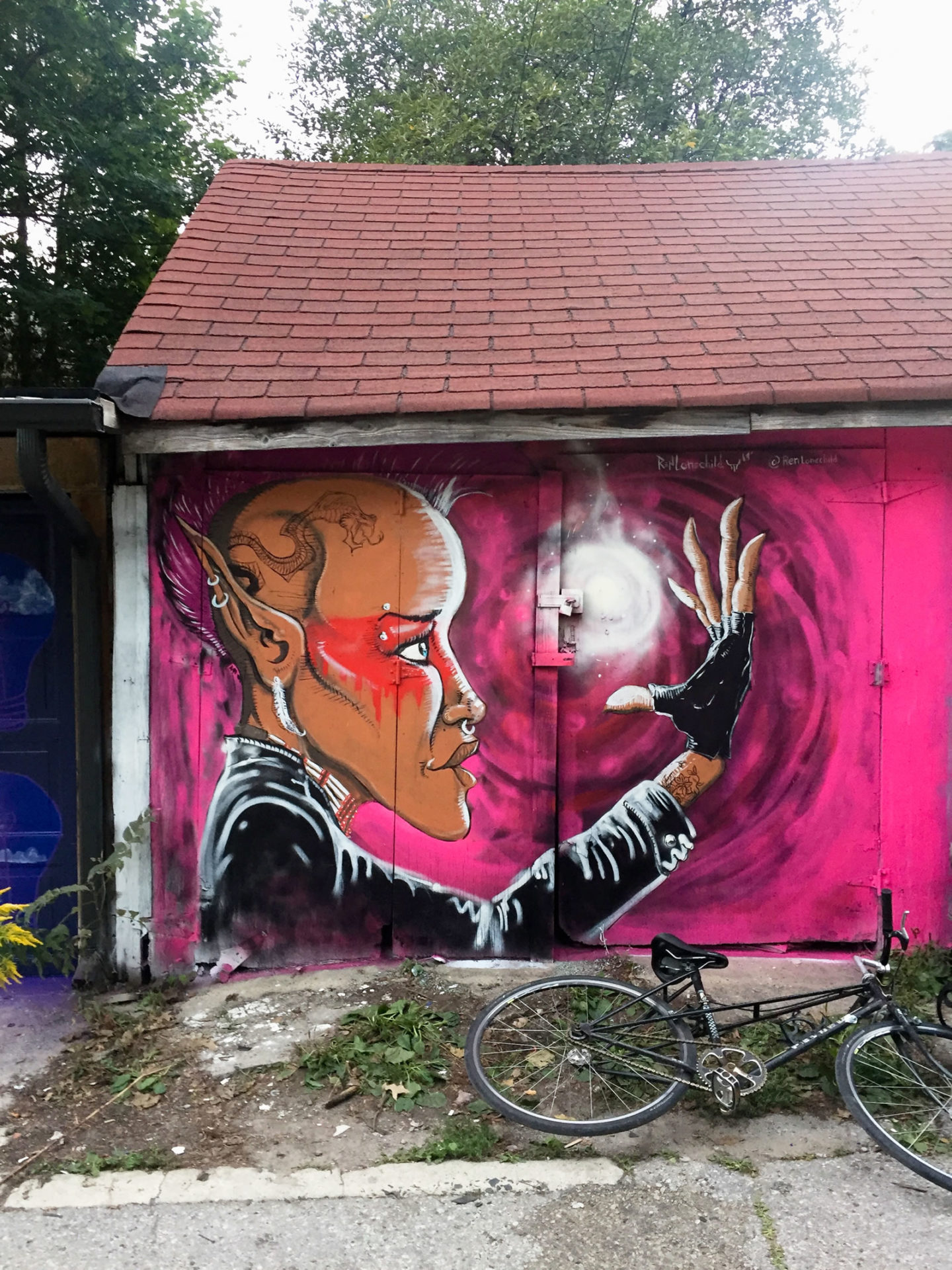 I haven't seen Ren Lonechild's work before.. so I took a look at this Instagram.
And his Facebook page:
"My name is Ren Lonechild, Cree Native American..
I have been drawing for as long as I can hold a pencil/crayon etc.. My father is a professional artist in Saskatchewan along with my uncle.. so I have been raised around art. I never really have a theme or anything particular that I base my pieces on… whatever catches my imagination at the time. however I do like Dark art. I like to make the darkness, the gritty side of our world, our imagination, our fears… beautiful. when you can see the morbid, scarey side of the darkest corner of our imagination and see past all the ugliness.. it really is an amazing world..

Facebook
Wenting Li Garage Door Mural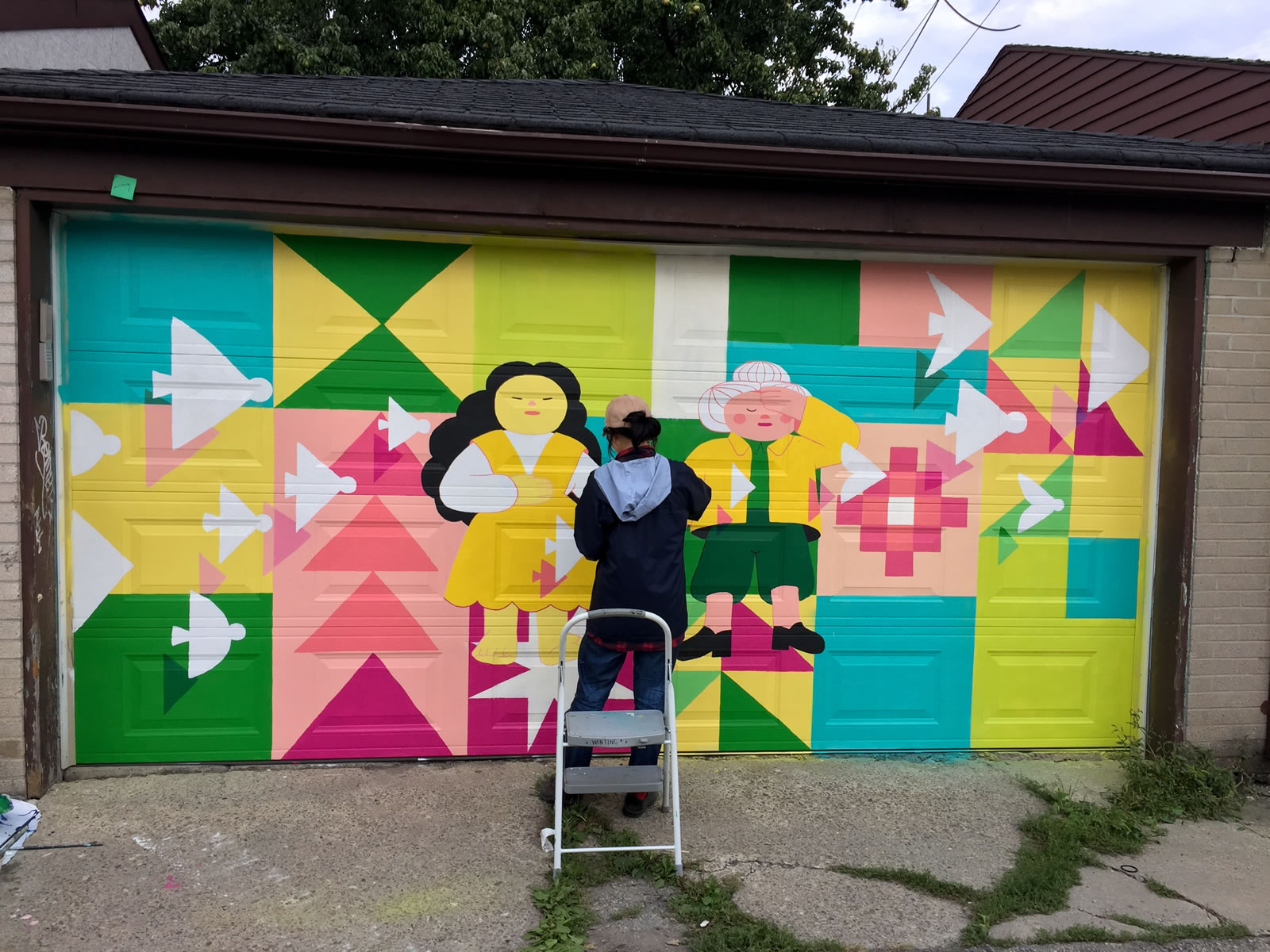 Another artist who I wasn't familiar with… so I looked up her website:
Wenting Li is an illustrator & inveterate reader working out of Toronto. Her work is preoccupied with colour and movement, the relationship between shapes, and the subtleties of complementing story with picture.

https://www.wentingli.com/
Jieun June Kim Garage Door Mural
And that is Jieun in front of her mural that she painted last year for the same project.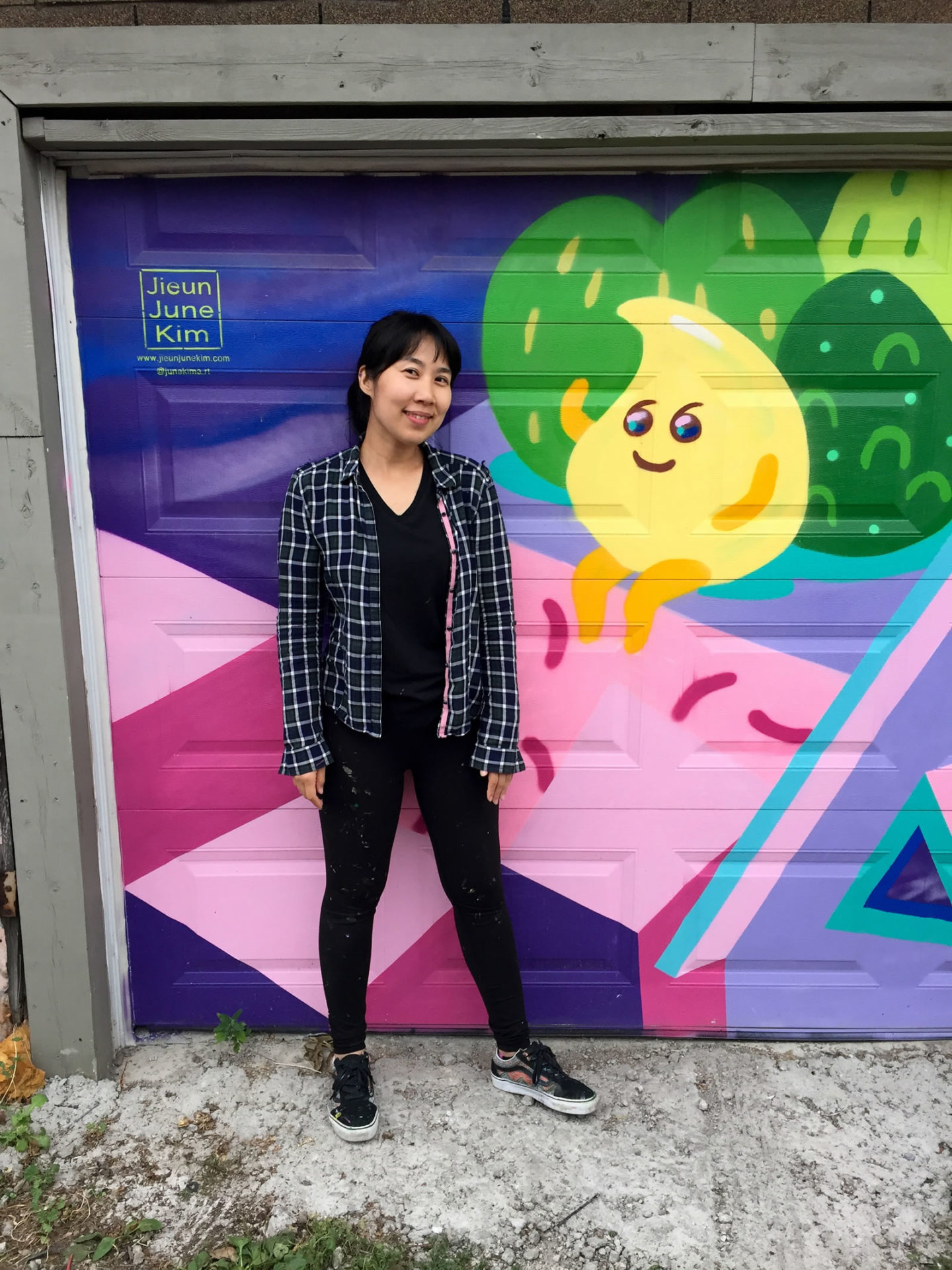 Jieun June Kim is a Toronto based, Korean born painter and muralist. She has exhibited her paintings around the world since 2010 at notable galleries and events, exploring the idea of "home" as an immigrant and creating safe space.

https://www.jieunjunekim.com/
She was one of the organizers so she was pretty busy this year.
Monster Mural
I don't know who this is by !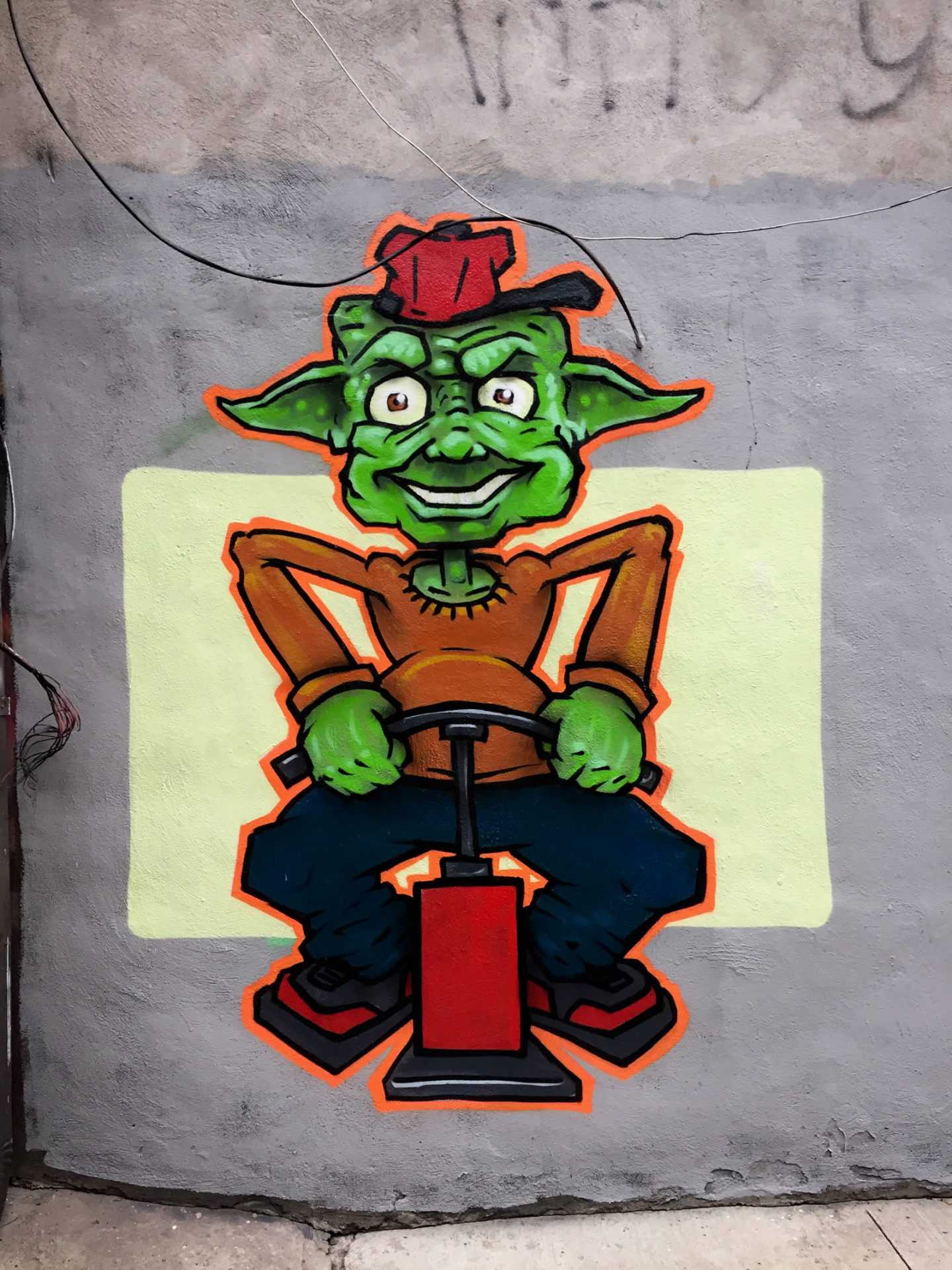 This was all organized by @kj.bit
You can check out their Facebook for more information.
KJ Bit is an emerging collective who want to brighten the streets of Toronto with artwork! Members Jieun June Kim and Erika James share a common interest in community-engaged arts and we want to invite local residents and emerging artists to paint garages in Euclid laneway to deter graffiti vandalism. Jieun recently moved to Canada from South Korea, and Erika has been working in community-engaged arts for two years. Since meeting at a Mural Arts Career Development program for emerging artists/program managers in April, we've worked collaboratively on several projects. Our name uses the Korean word "bit" which means "brightness, gleam, illumination, and radiance" and we want to bring this "beam of light" to our vibrant city!

https://www.facebook.com/kjbit/
Toronto Street Art Graffiti Found Here: