Graffiti Alley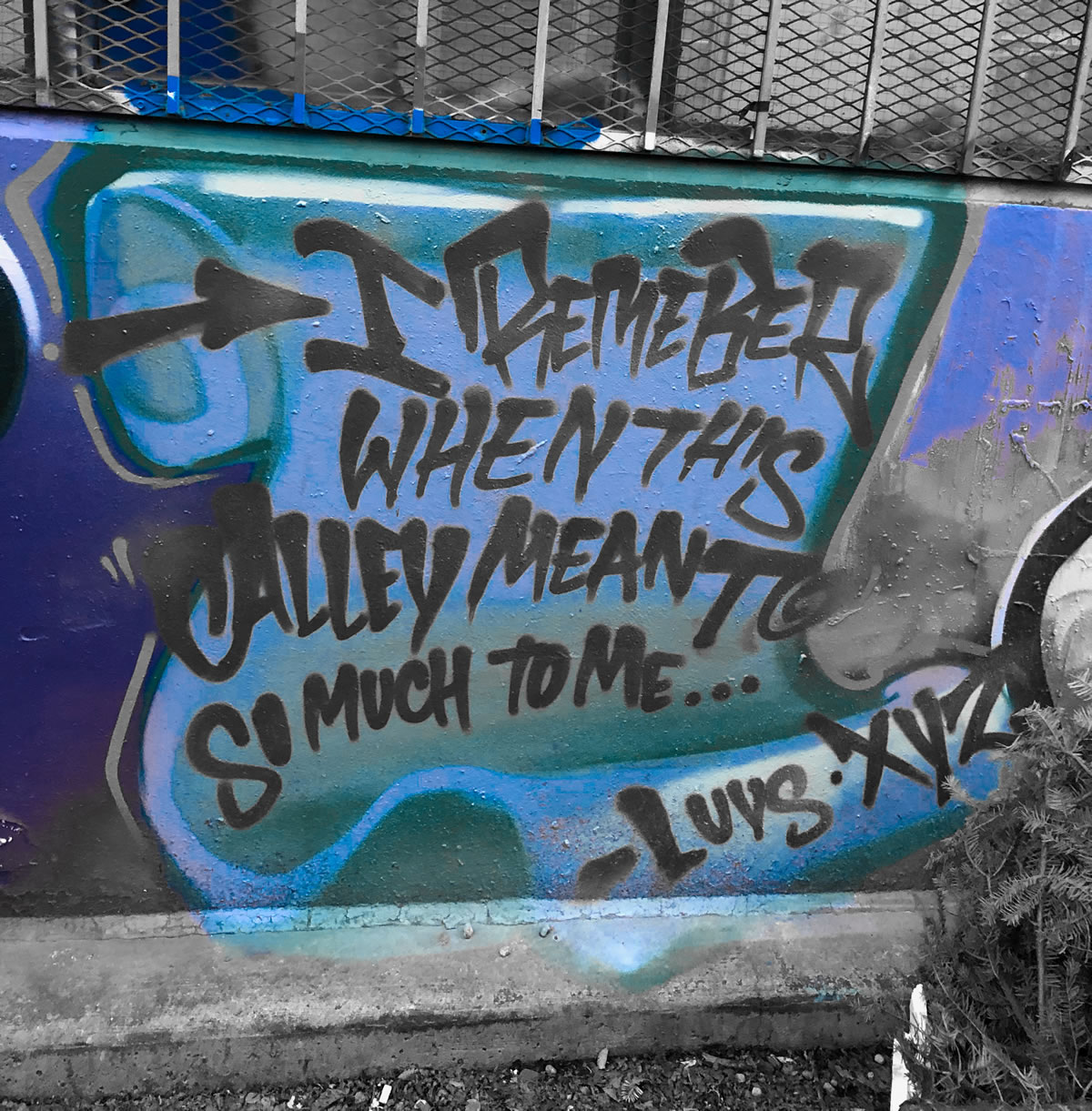 Back in early December Courtney Greenberg wrote an article for the Toronto Star titled: "Should 'Graffiti Alley' artists be paid?"
Her article begins with this picture: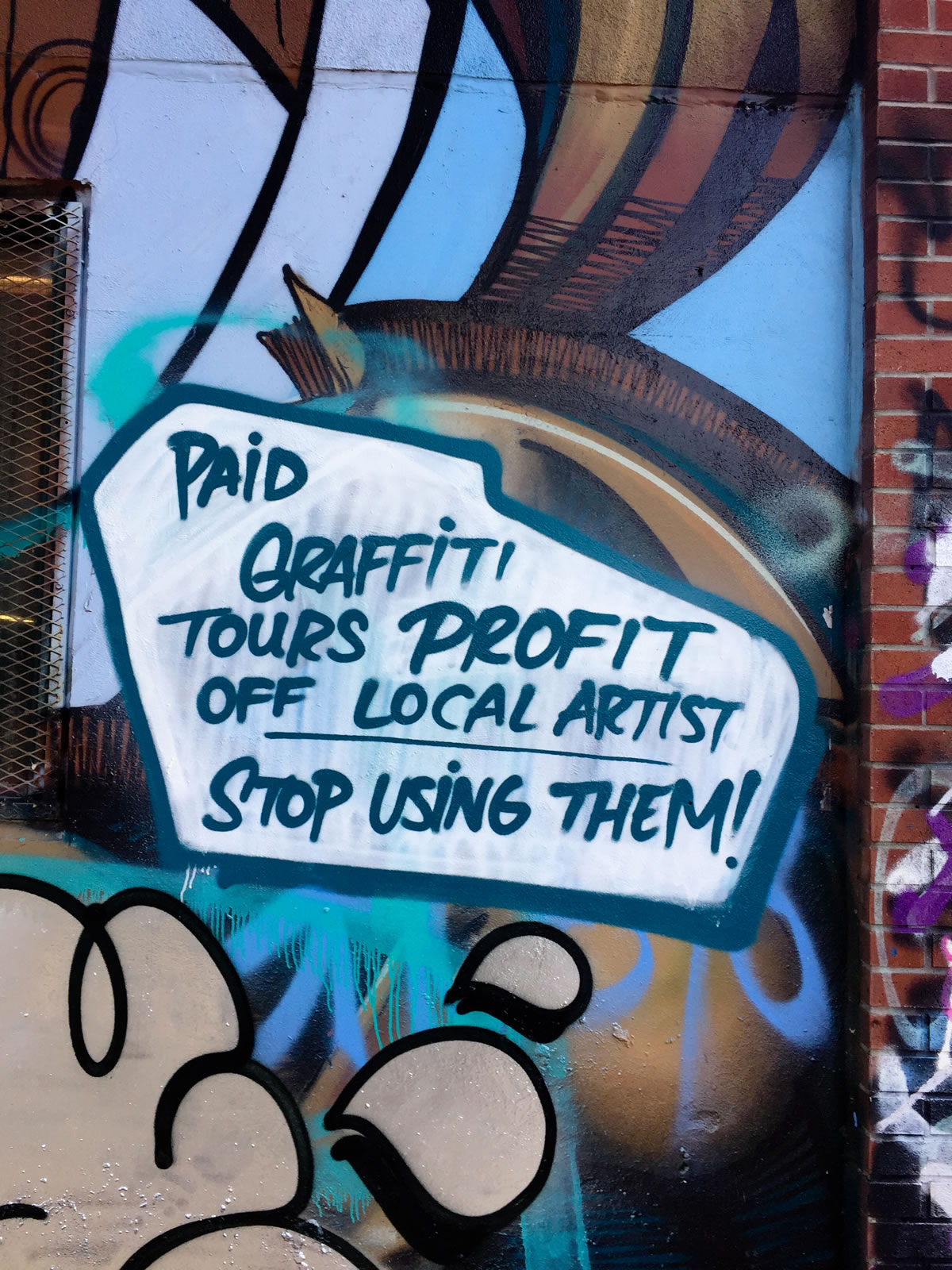 ""Paid graffiti tours profit off local artists," it reads. "Stop using them!" "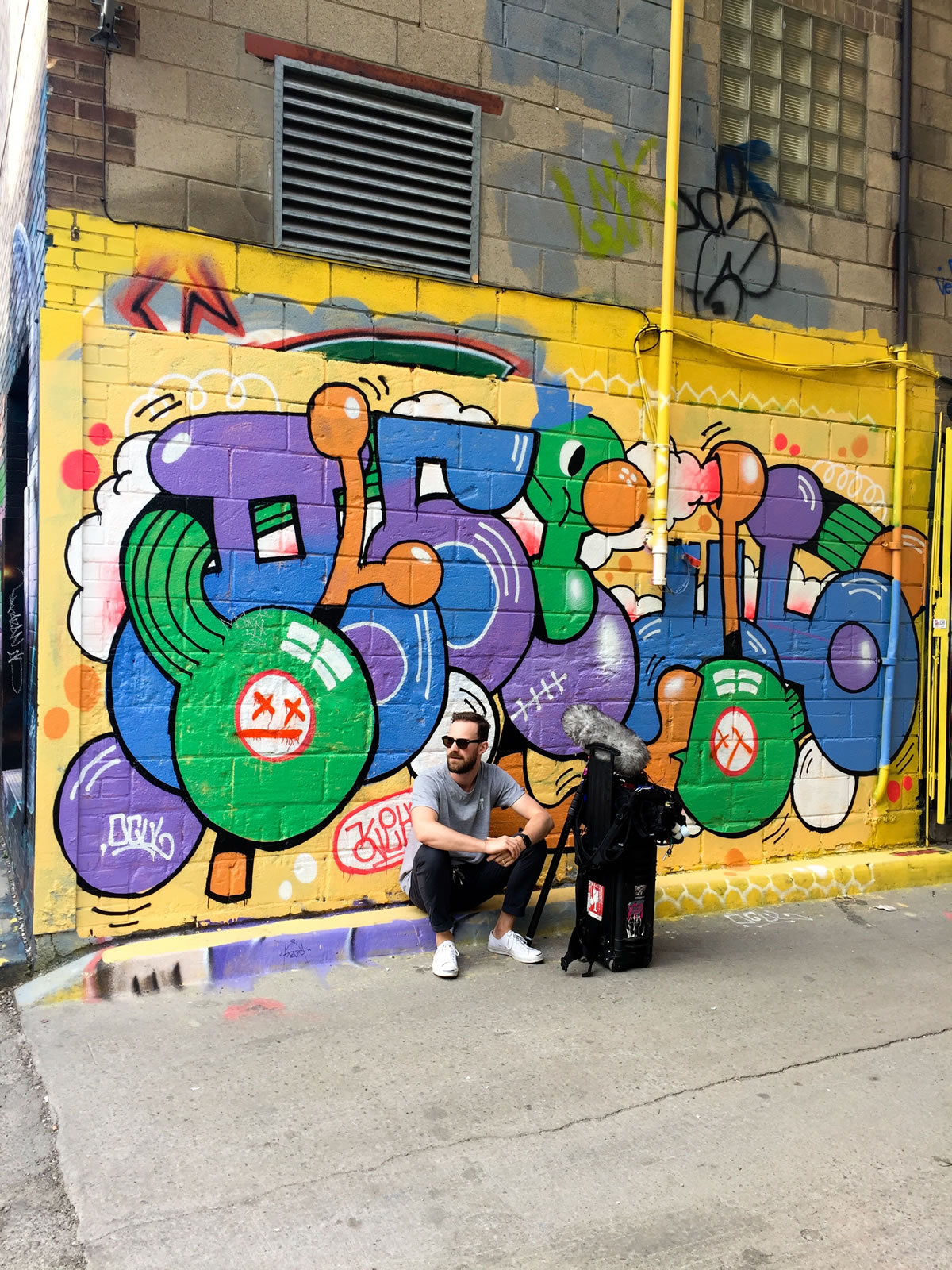 The article talks about the tour operators who charge people to learn about Graffiti Alley. I have seen them myself but I have never taken the tour personally so I can't really judge. I've overhead some of them passing by. I got the impression they were making up stuff as they went along. Most of the information the tour operators talk about is available on WIKI.
Street Art Tours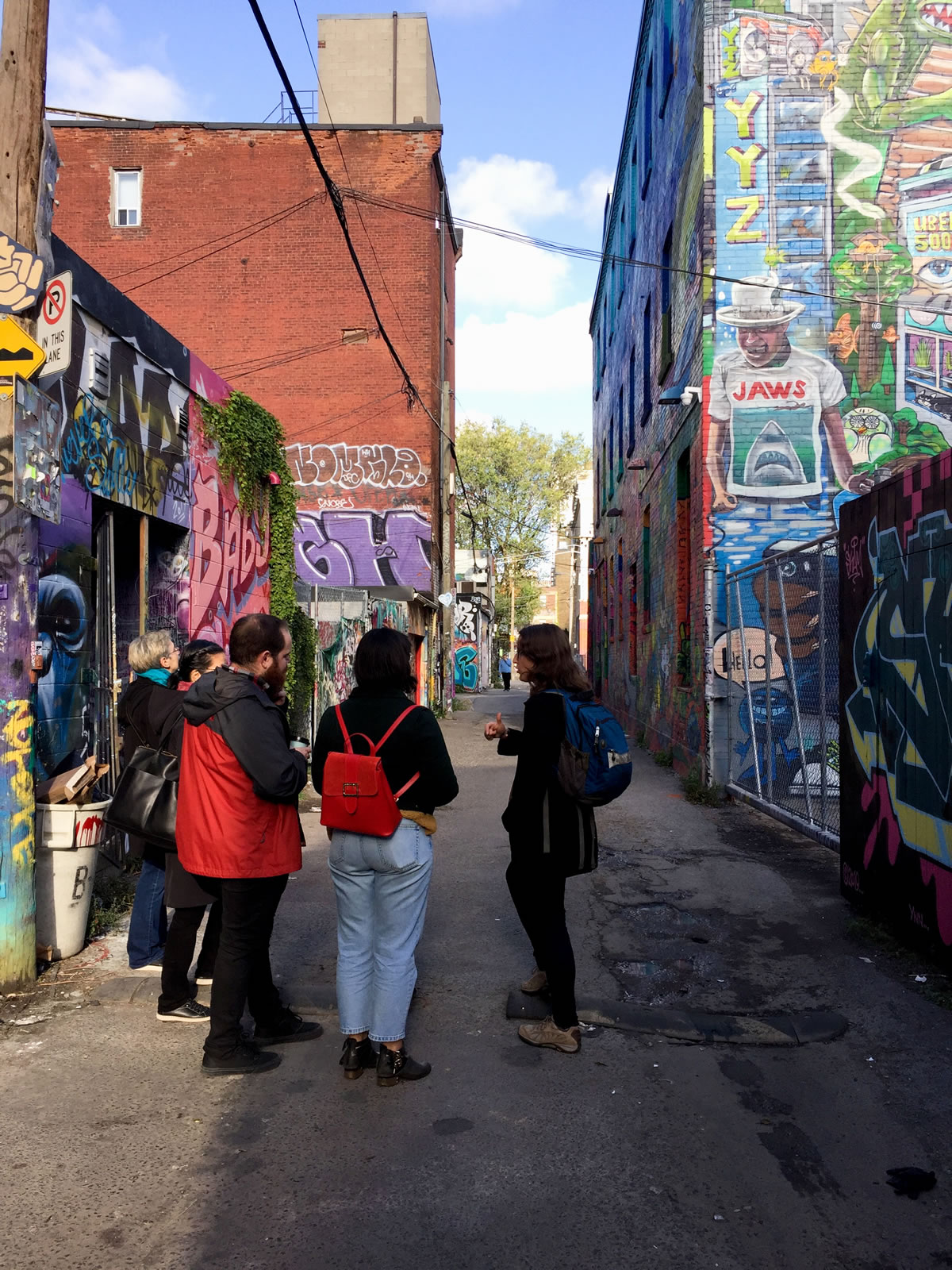 What I do know from talking to the street artists is that the tour operators have no affiliation with the street art scene. Basically, they are opportunistic and looking to make a buck. The other thing I have heard from the artists is the tours don't give back to the art community. Personally, if I ran one of those tours I would donate a percentage of those profits to an art organization. Seems only fair. IMHO.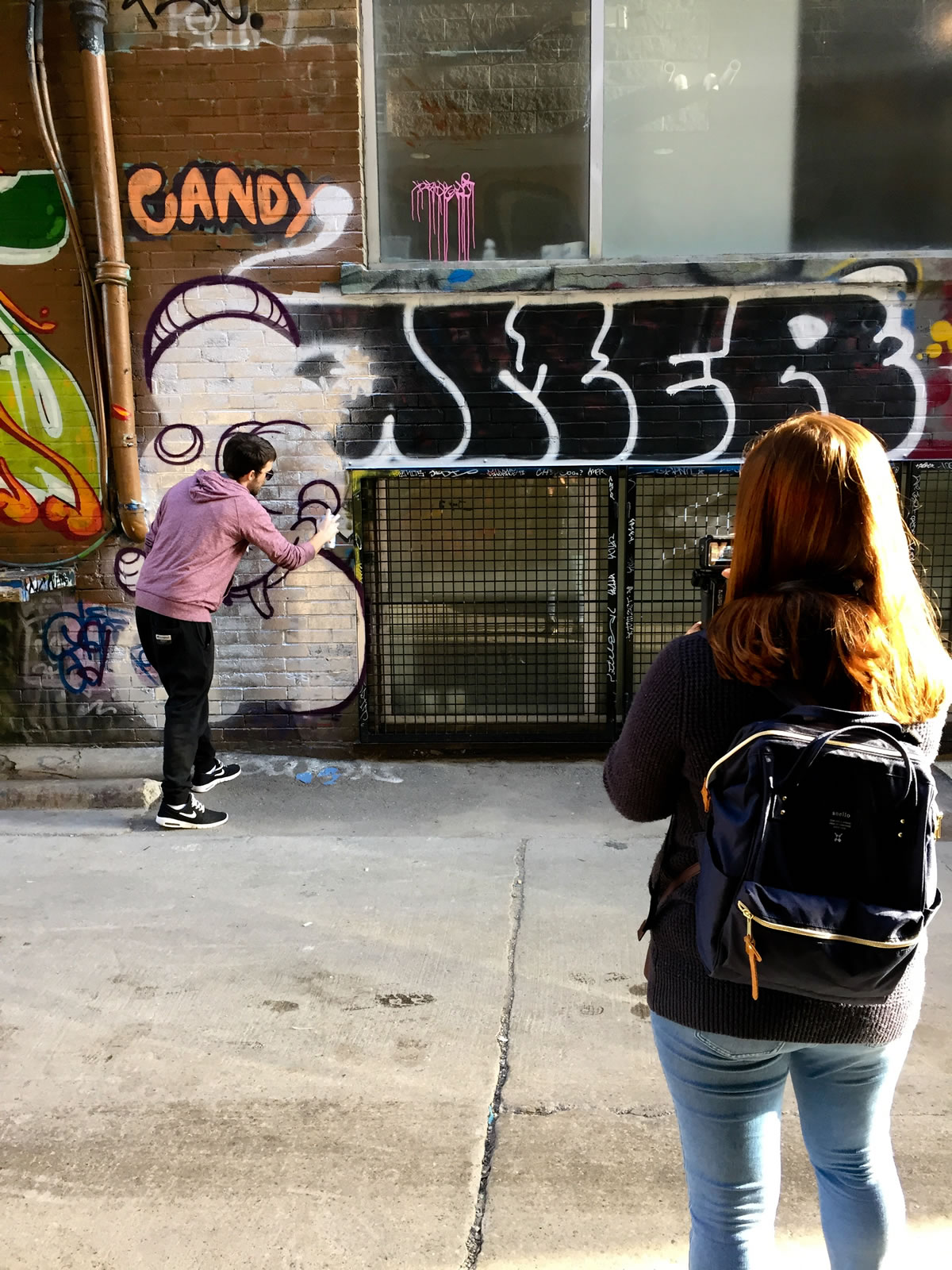 These types of tours happen all over the world. If you go to Greece for example there are tours of all the art there. Toronto isn't exactly ancient Athens…but Graffiti Alley is a spot where people go to see local art. There's no way to stop these tours, it's basically free enterprise. Buyer beware !
What I would suggest instead of taking a tour of graffiti alley is just go to there ! You don't need a tour guide. It's just a fun place to be. A lot of people use the art as backgrounds for their Instagram selfies. (FYI. If you do use someone's art as your backdrop at least credit the artist in the photo. That is a small way of supporting art.)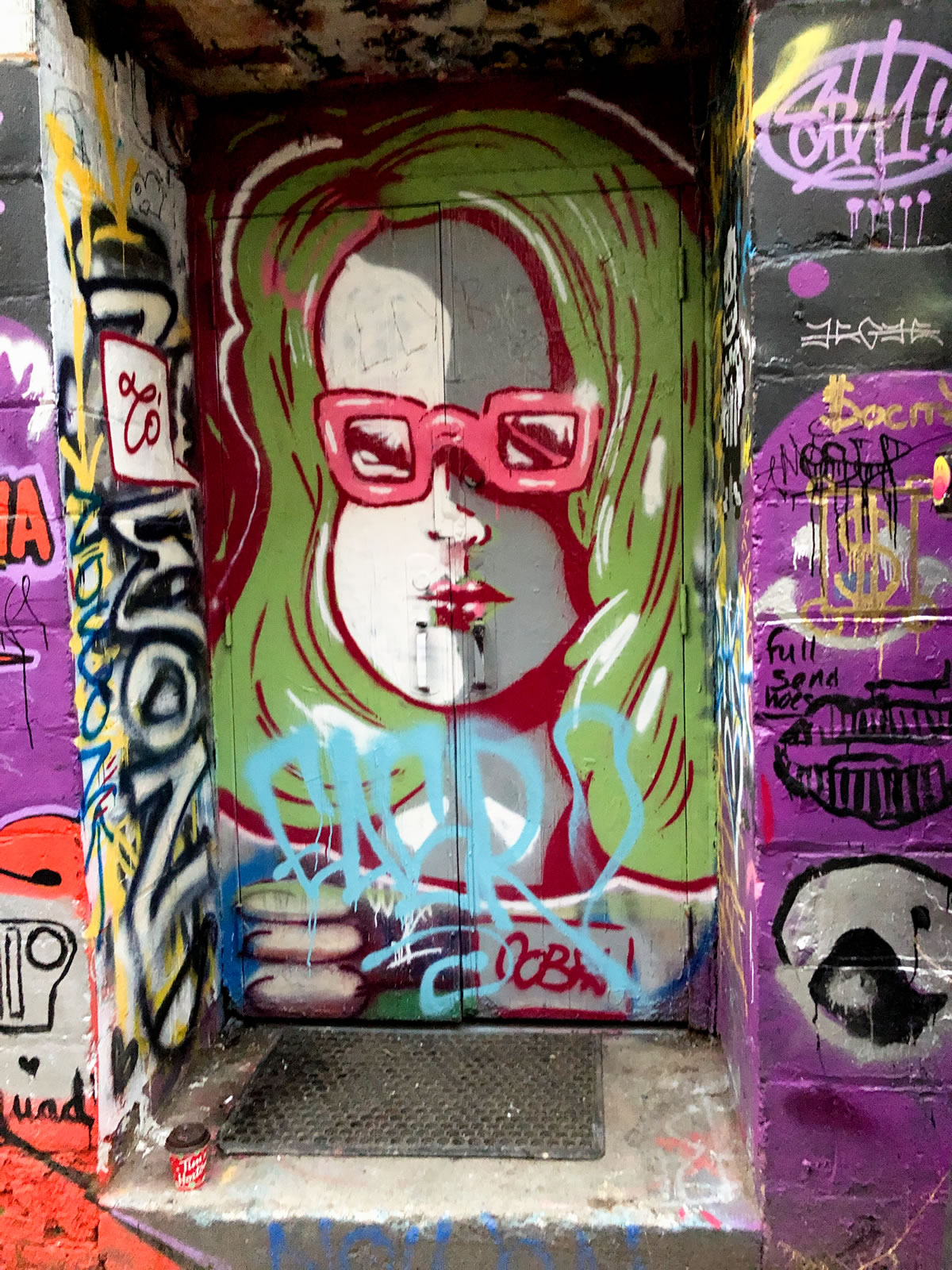 Just go and hang out.. have fun.. that's what Graffiti Alley is all about..
Alafala Street Art Mural
Graffiti Alley changes so often it's like a new experience every time you through. This new mural by Nicolas Alfalfa replaced another mural.
It's now been tagged so it will become another mural soon. And so on and so on. It never ends.
Luvs Street Art Mural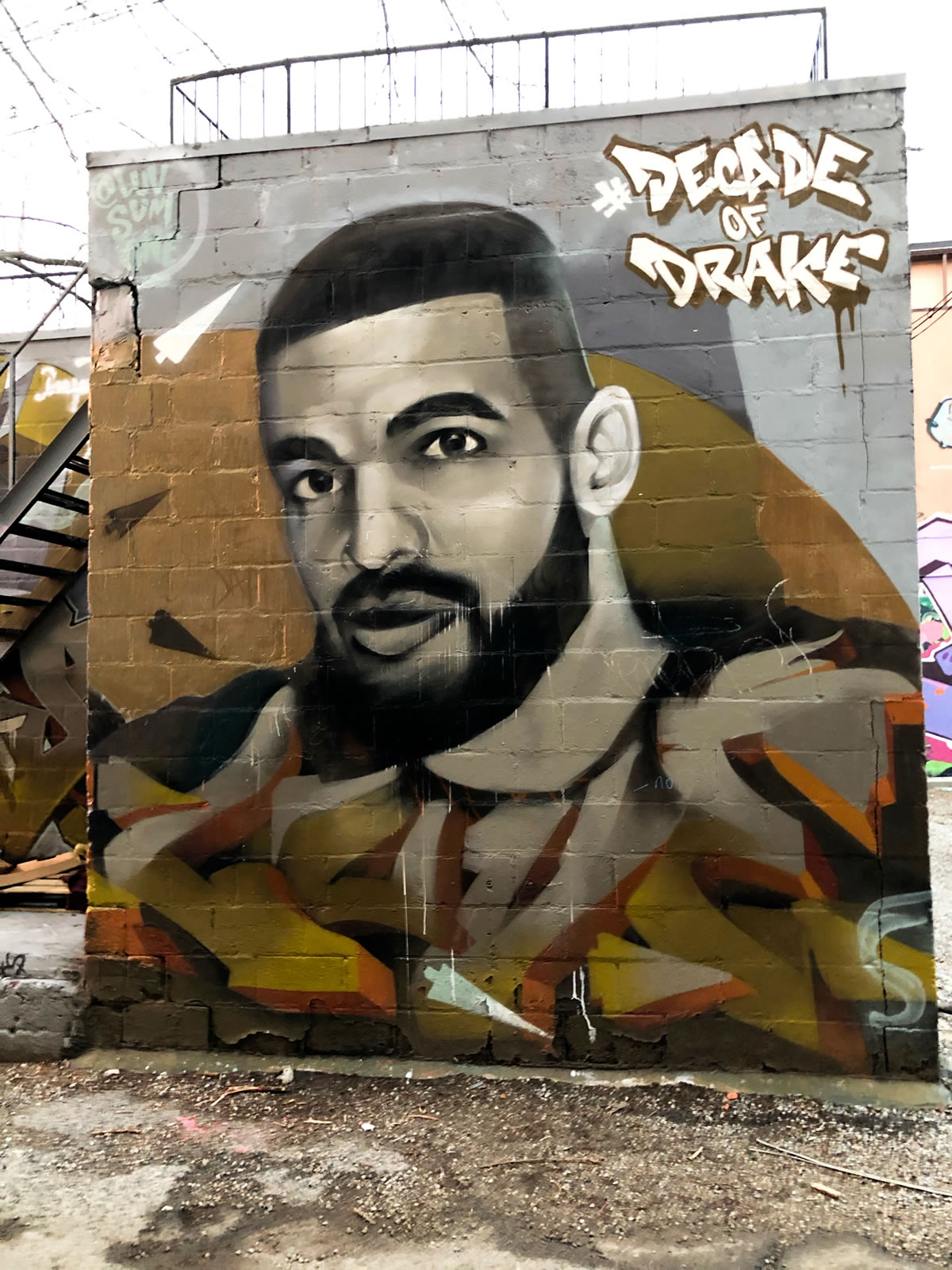 This video that I posted on Instagram of Luvs creating his mural of Drake shows how everything transforms in Graffiti Alley.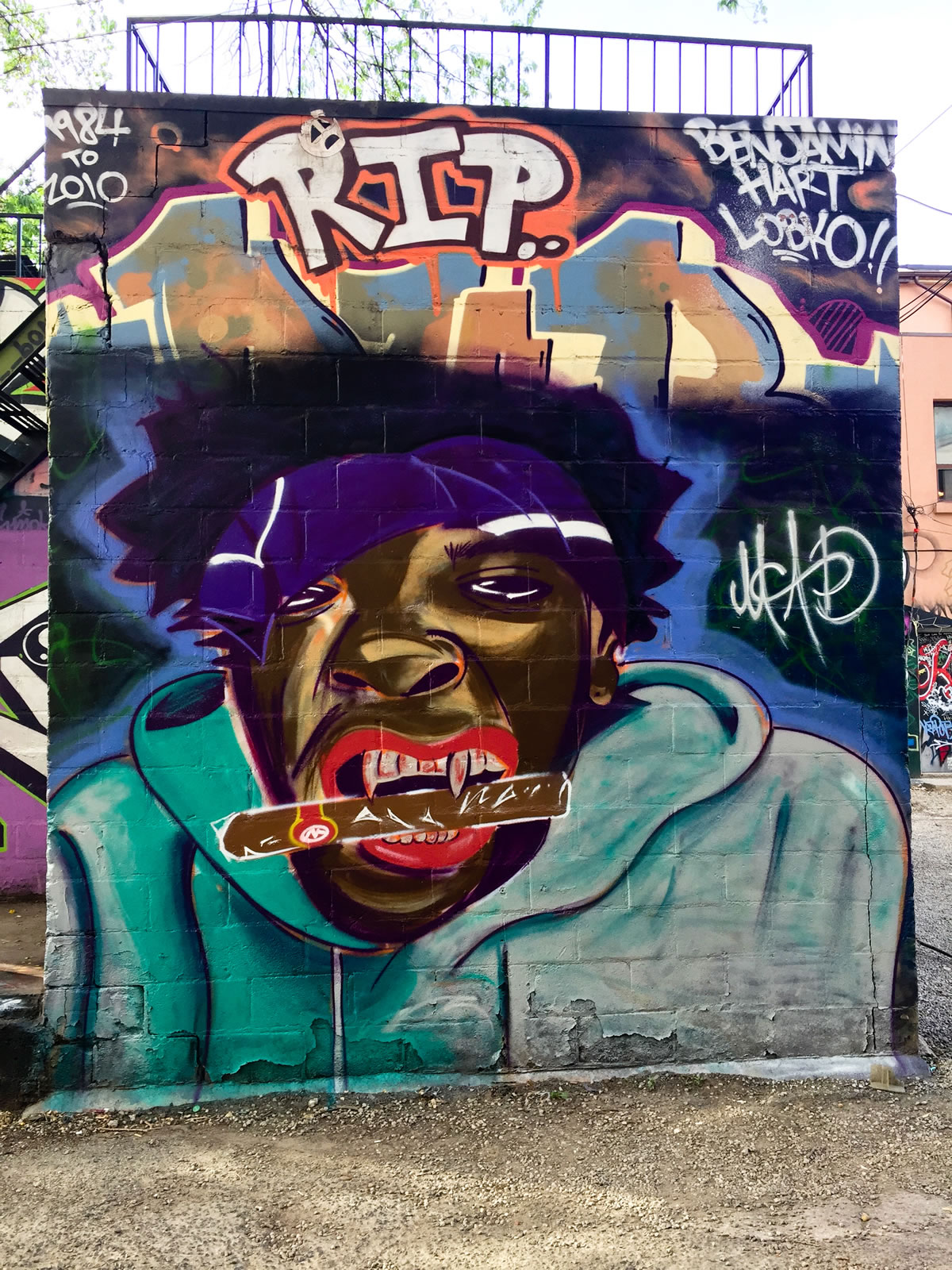 This mural was there before the Luvs one. Something will eventually replace Luvs mural.
Uber5000 Street Art Mural
Recently Uber5000 replaced the mural he did in that same spot in 2018.
Original Quality Street Art Mural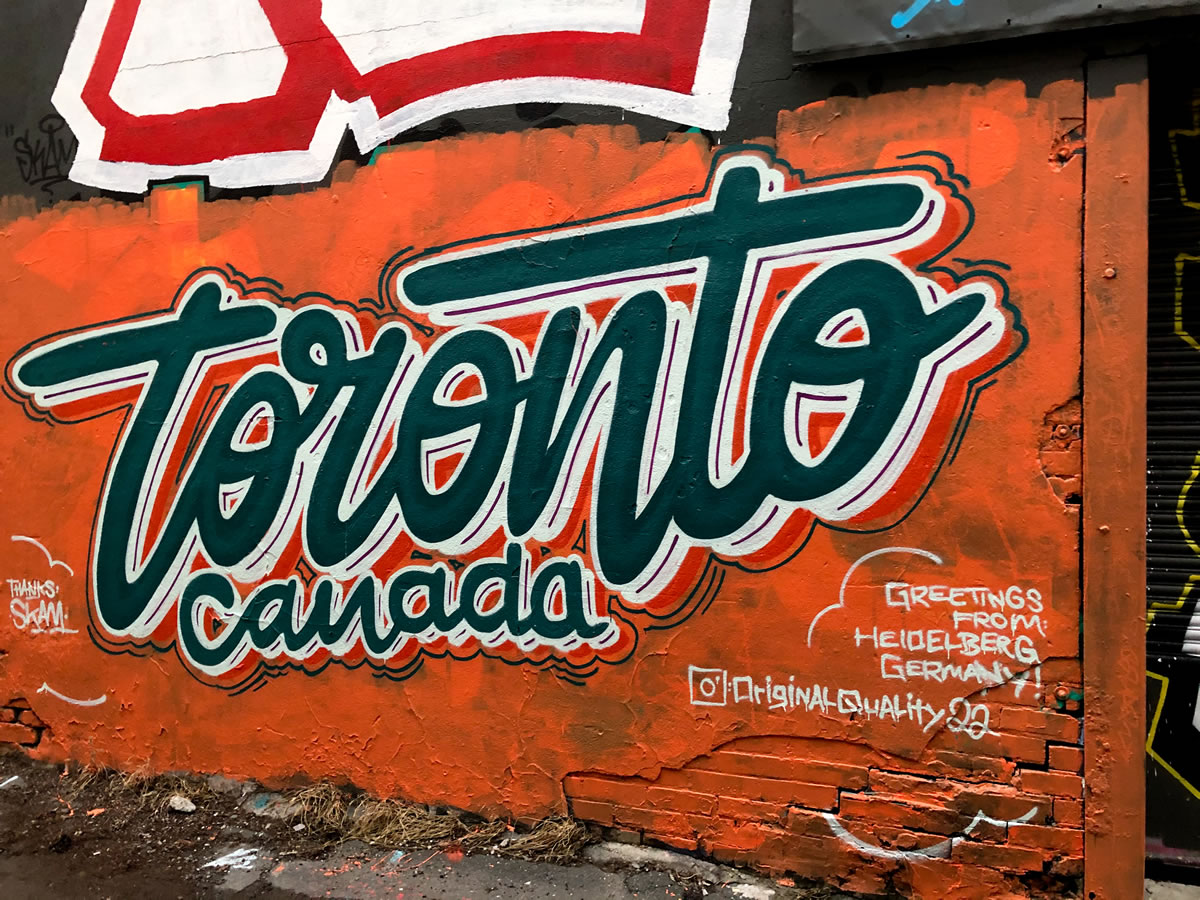 This mural by an artist from Germany who goes by Original Quality did this wall while here on vacation.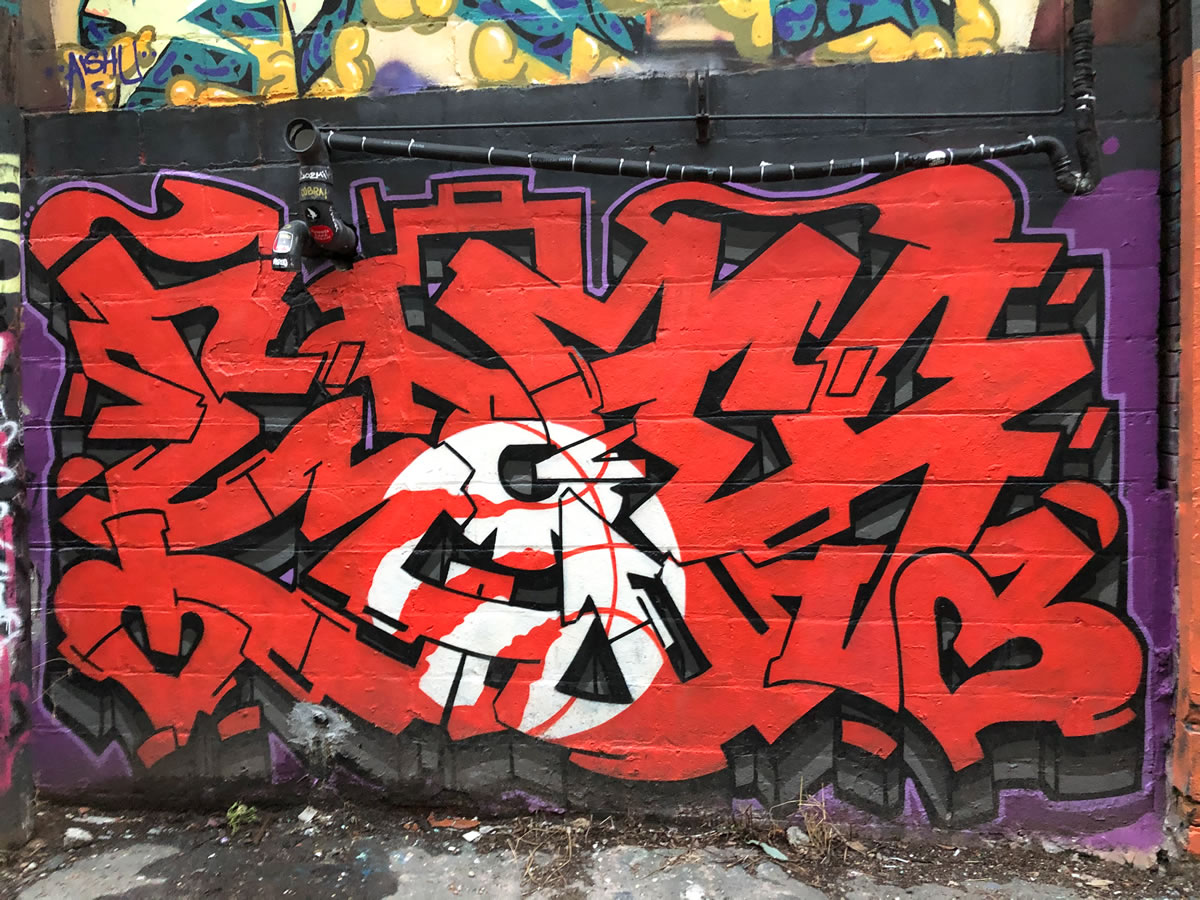 MadMaxxoner Street Art Mural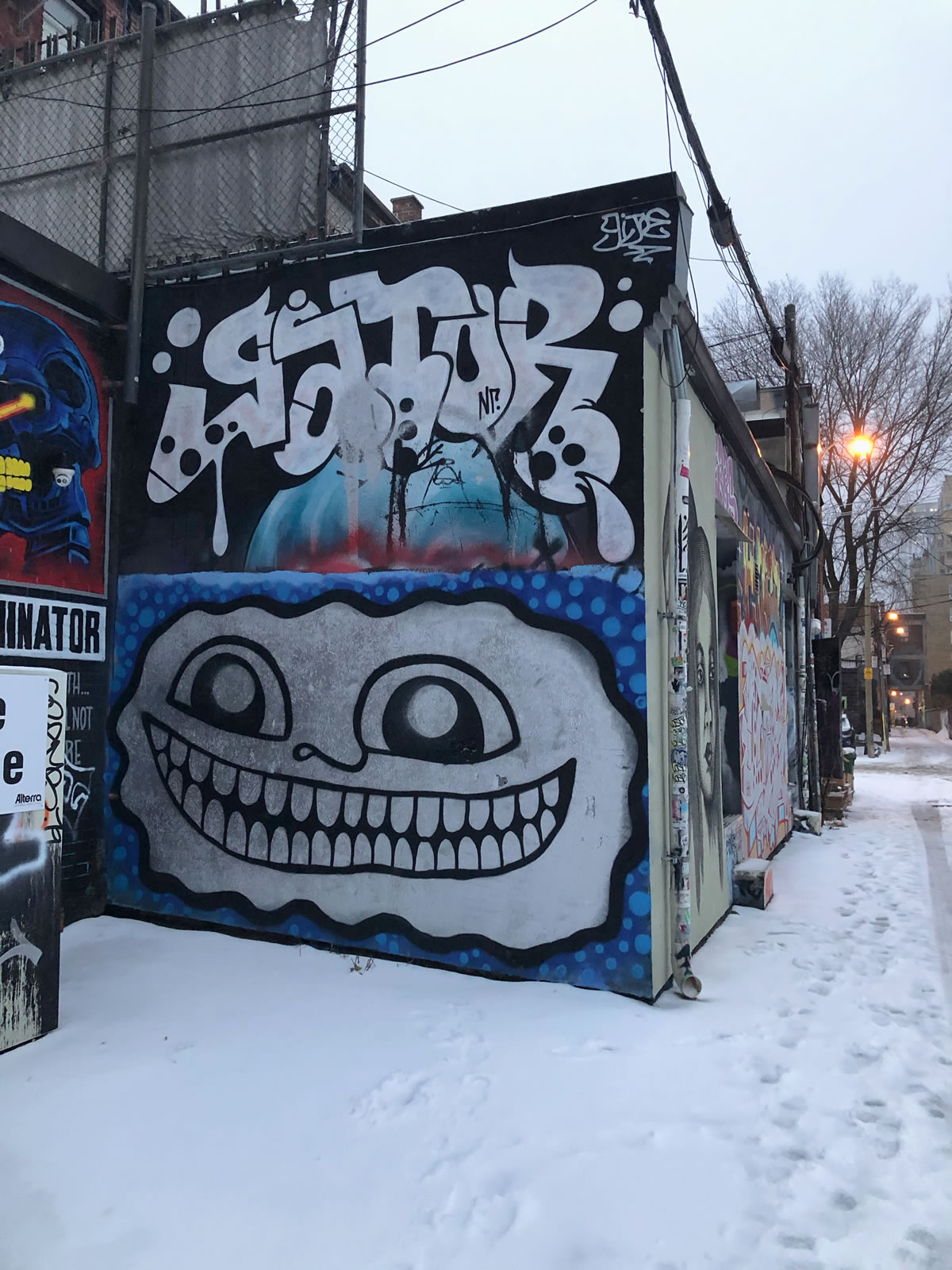 This particular spot changes a lot. Sometimes daily.
Graffiti Alley Construction
What I am worried about more than the tour operators is the amount of construction going on in Graffiti Alley. Currently, there are two large condo developments in the alley. That's going to have an effect once these buildings are completed. One is 15 storeys high.
This condo project even boasts that it's in the middle of graffiti alley.
What makes RUSH Condos truly special is its proximity to Toronto's renowned Graffiti Alley. Running parallel with Richmond Street, the development's namesake — Rush Lane — is on the western section of the corridor, directly behind the building. As the first legalized graffiti zone, Graffiti Alley has become a top destination for photographers, bloggers and street art fanatics for its kaleidoscope of colours and mesmerizing murals.

Rush Condos
I think it will ruin the vibe of the area. Personally, I think the area should be considered a historical site .
Toronto Graffiti Street Art Found Here:
Graffiti Alley Continued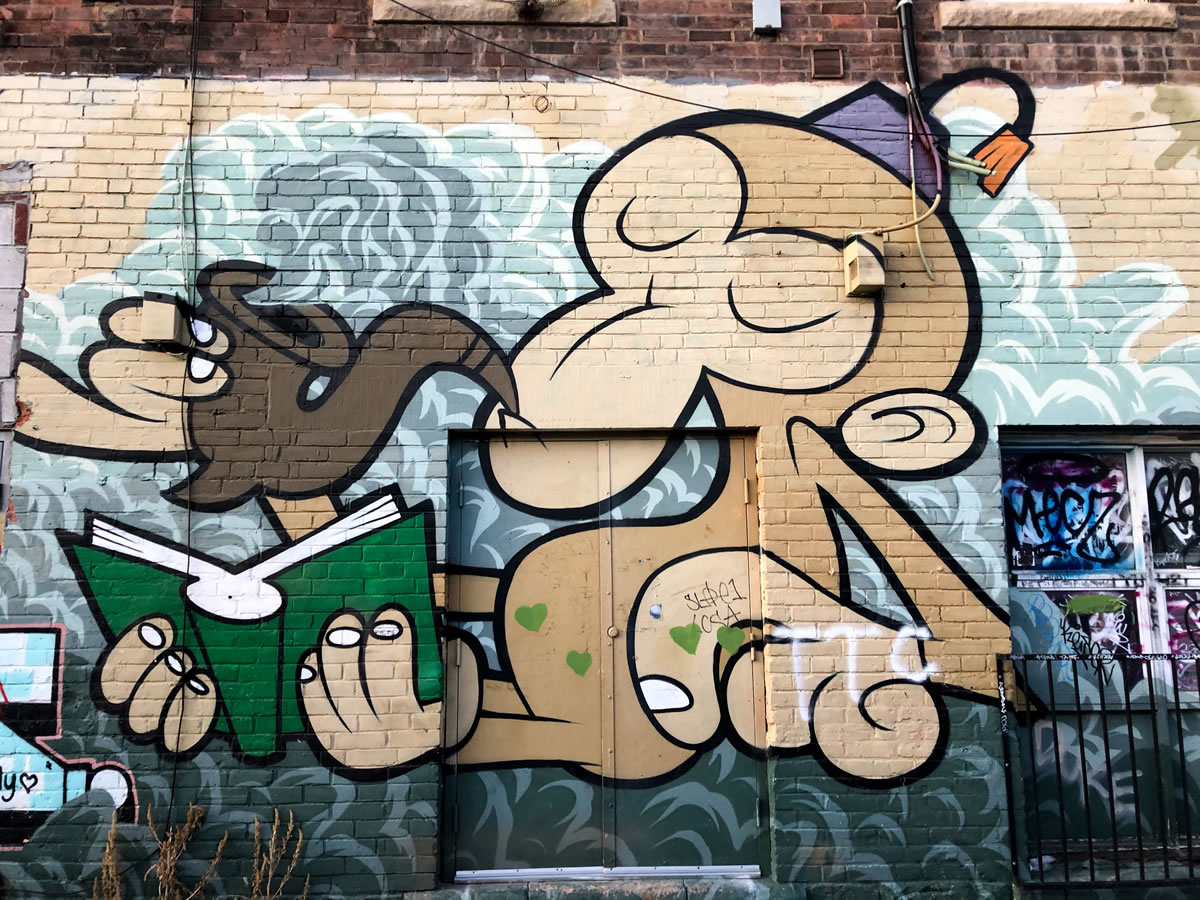 Something not everyone realizes is that if you go to the west side of Bathurst: Graffiti Alley does continue on. It's not as busy as the east side of Bathurst but it has lots of art there.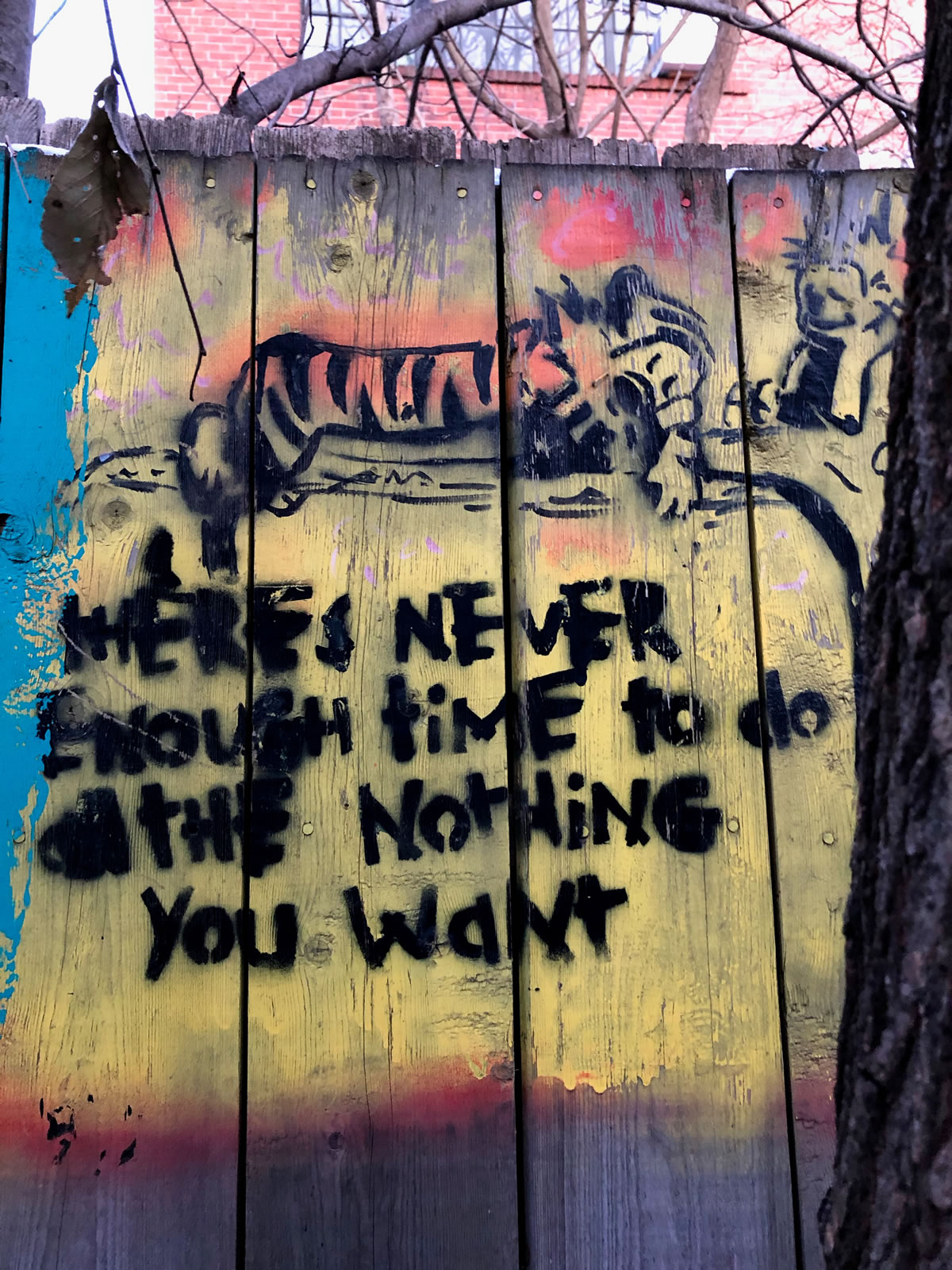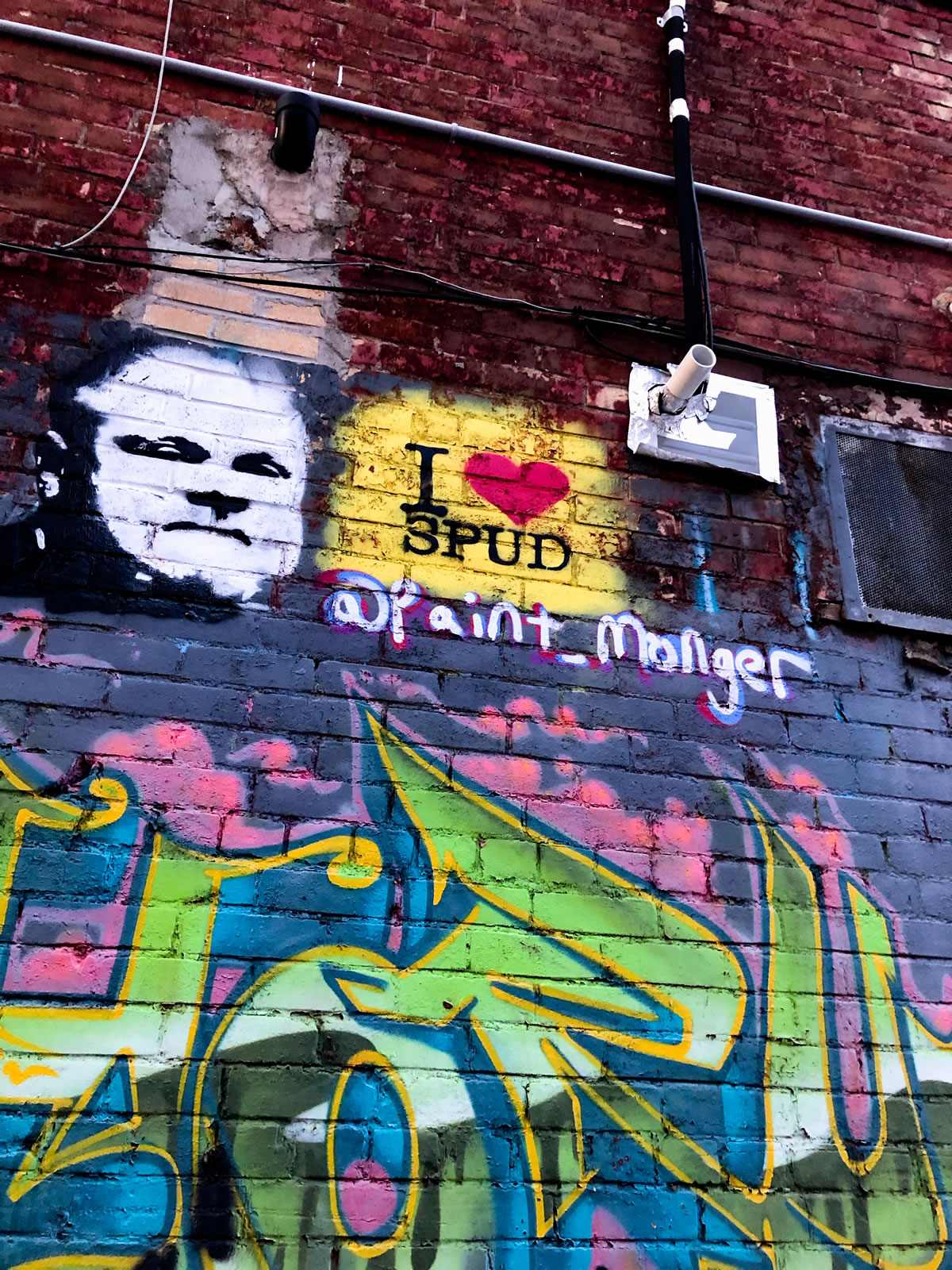 The other reality is there are other 'graffiti alleys' all over the city. You just gotta look for them.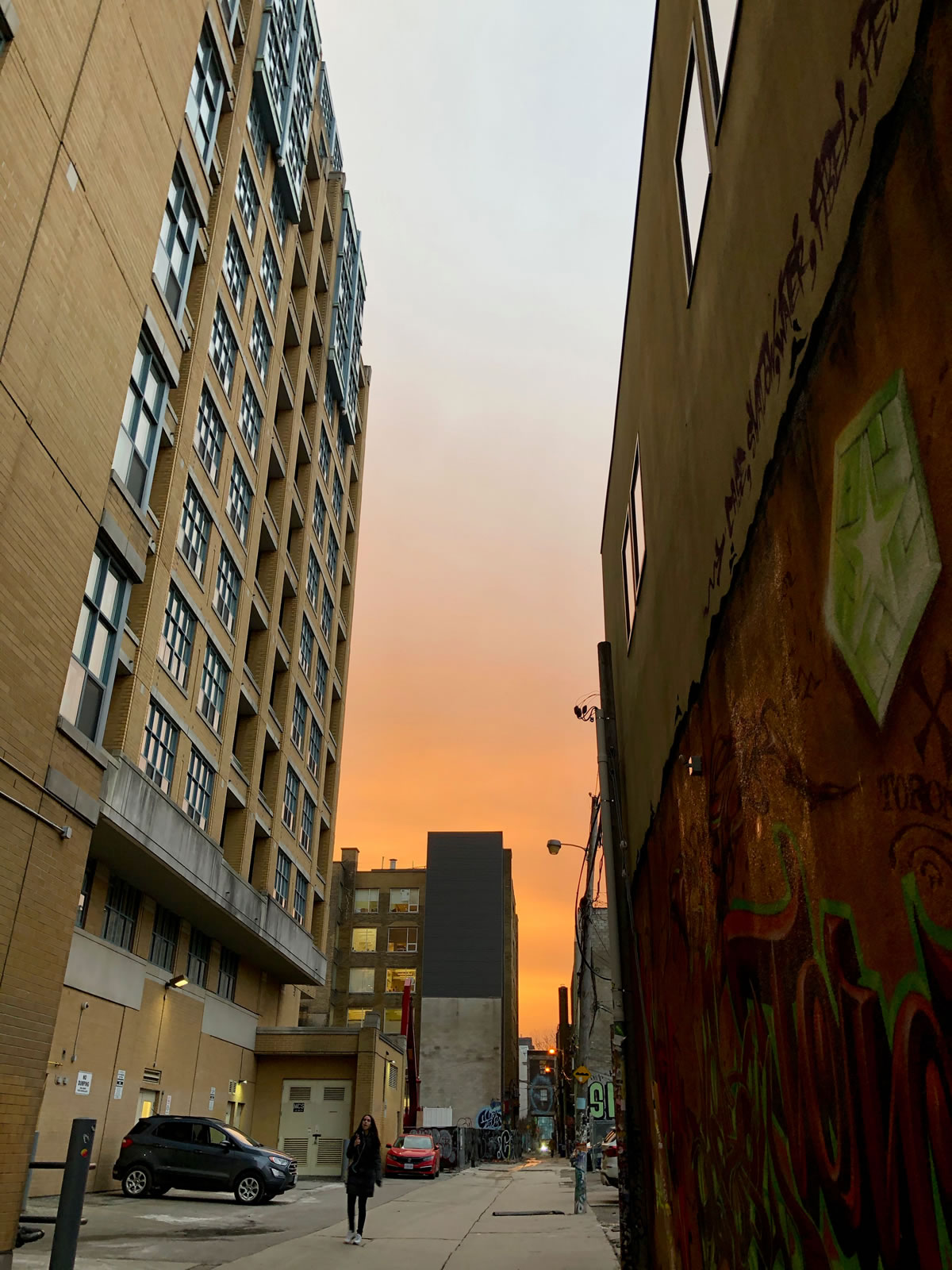 Toronto Graffiti Street Art Found Here: