Collage of Bruno Smoky Shalak Attack working together as Clandestinoart. Their work can be found all over city of Toronto – amazing street art graffiti couple.
Bruno Smoky & Shalak Attack Street Art Collage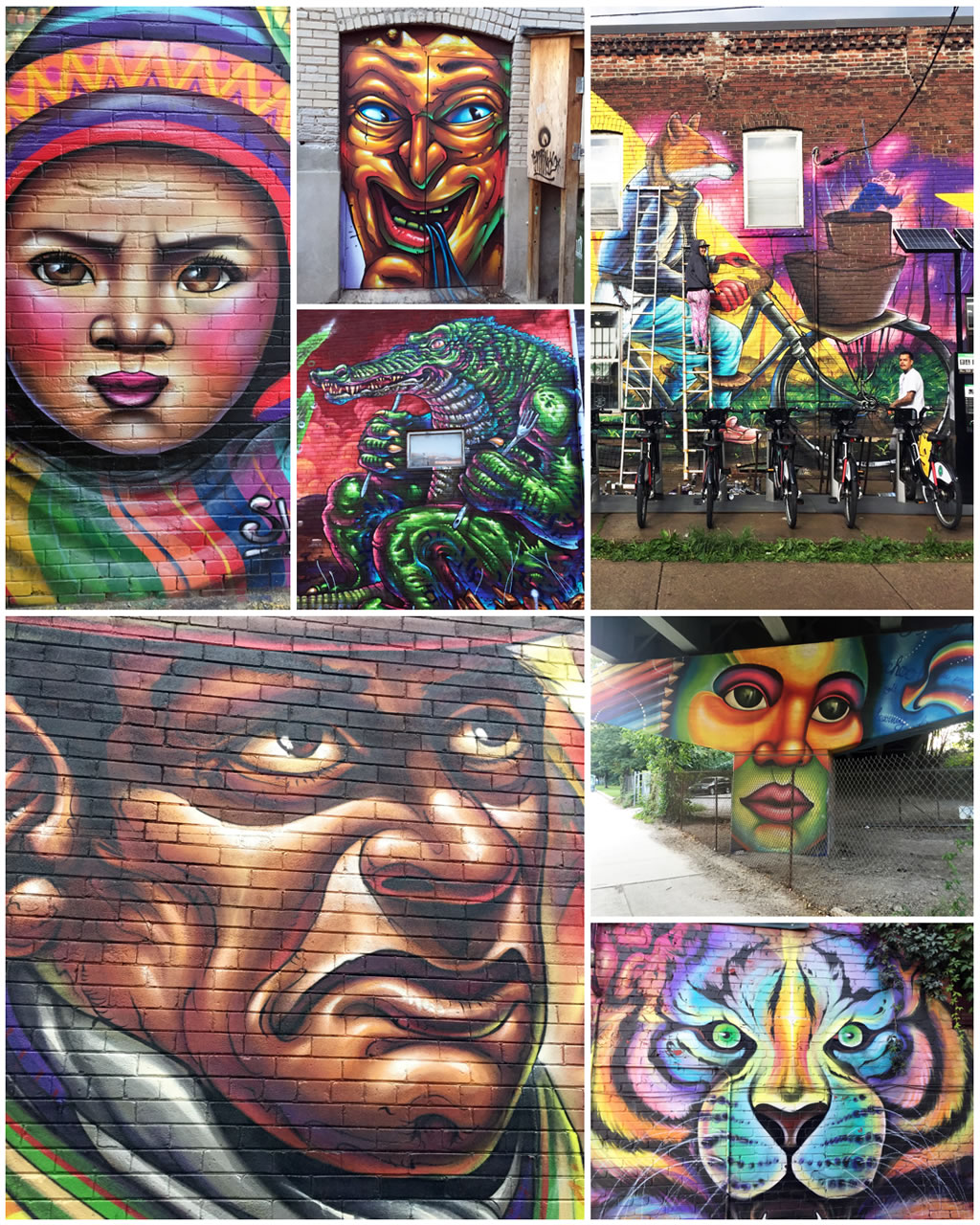 Congratulations to @shalakattack & her partner @brunosmoky – working together as @clandestinosart 🎨
Today they are back in town for the launch of another beer can 🍻 for @pabstcanada. His came out recently that had a raccoon limited edition art on the can. Then, in October her art can comes out with an owl on it. There's a mural of the owl & raccoon but its up too high to capture from street level.
They have been working on so many projects over the past summer I can't keep up with them. They are doing so well & its amazing to see them getting so successful. If you have been following them on Instagram it seems like they never stop working. Travelling to Europe – to Denver – Niagara Falls – Kitchener – back to Toronto & a lot of other places in between. I am exhausted just thinking about all the work & travel they do. (I'll just live vicariously ✈️)
I just put a quick collage of some of the art work that I have photographed over the last couple of years.
Starting in the upper left corner going clockwise
1) Child's face in same alley to the right. By Shalak.
2) Bruno does these faces that appear in some of the back alleys that I explore. This is one is on the back of a door.
3) From May – when I saw them working live. It was raining & there was a lightning storm that day but they kept going. ⛈️
4) Bruno's crocodile that looks like its getting ready to eat.
5) One of the first murals by Shalak that I noticed almost two years ago.
6) Picture that I took yesterday of a Tiger that she did for a Tea Room.
7) Another of his faces that are interesting to see. This guy doesn't see too happy with that frown. That is what is unique about their art – not everything is happy & pretty.. it is what it is.. like life.
The great thing about them is that they keep in touch with their fans. They take the time to talk people while they are working. They are also very engaged with their Instagram followers.. which is so great! They even invited their fans to the party tonight.. very cool ! I will have to check it out!
Toronto Street Art Graffiti Found All the City