Toronto Street Art & Graffiti featuring Mr Cinzah & Scieter Aerosol Murals as well urban exploration finds including wheat paste throw up & Il Cek Stencil
Street Art Graffiti from July 2016
Catching up with some artwork that I should have posted last year. I need to figure out how to post all this content. I probably should go in a chronological pattern but I keep finding new stuff almost everyday. I might jump back and forth for awhile. I have a lot of pictures to catch up on. Probably a good idea to post it before I forget the story behind it.
These street art and graffiti finds are all from early July of 2016. Some of them are no longer there – which again – is why its important to take pictures of street art when you first see it.. it might be tagged or even worse – it might be gone the next time you walk past.
Mr Cinzah Aerosol Mural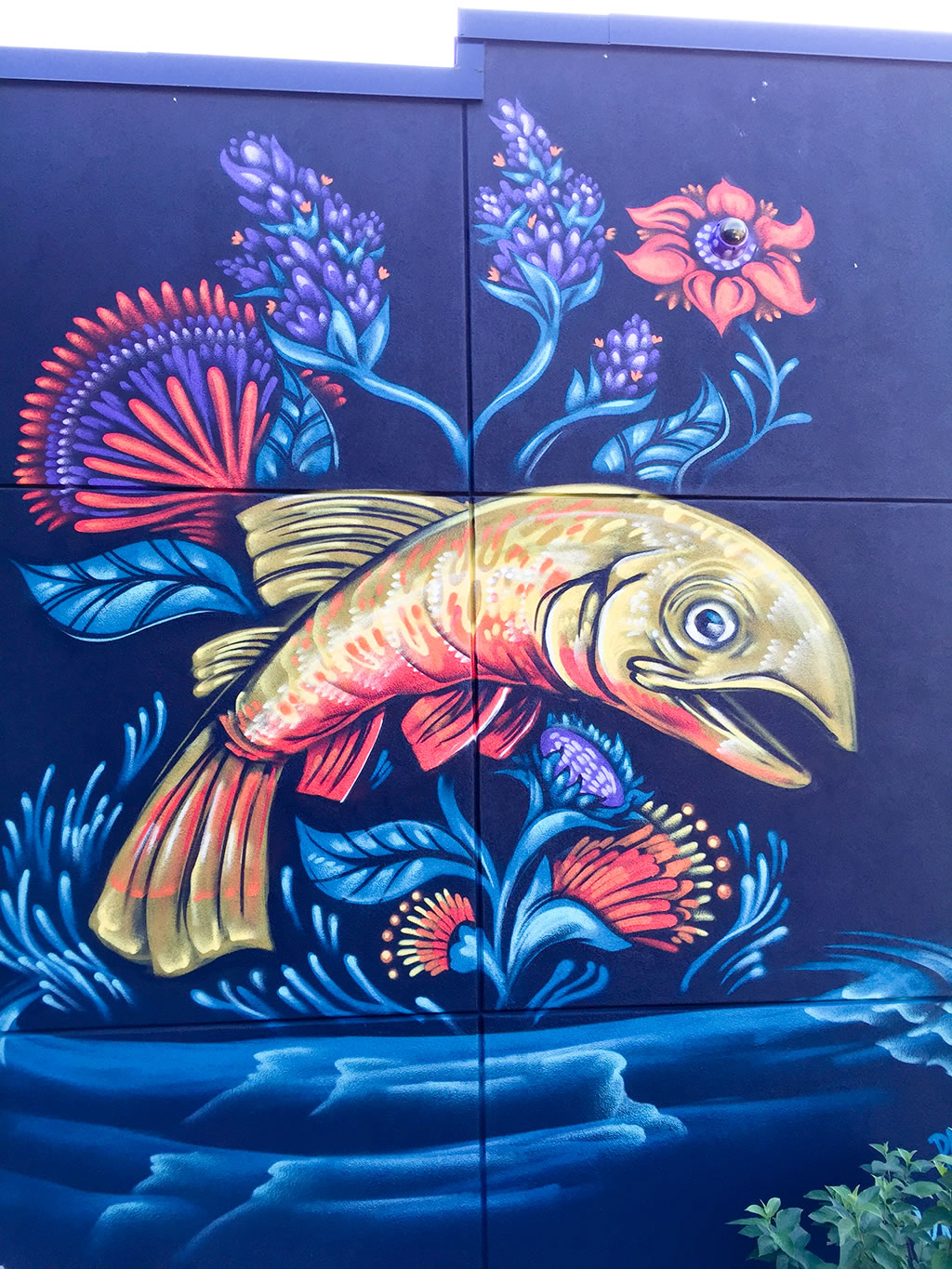 This is actually outside the offices of Lush cosmetics somewhere out in Etobicoke. I walked like 10 miles in the blazing heat out in an industrial area. I never figured I would find any street out this far in the suburbs. But I did! Its a pretty awesome find 2. This is actually their manufactoring centre ! When I was taking pictures here two men jumped out of their car and asked me if it was still open. I think it was – I just kinda shrugged.
Mr Cinzah is an artist based out of New Zealand. He was in Toronto for a short while and did two murals in the city. Two that I saw – there could be more.
Toronto Street Art Graffiti Found at this Location
Frontier Inc Painted Mural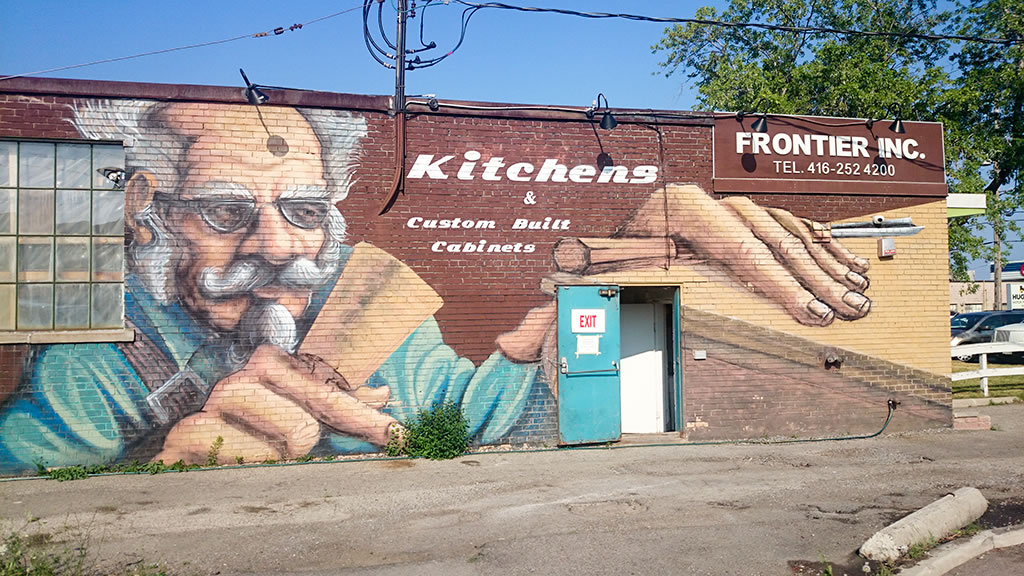 Another street art mural in that same industrial park. I have no idea who did this one either. As you might expect — this business makes "Kitchens & Custom Built Cabinets". Its a pretty good mural and was nice to see this here. The rest of this area is mostly nondescript buildings with lots of cars driving by.
Toronto Street Art Graffiti Found at this Location
Unknown Artist Wheat Paste Sticker Slap
This was only there for less than a few days. I really liked it.. but I don't think other people did – it was scraped off of that traffic signal box. Never saw any others after that either. It just said "Dolly". No credit no nothing else.
Toronto Street Art Graffiti Found at this Location
Pathetic Slogan Stencil by Il Cek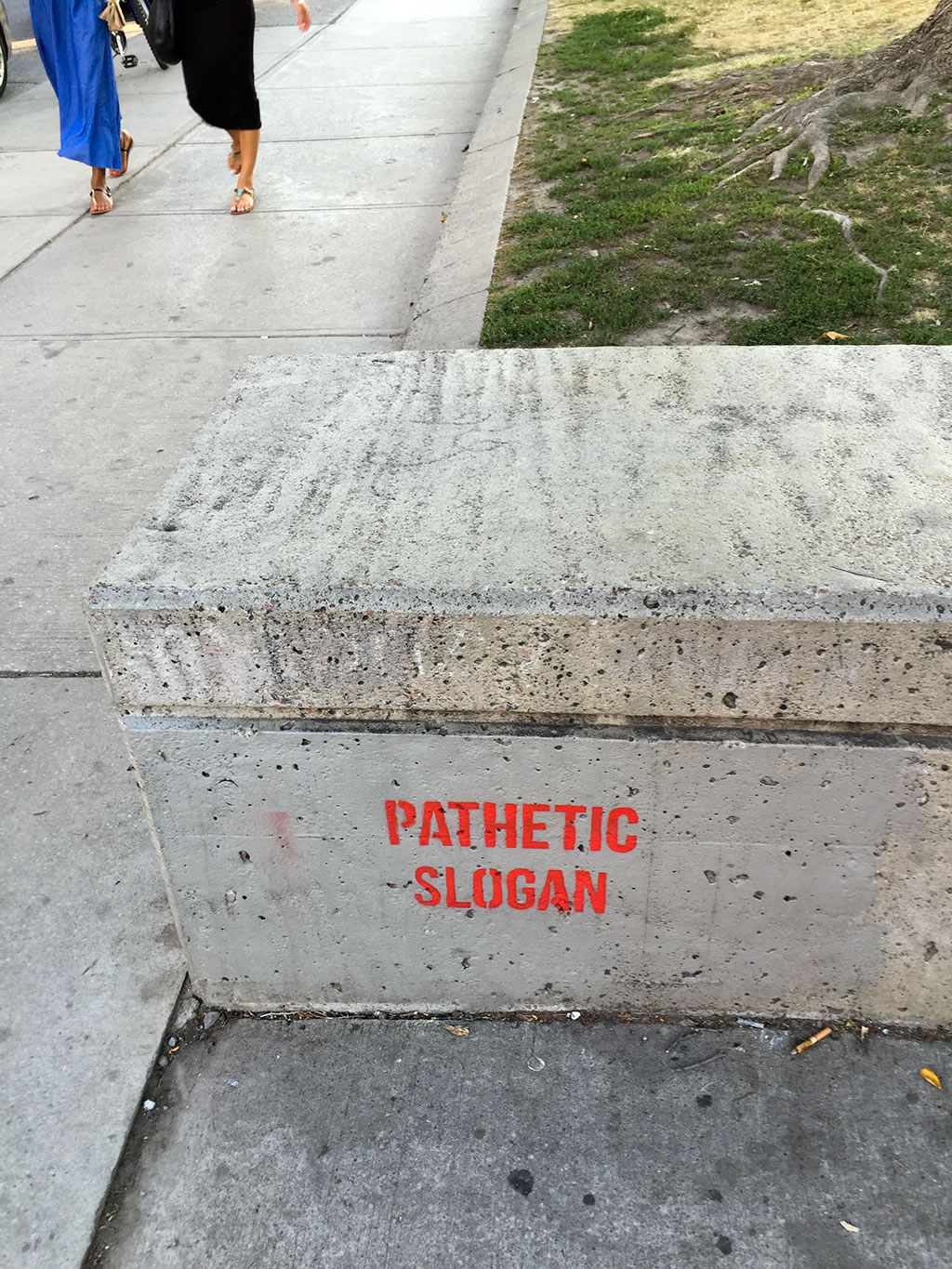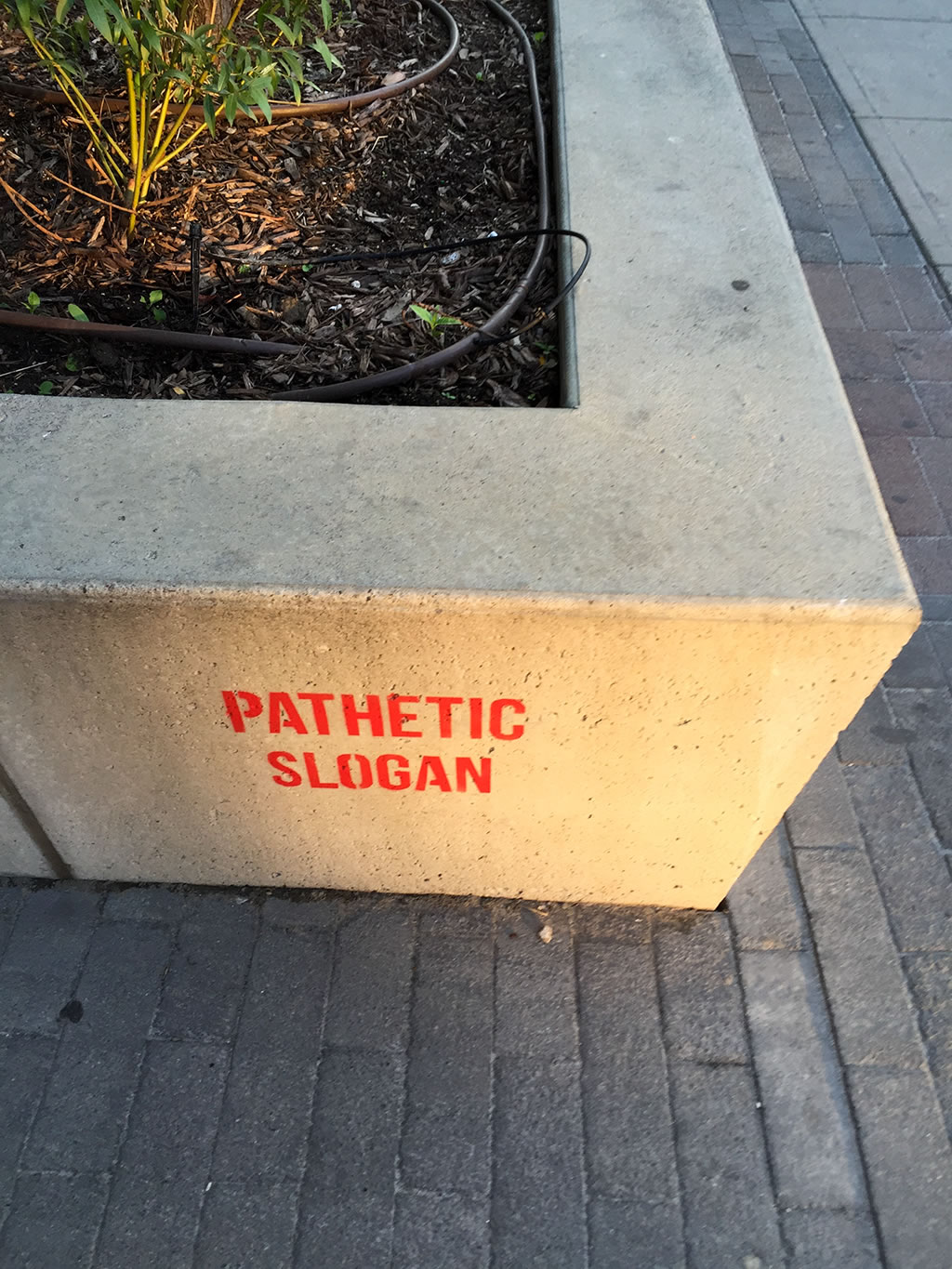 Some stencils along Queen St West by Il Cek. He alo does sticker slaps. Pretty certain that these stencils are no longer here. They fade over time or they get painted over
Toronto Street Art Graffiti Found at this Location
Scieter Aerosol Mural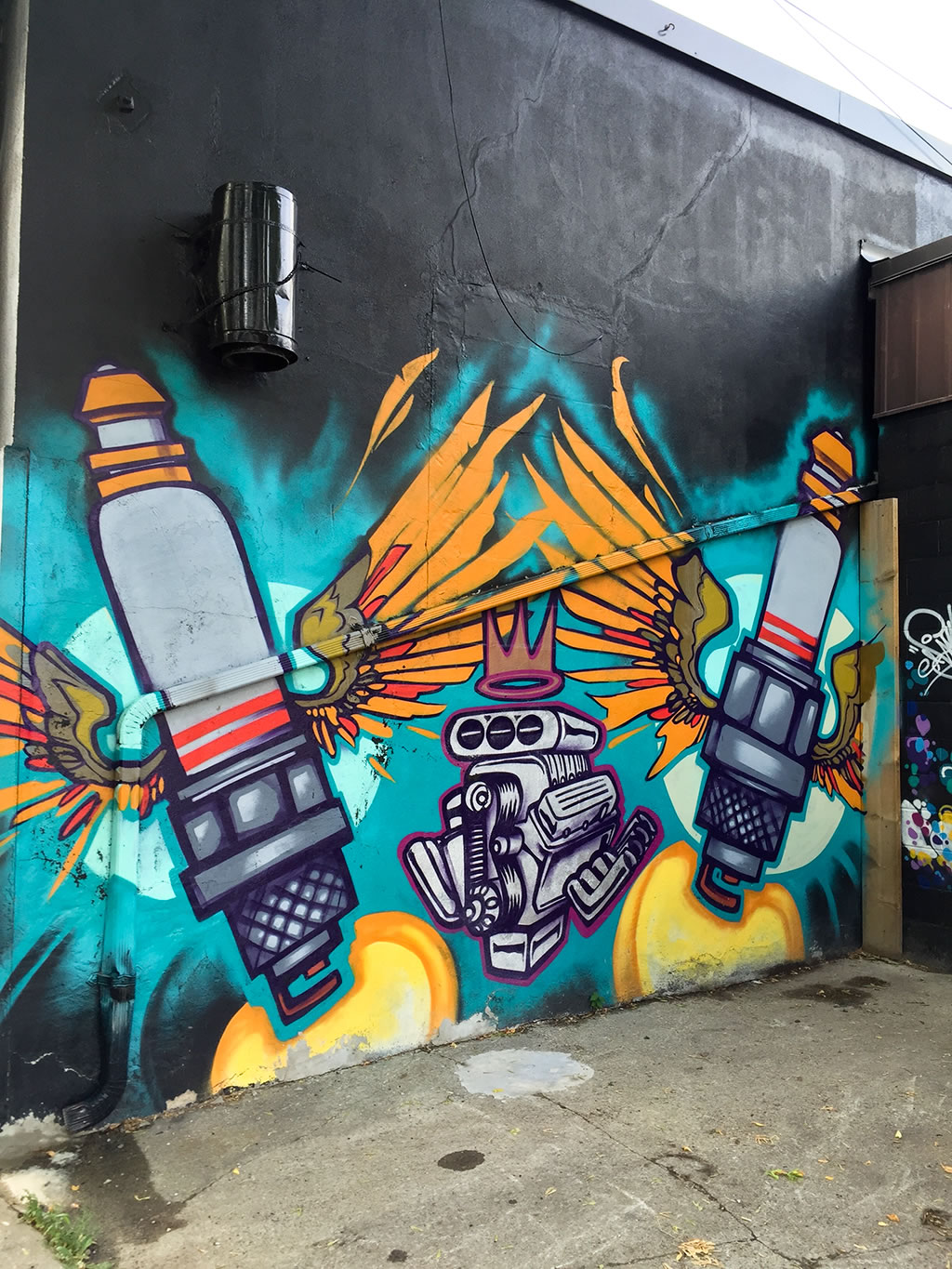 Found this by accident one day. I've always walked by this auto centre but never went behind it until this day in July. I thought it might be a short cut (it wasn't). But there was this mural by Scieter tucked away in the back with some spark plugs and I guess that's an engine. I don't know my auto parts. There used to be massive Hummer parked out front of this garage but I haven't seen it lately.
I had to reference this account on this account by Filo to find out who this was by. When he was in Toronto he documented all the street art that he came across. Its a very good reference account it you are interested in Toronto Street Art.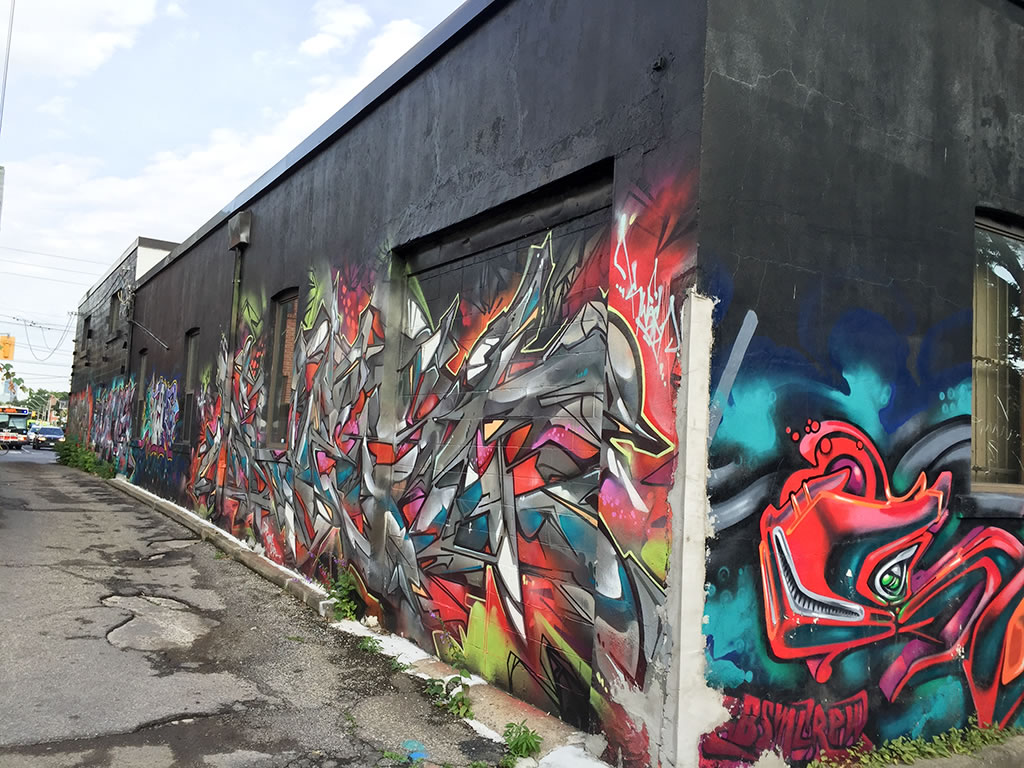 This other mural with a graffiti burner was on the side of the auto centre. I don't know who this is by.
Toronto Street Art Graffiti Found at this Location
Spray Artist Mural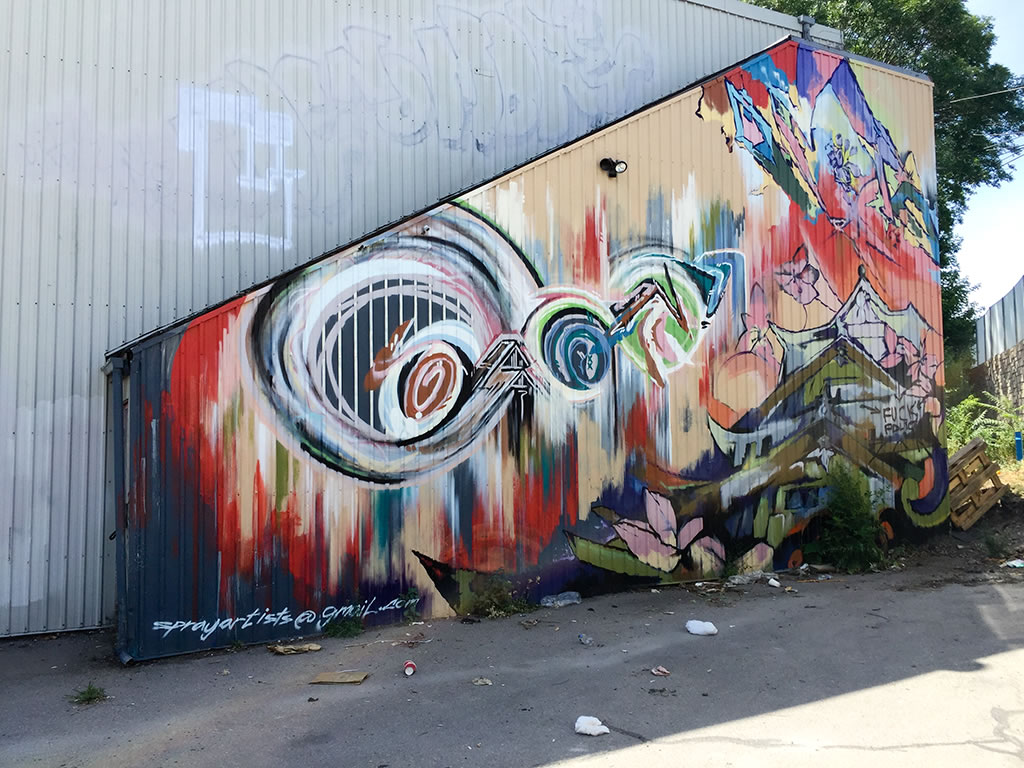 Another one that is no longer around. It was at the back of an old warehouse. They have been doing some construction on this building and they painted over this mural. It just says Spray Artist with a gmail account. I could email them to find out who they are.. but I won't
Toronto Street Art Graffiti Found at this Location