Bruno Smoky Shalak Attack Toronto Street Art graffiti aerosol spray murals. They work together as Clandestino art compliment each others styles very nicely
Toronto Street Art Garage Door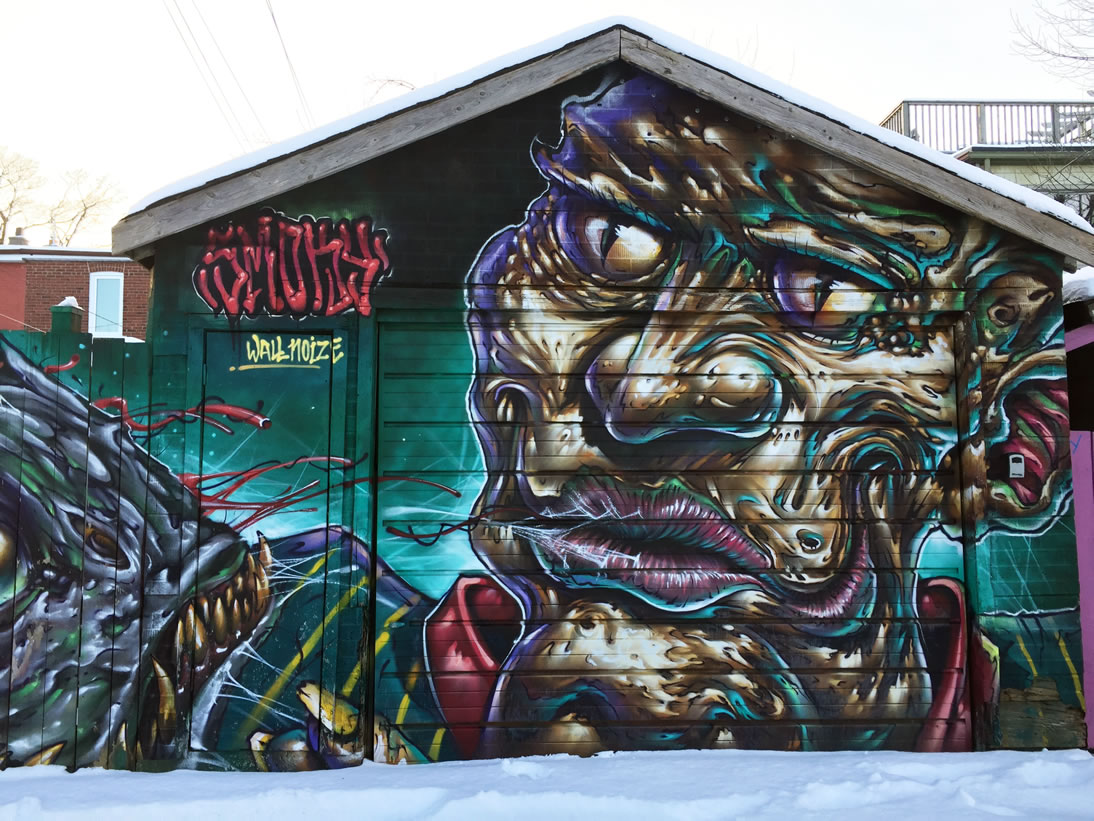 This doesn't seem like a Valentine ♥ 💕 Day post… But it's the best ♥. ❤️ 🎨
The top 🔝🎨 is @brunosmoky or 'Bruno also known as Smoky' as he says on his account… And it's in an alleyway to the left ⬅ side of the one below .
.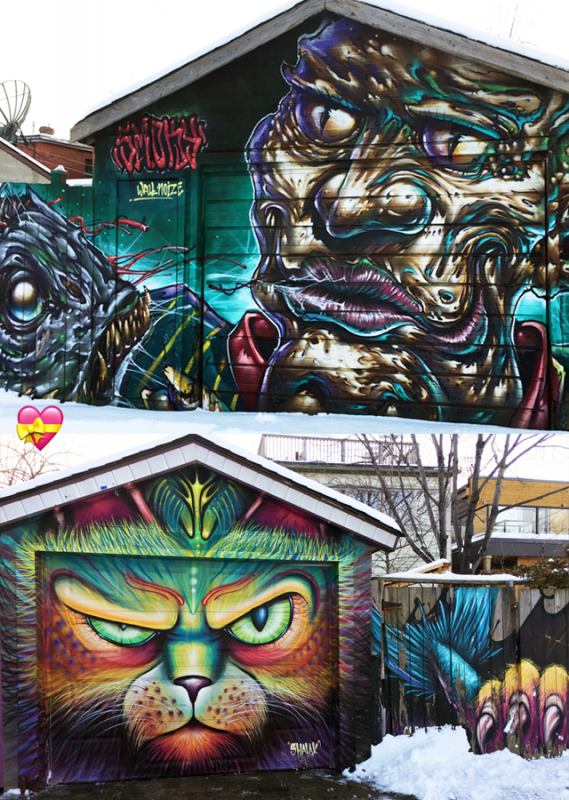 The below 🎨 is @shalakattack and it's to the right ↪ side of the one above and he is her 'Valentine' ♥.. As she says on her account & together they are @clandestinosart.. and they say they are ."two worlds frequently merging in colors" 🇧🇷 🇨🇦 🇨🇱.. — 💕❤️
.
How romantic is that? I only know of one other couple that does street art together… It's very rare… .
.
.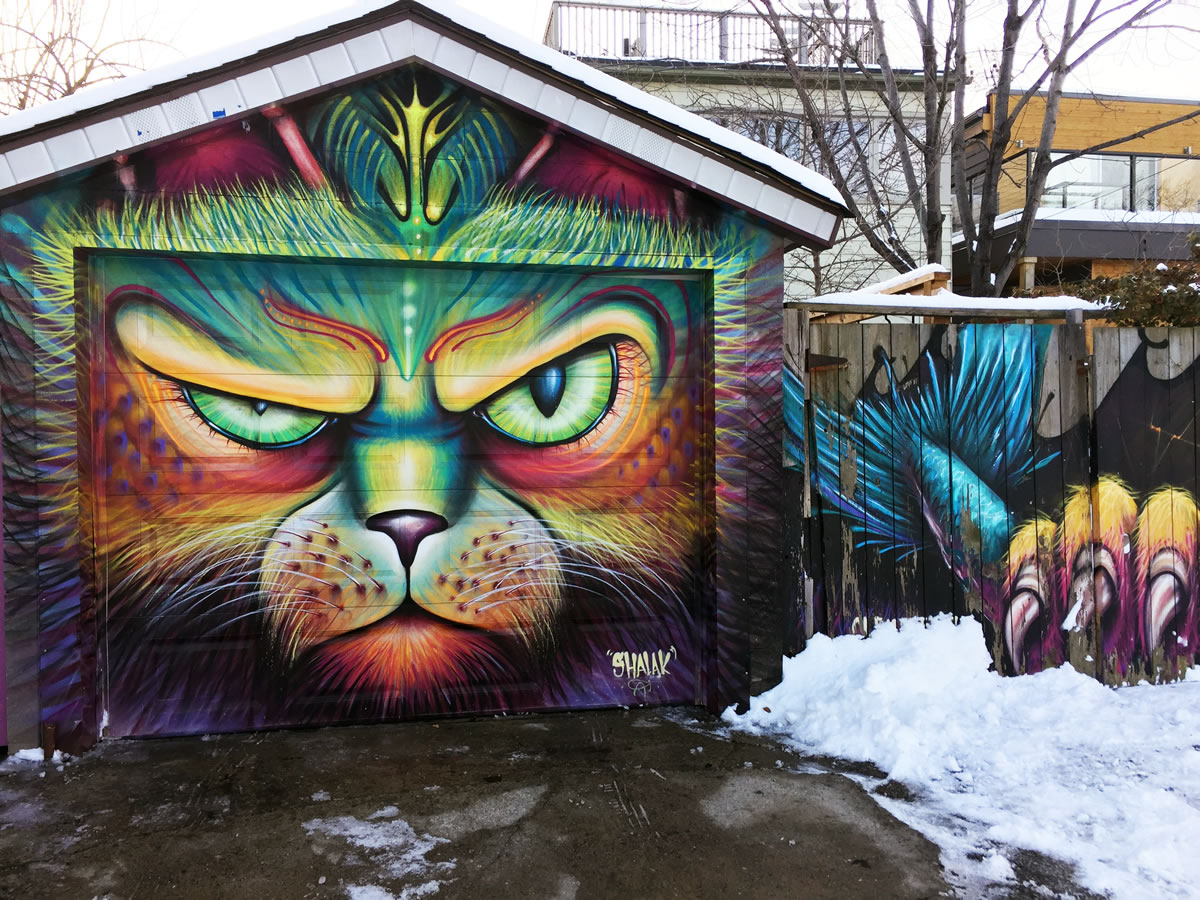 He tends to be a little darker than her — with that face 😔 and & scary looking fish 🐠 here in this mural .. And she is much softer with a more feminine touch.. Especially, with this cat 😻 and it's intriguing face 😔 ..… but they compliment each other very well…
. . I notice these 🎨 a lot more when it snows ❄.. Their colors stand out against the white blanket of the snowfall.. Such an amazing couple 👫.. From what I gather. she has roots in Chile and he from Brazil and together they are here in Canada 🍁.. .
.I've never met either of them.. But I feel like I know them because their 🎨 work is scattered right across the city.. And it's always a pleasure to see their work.. . .
.
.
If I am passing an alley where I know one of these are… 🎨 I make a point of making sure it's still there. And they have never been tagged as long as I have been looking 👍 ..
Happy Valentine ♥ Day everyone . ..
Aersol Graffit Street Art Found at this Toronto Location:
Panda Aerosol Art on side of Toronto Cafe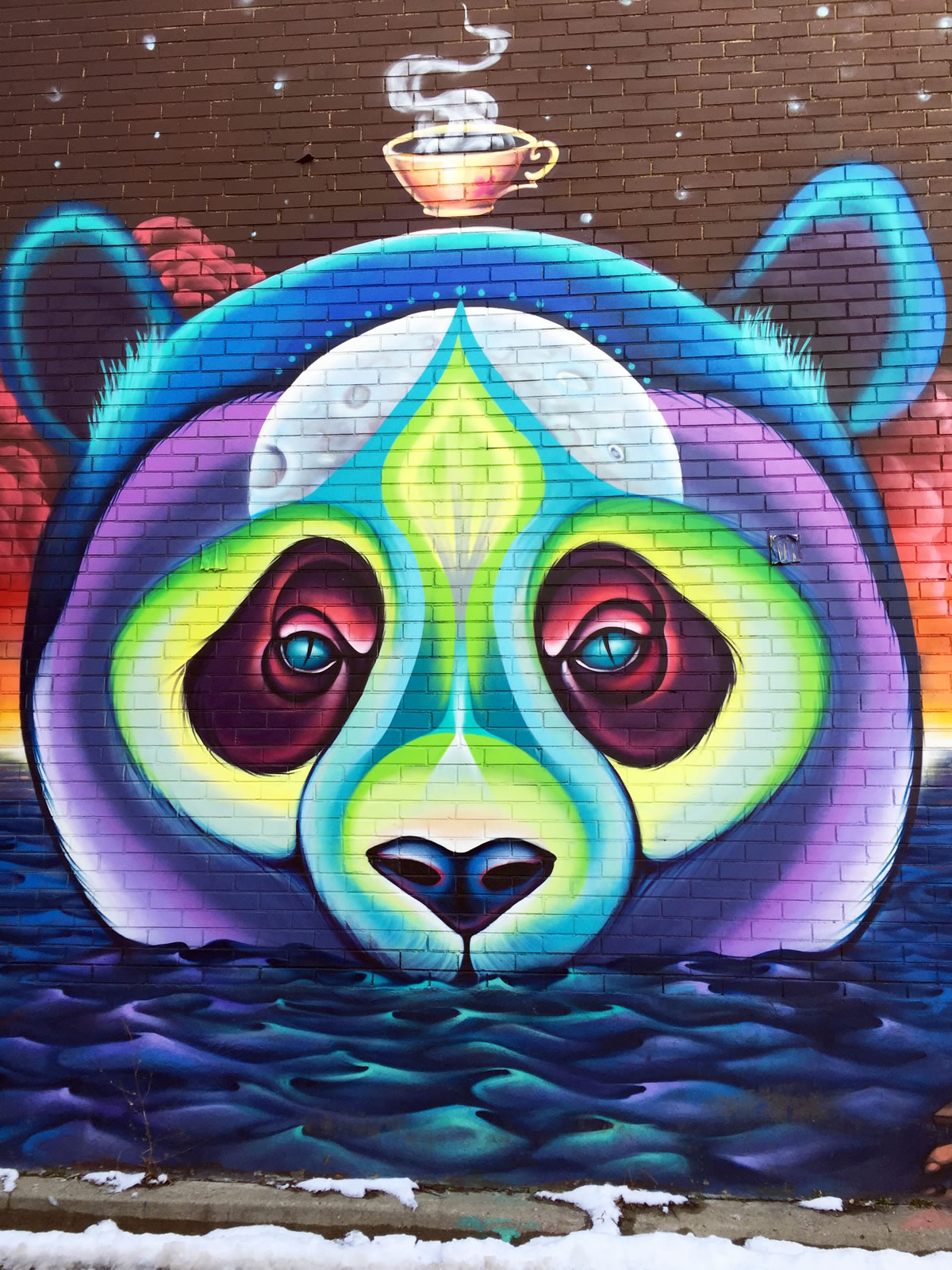 Another by @clandestinosart the same couple 👫 — @brunosmoky & @shalakattack – as my previous post.. .
.
One that I was sure that I had posted already. But I looked back at all my posts… & I haven't.. It must be in one of my art videos – because I've taken tons of photos of this one 🎨.I pass it almost every week… I notice it more when it snows ❄.. The colors are just perfect 👌 .
.
This one is hard to capture because you literally are right up against at wall to frame it and I can't get the entire bear 🐻 in frame just right with the tea ☕️ cup …. There's, also an equally amazing alligator 🐊 with a top hat 🎩 to the right of this one. .
Their work has a lot of nature and endangered animals as focal points.. 😍 & it does make you think about the 🌎 environment.. Very powerful work 👍 . (They are going to be in Hamilton – doing some live painting 🎨 this weekend – for @collectivebrew 🍻.. — And it's not a plug 🔌… but It does sound really cool 😎 .)
. . .
Crocodile Aerosol Art on side of Toronto Cafe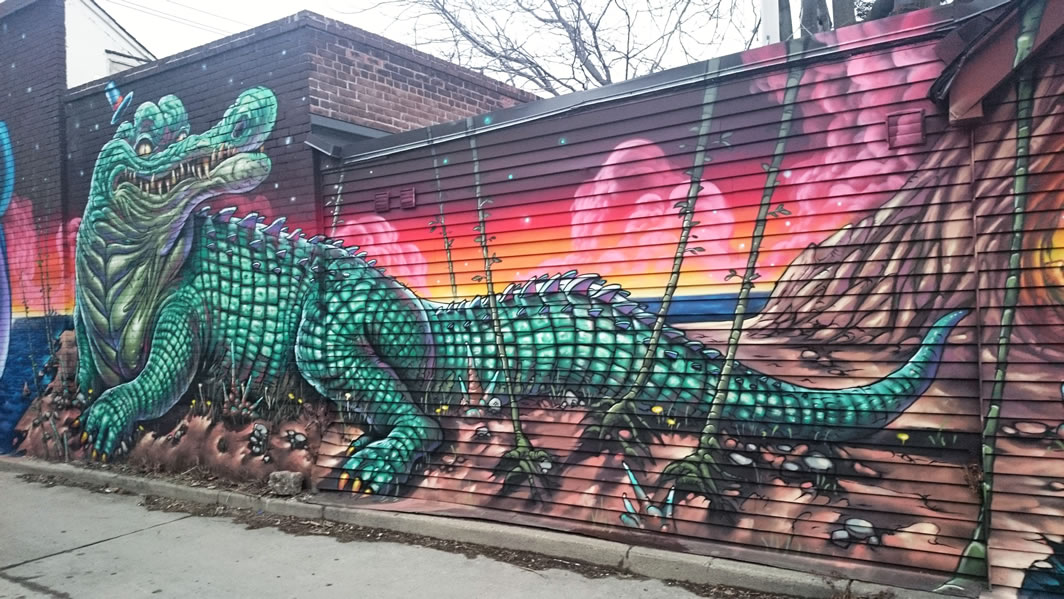 Another one by @clandestinosart with @brunosmoky… (Who just featured one of the pictures that I took of his mural – thank you Bruno 👍).. & his amazing partner ♥ @shalakattack.
.
This one is really hard to get in frame because it's so large and long… But its to the right of the last art 🎨 post with the panda 🐼. It's a 🎩 crocodile 🐊 (or an alligator 🐊?) .. Again, their art 🎨 deals with nature and the environment. .
.
I thought 💭 I posted this because it's from January 26, 2016.. But it was in one of my art video 📹 posts… Briefly .
.
There's a lot of 🎨that I haven't posted yet..I been looking through by archives
Again – not a 🔌 but they will be painting 🎨 live with @peru143 in Hamilton for @collectivebrew 🍻.. Wish I could go.. but gotta stick around here .
.
Have a great weekend everyone (and a long in the 🇺🇸 and parts of 🇨🇦.. Including here 🙌) .. . .
Update: After I posted this on Valentines Day Bruno Smoky emailed me about sending the photos to him. Which of course I did. They ended up posting it on February 16 which you can see here
When they work together they post as ClandestinoArt and they post separately using their own names. Which I think is actually very smart, they keep their own identity while their relationship has its own.
Their careers seem to be really taking off this year. They are in a video for a back pack maker and this week they worked on an entire house in Niagara Falls New York. That is one that I would really like to see. Check it out here
I'll quote this from their Instagram account "It was a beautiful collaboration to beautify their spaces with this insect world and some animals that mean alot to their family. They use nature and insects as an alternative to pesticides and sell sustainable insect growth packages for your yards and gardens which makes your flowers and vegetables grow bigger and juicier! "
Many of the murals that I have seen here in Toronto are very concerned about the enviroment and what we are doing to it.
Anyway.. it was very exciting to have been posted on their official account
.
Aersol Graffit Street Art Found at this Toronto Location:
.