Sidewalk art by Victor Fraser is a very dedicated artist with a very kind heart. So impressed by the about of work that he has done around the city
Tribute artwork to the Nurses on the sidewalk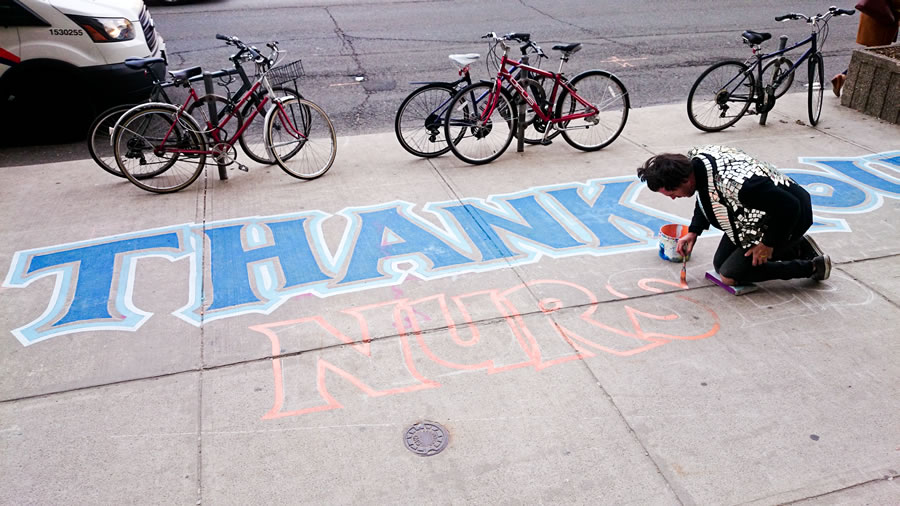 Finally, got to meet and chat with Victor Fraser ( @whatsvictorupto ) yesterday working in front of Mount Sinai Hospital ( @sinaihealthsystemto ). He was giving thanks to the nurses who work there by writing "THANK YOU NURSES" 👨‍⚕️👩‍⚕️on the sidewalk in front of the hospital entrance. This picture was from yesterday afternoon but he DM'ed to let me know its completed.. so, I will have to swing by again to see the finished result.
I had seen him in action during Pride Weekend 🏳️‍🌈 when he was touching up the names of the victims of the Orlando tragedy on the sidewalk. I didn't approach him because he seemed so involved in his work and there were a lot of other people talking to him. Even yesterday on a chilly day, he does gather a small crowd of watchers and when I was talking to him another guy came up and took his picture with him.
I didn't realize that he's been doing this 🎨 for so long but he said he's been doing this since '89 ! I only noticed them in the last couple of years.. but I must have seen them many times before. He usually wears his trademark MirrorBall Jacket and Hat 🎩 .
He does them all over the city 🌃 and there's even one on Centre Island. He was very friendly and can work while he talks; which makes sense otherwise he would be talking to people all day and wouldn't get anything done.. .
.
Its a very nice tribute to the hardworking nurses of any hospital – as he said "They are our unsung heroes" and I would agree with him completely !
Street Sidewalk Art captured at this Toronto location