Nick Sweeetman Butterflyway Project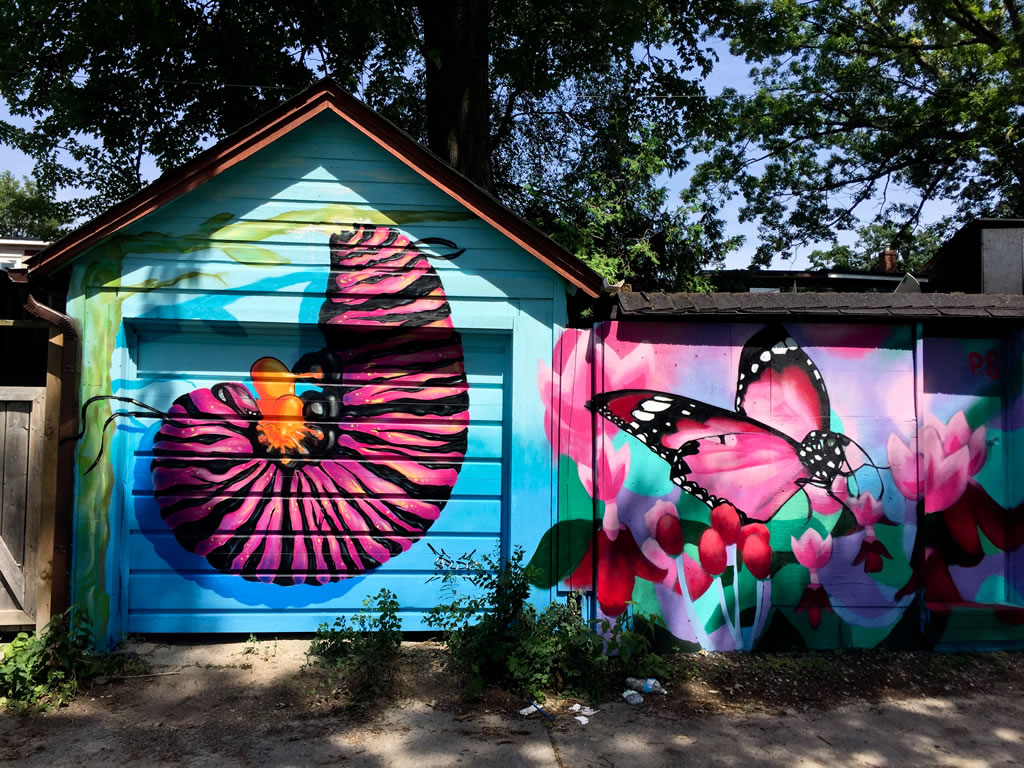 Nick Sweeetman organized Butterflyway Project. This is the second year where a collection of artists gathered to paint butterfly 🦋 themed artwork on garage doors.
I'll make a separate post for this later once I've figured out all the artists to credit.. Until then this short video clip gives you an idea of the artwork looks like.
🎨 Second annual Butterfly Laneway 🦋 project.. organized by @nsweetman for @DavidSuzukiFDN @StART_Toronto

_____#art #toronto #butterfly #butterflies #Caterpillar #insects #artwork #artoftheday #ArtisticTuesday #Visuals #garagedoor #artisttwitter #artistsoninstagram pic.twitter.com/IuSgsS85y7

— Bret Kelly (@BretAKelly) July 4, 2018
There's more about this important project here.
Toronto Graffiti Street Art Found here
🎨 @okudart in progress 🌈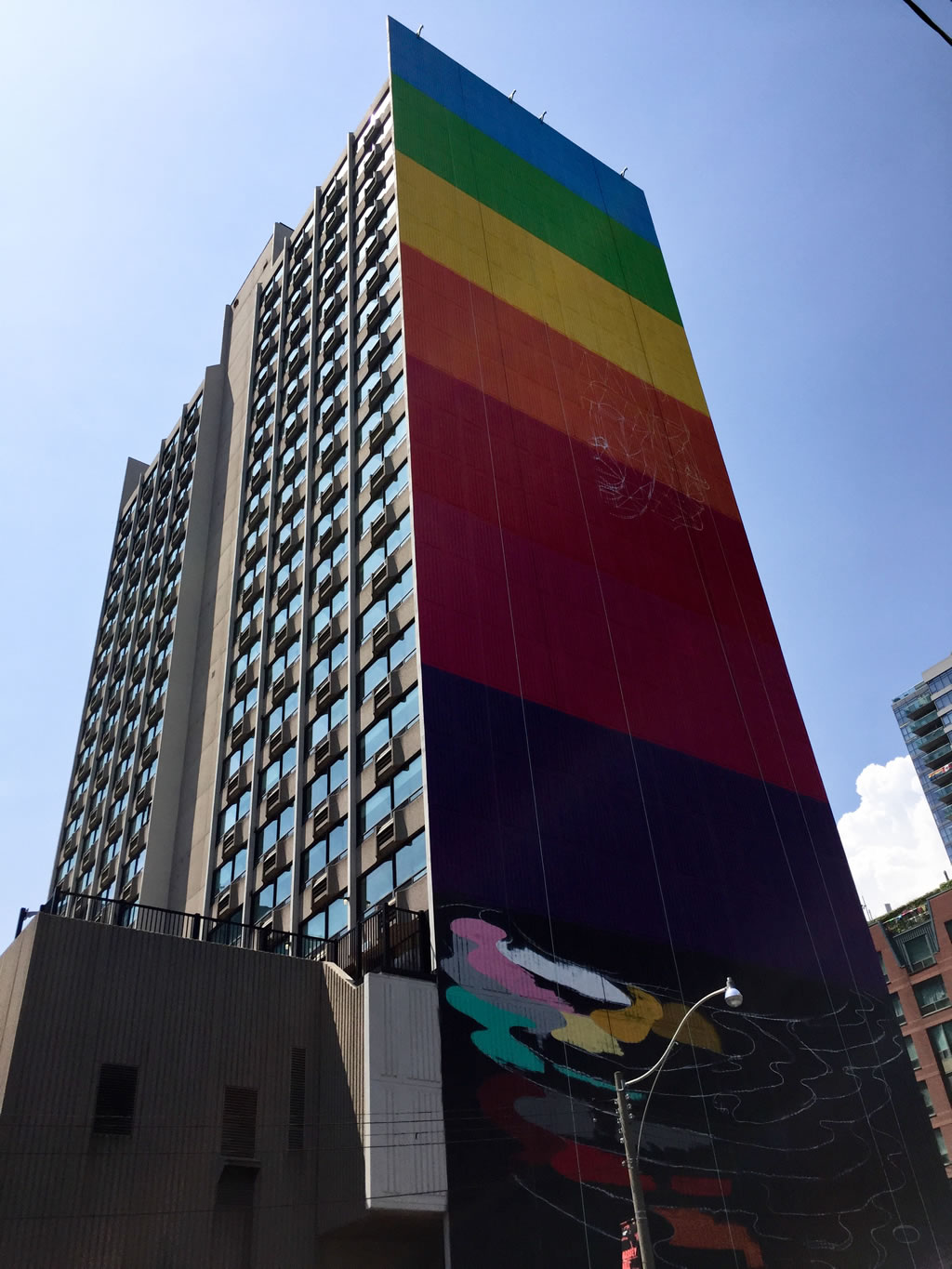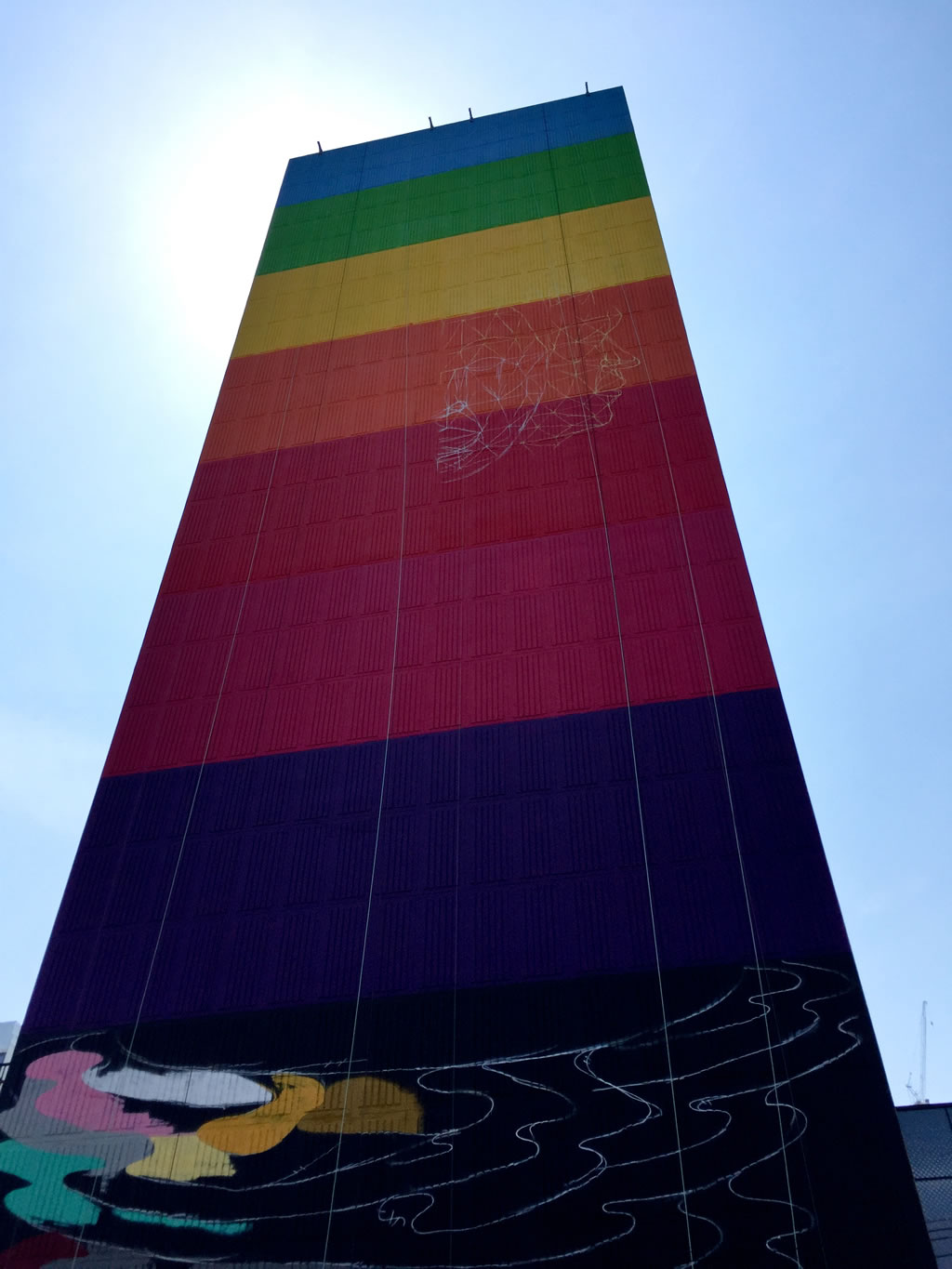 This looks like its going to be awesome.. can't wait to see this completed. His assistant said it would be ready in a week or so. I'll definitely check it out again.
This is a mural called Equilibrium. They have some interesting facts on their Instagram.. "Like 257 people are working on this mural". "..It will take 101 gallons of latex paint to complete the #EquilibriumMural… Thats enough to fill a large bathtub!"
Toronto Graffiti Street Art Found here
🎨 Collab by Alex Bacon & @dudemanart 🌹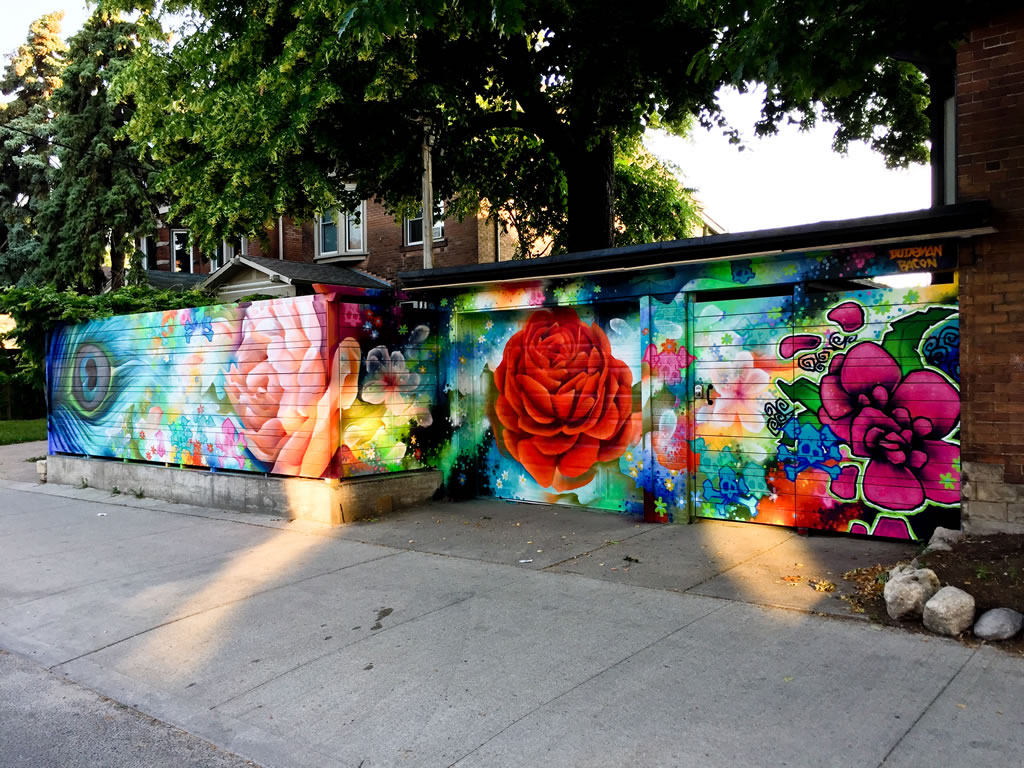 This is at the same flower shop that got in trouble last year for selling Christmas Trees at Christmas Time nonetheless.. (that all worked out BTW). The large rose on the garage door is where they sold the trees from.. and during the holiday season they had a HUGE Darth Vader on the roof.
I was taking some pictures of this new mural by Alex Bacon and Dudemanart on Sunday… it took me bit of time.. because that light was working so nicely together with the art… I wanted to get in as many angles as I could.. plus, there are a lot of details happening here.. Like the Peacock feather (symbolizes the zoo nearby with Peacocks) etc..
As I was taking my snaps I turned around and a guy on a bike rode by; he was taking a picture of the mural at the same time. Later that night while looking through Instagram stories.. I watched myself taking a picture of this mural.. the bike guy had posted it… .. it was kinda bizarre watching myself taking a picture of this.
Also.. it got me thinking about how many times we are being recorded and we just don't notice… & I never realized how pasty white my legs are before.. !
Toronto Graffiti Street Art Found here
Happy Canada Day ! 🇨🇦
And if you don't live in Canada… Have a Happy Day wherever you are ! I don't know who created these..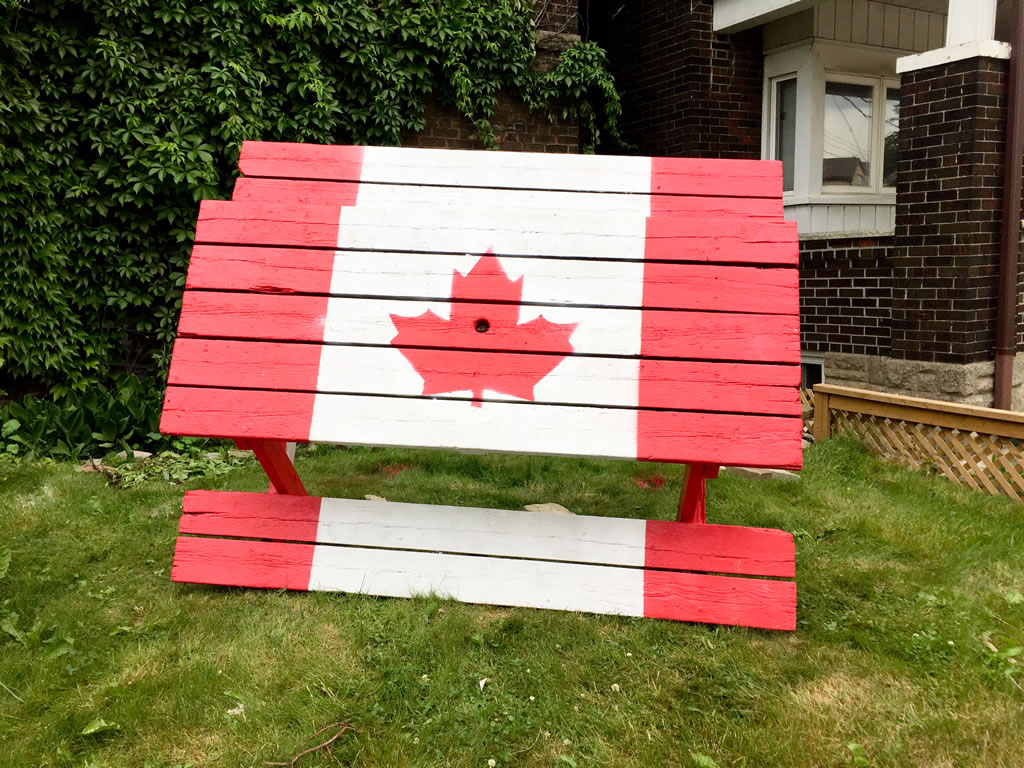 The picnic table is on some guys lawn all year long.. but just before Canada Day he turns it up so everyone can see it.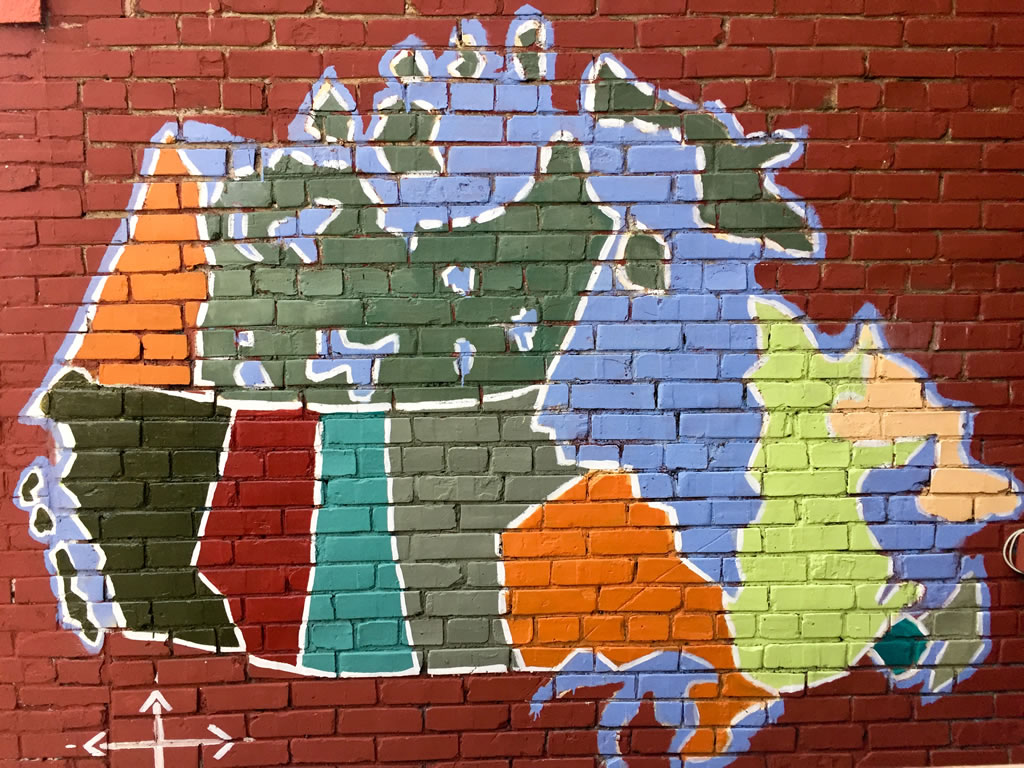 This map of Canada.. again I don't know who its by.. Its on the side of an antique store..
Toronto Graffiti Street Art Found here: