Clandestinosart environmental mural that now has a fence in between. Its a collaboration with Bruno Smoky, his wife Shalak Attack and her sister Fiya Bruxa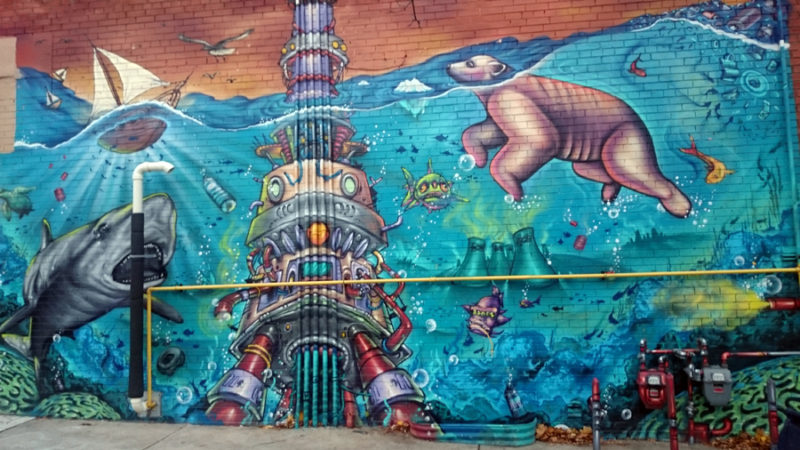 Art dealing with nature
Really love the message of this one. You have to look closer sometimes when you pass these.
From my Instagram post
I passed this mural just yesterday — 🔙 ( this 📷 is from 06/11/15) — there is now a patio fence that separates the polar bear 🐻 from the tower . It changes the 🎨. — IMHO.. which, is why it made me think to find the original image of this to remember what it looked like before (archives rule 🙌) .
.
This is by @Brunosmoky with @shalakattack & @fiyabruxa. It's 1 of the first murals 🎨 that I noticed (and decided to photograph) and i honestly didn't know anything about them when I took this, 📷 .. But i do know about them now.. their work is scattered across the city with similar themes .
I'm so glad that I captured 📷 it back 🔙 then (without the patio fence) ..because, its so interesting .. people walk by these artworks and don't think twice about them .. .
If you look closely — you will notice a sea 💦 that has a shark.. a skinny polar bear 🐻.. in a water filled with debris.. like a plastic bottle 🍶and a nuclear power plant with a 3 eyeed fish 🐠 . .
Makes you think 🎨 (13 months later and I'm always impressived by @clandestinoart 🙌).. It's not my best 📷… But it was the beginning of this 🎨 journey that will never end 🔚) .