🎨 "Nobody Likes You" Mural by @johnball 😄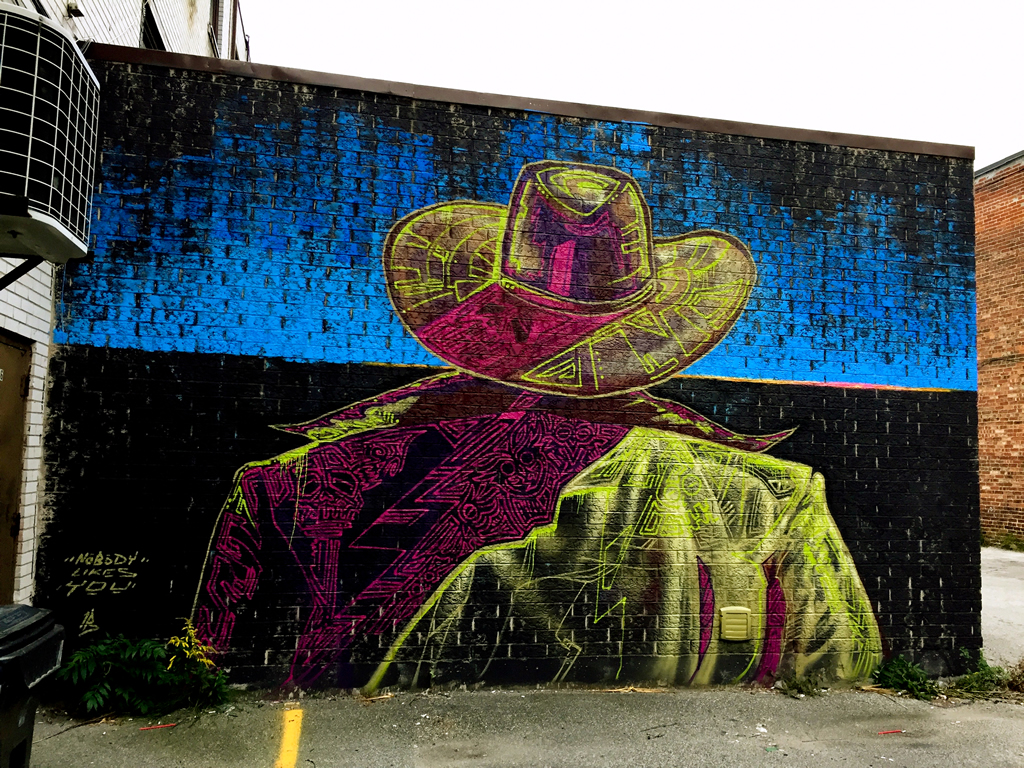 Nobody Likes Mondays ! that's for sure… comeback when you change your name to Friday .. or even Thursday !
I found this yesterday afternoon (which was a Sunday)… It's similar to a mural that he did two years ago, just a few blocks away with a cowboy theme as well. Looking on his Instagram account, it looks like it was done just a couple of weeks ago.. still fairly fresh !
On his website it looks like he's going to be having an art show on the 20th of this month. I found a a link from on his site with an interview for an art magazine:
"How would you define yourself as an artist? I'm a neo futuristic abstract expressionist."
It's worth a read if you get a chance !
🤠 🤠 🤠 🤠 🤠 🤠 🤠 🤠 🤠 🤠 🤠 🤠 🤠 🤠 🤠 🤠 🤠 🤠 🤠 🤠 🤠 🤠
Monday no one likes you ! .. but October ! Who doesn't like October ! It's gotta be one of the best months of the year ! It's even got Halloween in it !
Happy October Everyone.. Everybody Likes You !
🎃 👻 🎃 👻 🎃 👻 🎃 👻 🎃 👻 🎃 👻 🎃 👻 🎃 👻 🎃 👻 🎃 👻 🎃 👻
Toronto Graffiti Street Art Found Here:
🎨 Aersol Spray Truck by @kizmet32 🚚
It's Kizmet32 ! He's back in town and he's ready to paint trucks with glow in the dark paint !.. 🚚
Last night was Nuit Blanche Toronto @nuitblancheto which is a night where artists show off all their art installations & you can: "Experience the city transformed by artists. One night only. Sunset to sunrise".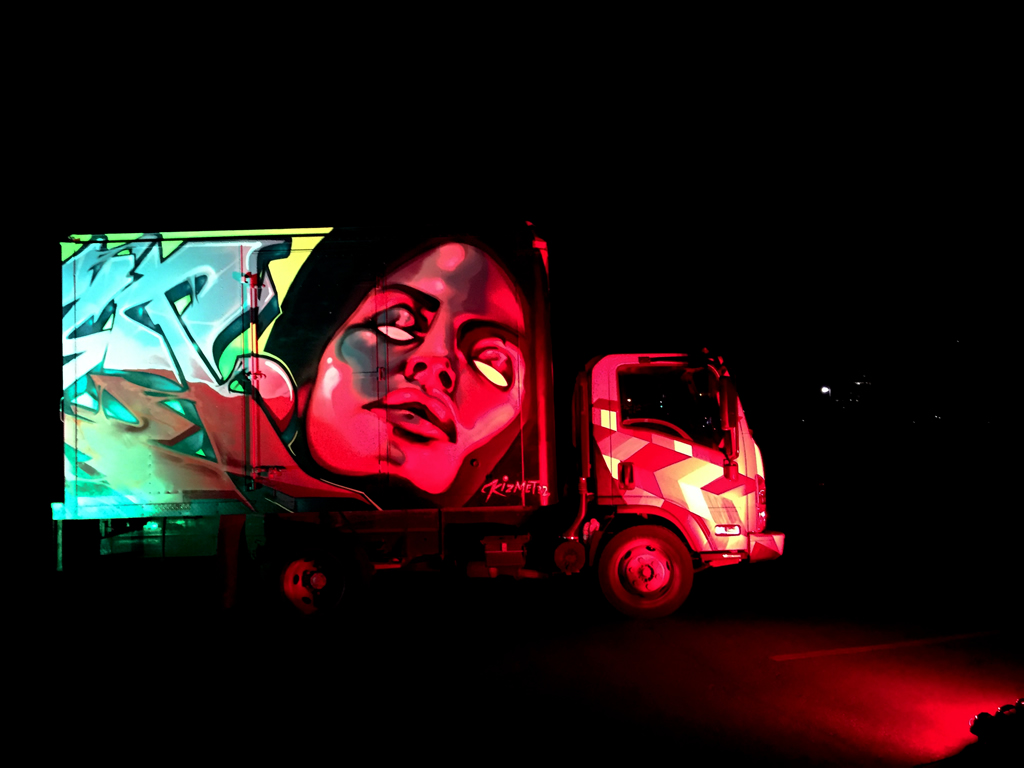 I think every city has these festivals now…it says on Wiki it got started in 1989 "the Helsinki Festival established its Night of the Arts, "when every gallery, museum and bookshop is open until midnight or later and the whole city becomes one giant performance and carnival venue".
Lately, it's honestly become just an excuse for frat kids to stay up and drink all night. Which is fun 2… I'm just not a frat kid anymore. 🍺
I'm not sure if this was officially apart of Nuit Blanche … but he's been painting on these trucks for a few days for a Brewing Company @hendersonbrewing .
Says on their account" Q: what do you do when your delivery truck gets vandalized??.
A: you commission local hero/street artist @kizmet32 👑🙌 to paint the entire truck and make the whole thing one big work of art
That's all good to me.. Love art on trucks. and glow in the dark is total bonus !
🚚 🎨 🚚 🎨 🚚 🎨 🚚 🎨 🚚 🎨 🚚 🎨 🚚 🎨 🚚 🎨 🚚 🎨 🚚 🎨 🚚 🎨 🚚 🎨 🚚
Toronto Graffiti Street Art Found Here:
🎨 Garage Door Mural by Timmy Drift 😄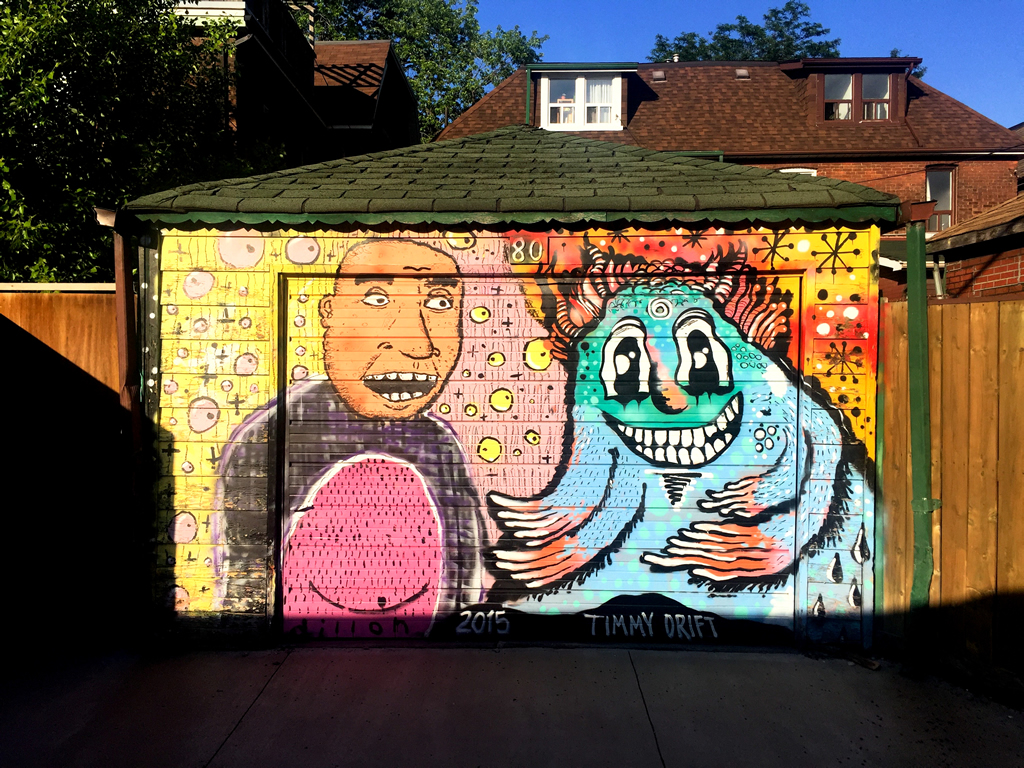 I found this garage door mural art by Timmy Drift back on Wednesday June 20th of this year. I remember kinda not feeling in the best of moods.. but when I stumbled upon this.. I was like "Happy 😄 Happy 😄 Joy 😄 Joy 😄 " … It's kinda infectious will all the smiles going on ! 😄 It pretty much turned my frown upside down. ! Dontcha think ! !
I found his original post on his Instagram account back on August 31, 2015… he just says "Quick garage with Dillon this weekend 👽"
Anyway, I hope this puts the "Happy" into your "Happy Humpday" as it did mine !
🐪 😄 🐪 😄 🐪 😄 🐪 😄 🐪 😄 🐪 😄 🐪 😄 🐪 😄 🐪 😄 🐪 😄 🐪 😄 🐪 😄 🐪 😄 🐪 😄 🐪 😄
Toronto Graffiti Street Art Found Here: