Toronto Street Art Graffiti featuring Movie Art Decor Mural with Film Stars including portrayal of Marilyn Monroe, Bruce Lee, Alfred Hitchock & King Kong
Movie Art Decor Murals
I was wondering what these murals were about. I didn't stumble upon these until 2015. Apparently, this was a video rental store that closed in 2014. Ed and Wanda Guca were in business for 34 years. It sounds like it was one of those video stores that had hard to find movie releases. But with the advent of Youtube and Netflix their store became unprofitable.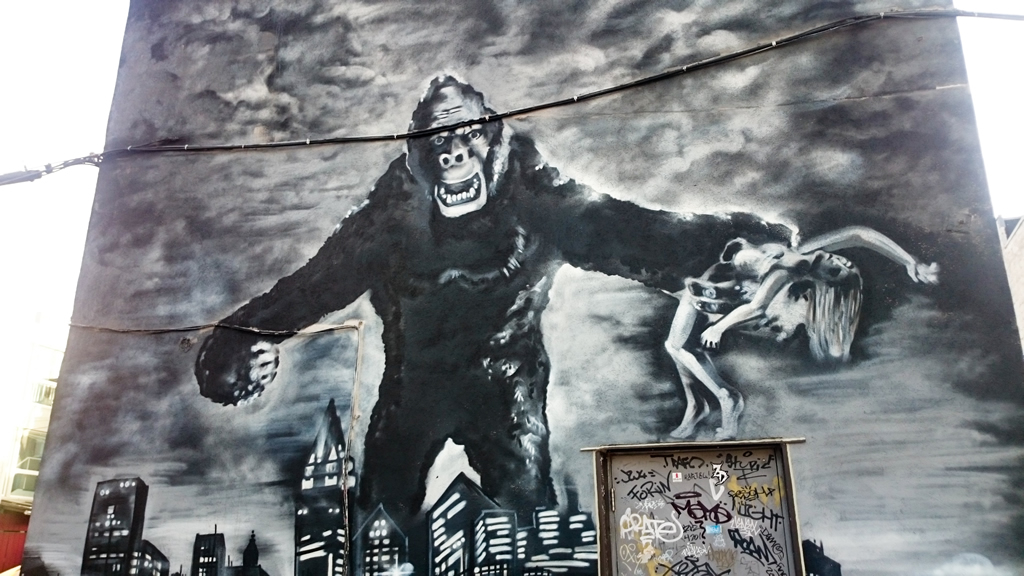 This mural is in the rear of their former store. The King Kong mural was always one of my faves.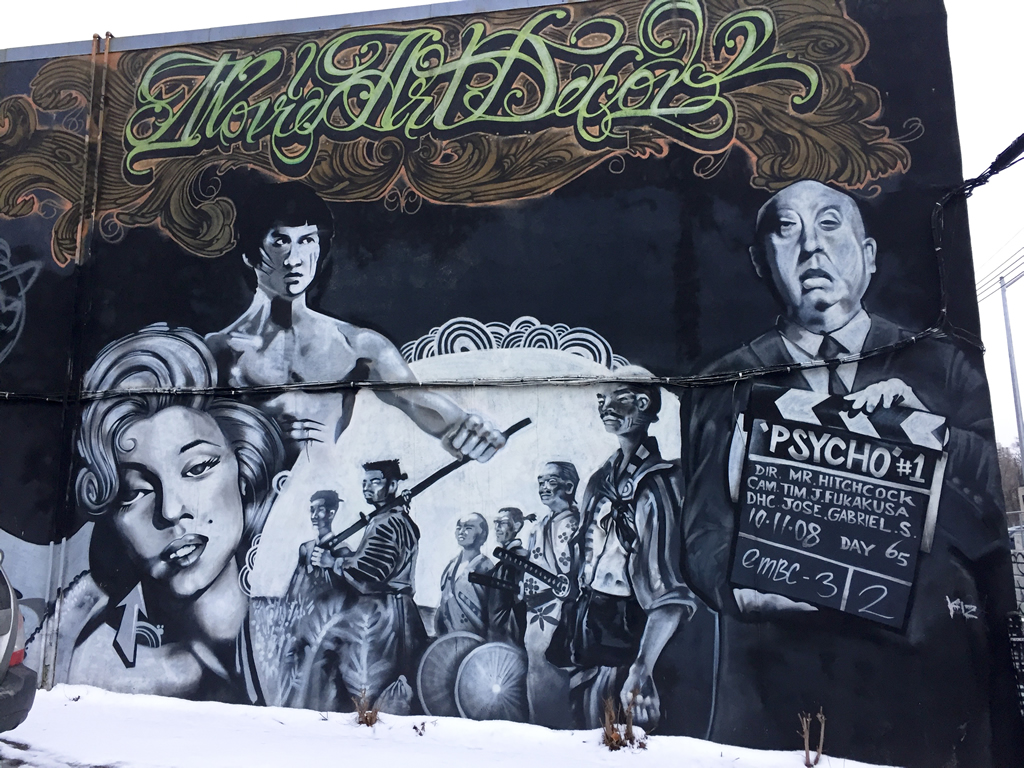 This picture was taken in February of 2016. It actually says "Movie Art Decor" at the top. It seems to be a montage of Marilyn Monroe, Bruce Lee, I think that is a Samurai movie in the middle and of course Alfred Hitchcock is on the far right.
It appears to be the work of José-Gabriel who only goes by his first and middle name.. seems to be done in 2008 – but I can't find any additional information about him except this article about another project.
West Bomba End Mural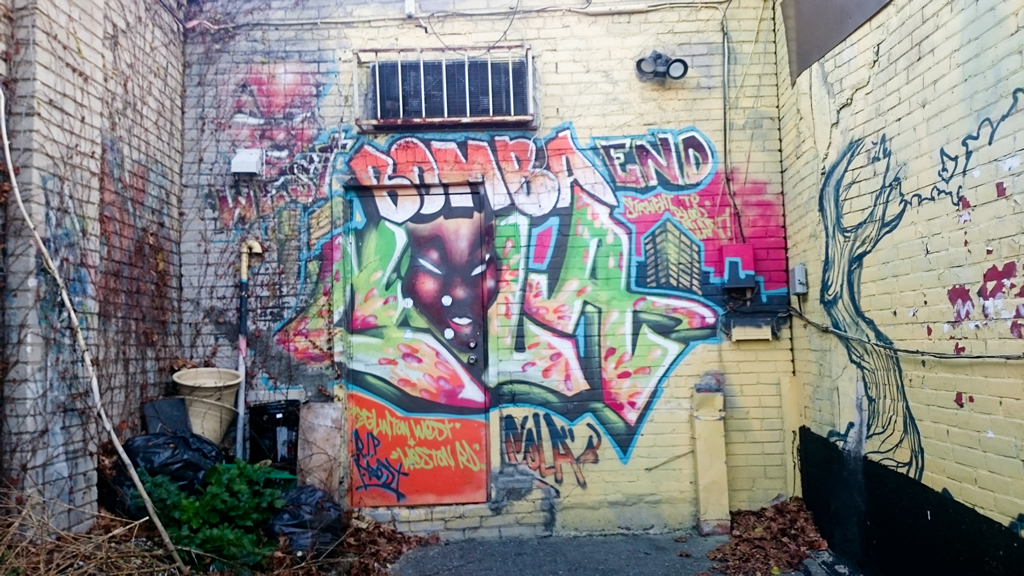 This is in that same alley. This alleyway has a lot of different murals done at different times for different purposes. A lot of times – there are cars parked in front so you have to keep going back until there is no vehicle in front. This was the first and only time that there wasn't a car parked in front of this spot.
It just says West Bomba End at the top. Then "Eglinton West – Weston Road" on the bottom with "Cola" and I think "Straight to the Blood". These are very confusing when you stumble upon them years later.
I found an article about La Bomba – a woman who claims to be "Toronto's First Graffiti Artist". Maybe this is her work ? I do not know.
The rest of the murals that are in this same alley I will post at a later date because I have better pictures of them that are more recent and better quality.
Toronto Street Art Graffiti Found at this Location
Kizmet32 & Vuducats Tags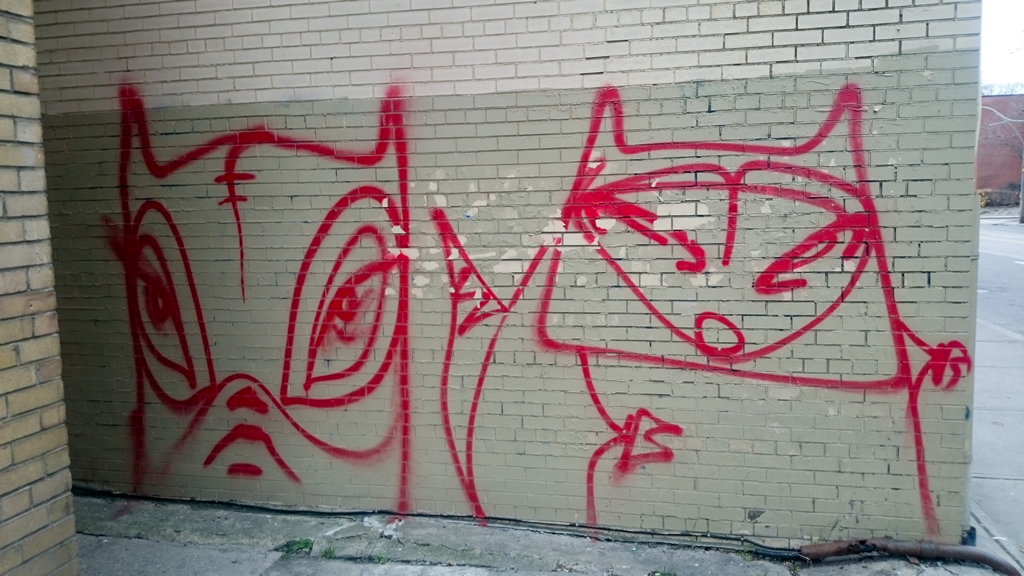 This tag was by Kizmet32 and Vuducatz – at one point they were tagging as a team with these particular characters. Hers is on the left of a cat.. and he does that character on the right with the raccoon. Judging from the latest graffiti that I have seen around town – they are no longer a couple. But don't quote me.
This wall on the side of a grocery store gets tags all the time.. they painted it black recently but the tags just keep coming back.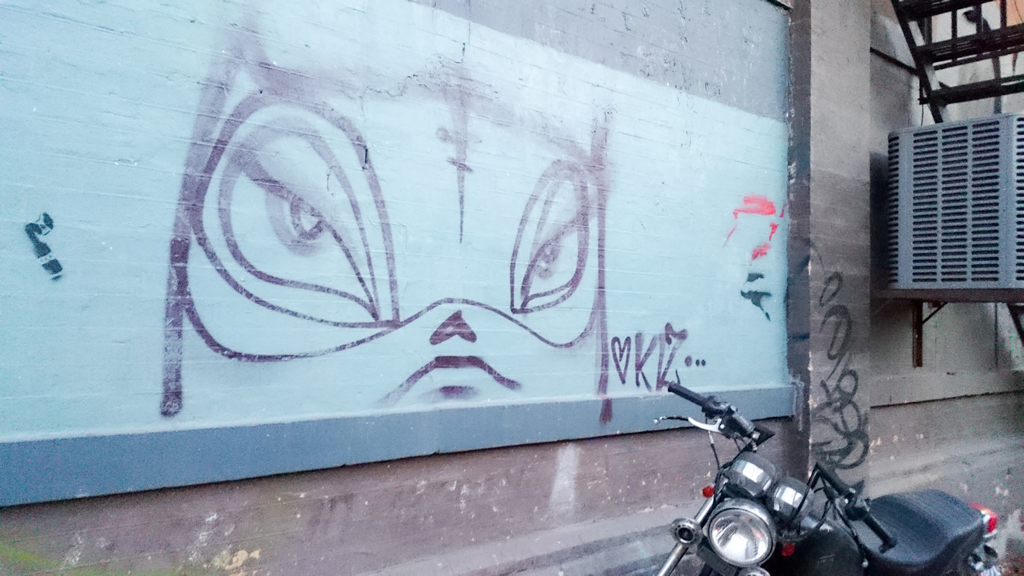 This is another Vuducatz 'cat' tag that was nearby.
Toronto Street Art Graffiti Found at this Location
Peru143 Garage Door Mural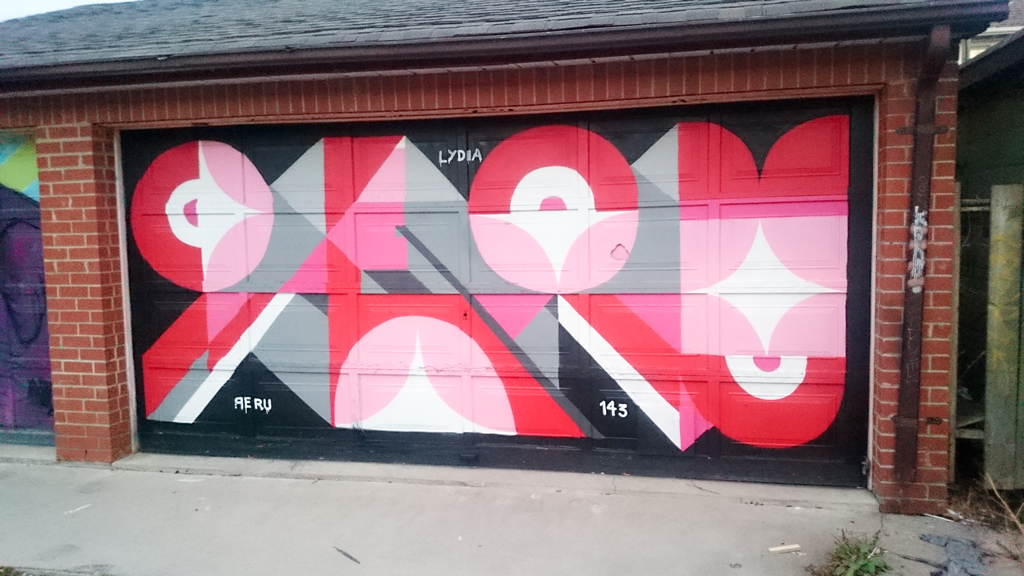 From November of 2015 – the first Peru143 that I ever noticed. He uses a simliar design in most of his work. This one is only using pink and red with gray black & white. His more recent artwork incorporates more colors.
Toronto Street Art Graffiti Found at this Location
Listen Bird – Dirty White Boy Graffiti Tag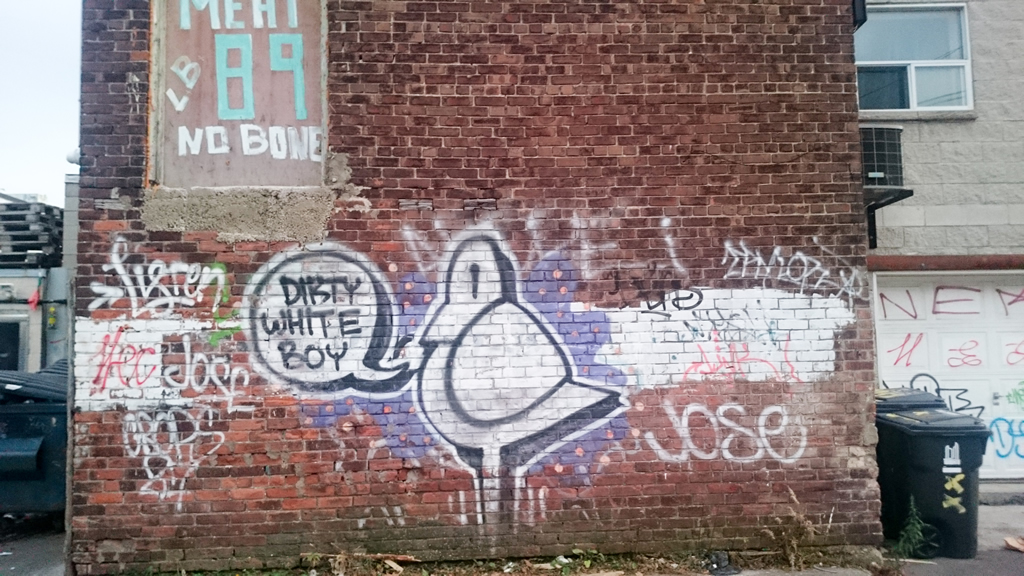 I haven't seen a new Listen Bird tag in a long long time. Looking at my picture archives reminded me that I haven't. This again is from November 2015. The "Listen Bird" would always appear with that distinctive bird and usually a song title or song lyrics.. most the songs were from the 80's.
Dirty White Boy was a song by a band called Foreigner – who were popular in the 70's and 80's.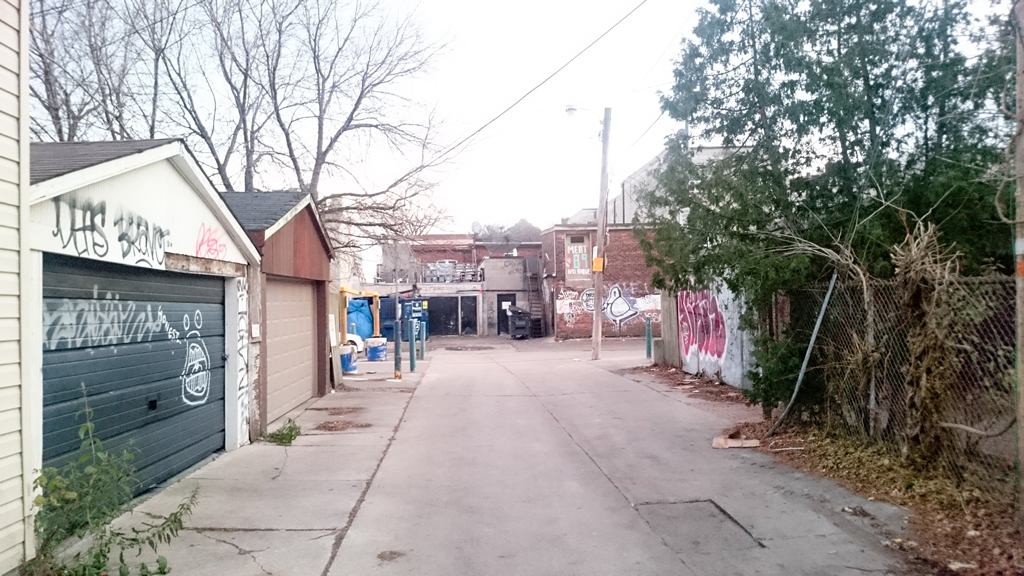 That's the distant photo of the alleyway.
Toronto Street Art Graffiti Found at this Location