Artist Karen Roberts
Karen Roberts is truly a street artist.. She paints on the actual streets in all types of conditions. From the blazing heat during the summer to the cold dreary days of October
On the Murals Routes website they say this about Karen:
"Faster than 1000 words, more powerful as a logo/motif, able to span tall buildings with a single sketch. Multidisciplinary artist; painting, aerosol, photography, sculpture, mosaic, installation, digital and design. Specialty: Aerosol, Mosaic, Realism, Contemporary, Creative Realism, Educator, Other"
There's a few of her murals that I didn't get a chance to see last year. However, here are some of the projects that she worked on in 2018 that I was able to experience:
King's Buried Treasure Sidewalk Street art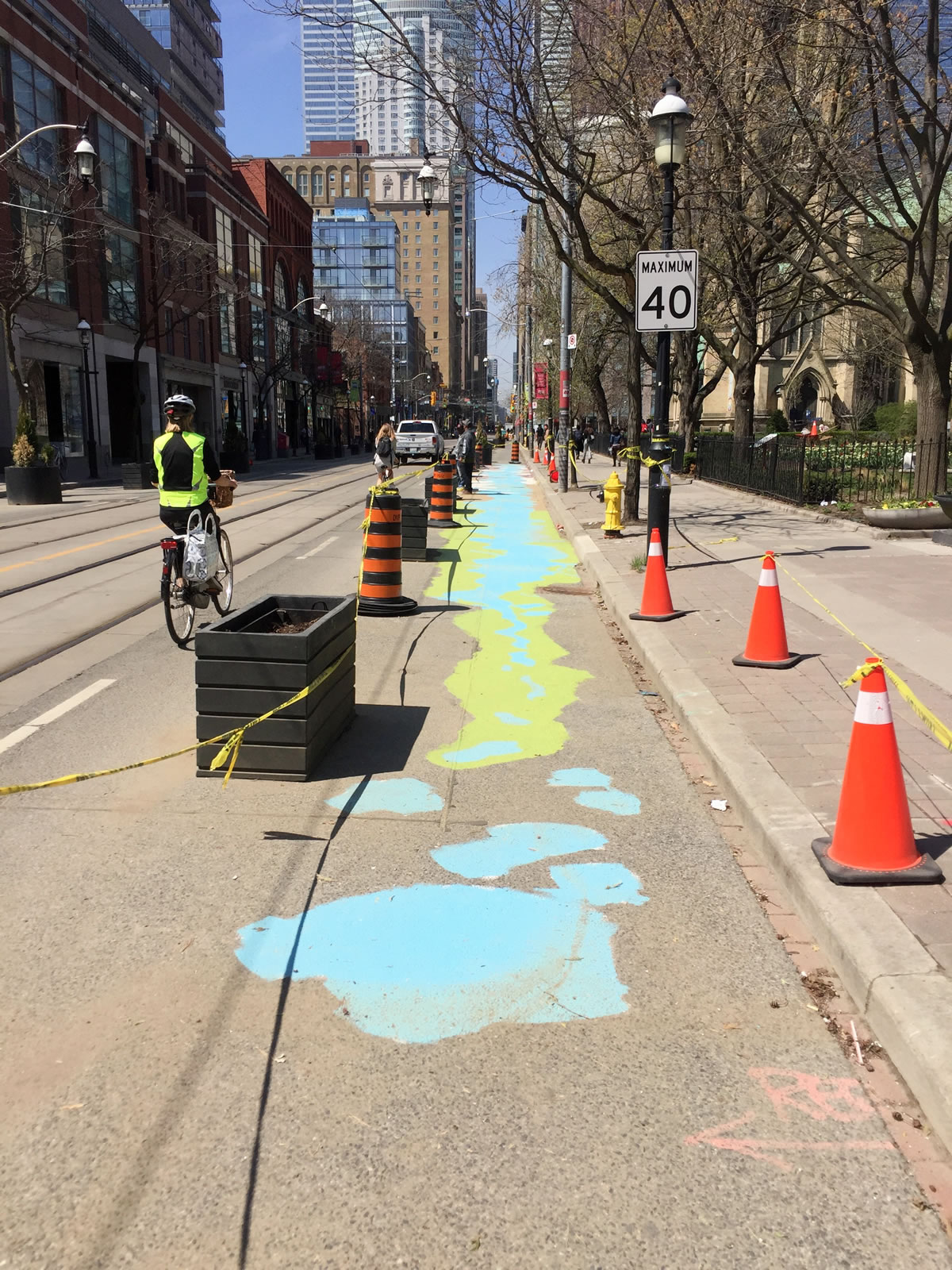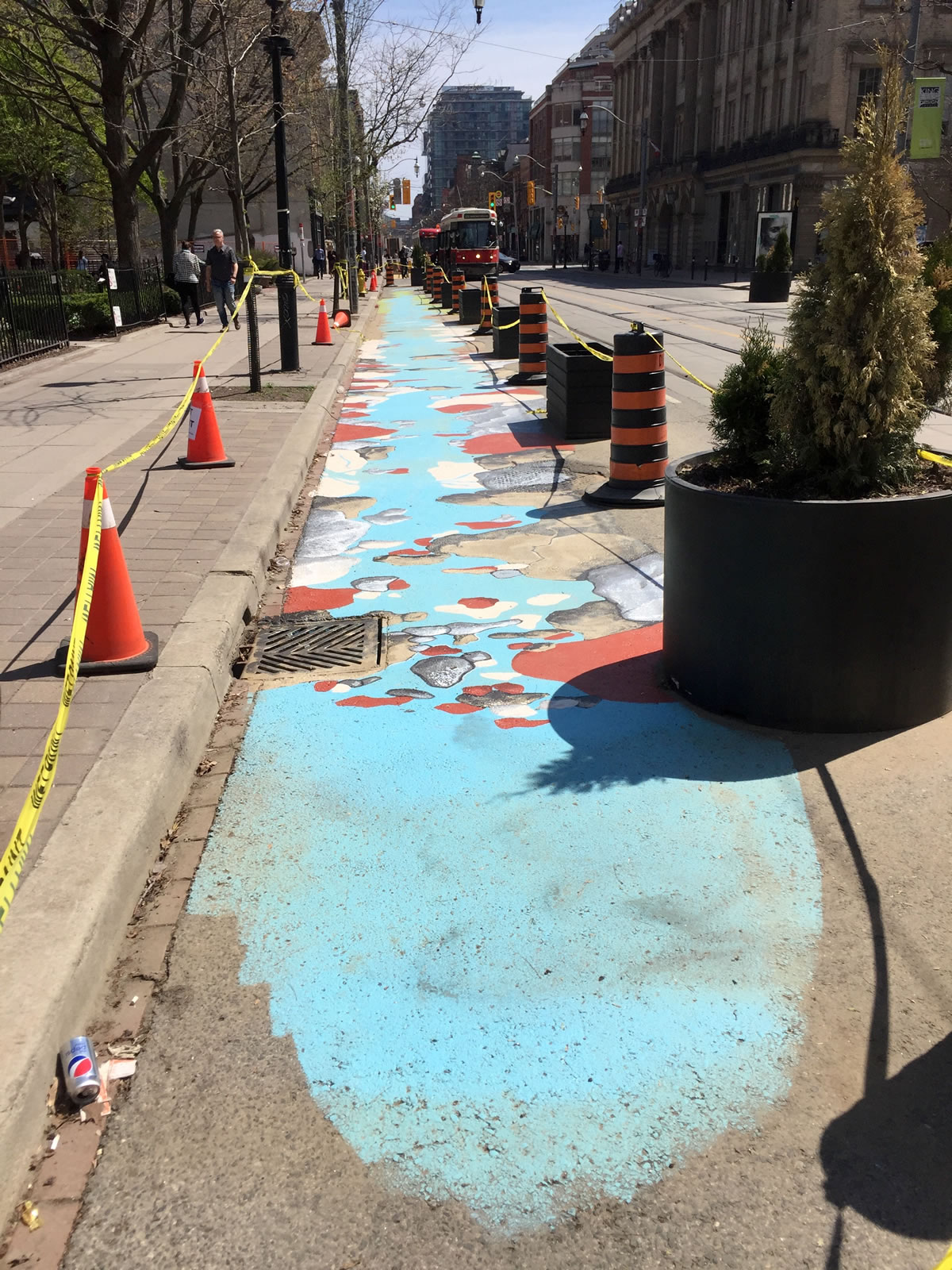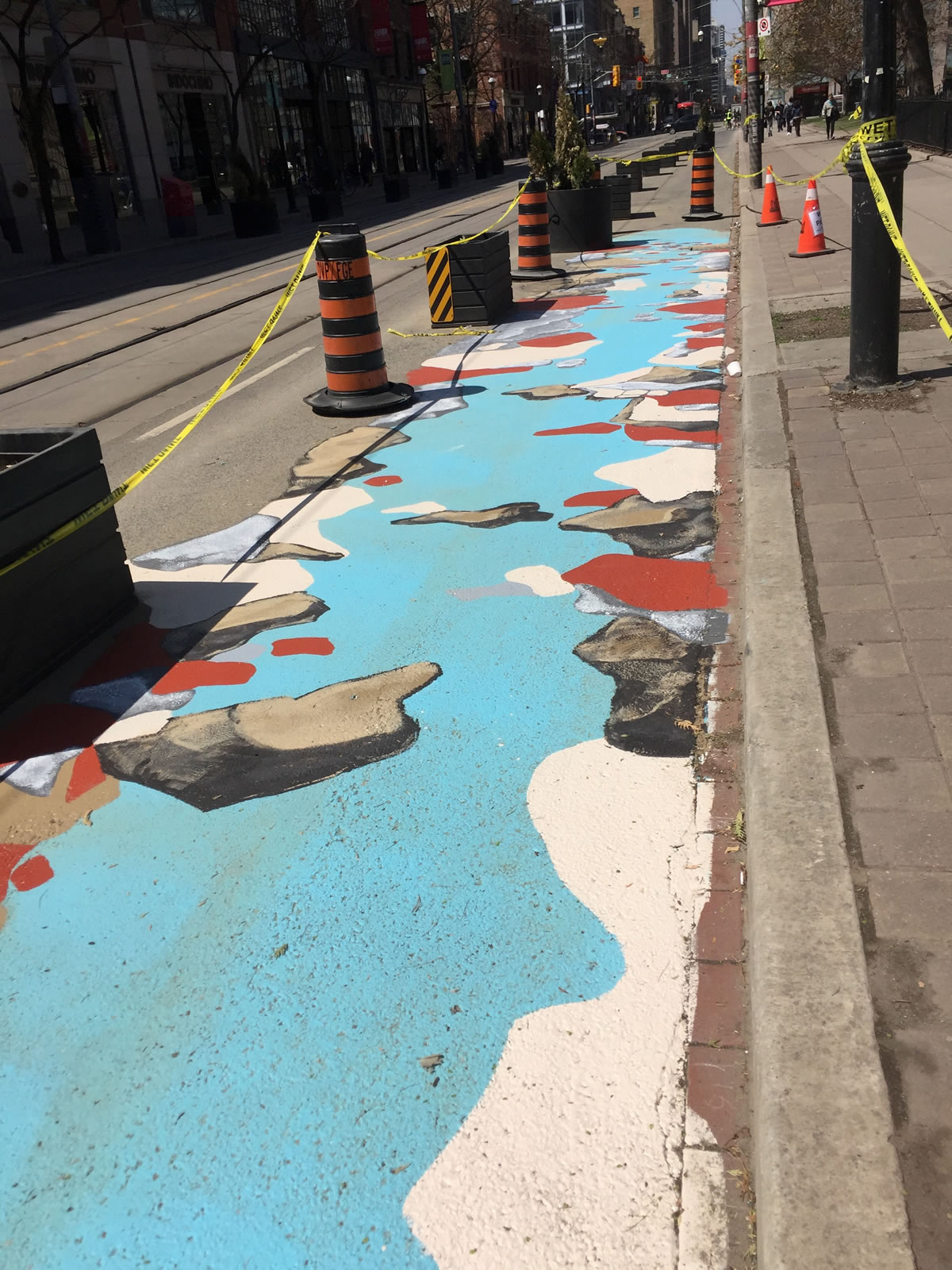 I didn't get to see her working live on this massive sidewalk project. I always got there just a little too late.
Karen Roberts @artistkroberts in collaboration with Cindy Scaife @cindyscaife and Marg Cresswell @muralsbymarg
"Concept Summary
During the formative days of Toronto, multiple creeks traversed the land along King St. From Bathurst to Jarvis. Cathedral Creek flowed through St. James Park beneath the site of the Cathedral Church of St. James from Jarvis and King to Church and Adelaide. At least 8 more creeks crossed King Street. They are now buried or dried up.
My road mural depicts a stream, edged with rocks, pebbles, mud and brush; resurrecting the lost creeks of King St. It will be painted in blues, greens, browns, greys, white and reds. The mural meanders along the public space, adding colour, beautifying the street and providing an infusion of nature in the heart of downtown. Animal footprints will be painted onto the sidewalk. This animated feature will be invisible in dry weather and visible when it rains. Horse, deer, moose, rabbit, fox, beaver, racoon, squirrel and bird tracks will surrond the stream when wet. As the sun shines and dries the sidewalk, their existence will fade from sight, just the creatures did. Passerby are encouraged to return in wet weather to witness these ghostly images.
Test your knowledge in identifying the animal tracks."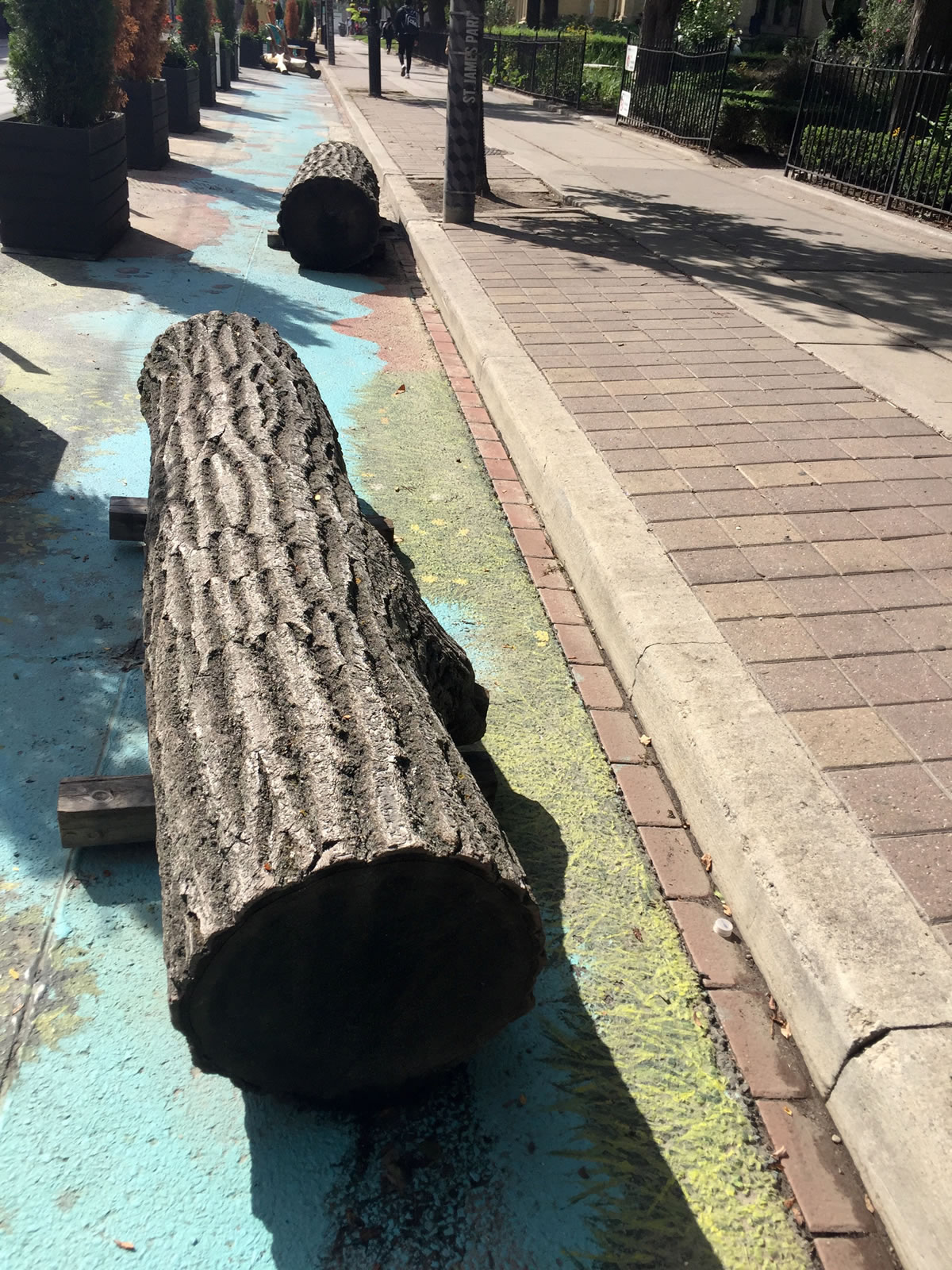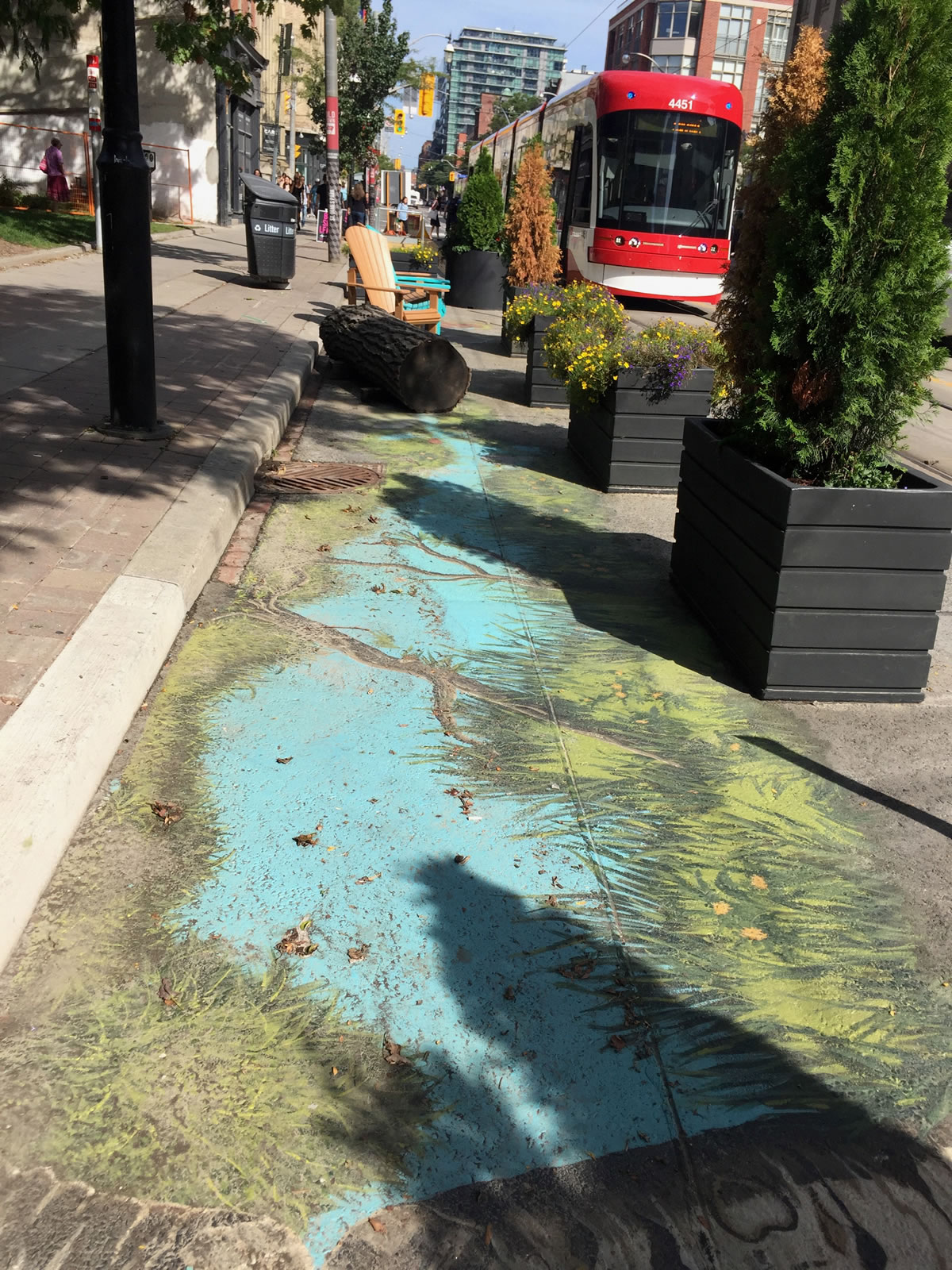 Then, later on in September I got to see the final project… months later. The city supplied the tree trunks and the chairs for the King St. Pilot Project.
May 9th & September 17th
Street Art Graffiti Found Here:
Swing Dancing Bell Box Street Art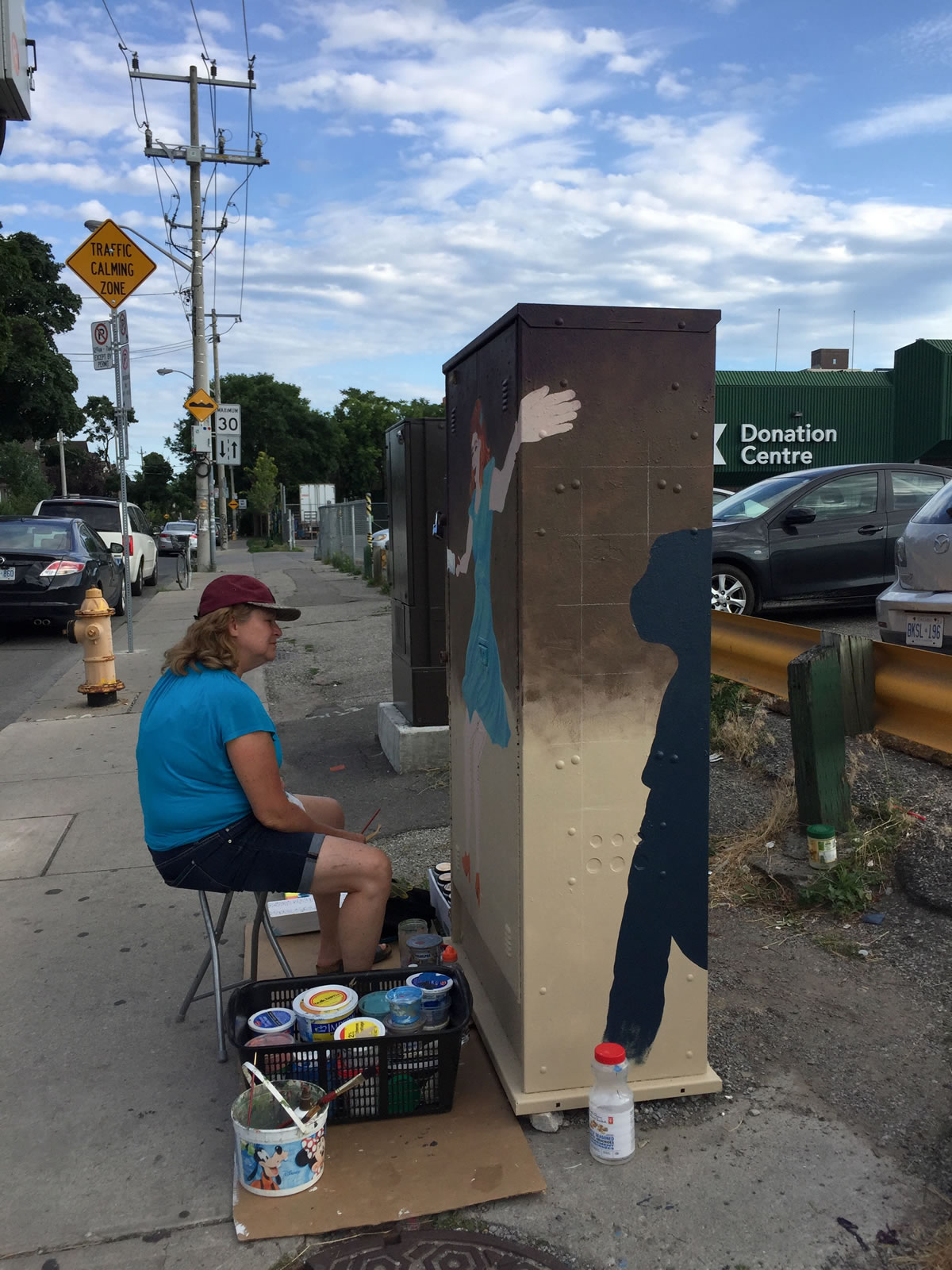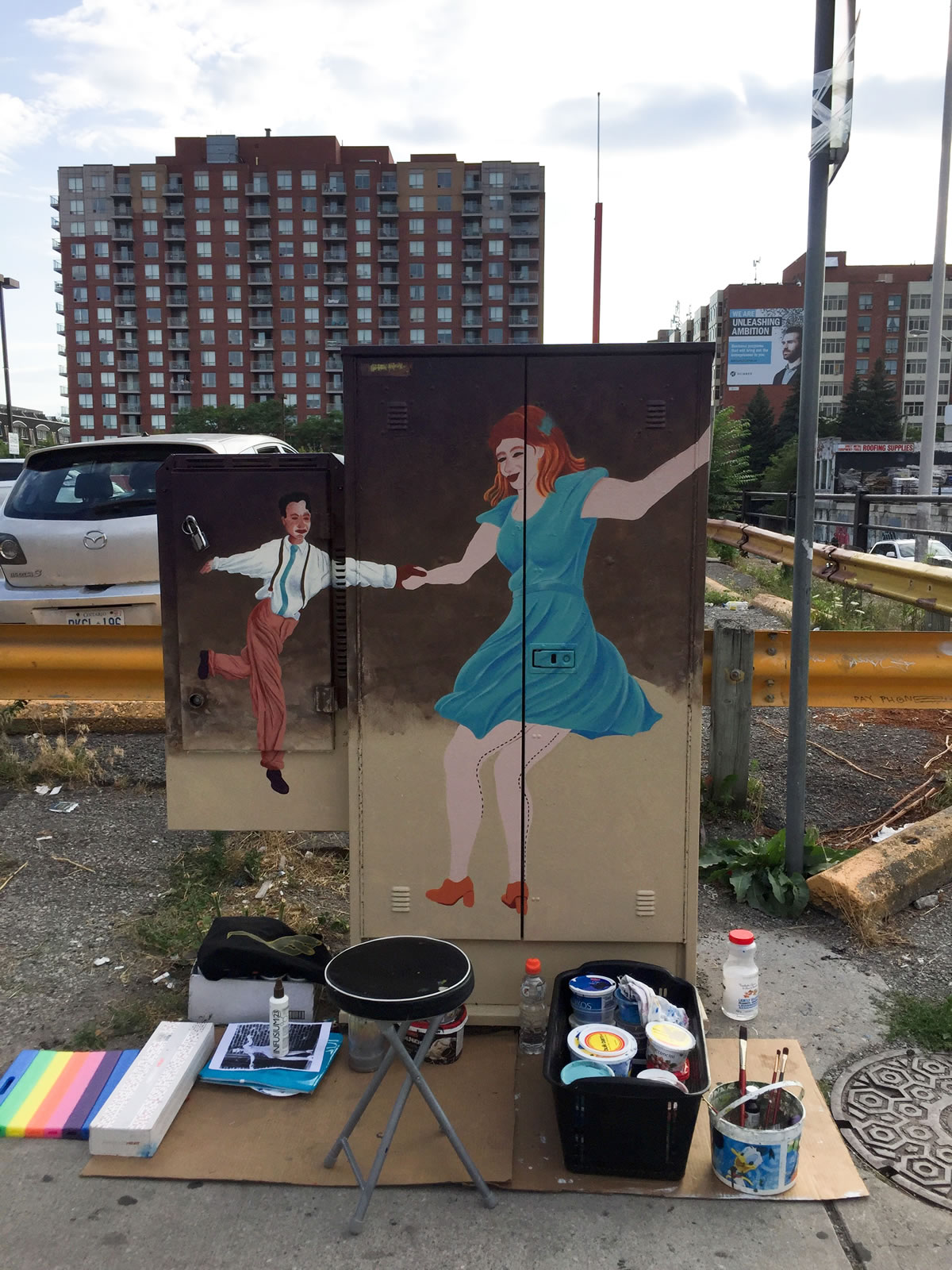 That is Karen working away on a really hot day back in July.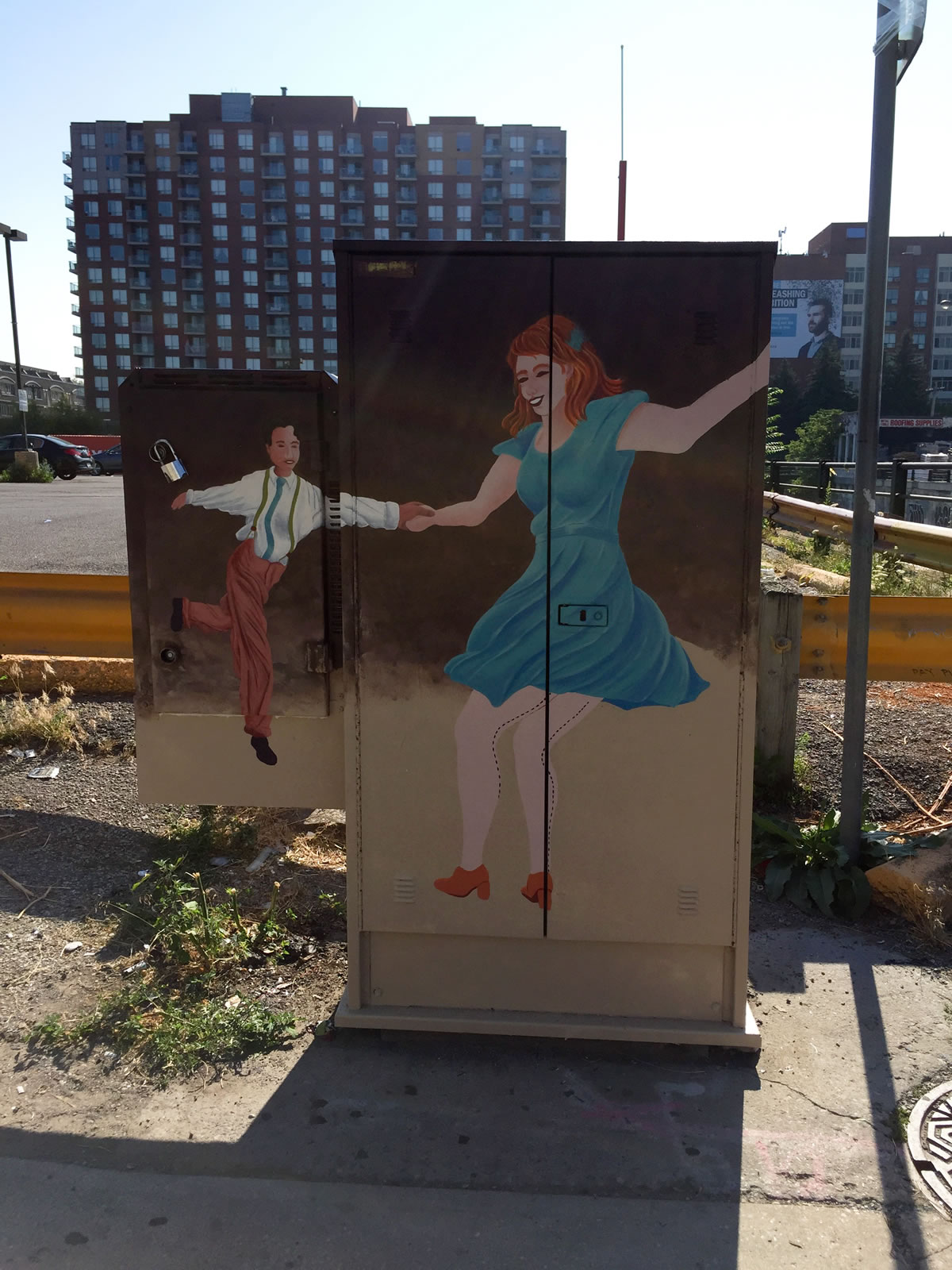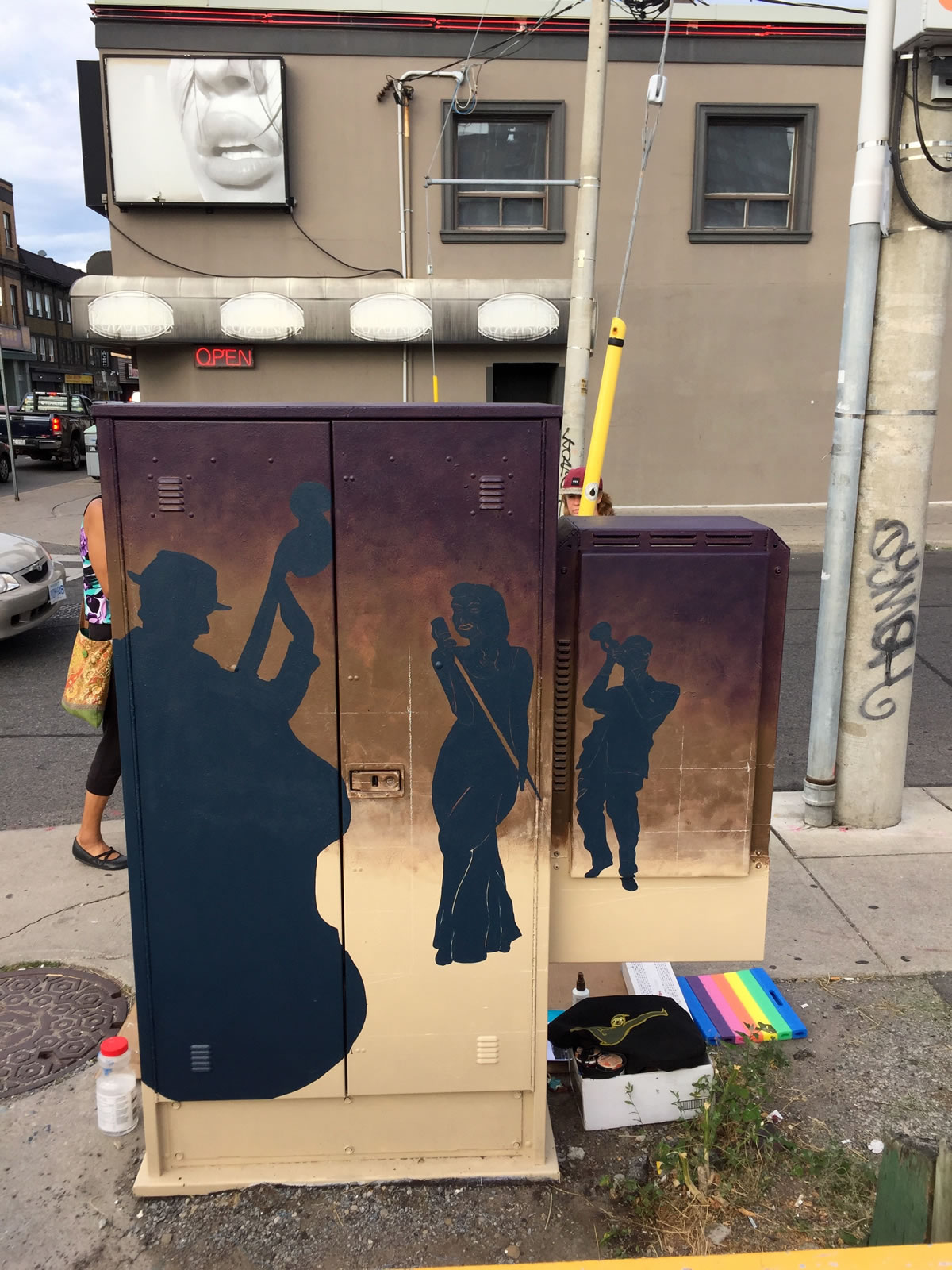 Not only was she near the Value Village but she was also in front of a 'Gentleman's Club". They let her use the bathroom but she didn't do any dancing inside !
July 13 & 15th
Toronto Street Art Graffiti Found Here:
White Squirrel Garage Door Street Art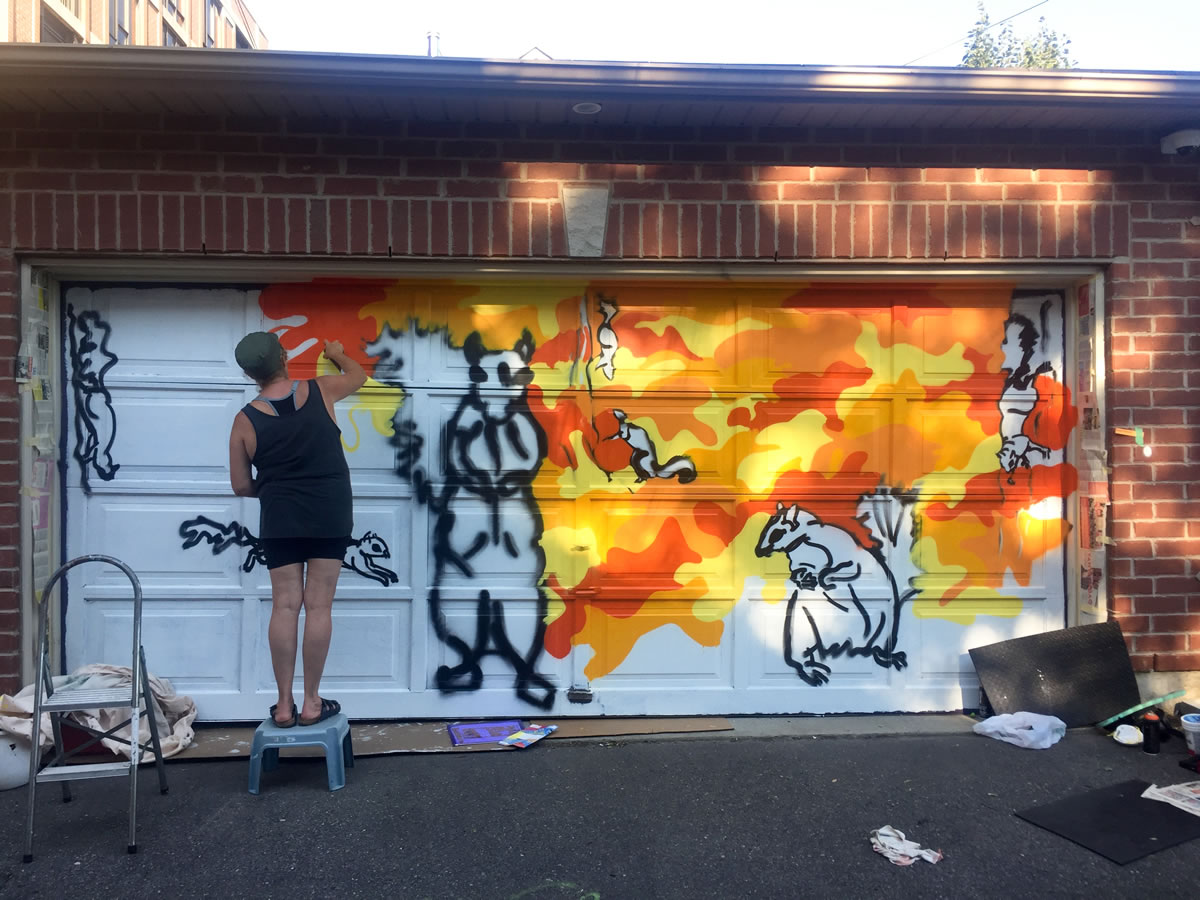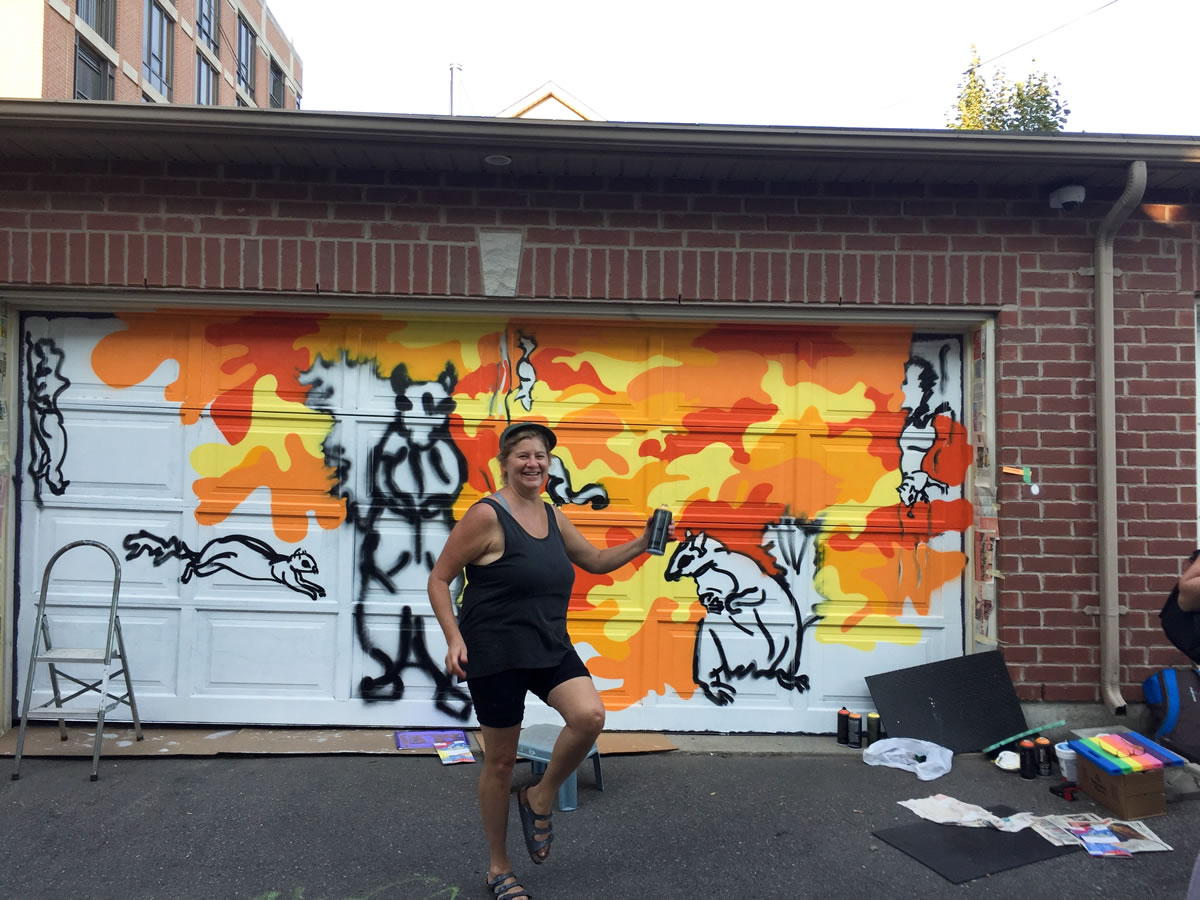 This was a Toronto Street art project called "Laneway Light Up " From their Instagram account:
"We're tapping into the potential of Toronto's underused laneways."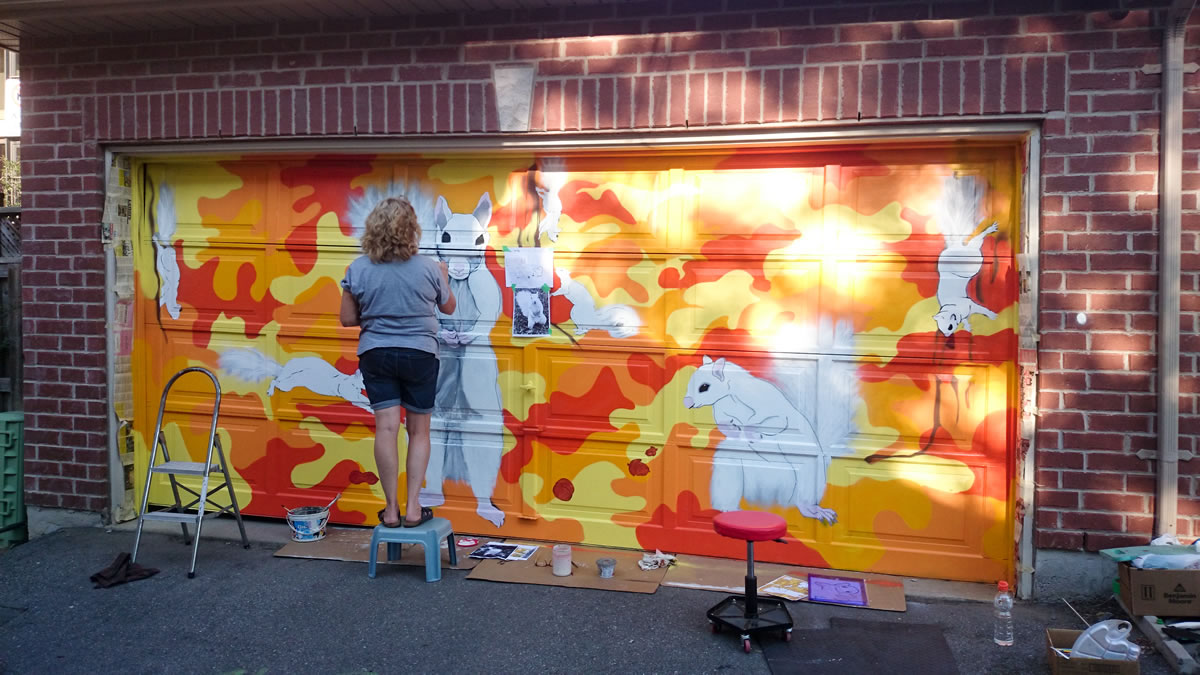 Here Karen is painting an albino squirrel and you can see how much went into this artwork.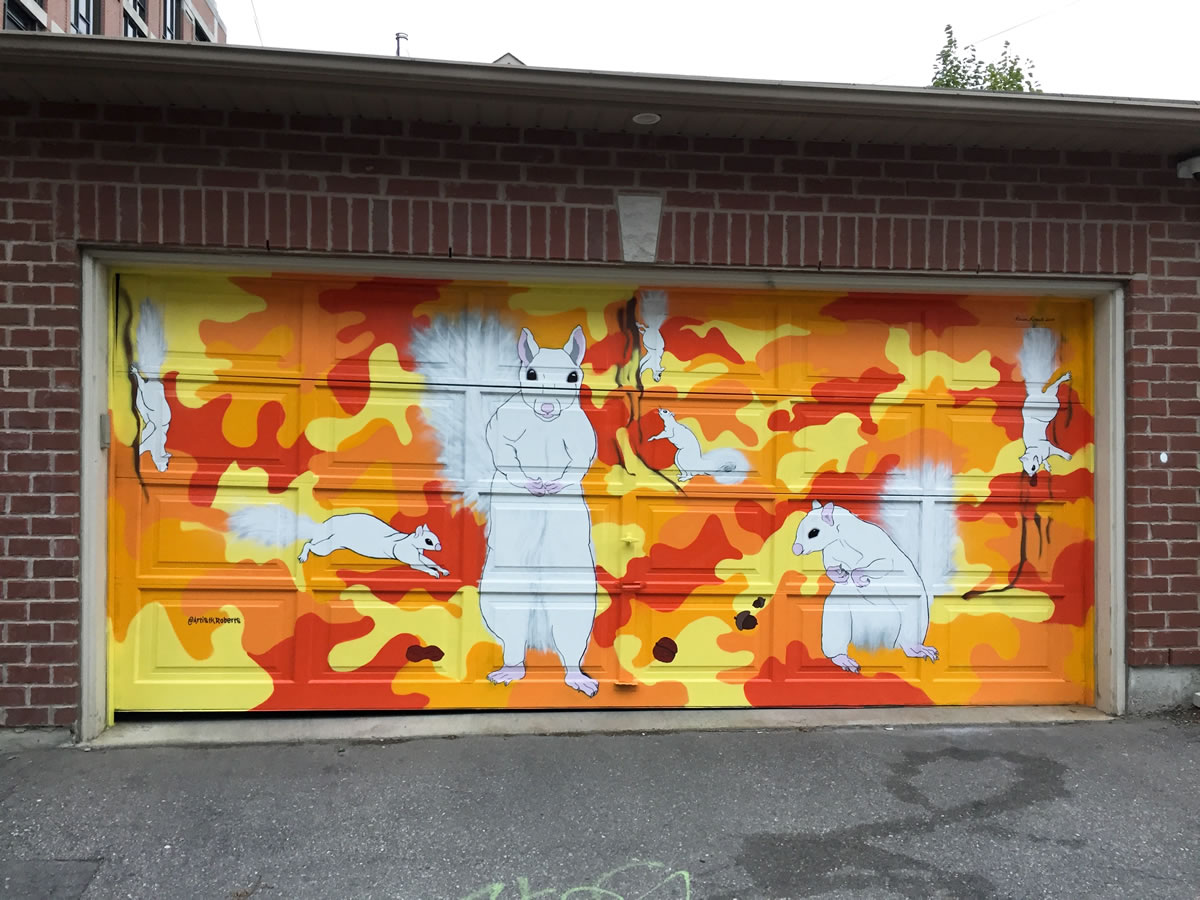 September 15th to 30th
Toronto Street Art Graffiti Found Here:
Mirvish Village Planters Street Art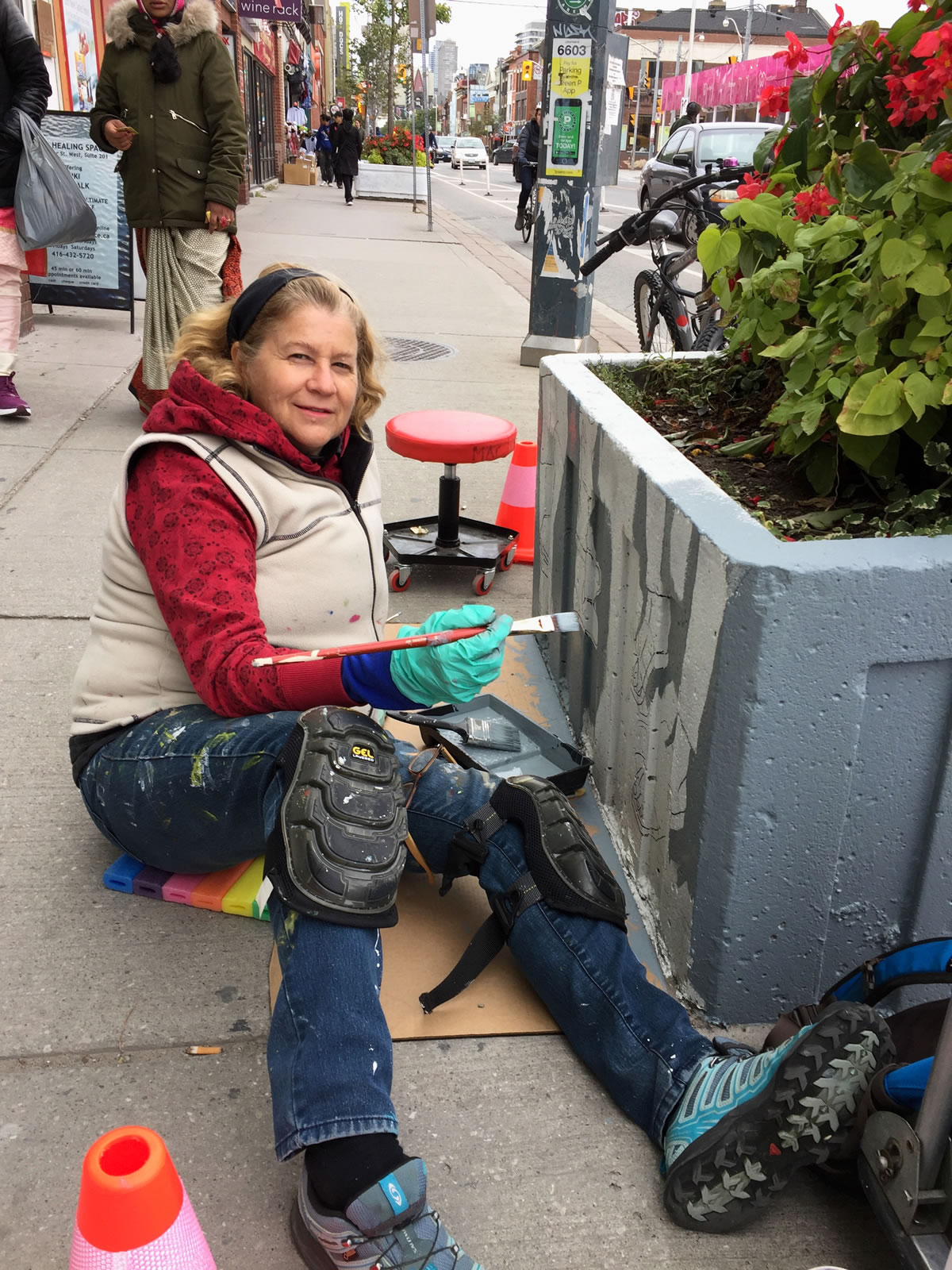 This street art project didn't get the approval until October just when the weather was turning colder.
I still don't know how she was able to get all that work done with the amount of people going by.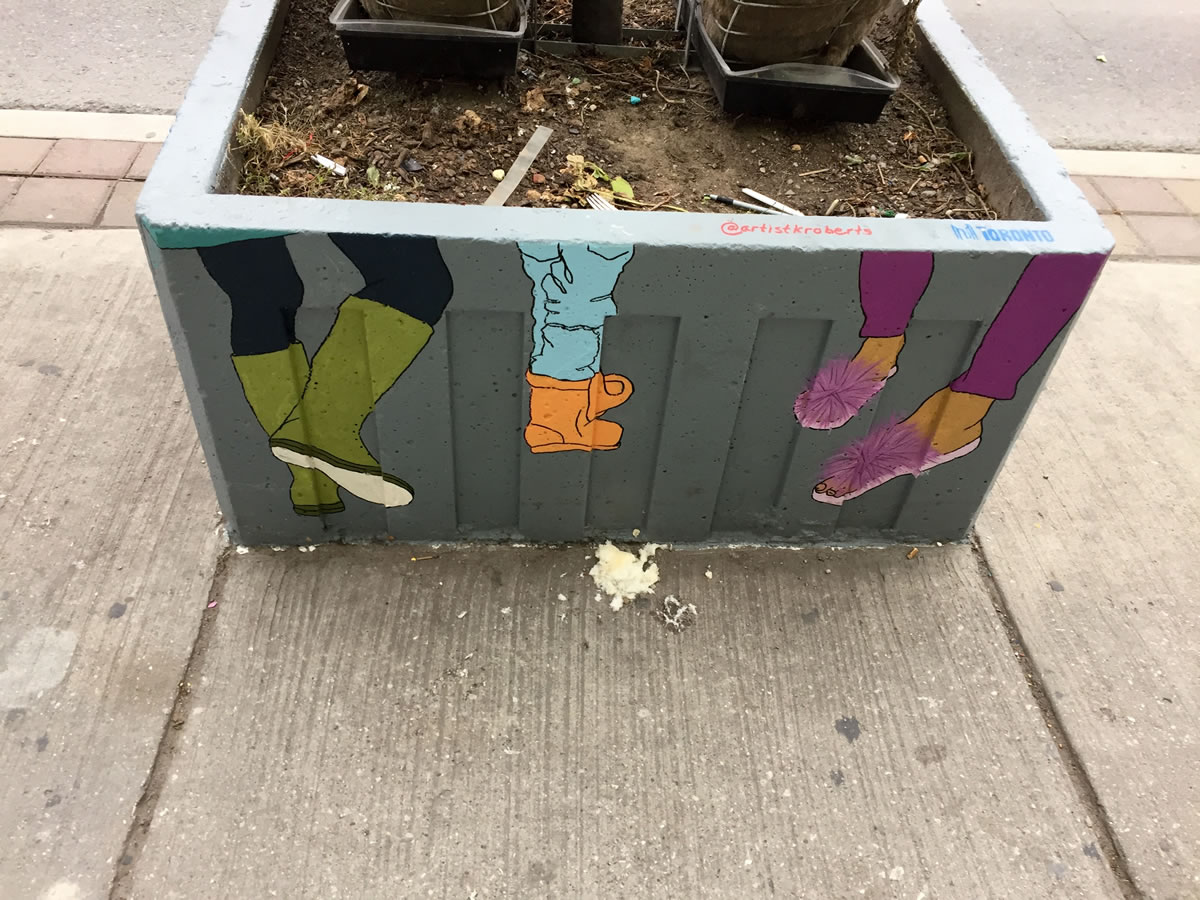 I saw this again last week which is what reminded me to do this post.
October 5th & 17th 26th & March 18th
Street Art Graffiti in Toronto Found Here:
Karen Roberts Painter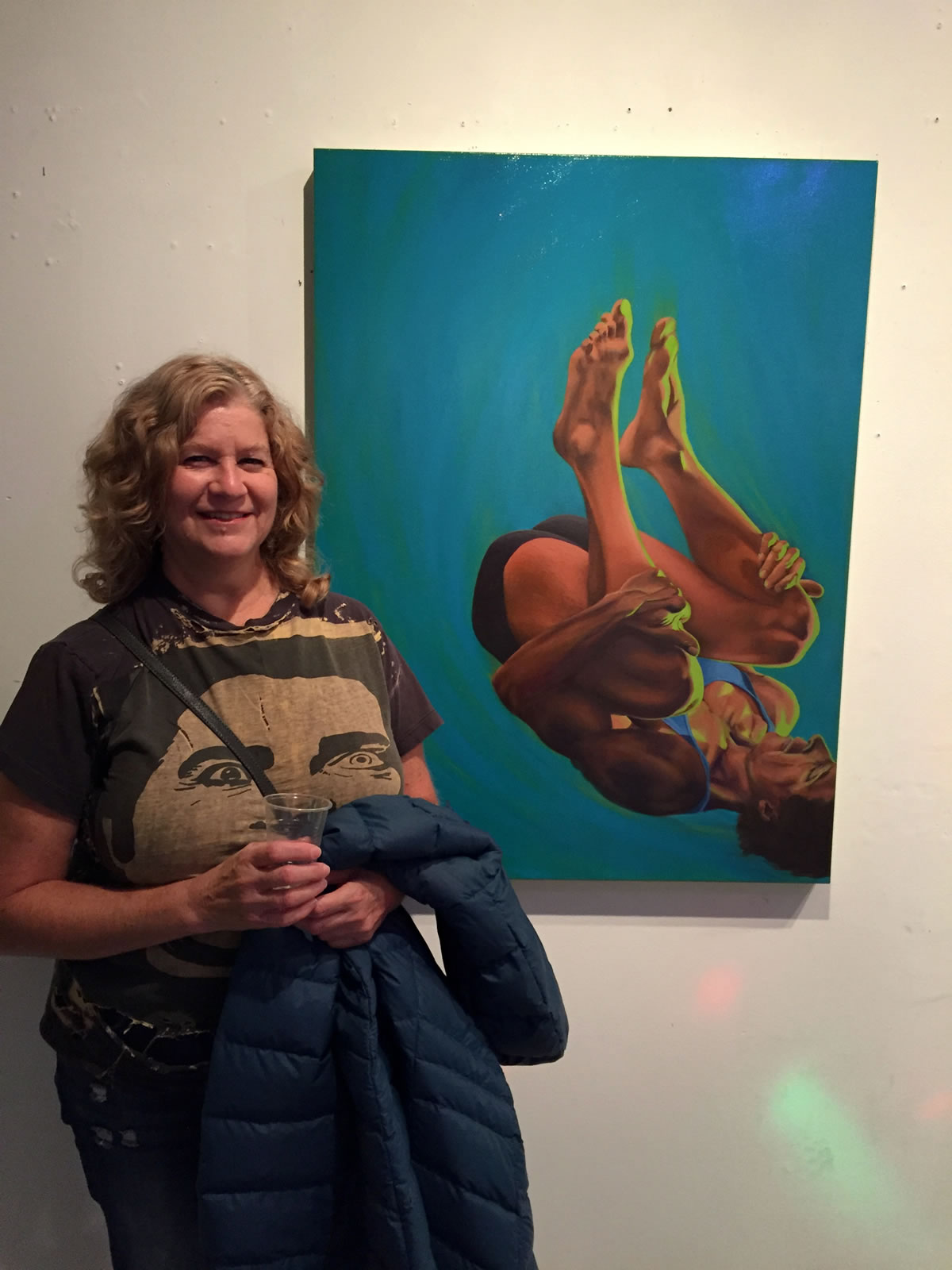 Not only is she a 'street artist' but she is also a photographer and a painter in the traditional sense.
Here she is during an art show/party for all the artists that painted the Bell Box Murals last summer. Since the party was at the Super Wonder art gallery.. they told everyone to bring a painting. This is Karen posing with one of her paintings.
October 12th
Toronto Street Art Graffiti Found Here:
Should be interesting to see what she has lined up for 2019..
You can see more of her art on her Instagram: @artistkroberts