🎨 by @blackburnjeff @amancalledspazz 🐈 🎩 🐲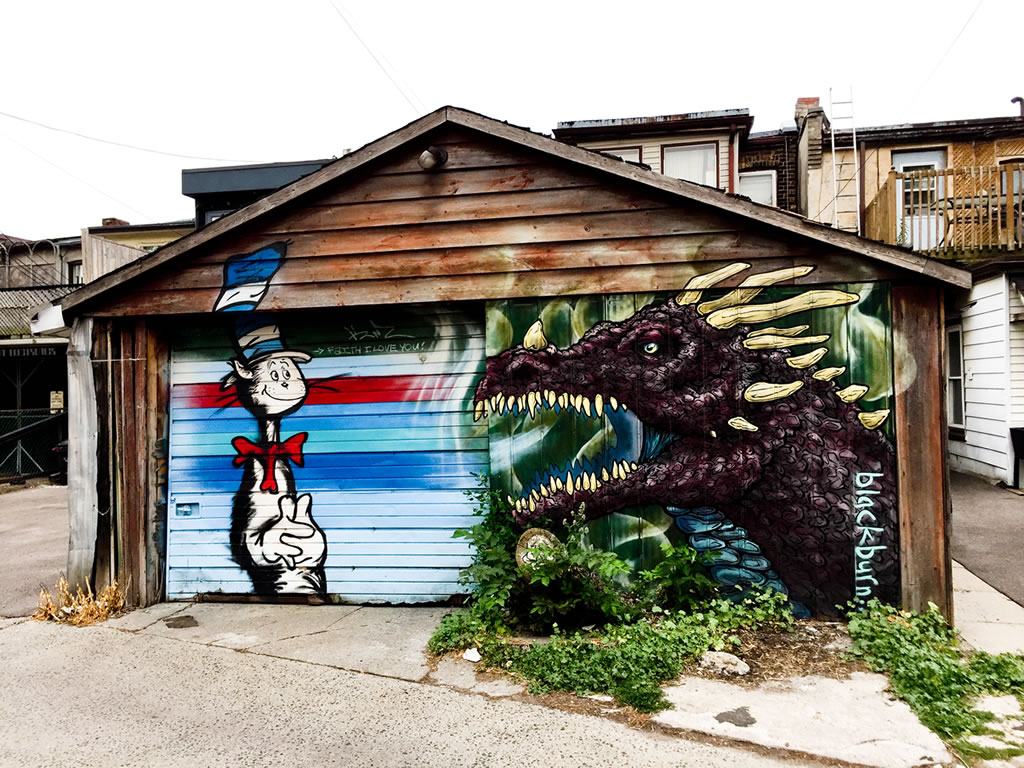 Might as well follow up the Pink Panther with another famous cat.. "The Cat in the Hat" !
This is one mural that I've seen on Instagram for a few years now.. but like they say.. "it's better in person". Finally, saw this for the first time last month !
Looks like the garage door hasn't been tagged after all these years (except for that "Faith I Love you!". I guess that dragon scared the others away.
From Wiki "The Cat in the Hat is a children's book written and illustrated by Theodor Geisel under the pen name Dr. Seuss and first published in 1957. The story centers on a tall anthropomorphic cat, who wears a red and white-striped hat and a red bow tie."
Also says "After three years in print, The Cat in the Hat had sold nearly one million copies. By then, the book had been translated into French, Chinese, Swedish, and Braille."
I think I saw part of the movie with Mike Myers.. but I remember turning it off soon after.. I guess again like they say.. "the book was better than the movie"
Happy Labor Day !
Toronto Graffiti Street Art Found Here:
🎨 The Simpsons by @chrispperez 🍢
This artist does a lot of tributes to the Simpson.. I don't know all my Simpsons episodes.. so I had to do a little research.
From the Top.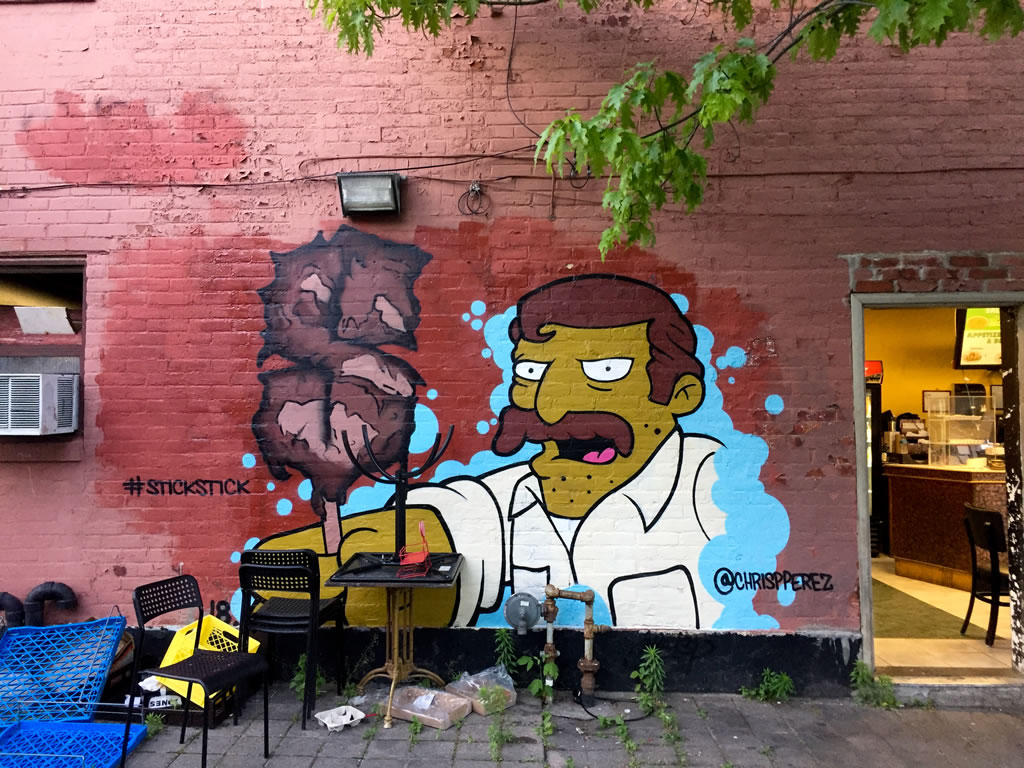 1) I think this is from Season 9 (episode 1). "The City of New York vs. Homer Simpson". Homer buys "Khlav Kalash" from a street vendor. This mural is outside of a chain restaurant called Ali Babas — "The Finest Middle Eastern Cuisine in Canada!"
Bottom from the Left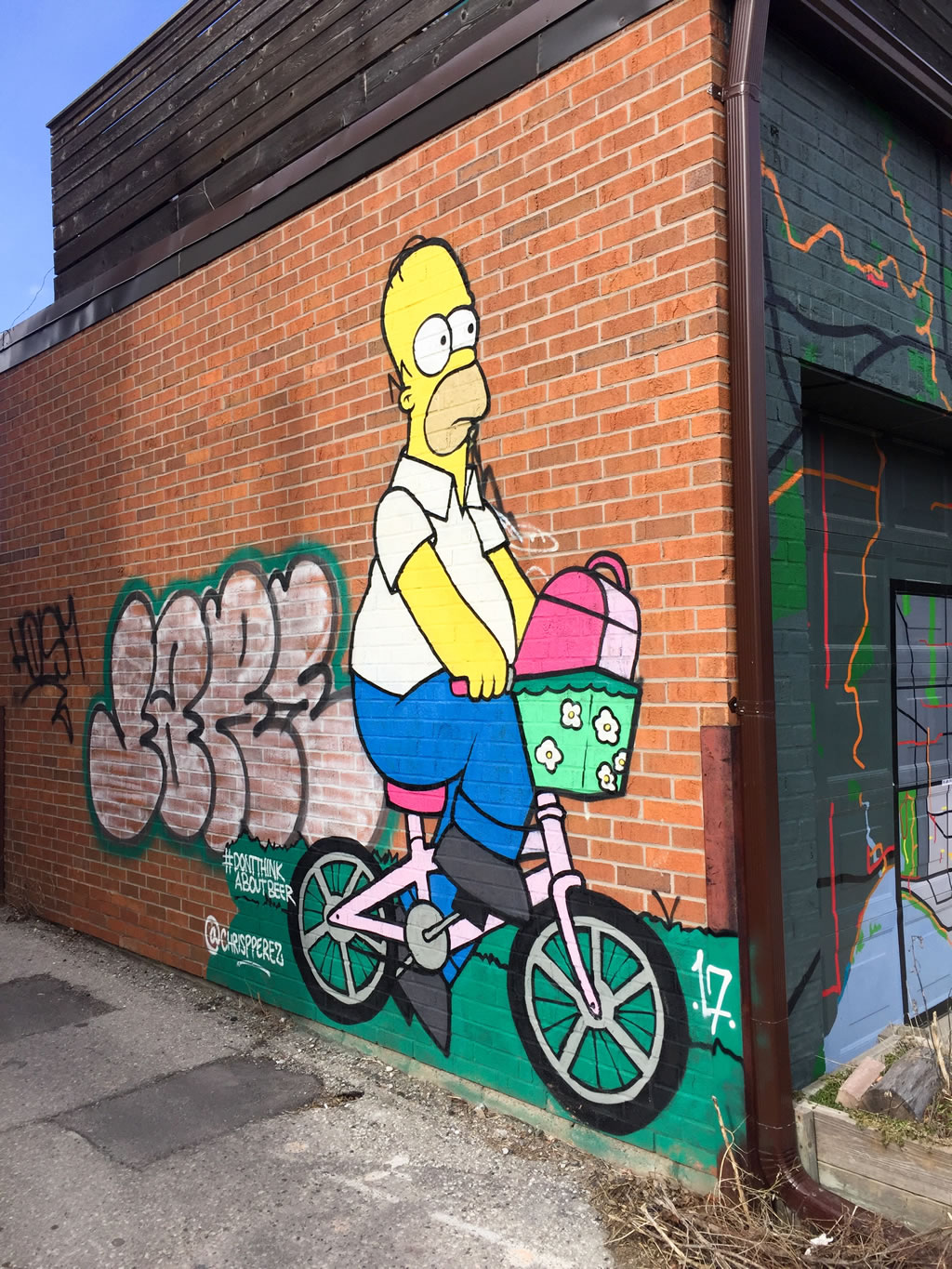 2) Season 4 (episode 16). "Homer fails a breathalyzer test driving home from a visit to the Duff brewery and he is forced to quit drinking for a month". That's why it says "Don't think about beer".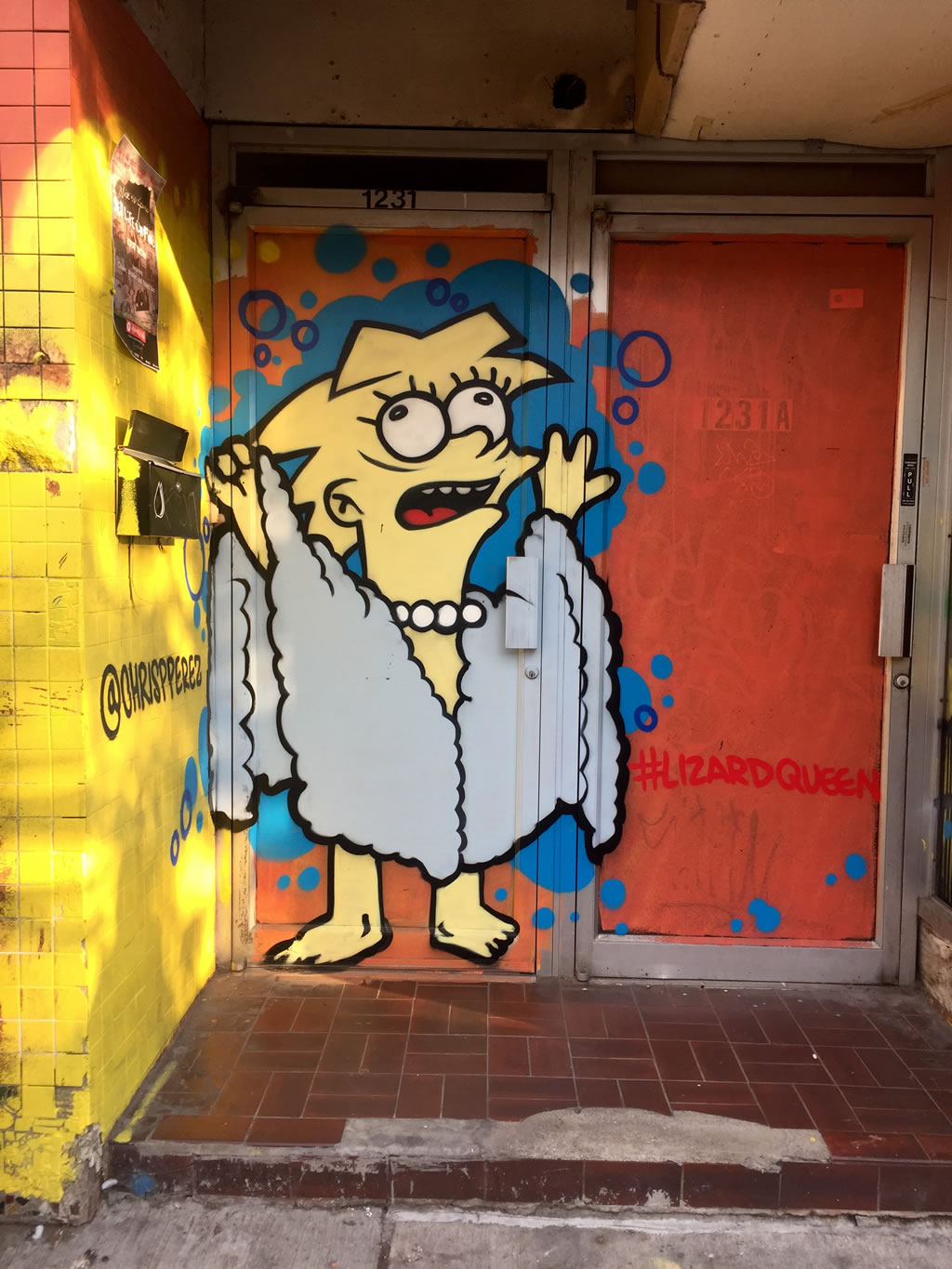 3) Another from Season 4 – (episode 13).. "When Lisa says "I am the Lizard Queen!", it is a tribute to Jim Morrison's poem "Celebration of the Lizard"." (This photo was taken after a street festival back in July of 2017)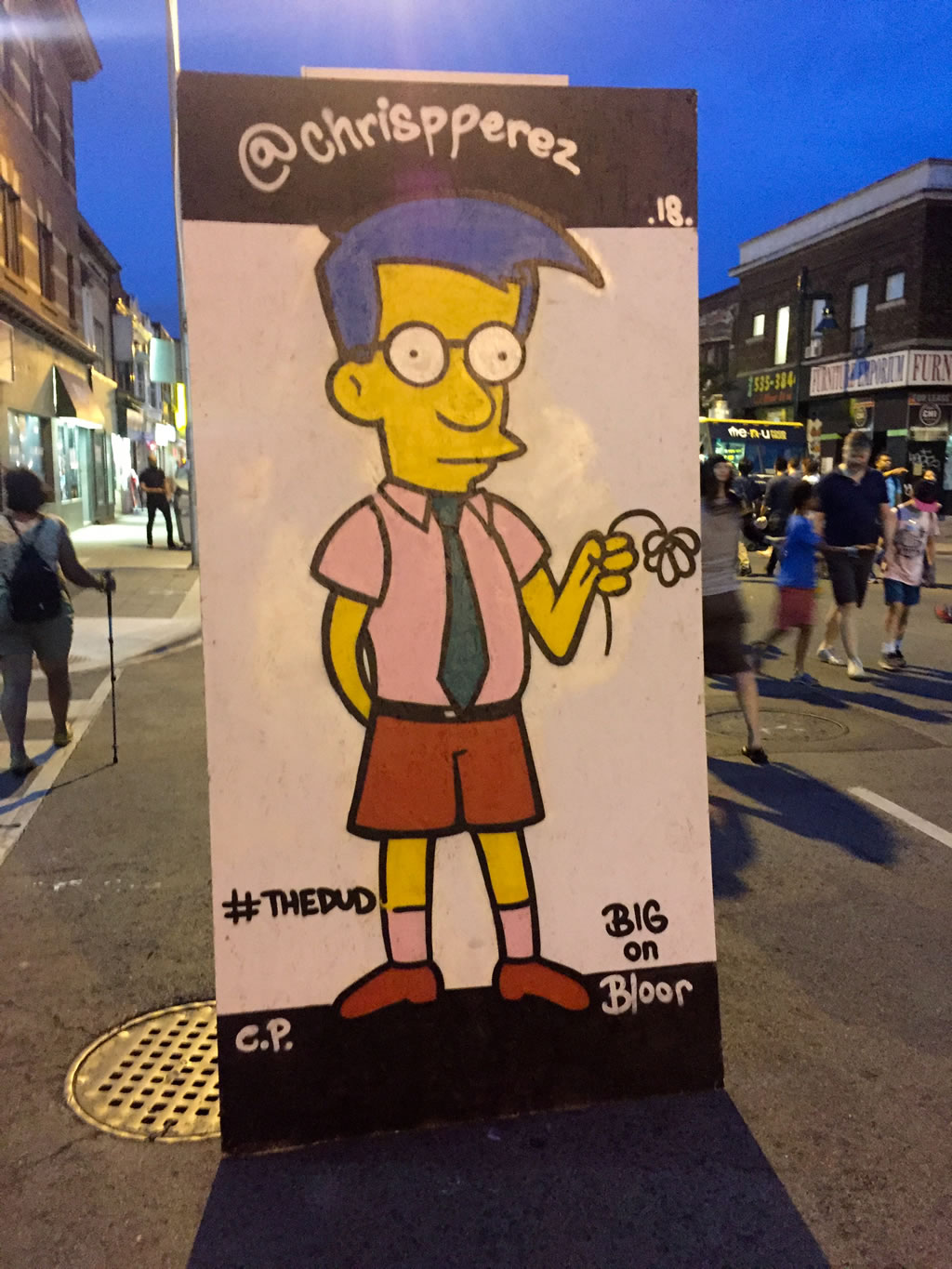 4) Season 7 – (episode 25) – "You Got the Dud" In the show, the Simpson's and Milhouse play the board game Mystery Date, when they notice that one of the game's characters, "the dud," looks like Milhouse. Once they realize it, Marge says, "You got the dud." (This was taken at the same street festival back in July of this year)
From his own website: "Chris Perez is a Canadian based artist practicing visual concepts in painting. Chris uses emphatic acts, like that of an abstract dance with painting. He pushes moments of arbitrary movement to create an inner dialogue with material and environment. Driven to explore and grasp the culture of the world; Chris travels to several international cities and executes visual expressions through paint."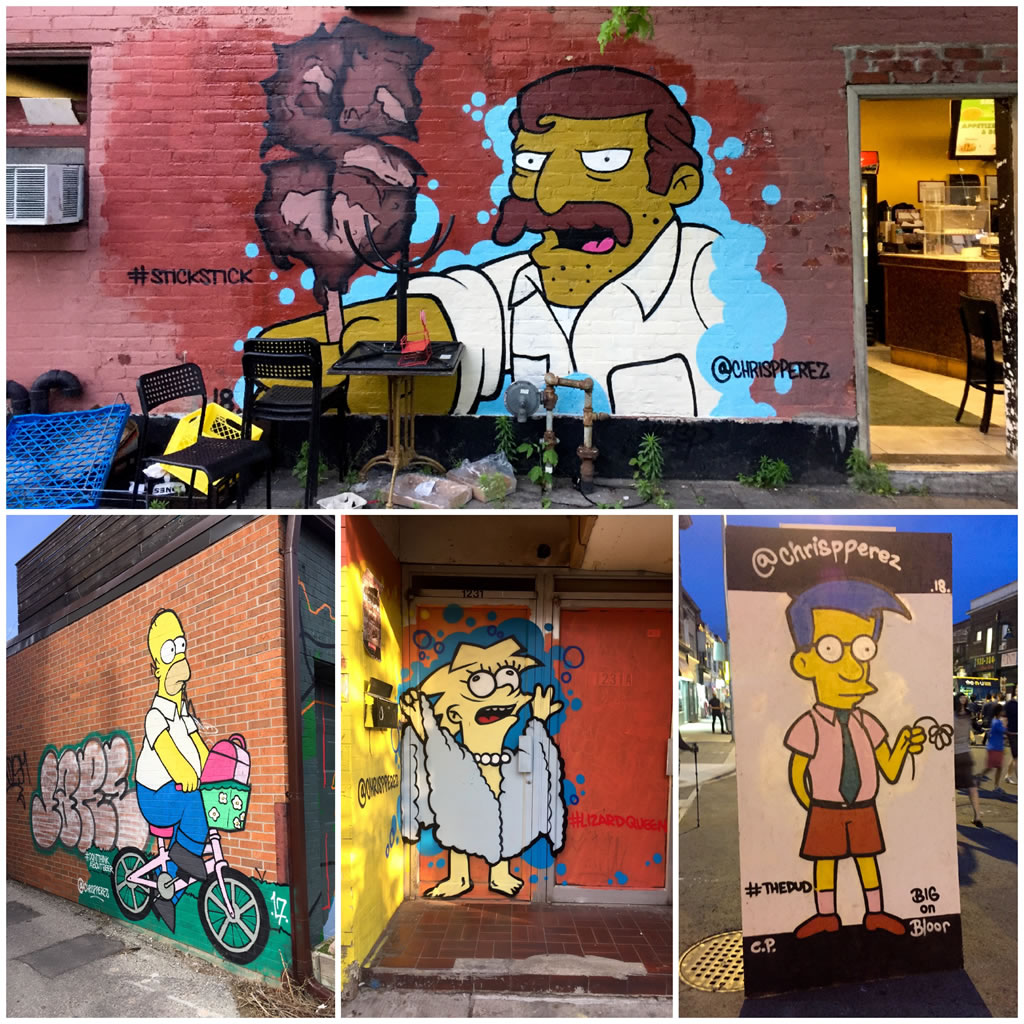 Toronto Graffiti Street Art Found Here: