Toronto Graffiti Street art by Jerry Rugg. 2 mural garage doors found in west end, one featuring 3D horse & other with Rooster including snake tail
Jerry Rugg Horse Garage Door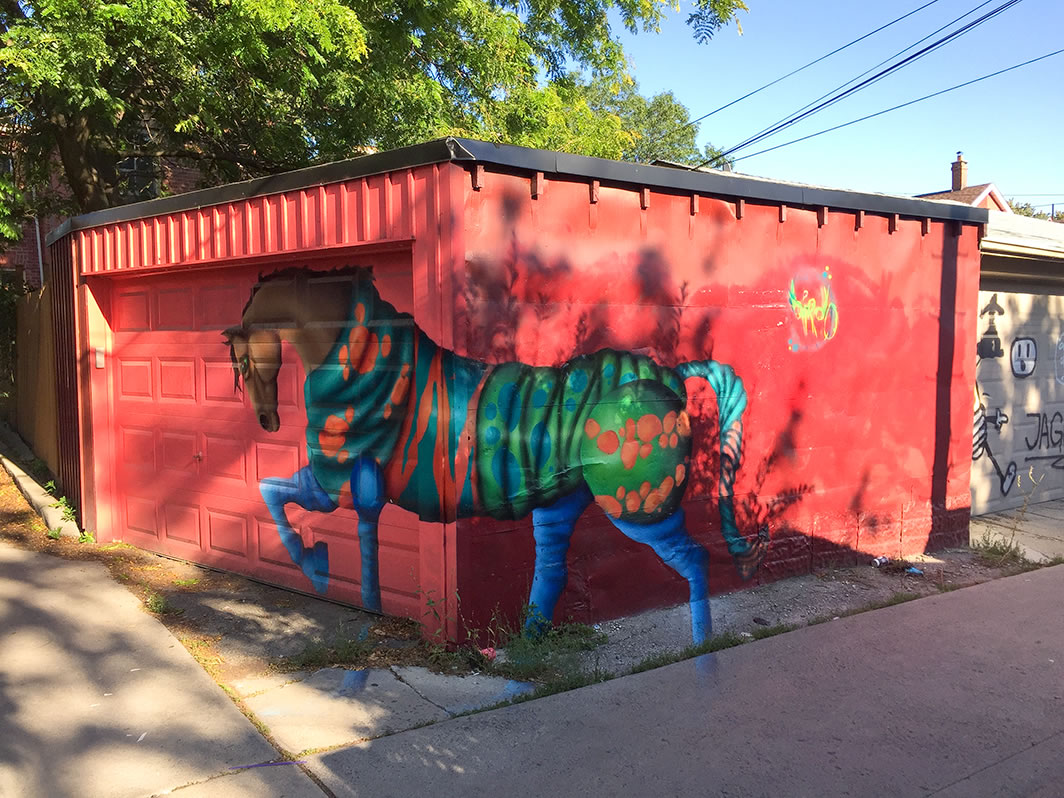 Found this @jerryrugg aka Birdo before I found the other mural that I posted.
Coincidentally, its near my friends house. I have never thought to go down this alleyway before yesterday.. I've seen this posted on Instagram but never realized it was so close by. 🐴
Found a couple of others that I will post shortly.
He calls is "One-Trick Pony". It was done back in August 2015.. Its interesting to read the comments.. this one is very nice: "My mum sent me a picture she took of this – everyone in the neighbourhood is in love with it. I love it all the way over here in Sudan. Well done!" 🏇
I like the way the light and the shadows of the trees hit this yesterday afternoon. Brings the horse to light.. He does a lof this 3D type of work with the painting on both sides of the structure. Interesting how the legs are painted on the ground.. makes it look like the horse is actually alive. I had to do a double take when I was approaching this from the distance..
Amazing work. 🐎
Toronto Graffiti Street Art found at this location
Jerry Rugg Rooster Garage Door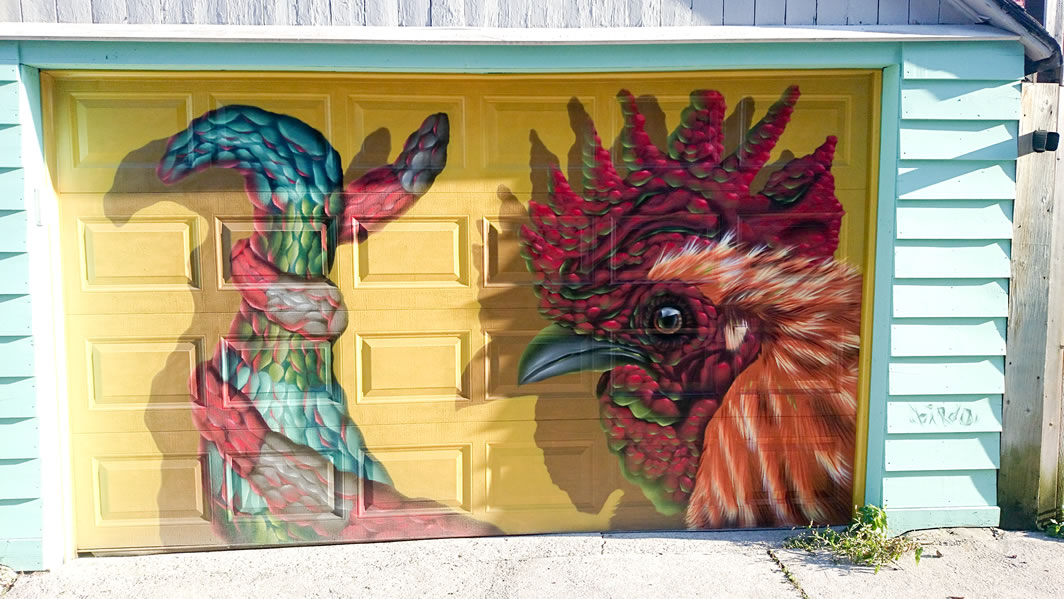 The last of my triptych of @jerryrugg aka Birdo's artwork from Saturday.. I found all of these within and hour and a half of each other.
This one was done in July of this year.. he calls it "Year of the rooster(tail)."
And it is the year of the rooster — from Wiki : "The Rooster is the tenth sign of the twelve year cycle of animals which appear in the Chinese zodiac related to the Chinese calendar. The Year of the Rooster is represented by the Earthly Branch character 酉."
It looks like a snake tail on the left hand side.. 🐍. There was bonus piece on the left of this.. but for Instagram purposes I just used the front picture..
Very Cool 🐓
Toronto Graffiti Street Art found at this location