Wheat paste sticker slap of a naked woman captured from behind. She is purple with green hair (like avatar), captured in telephone both west end of Toronto
Cool graffiti artwork in West End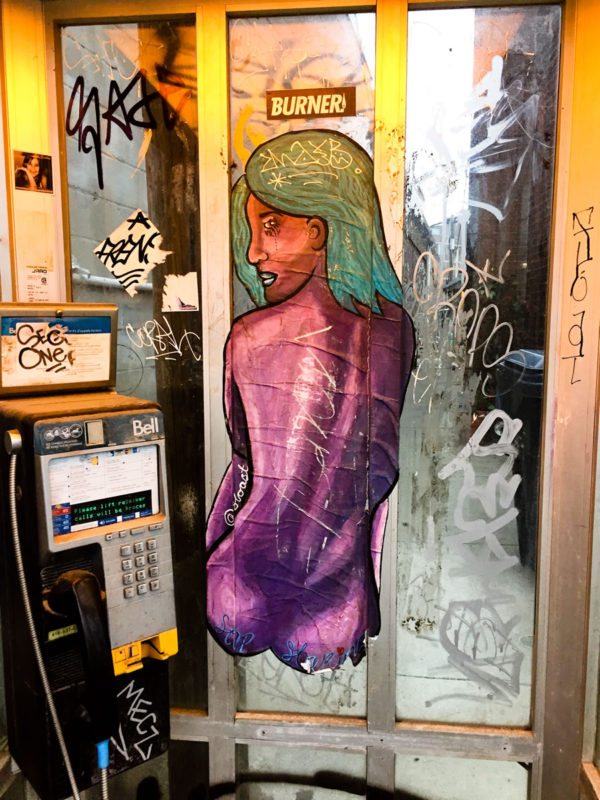 Sticker art from March 20 that I was meaning to post.
I thought it was interesting because I don't see as many phone booths like this – as I used too.
In the downtown core they removed a lot of them or they blocked anything other than 911 or 611 phone calls between 8pm and 8am. Mostly, to discourage dealers from making connections with their clients and if you watched the TV show 📺 "The Wire" you know what I am talking about 💊. Usually, when you see them now the doors have been broken, sometimes the 📞 phone receiver isn't even there. They tend to look like this now, covered with real 'graffiti' and sticker slaps.
I took this picture quickly because it was cold as it always is in March. I thought this Wheat Paste Throw Up was really interesting and well done ✅ . I didn't even notice until I transferred the pictures to my computer but the left buttock says "Stop" and the right one says "Staring". After all the fuss with that lady from "The Hills" posting a photo of her husbands football 🏈 player butt. I thought it made sense to post it today.
She kinda reminds me of one of the characters from that Avatar movie with the purple and green. Which, is also how I have felt over the last few days having to deal with a nasty cold.
It's one that kinda made me think about a whole bunch of different things.. which is what art 🎨 is supposed to do… in whatever form its found.
The credit on her hip just says @sloost but I can't find any info about them.. (if you know who to credit – let me know).
I passed by this recently and its still there several months later. Its all intact and doesn't appear to be scraped.
This wall mural was captured at the Toronto location below: