🎨 Foo Dog Mural by @brunosmoky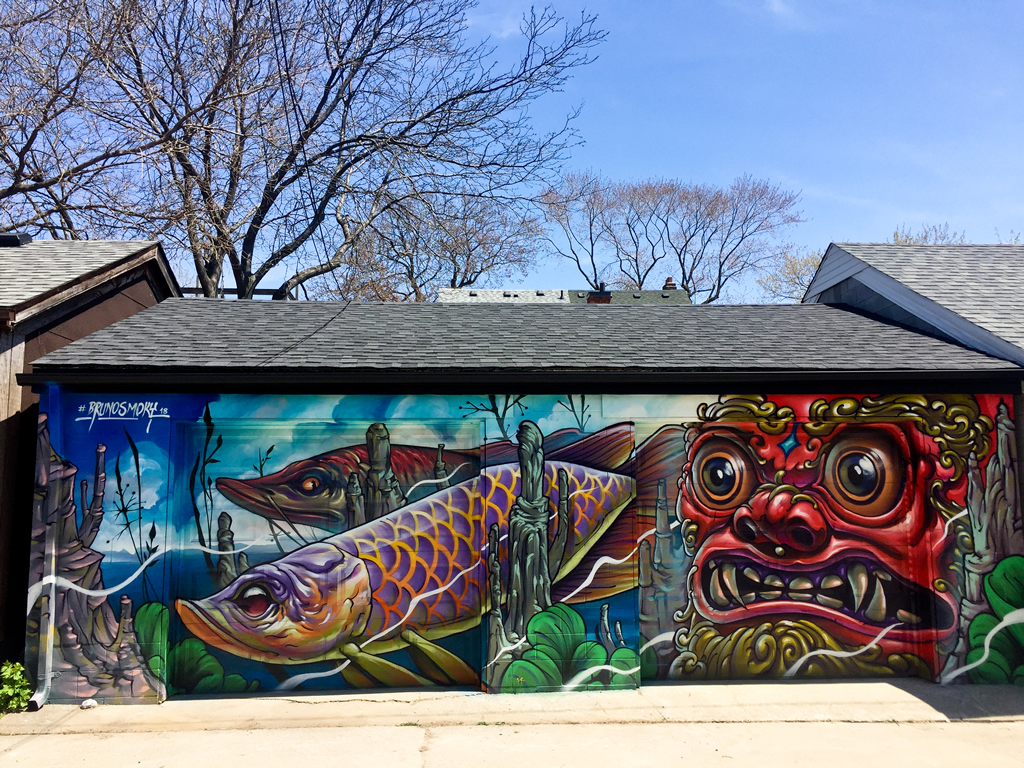 These are two Fish with a 'Foo Dog'.. by Bruno Smoky which I had to look up.. wiki says "Chinese guardian lions or Imperial guardian lions, often miscalled "Foo Dogs" in the West, are a common representation of the lion in imperial China."
I went to check this out last month.. and I found the location alright .. BUT both of the garage doors were up.. and there was a big truck parked in front of this mural.. So I went a week after that.. and guess what ? Both of these doors were up .. there were people inside.. and a big truck parked in front..
SO this afternoon I wasn't going to go down this alley.. but I thought what the heck… I might as well try… SO guess what.. both doors were down and no truck parked in front !.. Plus, today was sunny and the other days were dull..
Three times lucky I guess..
If you do go down this laneway.. there's a lot of other murals all around this area.. as well a lot of graffiti. Check it out. !
Toronto Street Art Graffiti Found Here:
🎨 Flying Pig Mural by Colin TB 🐖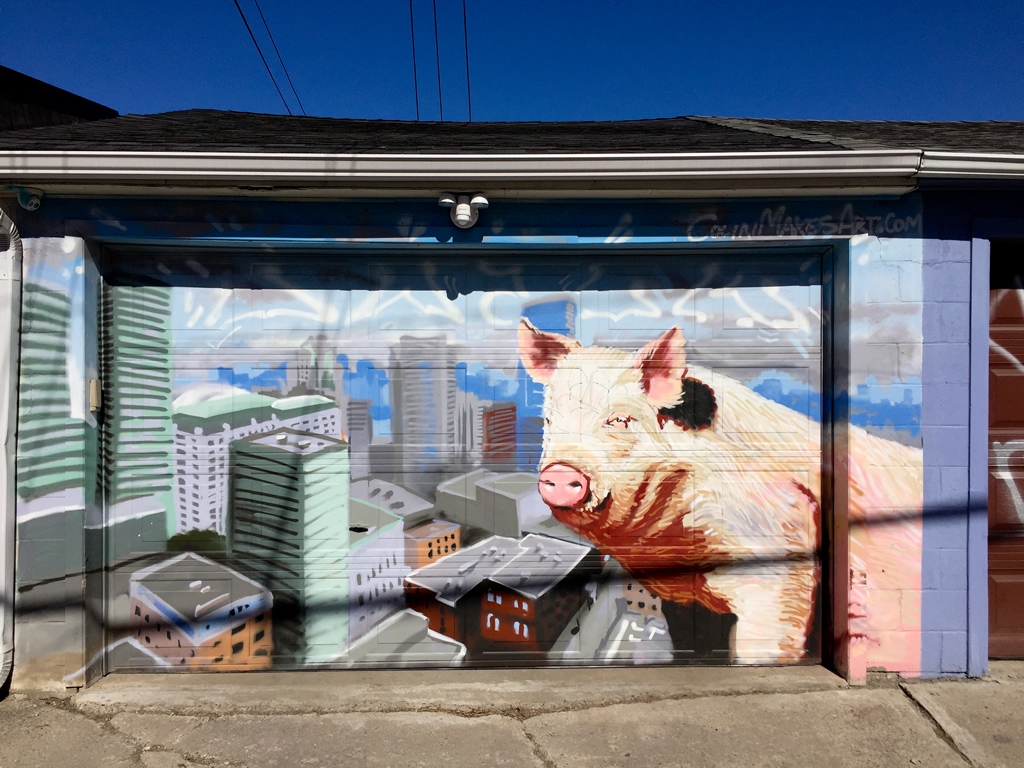 I found this in a back alley on April the 20th.. it looks like a pig overlooking the city.. Reminds me of that PinkFloyd Album cover that I can't remember the name of right now. Animals.. I rember now !
It just says ColinMakesArt.com in the upper right hand corner… when I go to their website it says…
" We have been painting murals in Toronto since 2008.
Painted thousands of square feet of murals
Dozens of satisfied customers
Helped make the city beautiful"
But their social link for Instagram just goes to Instagram.com.. so I guess you will just have to go to their site if you wanna see more..
🐷 🐽 🐗 🐖 — did you realize pigs have 4 emojis ?
Toronto Street Art Graffiti Found Here:
🎨 "That's How I Am So What Can I Do I'm Happy When I'm With You – Sun Ra Wheat Paste Throw up by @nesslee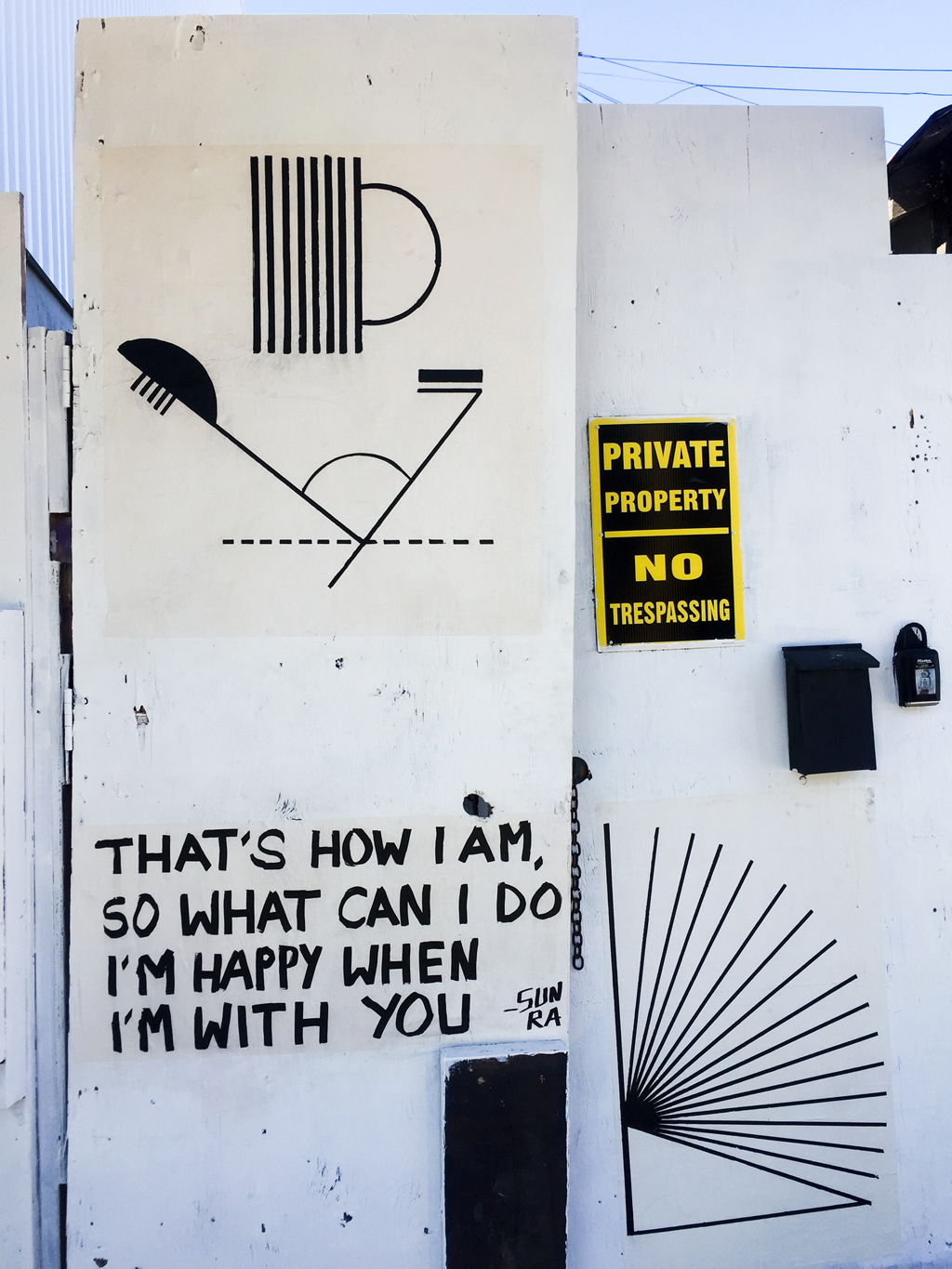 I passed by this artwork afternoon… There was another art piece at this same location that said "ALL WE HAVE IS EACH OTHER" by Ness Lee but someone tagged it a few months ago. I didn't realize it but it was paste up (as well as this one).
Our winters aren't paste ups best friends..
This is apart of another mural.. there's a larger mural to the left. This is at a construction site and its covering up the mess, so there's a lot of scaffolding covering up the art .. which is of course covering up the construction site.
I had to research this 2.. these are song lyrics from a Song by Sun Ra called "Sometimes I'm Happy which was recorded in the 1970's..
From WIKI it says that Sun Ra is an "American jazz composer, bandleader, piano and synthesizer player, and poet known for his experimental music".
So there u go.. she's cooler and knows more about stuff than I do !
Toronto Street Art Graffiti Found Here: