Quickie Street Art Post !
Just a quick post. I try and update my blog when I post to my Instagram.. Sometimes I'm early and sometimes I am late.. This time I am late with this post. Better late than never .. right ?!
🎨 by Bird0 aka Jerry Rugg Garage Door 🐕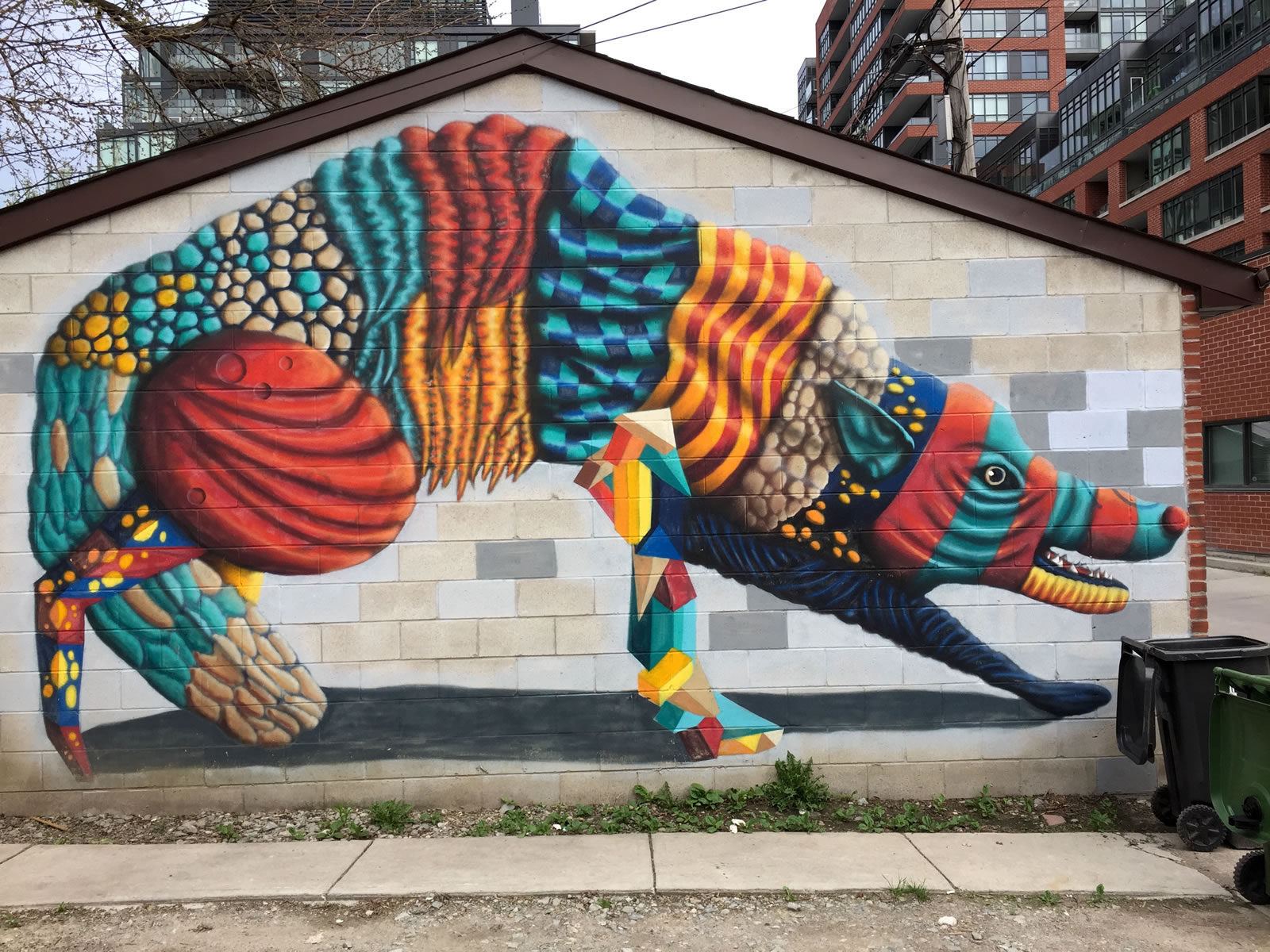 This is one by Jerry Rugg is one that I have been trying to get a picture of… Probably, for the last couple of years.
Every time I would go by… there was a car parked in front. A week ago I happened to go down this alley.. and finally.. no car ! 🙌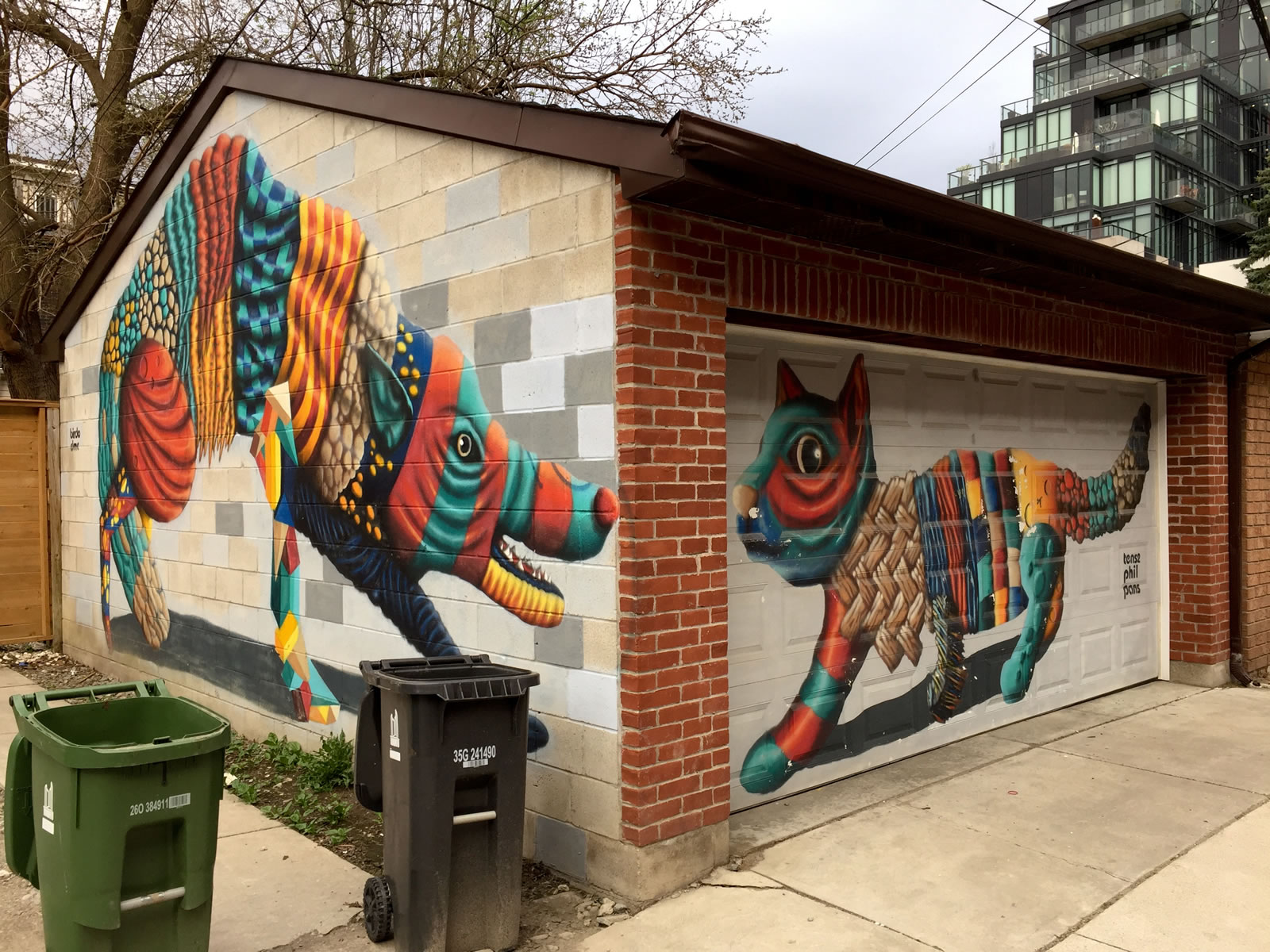 It's neat the way he did this …..because both of the murals work together.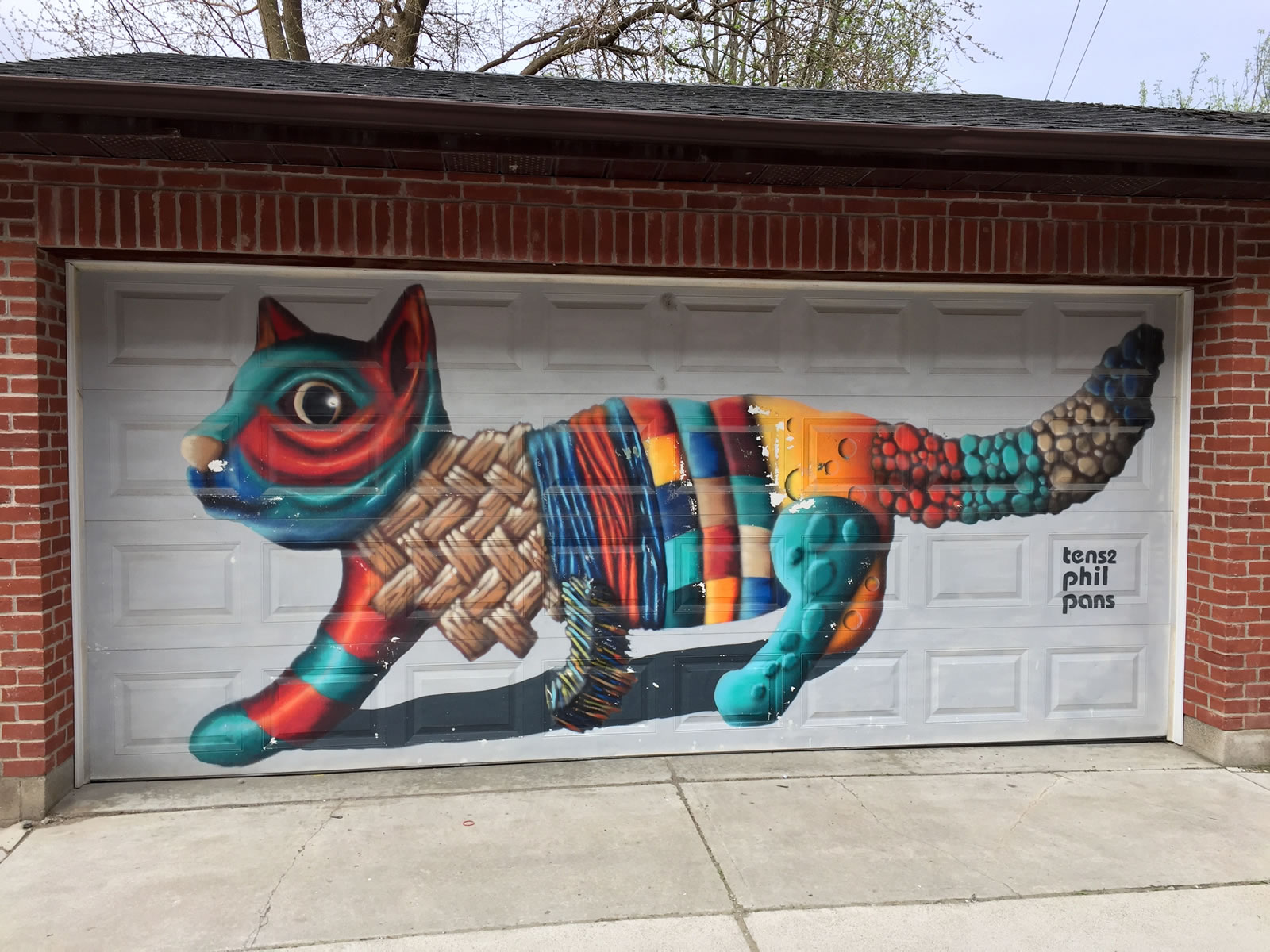 I found his Instagram post from June 1st, 2014.. so it's almost 5 years ago now..
He wrote "Audrey is really looking forward to meeting Maddox."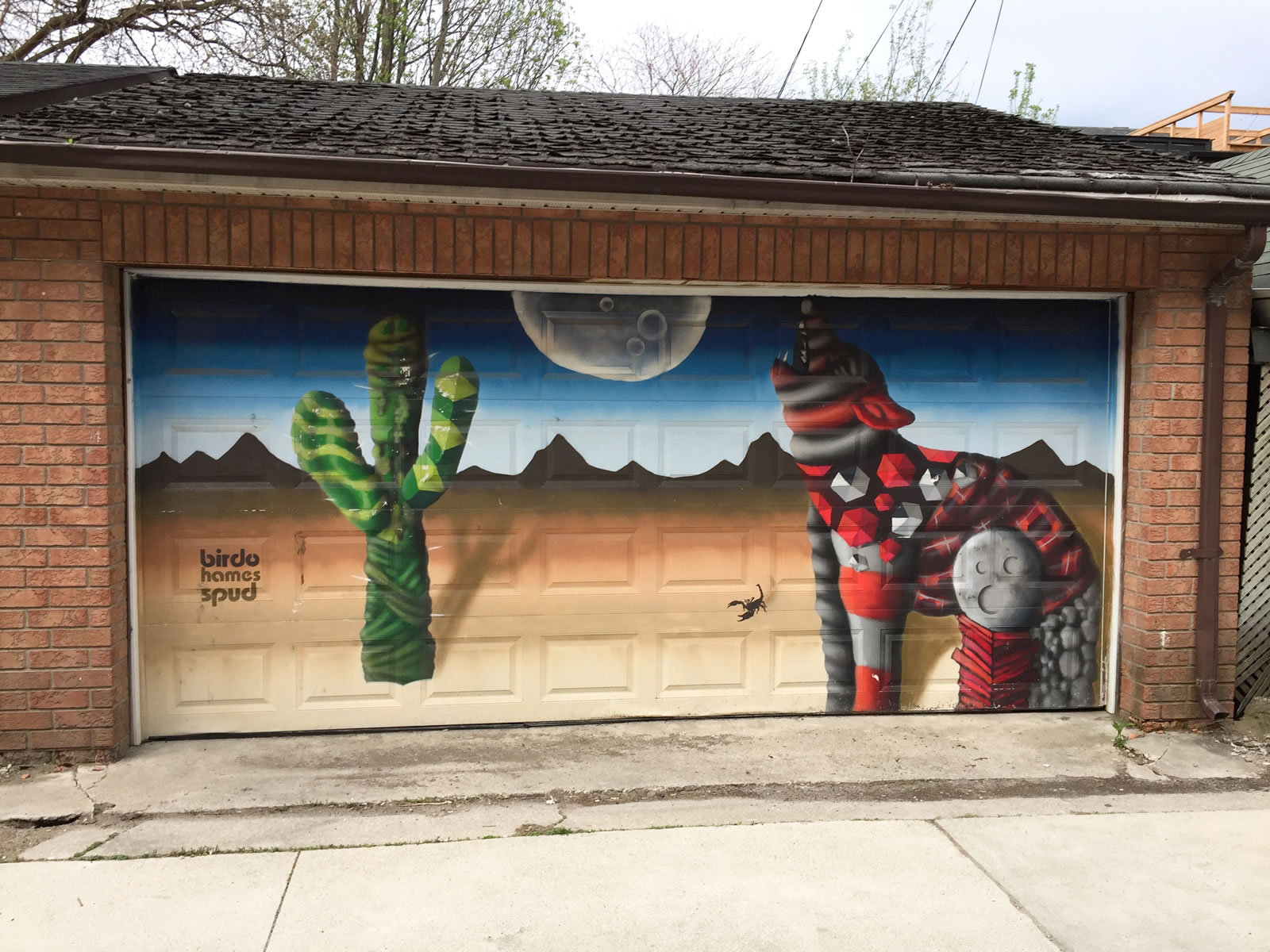 There's a 3rd mural on to the right.. so I included that one as well..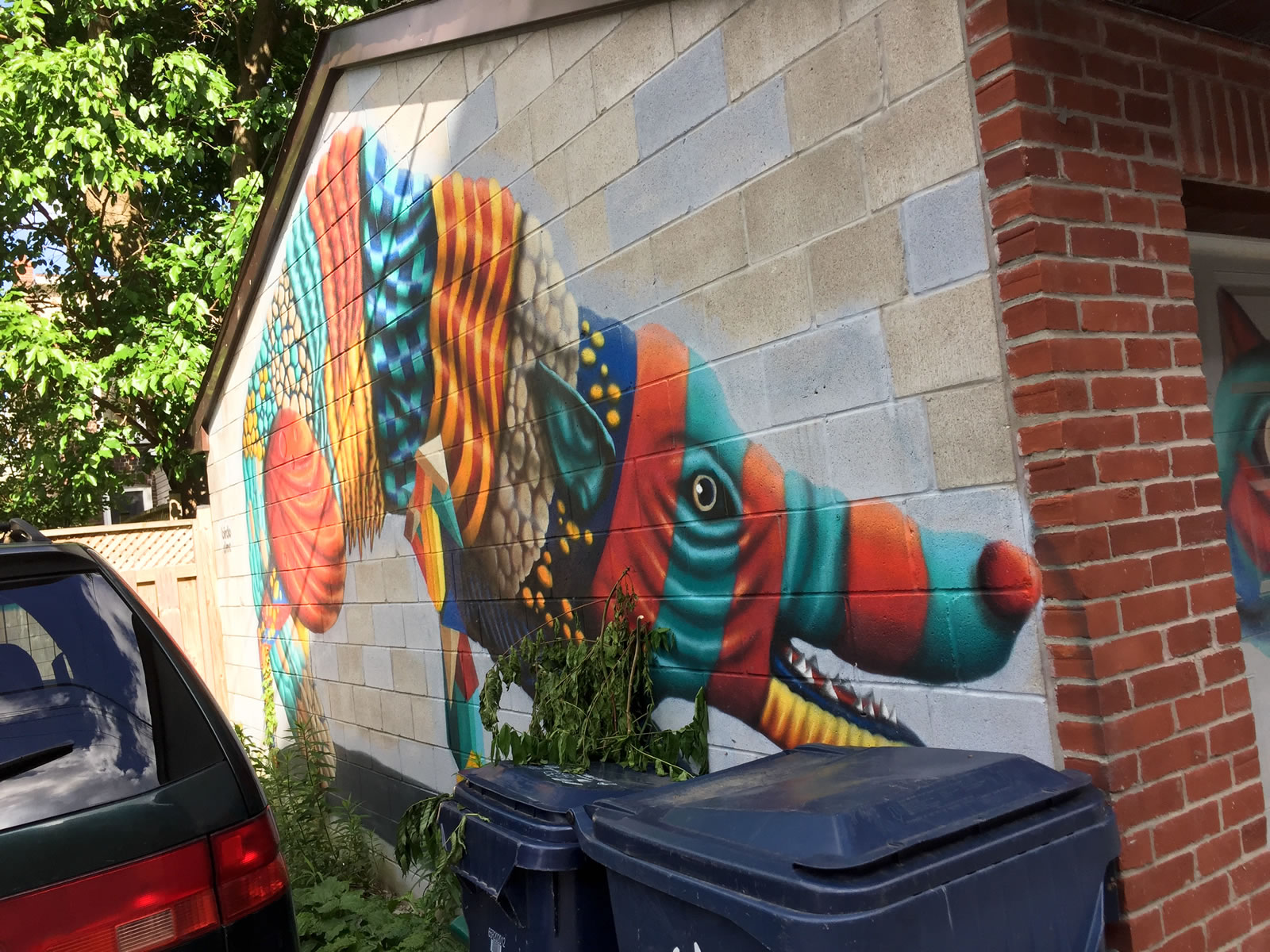 The last shot is from June 25, 2017.. it has that car.. yes .. that… car.. grrrr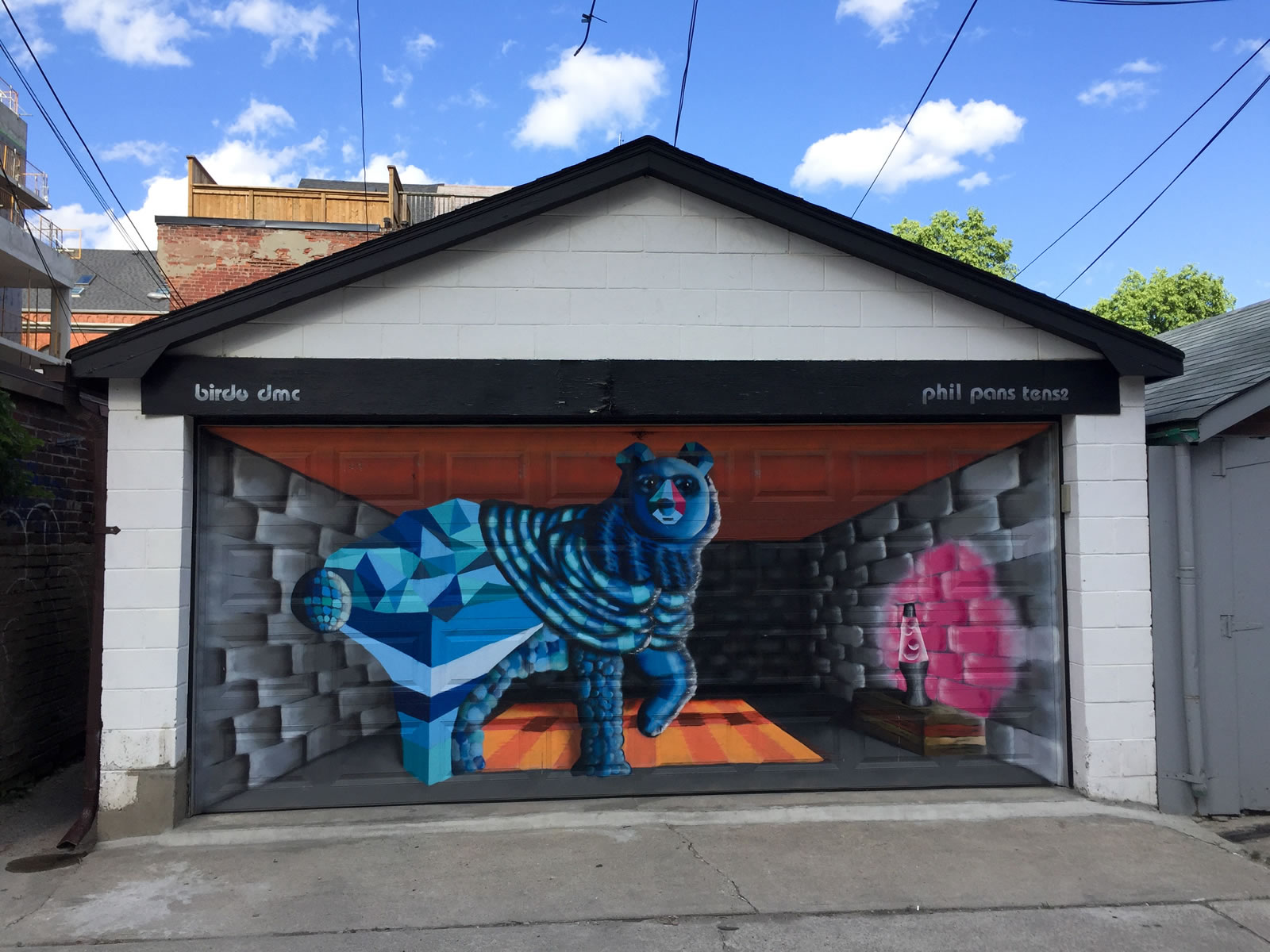 I'm including this photo from 2017. It's another by Jerry Rugg down that same alley.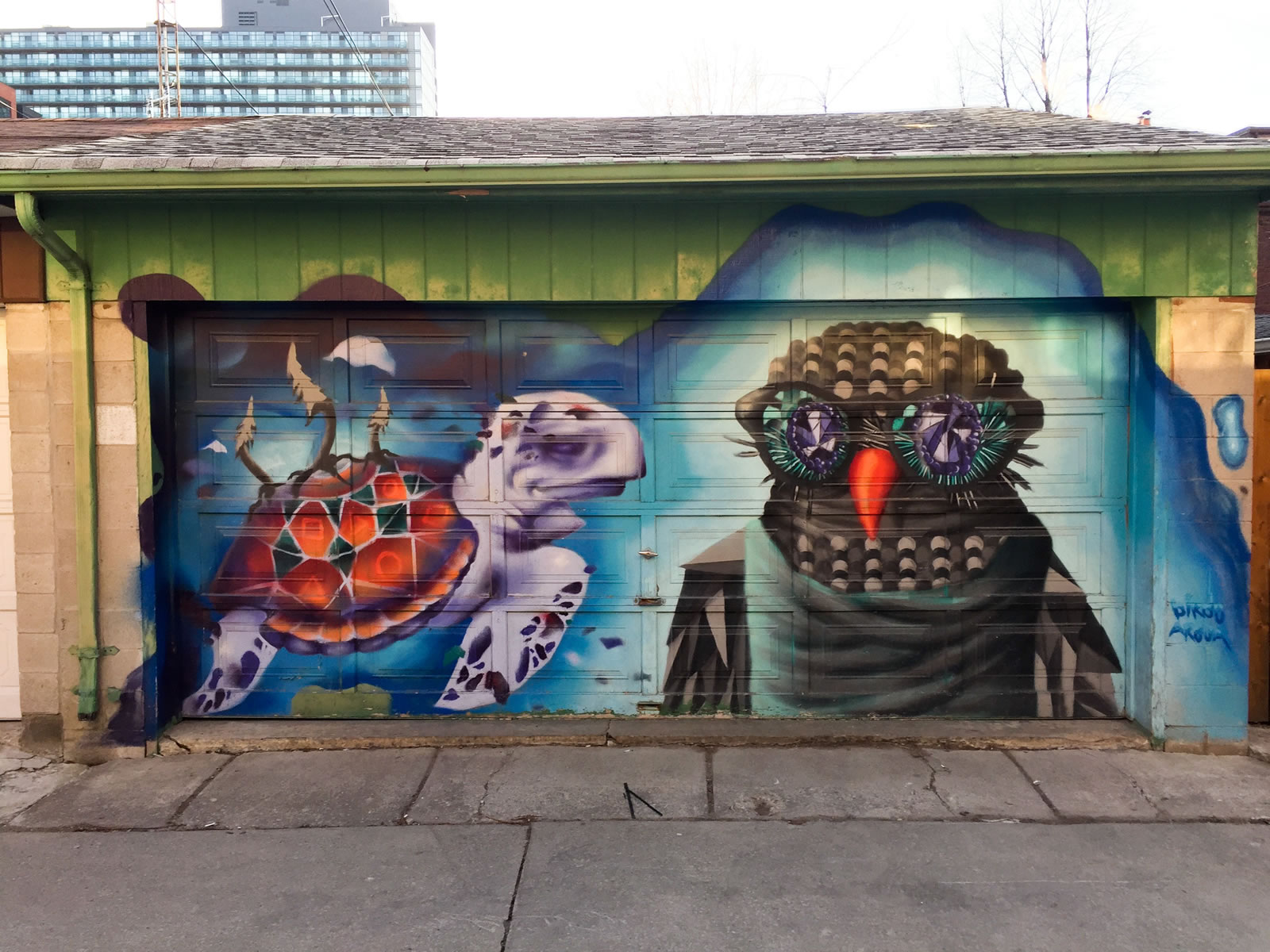 This garage door is also by Bird0 and it's on the other side of Dovercourt. My photo was taken in 2017. I haven't been down that alleyway in awhile. There's been some construction in the area.
Oriah Scott Garage Door Mural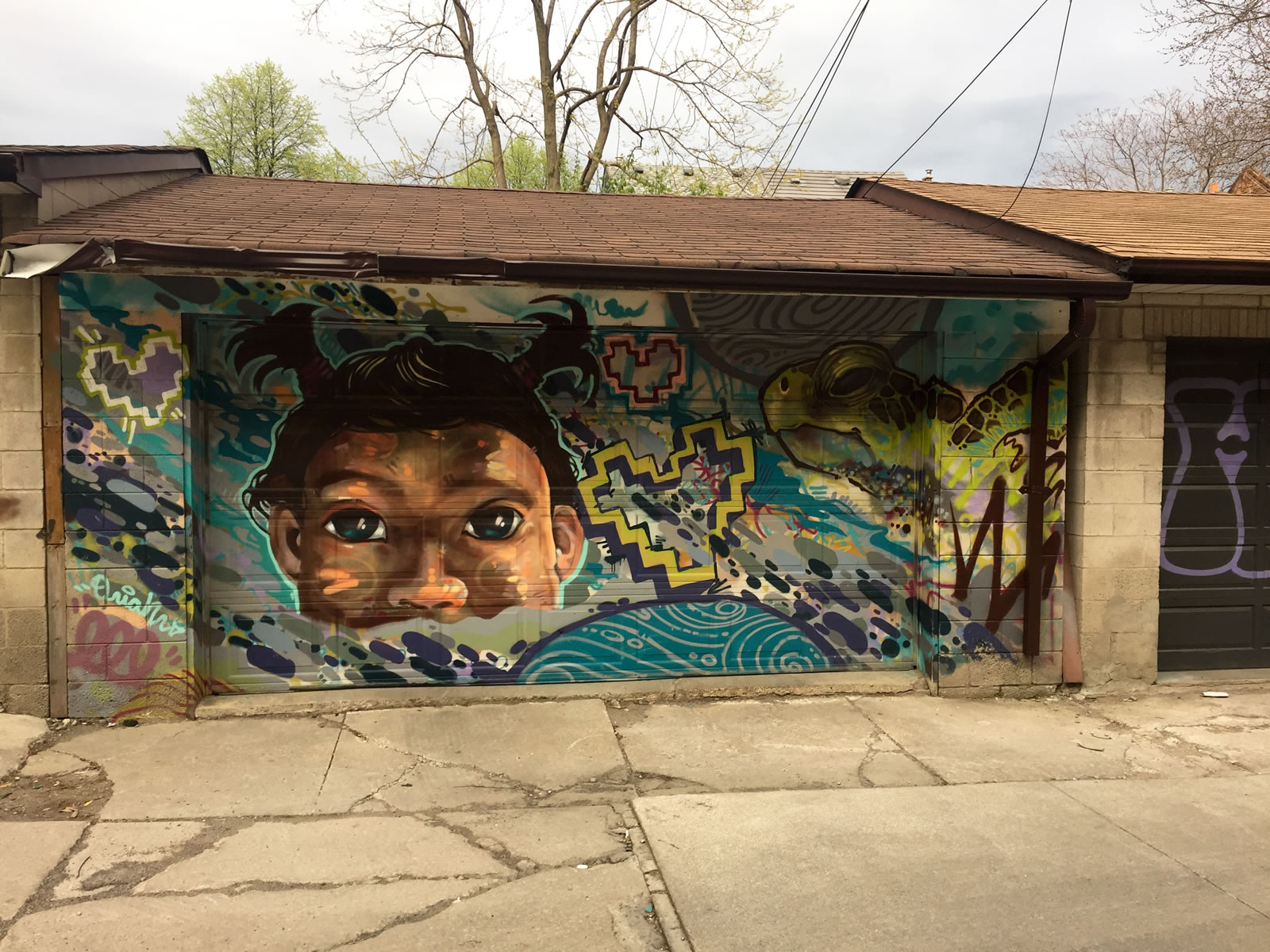 This was a surprise. A new garage door mural by Oriah Scott.
May 22
Toronto Graffiti Street Art Found Here:
Chris Perez Mural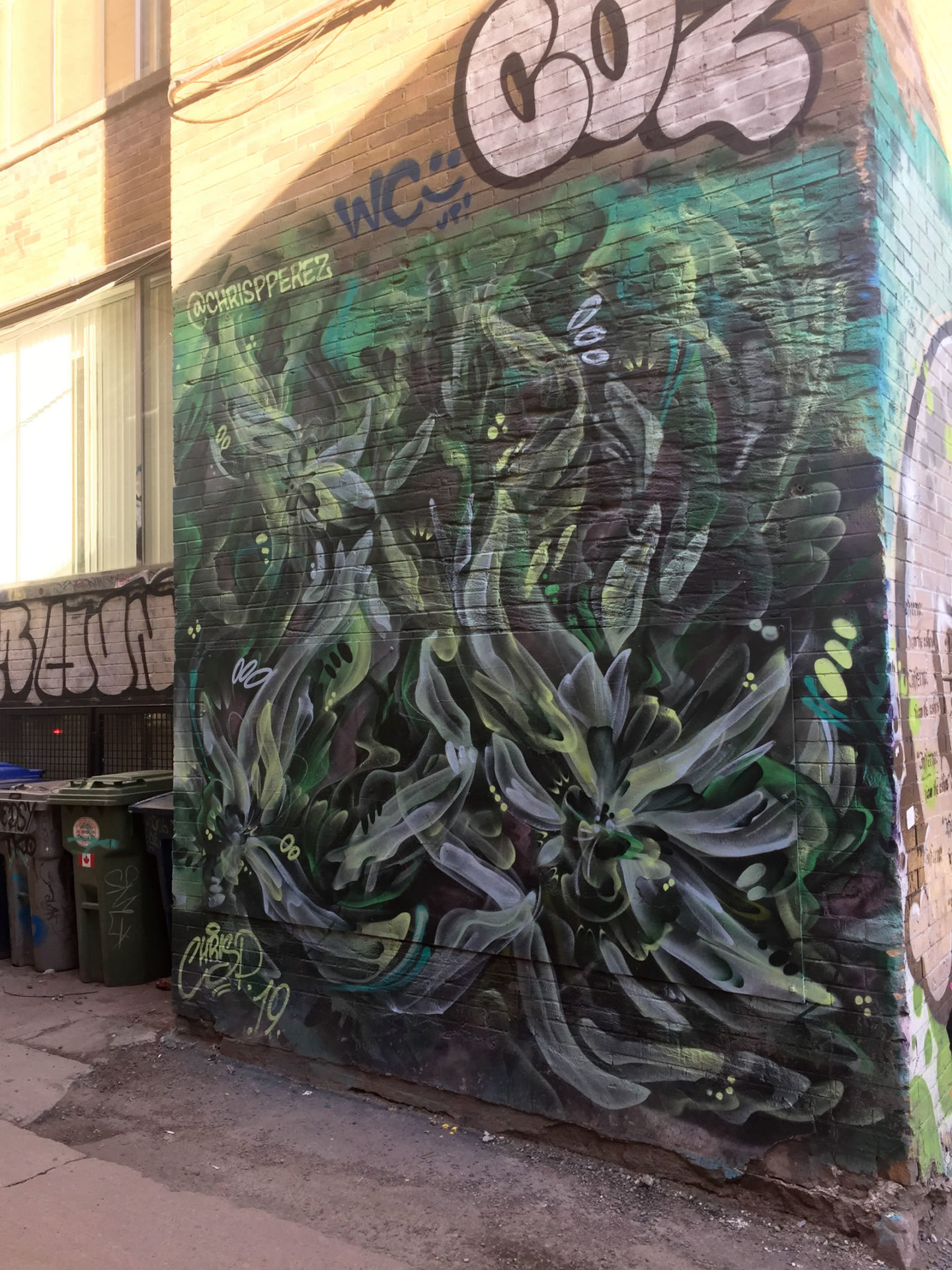 This is a new mural by Chris Perez in Graffiti Alley. I would have gotten a better shot. BUT.. a bunch of teens came and started taking selfies in front of it.
Art Child Mural
I don't remember this mural being there by Art Child before.
Tone2 Mural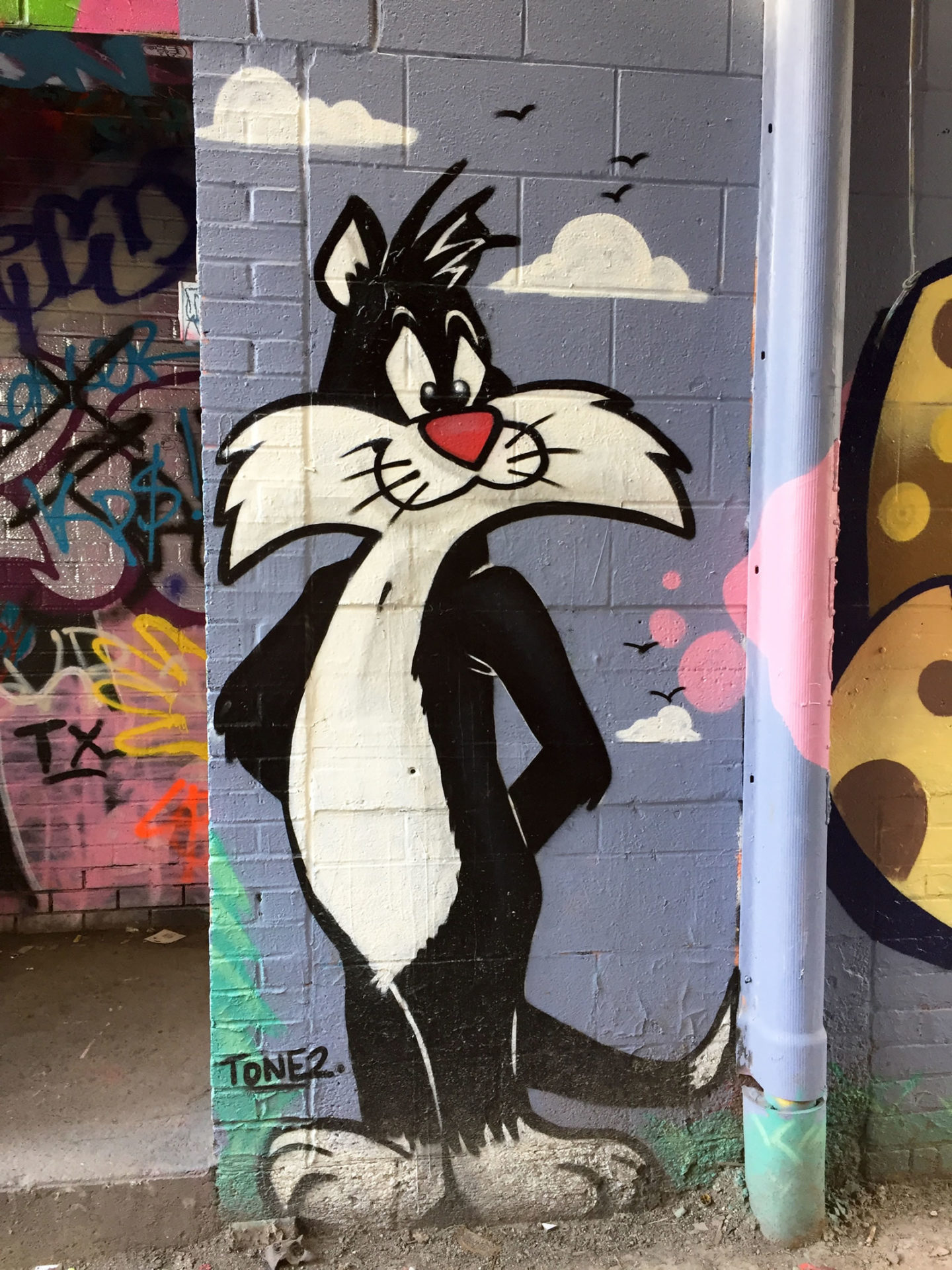 This mural by Tone2 is also in Graffiti Alley. Almost all of the cartoon characters are by him.
BEAT_SML Mural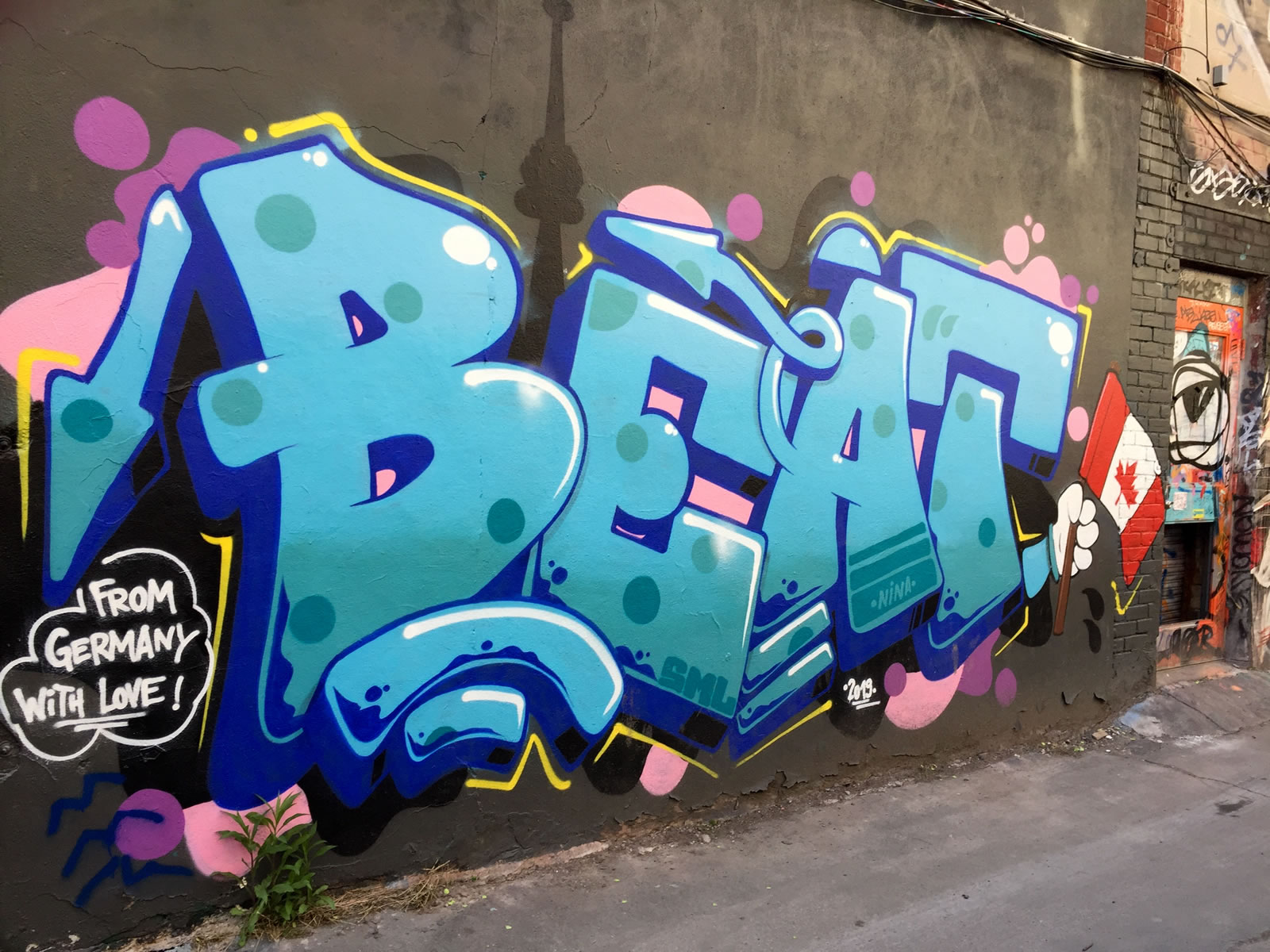 I don't know much about this artist. I found an interview online that he did:
"When I started Graffiti in the mid 90s I wrote several different names. Beginning of the two thousands I focused on writing BEAT, it was just because of the letters. I really like them."
BEAT SML is from Germany
May 23
Toronto Graffiti Street Art Found Here:
Wordstendtobeinadequate Stencil Art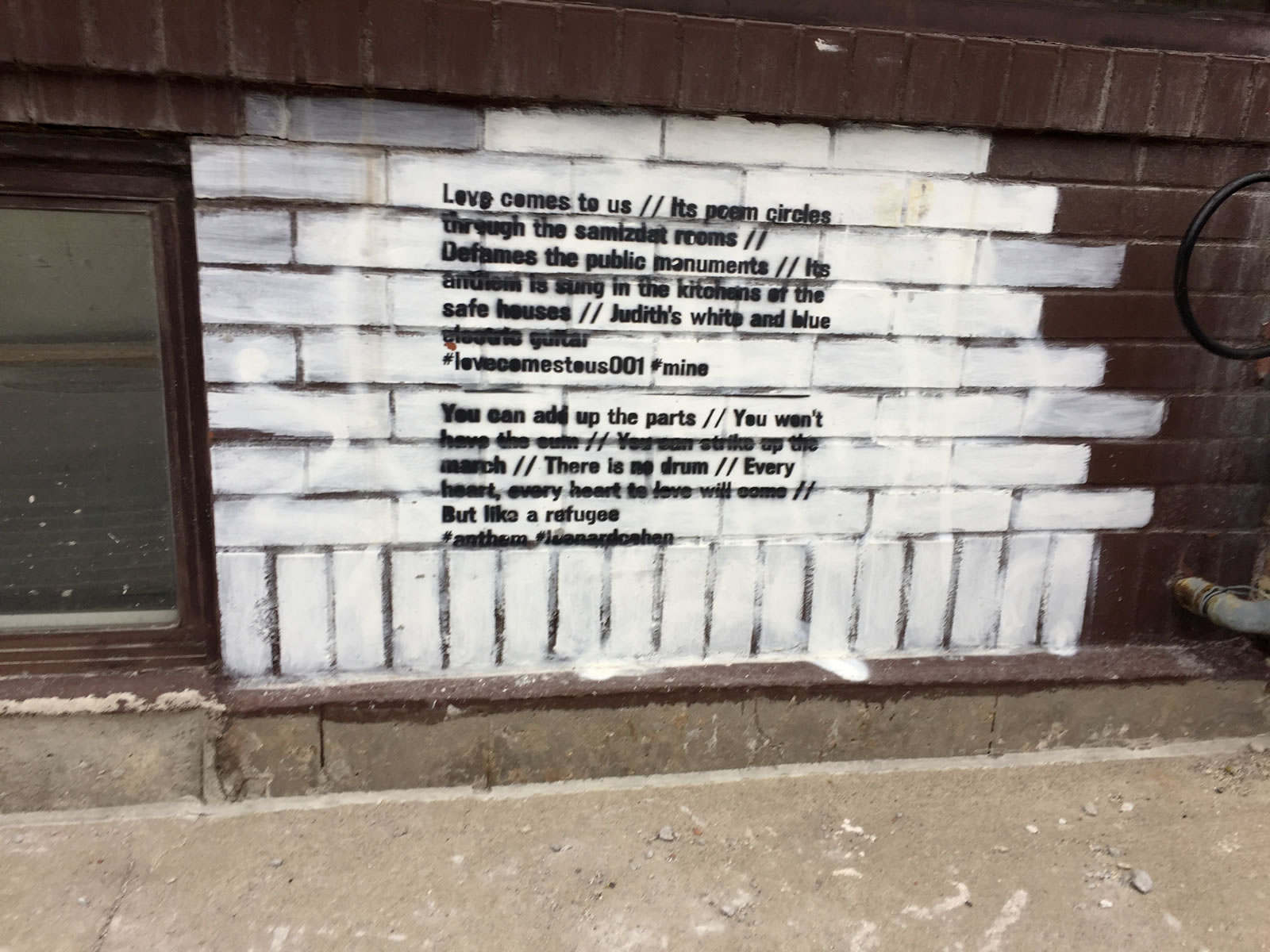 This artist is a little mysterious. All I know is she puts these 'poems' in very hard to notice places. So far I have found 3. This latest one was discretely stenciled on a brick wall.
_____________________________________
Love comes to us // Its poem circles
through the samizdat rooms // Defames the public monuments // Its
anthem is sung in the kitchens of the
safe houses // Judith's white and blue
electric guitar
#lovecomestous001 #mine
You can add up the parts // You won't
have the sum // You can strike up the
march // There is no drum // Every
heart, every heart to love will come //
But like a refugee
#anthem #lenoardcohen
May 24
Toronto Graffiti Street Art Found Here:
Kizmet32 Graffiti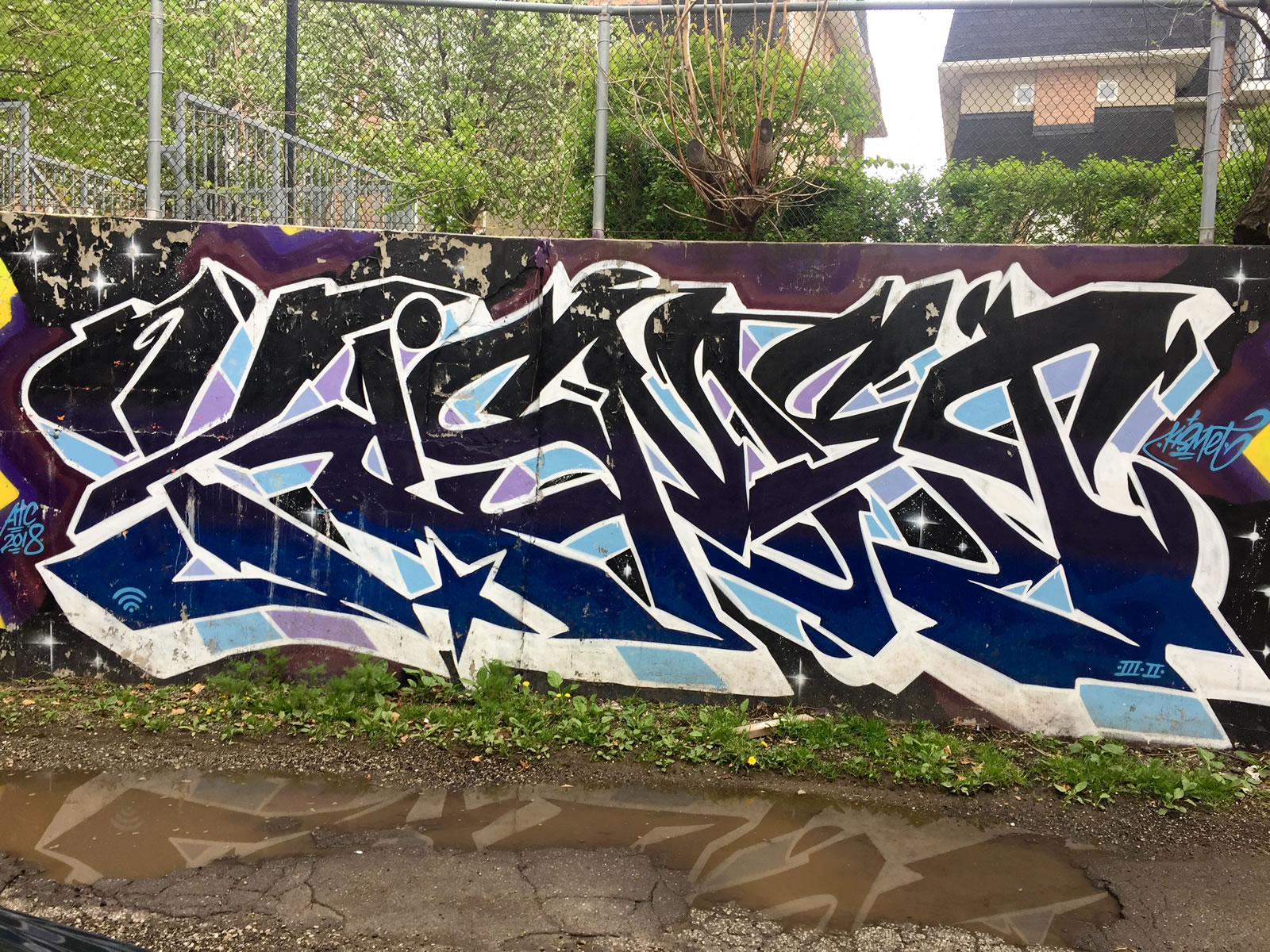 I found this Kizmet32 in another back alley in Bloorcourt.
Victor Fraser Sidewalk Art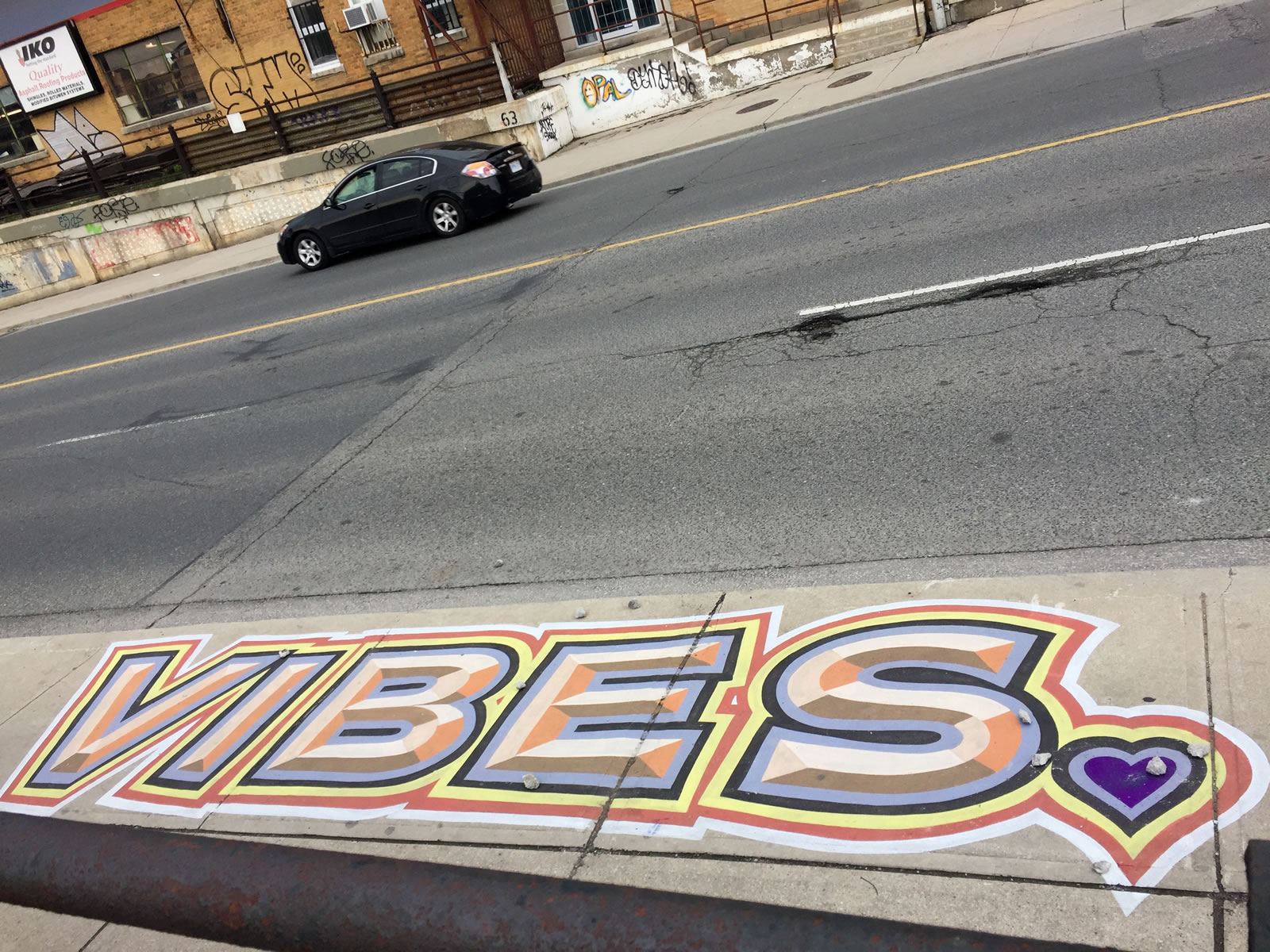 Victor Fraser has been painting lots of sidewalks in Bloorcourt Village.
May 25
Toronto Graffiti Street Art Found Here:
Skam & Company Graffiti Mural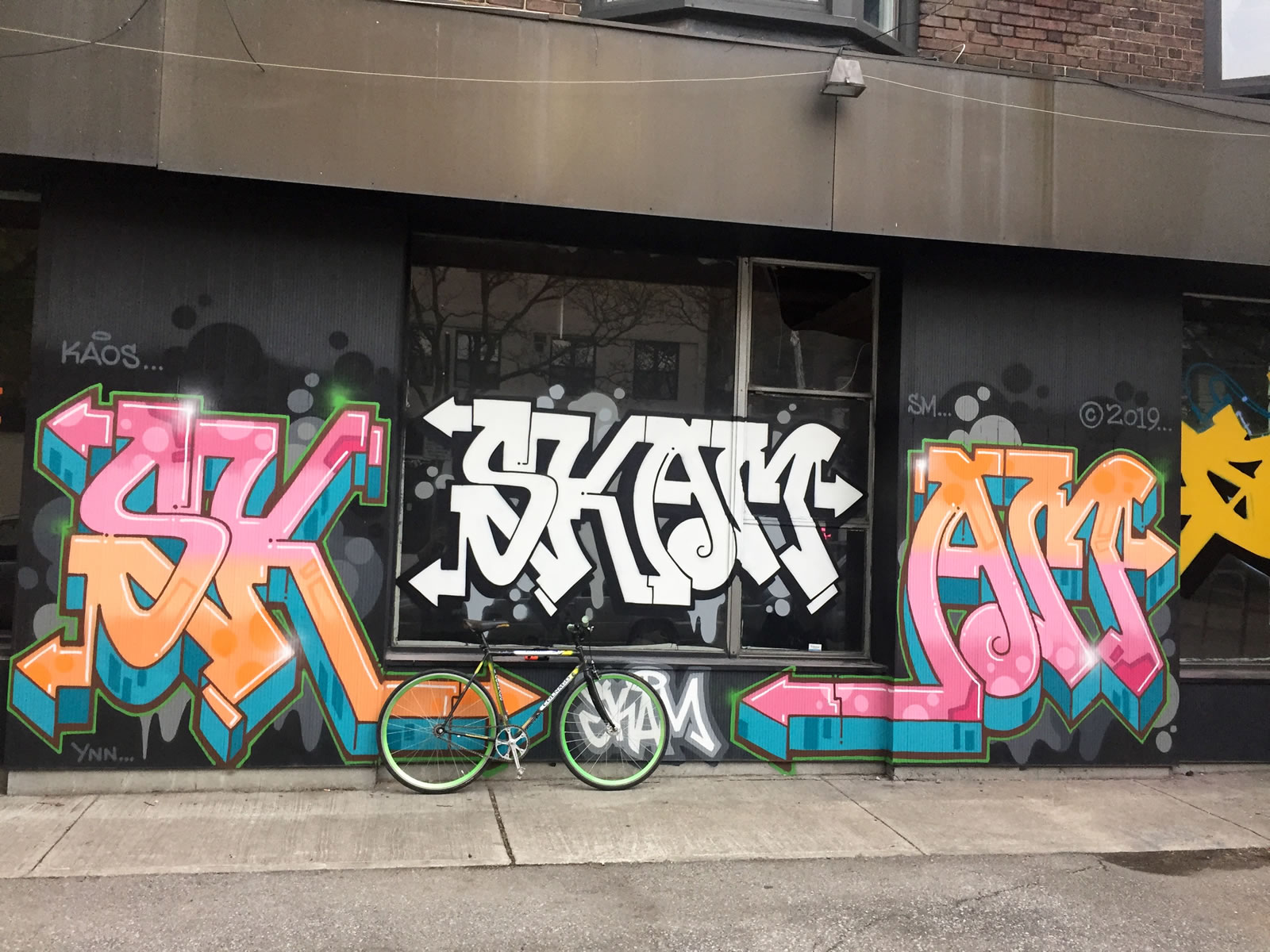 I got to see Skamoney working live. I took a picture of some of them.. but I know they like their privacy.. so I won't post them all.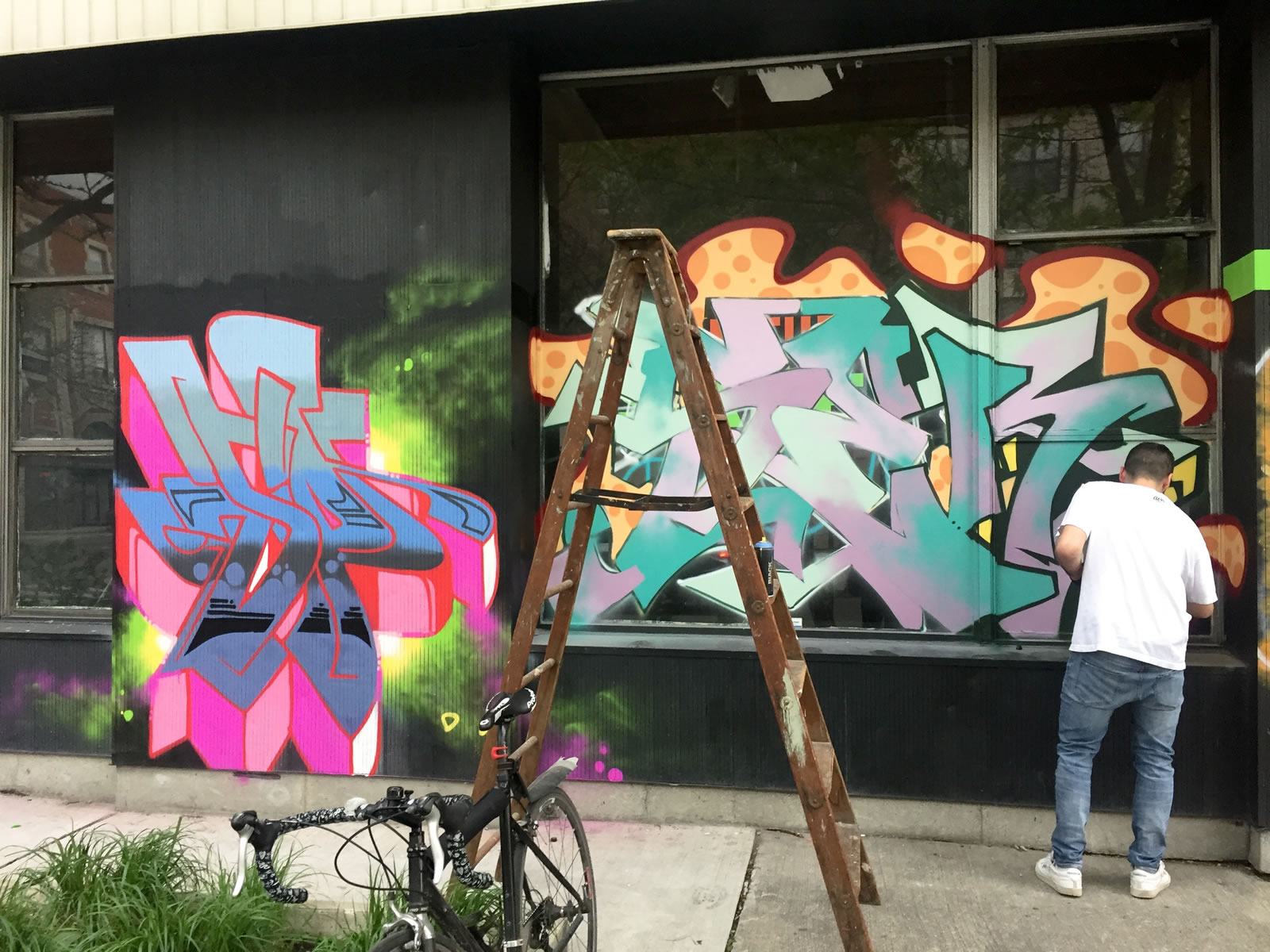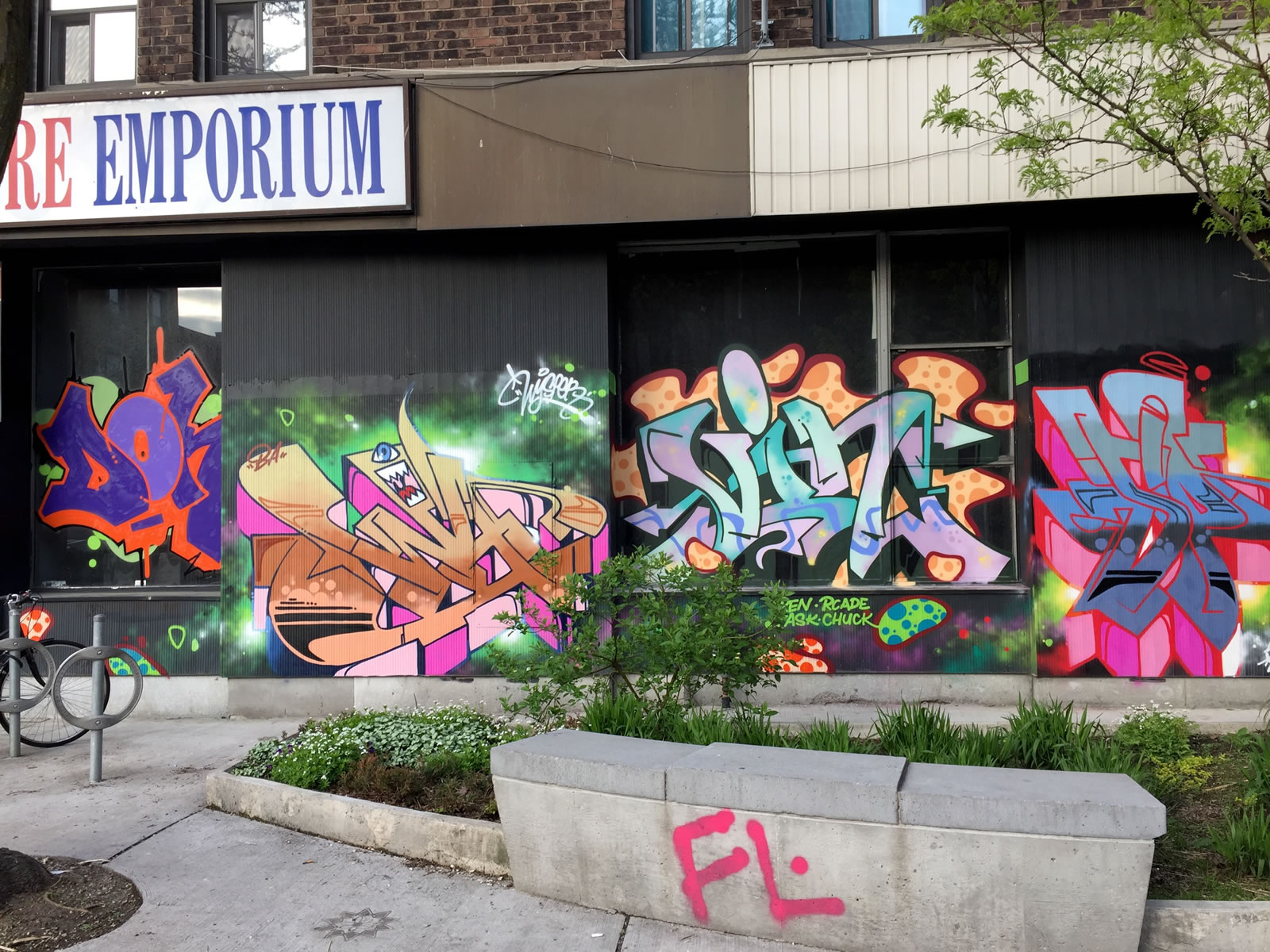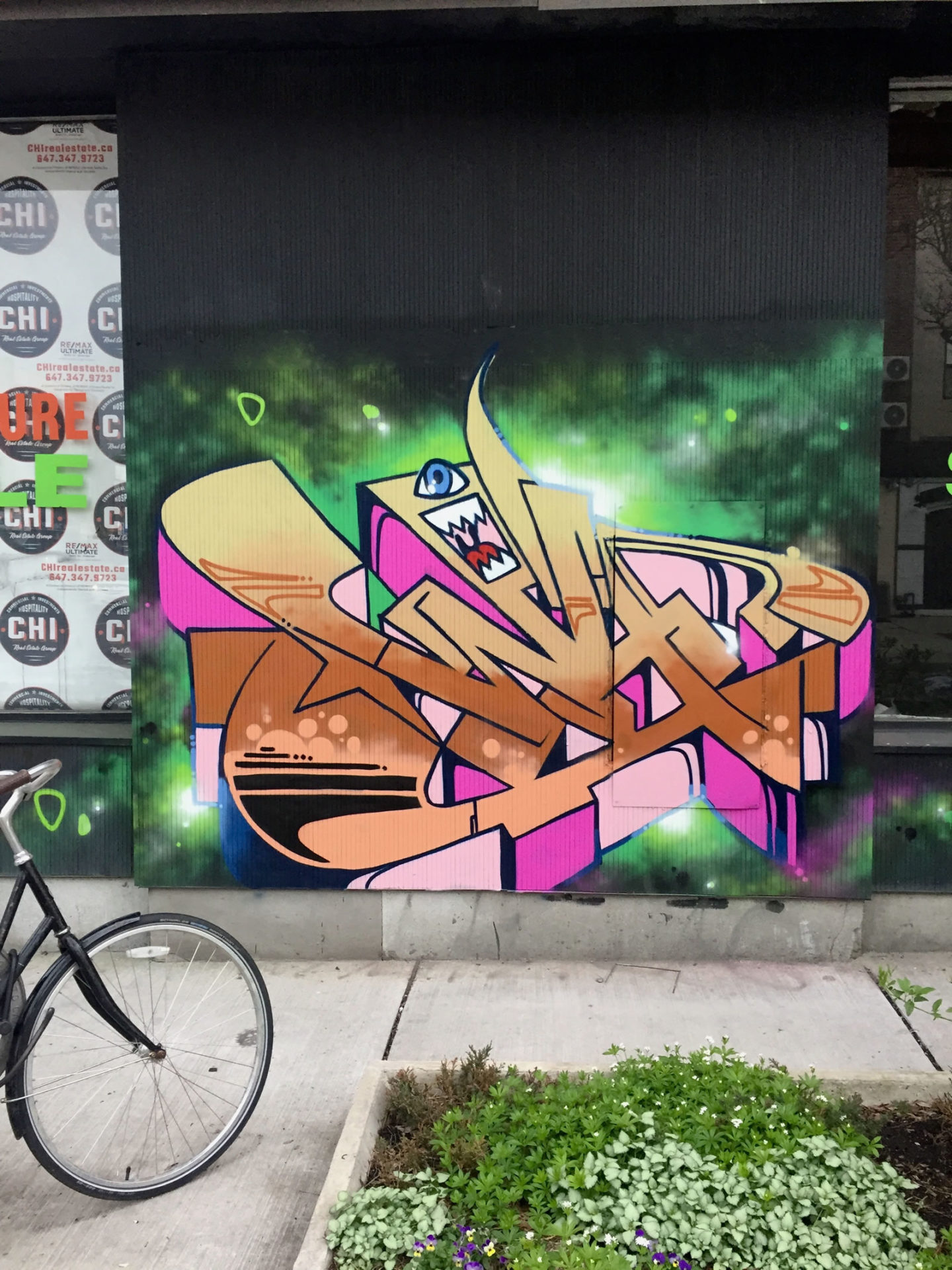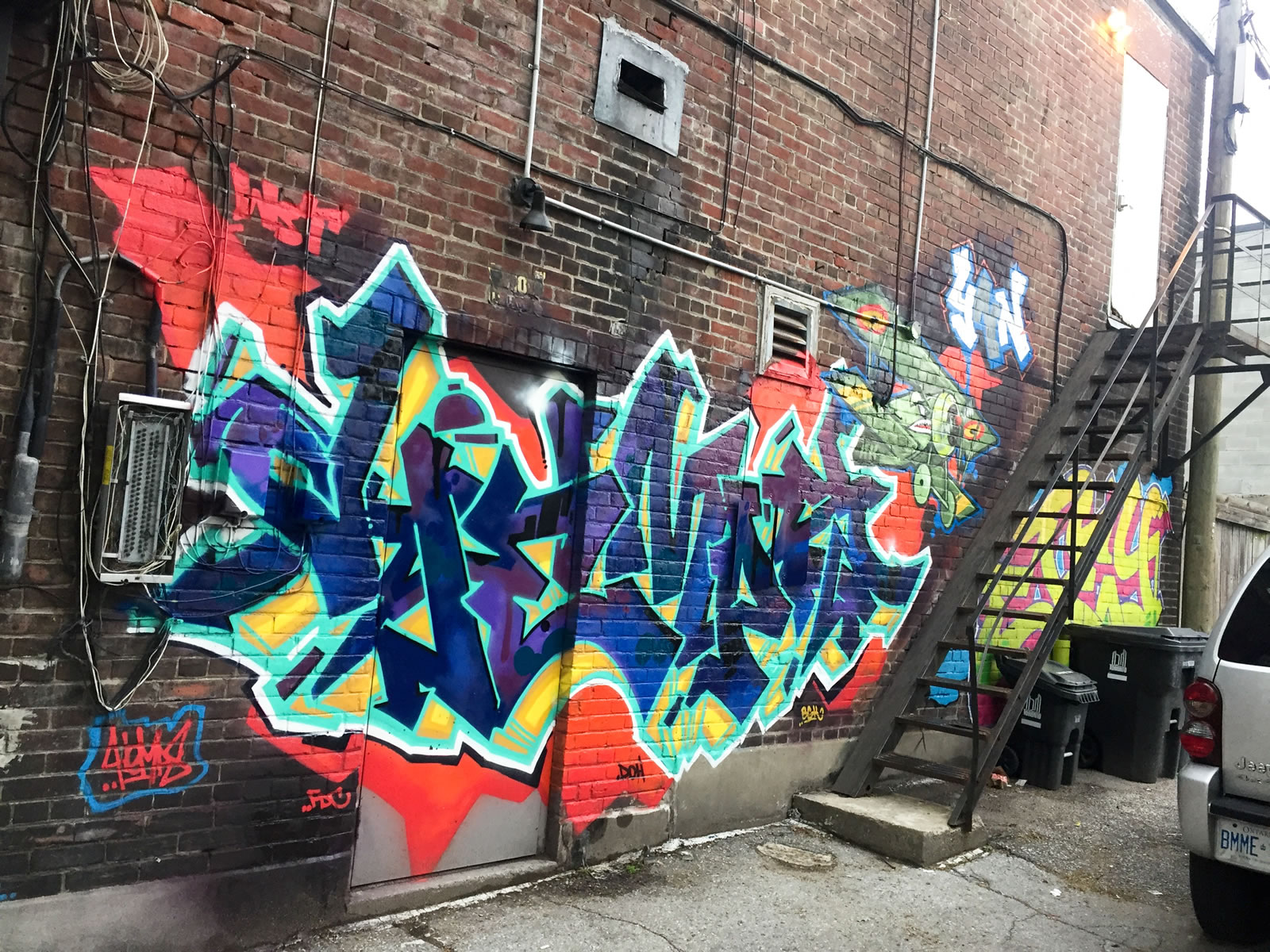 Not all of these graffiti writers have Instagram accounts.
Vinnyizms & Shinobi Studios are two of the artists here.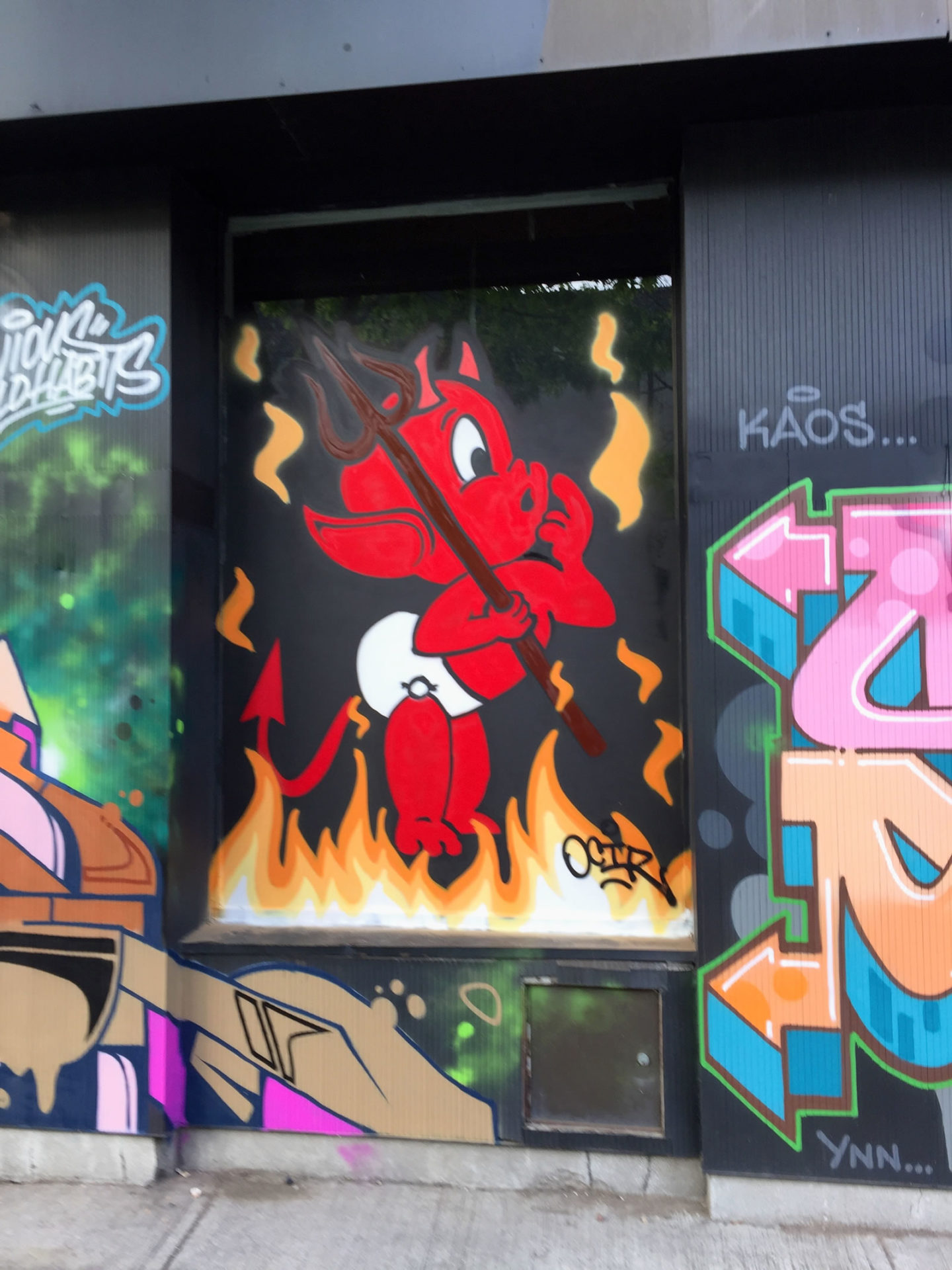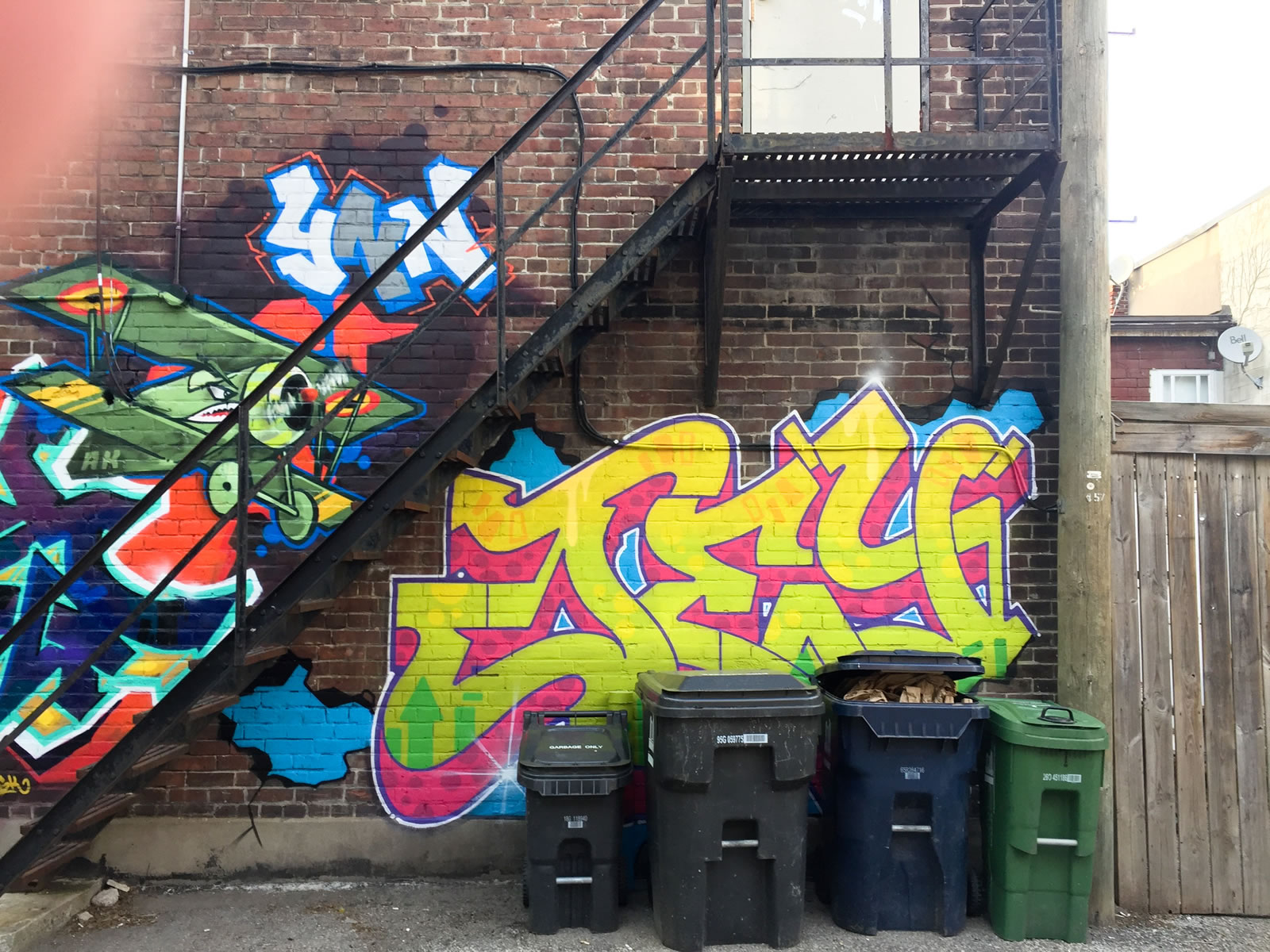 Yes.. that is my finger in the photo.. sorry about that !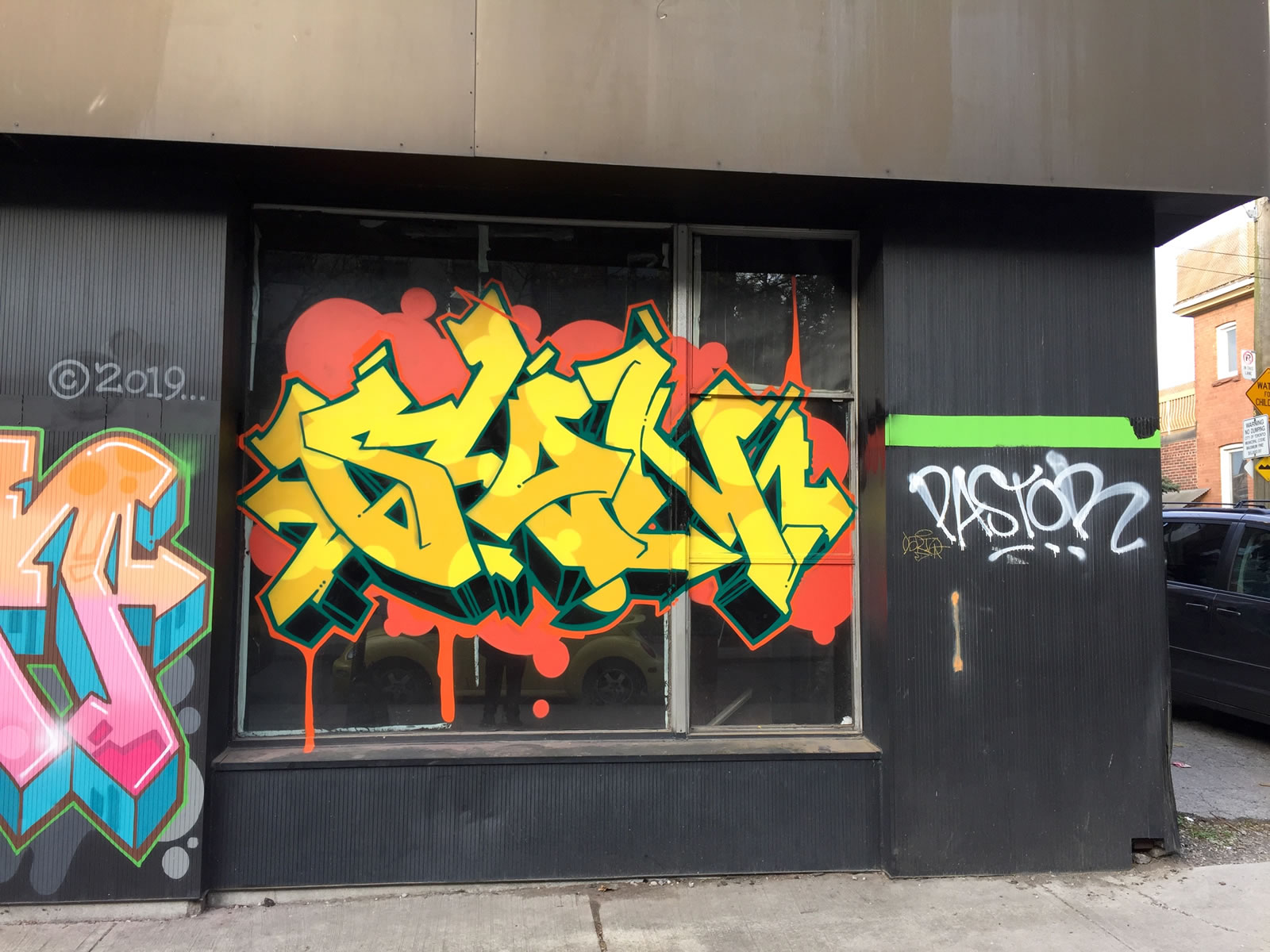 This used to be furniture place.. but it moved next door. The building was badly tagged which is why they were doing this artwork. Graffiti prevention !!
Toronto Graffiti Street Art Found Here: