"Our Street Car" by Jacquie Comrie
I finally got to see this by Jacquie Comrie ! This street car has been on Instagram a zillion times (and on the news) but I didn't get to see it in good light until November 8th.. And I got to see it at one of the best spots in the city — near the lake with perfect sunlight ! I've seen it a few times since.. but the time is was the best ! All the colors were shining !
That is Jacquie painting the streetcar.
Here is some information:
"A Streetcar Named Toronto is a one-of-a-kind art project and urban exploration whose goal is to honour and celebrate the Canadian Light Rail Vehicle, the iconic streetcars that have defined our urban landscape since 1979.

In early 2019, we secured the use of a TTC CLRV to be re-made as art and re-launched into service in September. After six months of behind-the-scenes work, we were delighted to announce that Jacquie Comrie, the Queen of Colour, was selected to activate the exterior of the streetcar. And what a job she's done!"

OurStreetCar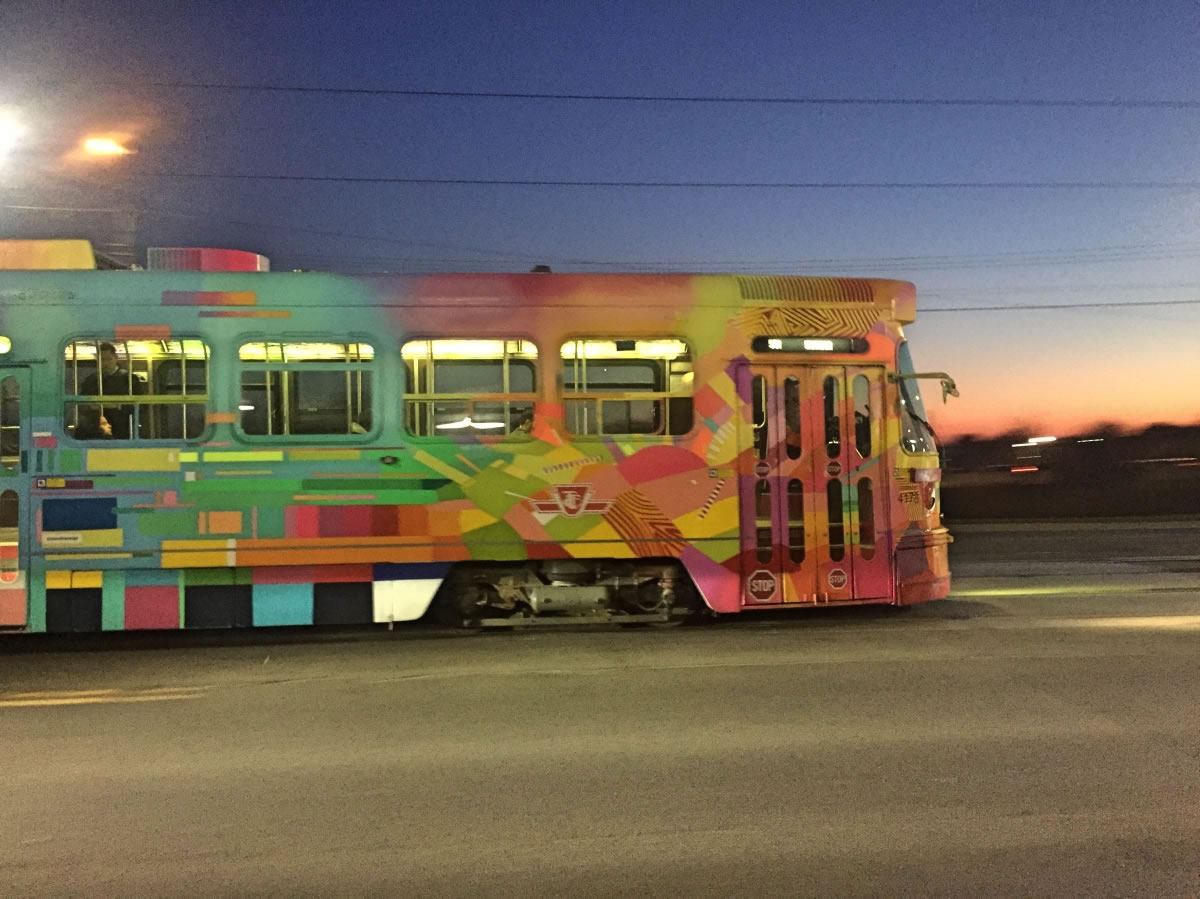 I saw it back in October but I didn't get my phone out in time ! It went by so quickly !
They have an Instagram for this streetcar now @ourstreetcar
I've never been inside it.. but it looks amazing.
And here is some more information from the website !
"Born in Switzerland, raised in Thunder Bay, made famous right here in Toronto. The Canadian Light Rail Vehicle is an icon — as much a symbol of the city as the CN Tower.

Since 1979, they've played an outsized role in our urban existence. Whether it was riding to a job interview, a first date, or just watching them go by, our lives as Torontonians are fused with our CLRVs.
Let's celebrate them before they're gone!

OurStreetCar
A Streetcar Named Toronto is an art project and urban exploration that asks the question "What do these streetcars mean to us?" It's our chance to answer that question and, in doing, say a proper goodbye."

OurStreetCar
Toronto Street Art Graffiti Found Here: