Spudbomb working on Honest Ed Spray Mural in Annex area of Toronto. Graffiti streetart project organized by his partner Miss Lady Oops for Start Art Toronto
Spudbomb Honest Ed Spray Mural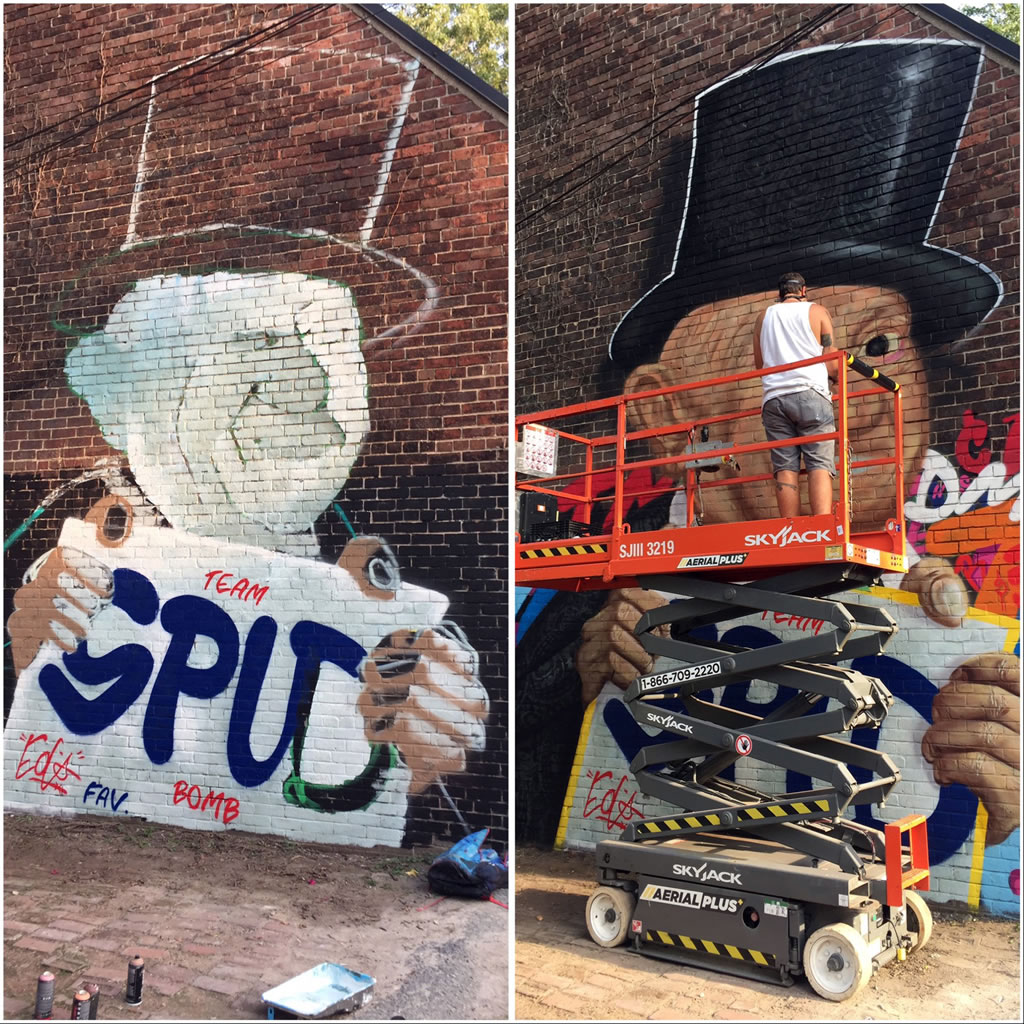 Finally, got to say 'hello' to Spudbomb @spud1_spudbomb on the weekend. Just a quick hello. The first photo was from Saturday when he was working on that wall. He had it all primed when I walked by as he was shaking up a spray can.
I asked if it was Honest Ed… he said 'yes it is'.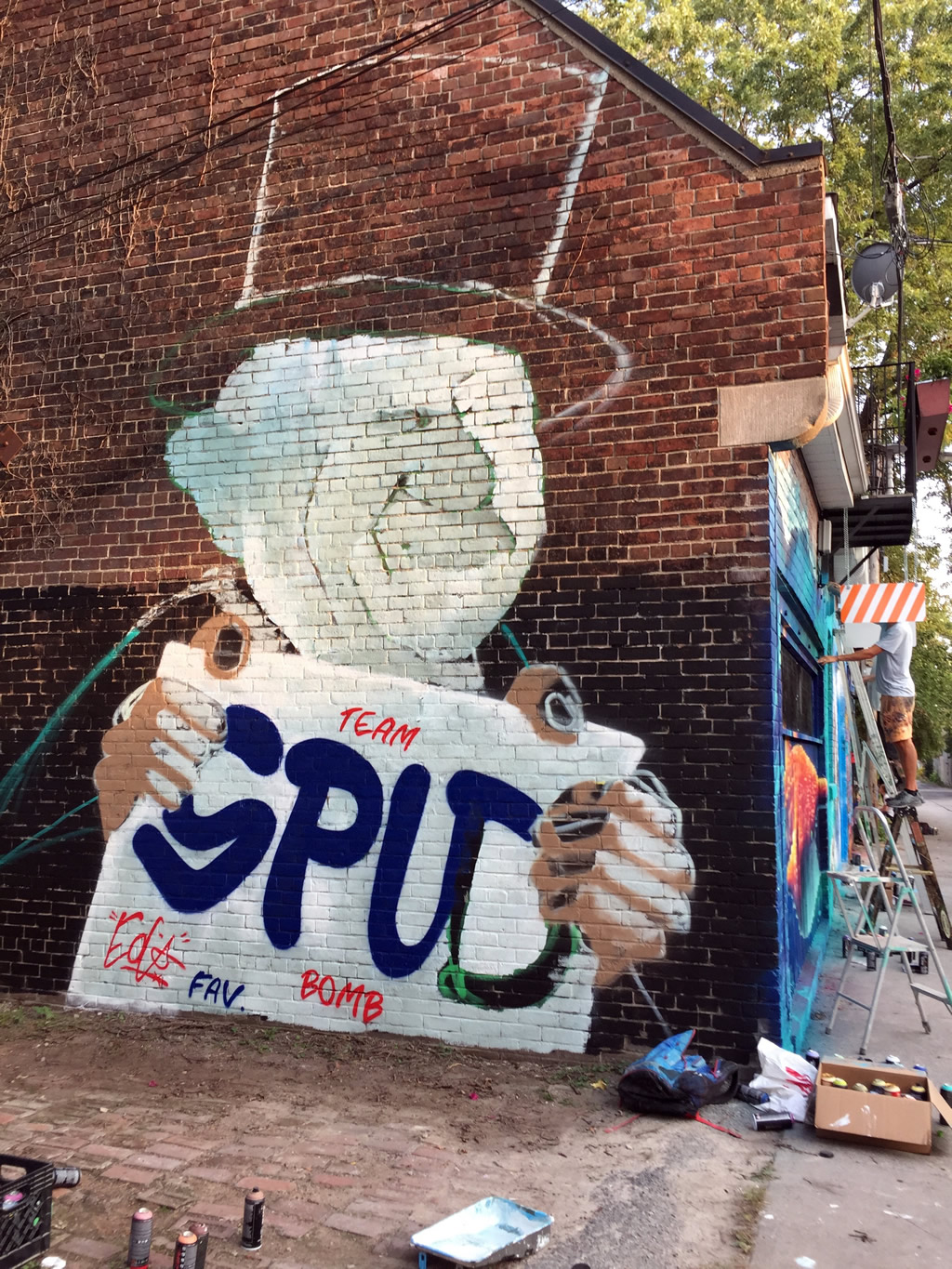 Honest Ed was a business man – aks Ed Mirvish – who ran a discount department store in the area. It just closed down on December 31, 2016. He passed away on July 11, 2007 at the age of 92. (these murals were to celebrate the area).
On Monday I decided to swing down this alleyway again. All the photos that I had were with the artists working on their murals. I like to have a fresh photo of the new art. Sometimes these murals get tagged within hours of them being completed. Luckily, none of them have been tagged.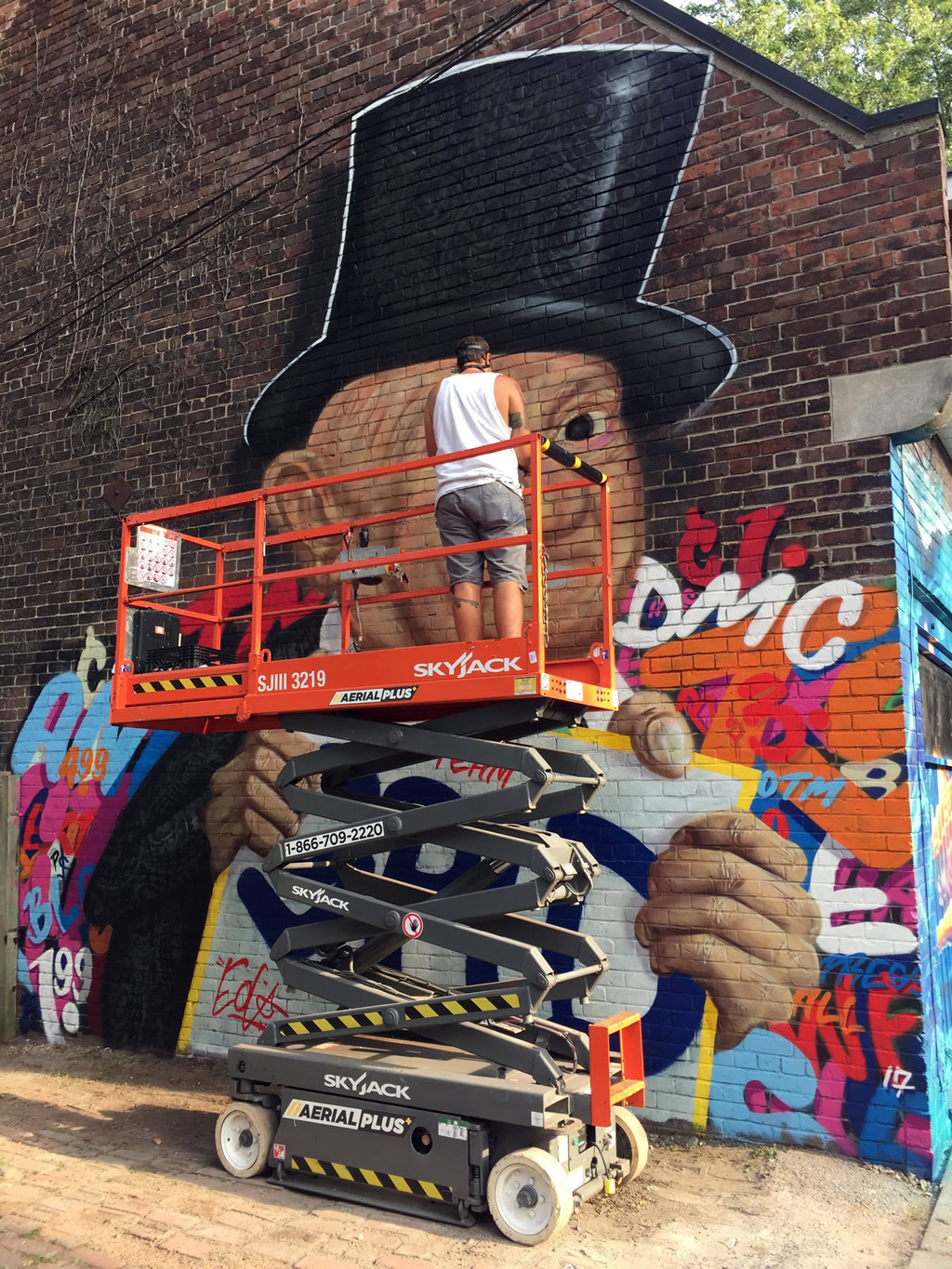 When I was walking down the alley Monday afternoon – I got to see Spudbomb still working on his mural. Elicser Elliott had a lift for the mural that he was working on around the corner. Elicser let Spudbomb use it for the top half of this piece.
After I snapped this picture I saw a lady in the laneway with a baby carriage. I put two and two together and realized that it must be @missladyoops ! Spudbomb's partner with their adorable baby. I asked her if she was Miss Lady Oops.. and she said 'yes I am'.
I had a really nice long conversation with her. She's a nice and knowledgeable person. She organized this entire project. You know that quote 'behind every great man there's a great woman'. She would be that great woman.
I asked her about this project that was funded and supported by @start_streetartoronto. It is called Wall Expressions. She went door to door getting the home owners involved. A lot of work went into this so thank you Miss Lady Oops ! for all your hard work.
From her Instagram art account:
"event that saw 40 artist takeover the #DaveFrenchLane and bring it to life through colour, streetart and graffiti …. the official event launch/wrap party is happening on September 29th from 4-7 at the #tranzacclub "
Toronto Graffiti Street Art Found at this Location: