More Underpass Park Street Art
First up Happy New Year Everyone ! I wish you all the best in 2020 ! I can't wait for mural season to begin !
Anyway.. I am going to start off the new year the way I ended last year with more from Underpass Park. Originally these were painted in 2015 for the Panam Games and specifically for the PanAm Path. Some more were painted in 2017.
I wish that they would leave a gold plated plaque at these projects. A few do… and there might have been at this one but I couldn't. find it. Even though this is street art some of it lasts for years. I know it's a little more effort .. but when there are this many murals on display.. I only think it's fair for the artists who did all this amazing work.
Jill Stanton Street Art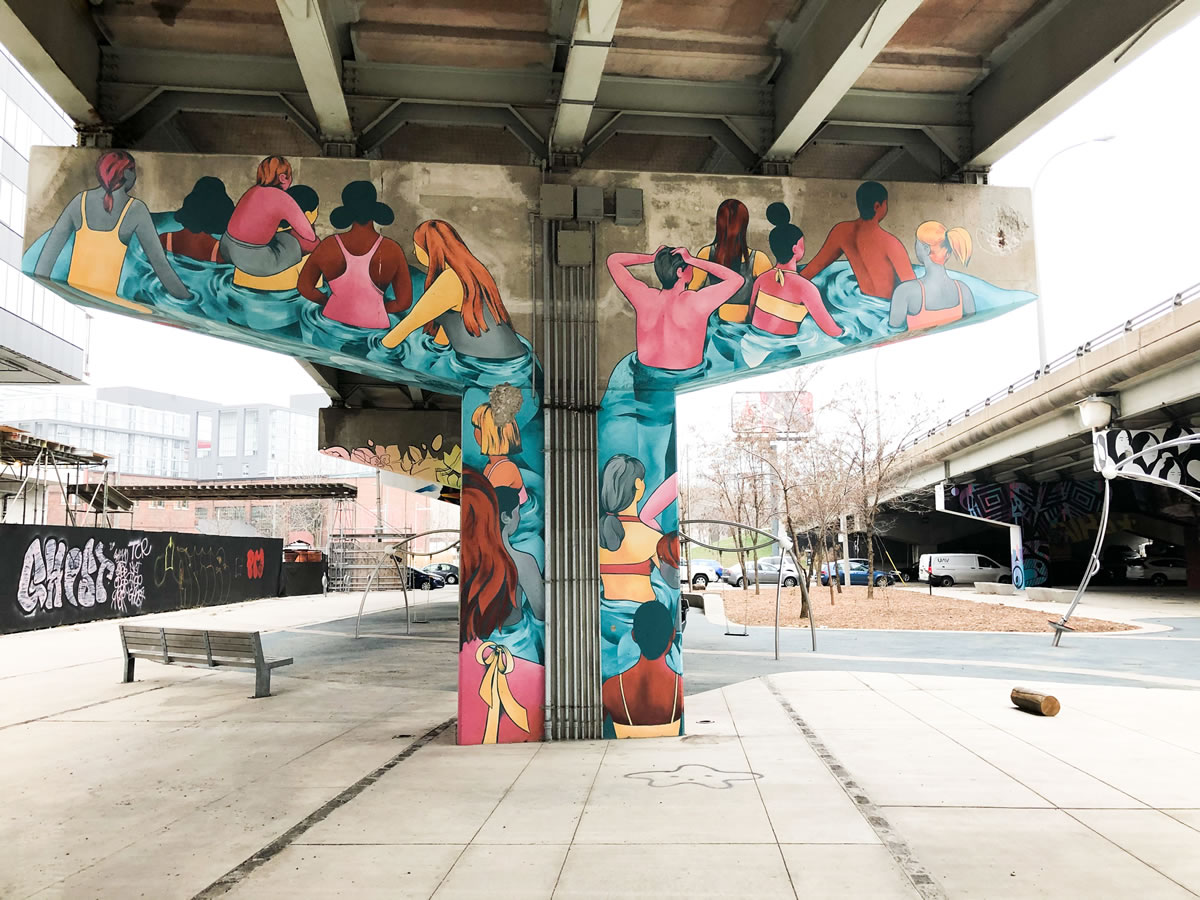 This pillar by Jill Stanton is called "Sunbathers" and it was finished in August of 2017.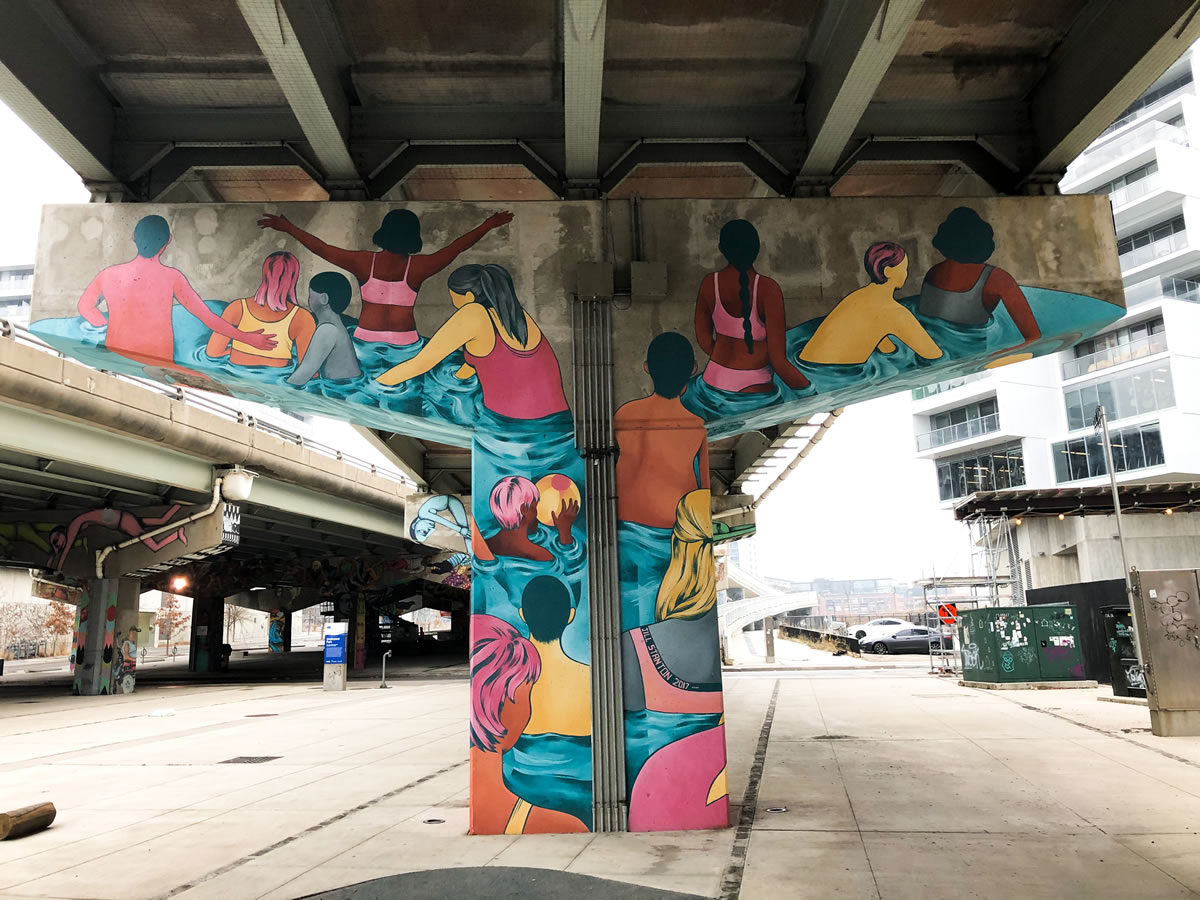 I hadn't seen her work anywhere else.. so I checked out her website:
Jill Stanton is a muralist and artist from Edmonton, Alberta.

Jill's work has been featured in the 2017 Vancouver Mural Festival, Toronto's Underpass Park, the 2017 Wall-to-Wall Mural Festival in Winnipeg, the 2015 Alberta Biennial of Contemporary Art, as well as several private and public mural commissions across Canada. She was shortlisted for the 2017 and 2015 Eldon & Anne Foote Visual Arts Prize.

Jill Stanton
Not to beleaguer my point but a plaque would be welcomed. I ended up researching all this information.
Meaghan Claire Kehoe Street Art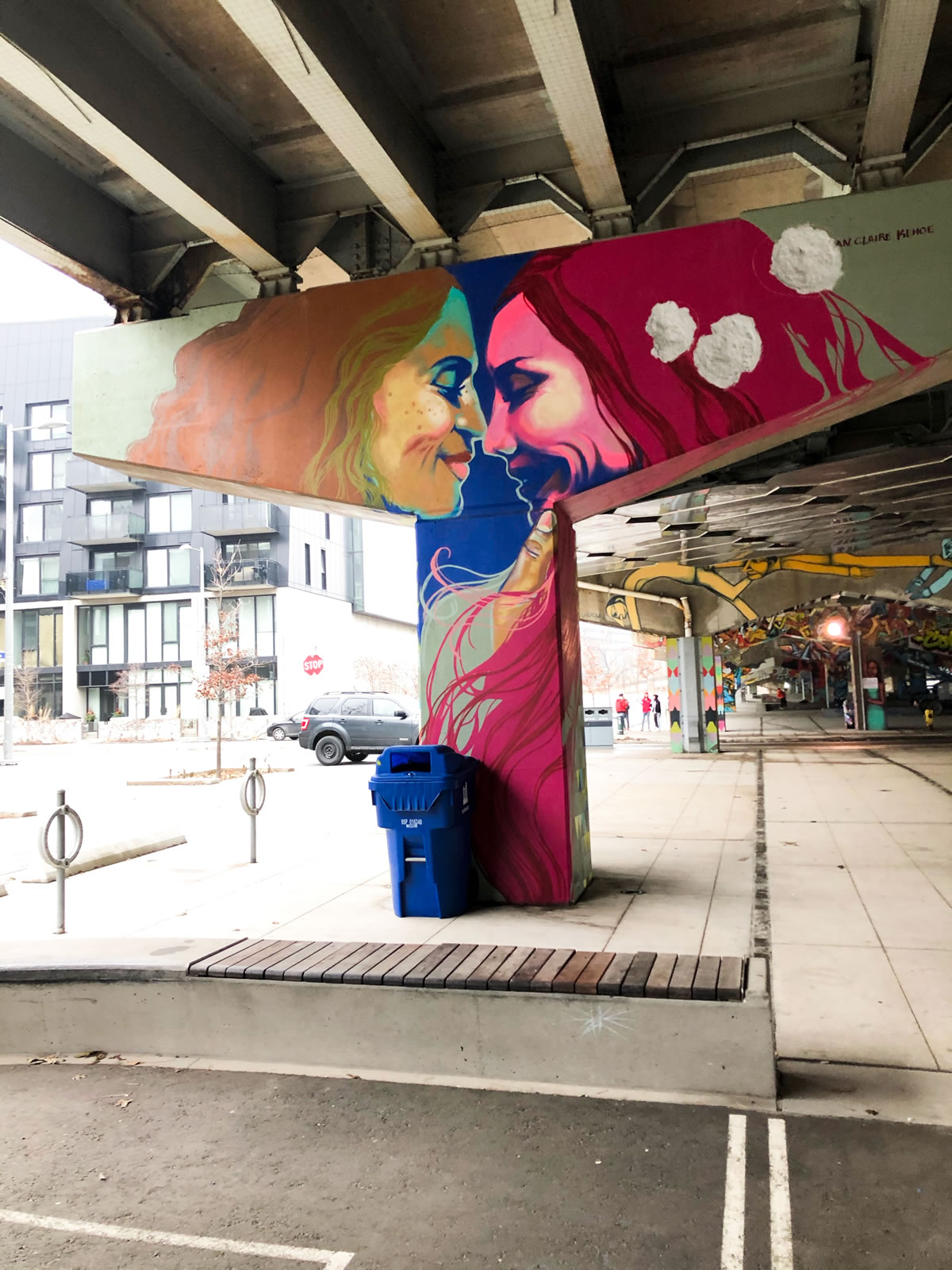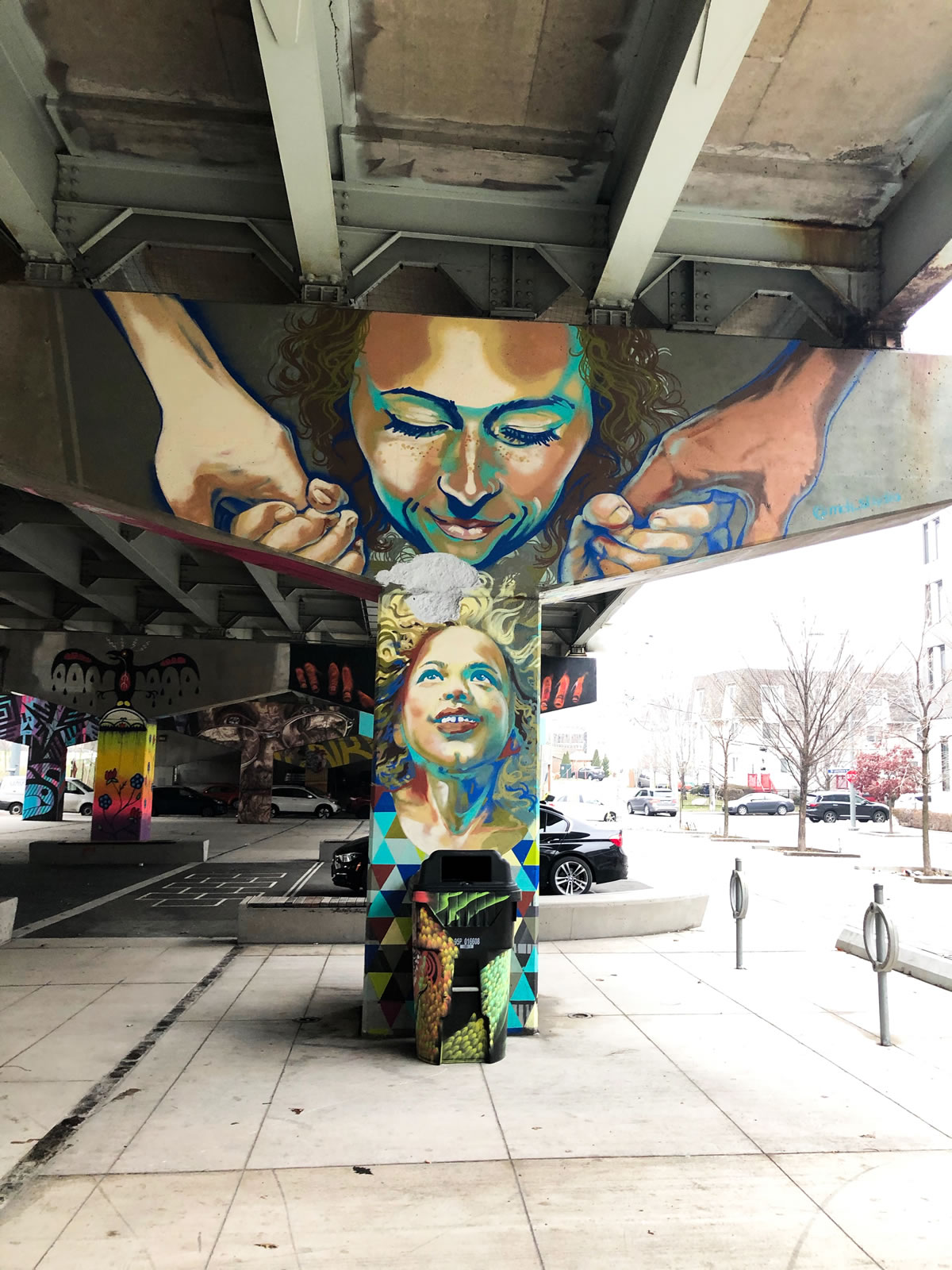 I have seen Meaghan Claire Kehoe's art before. I have actually met her… she participates in a lot of the alleyway projects that I have posted before. This is the biggest mural that I have seen by Meaghan who goes by MCK Studio on her Instagram.
She has some great time lapse of the production of this.
I found some information about this on her website.
Kehoe has taken special interest in public and collaborative works and takes great responsibility in inspiring positive social massages and creating safe and inclusive outdoor spaces for communities. She is most proud of her pillar at Underpass Park T.O. entitled "Same Love."

MCK Studio
She rights more about this on her Instagram post of 2017.
Al Runt Street Art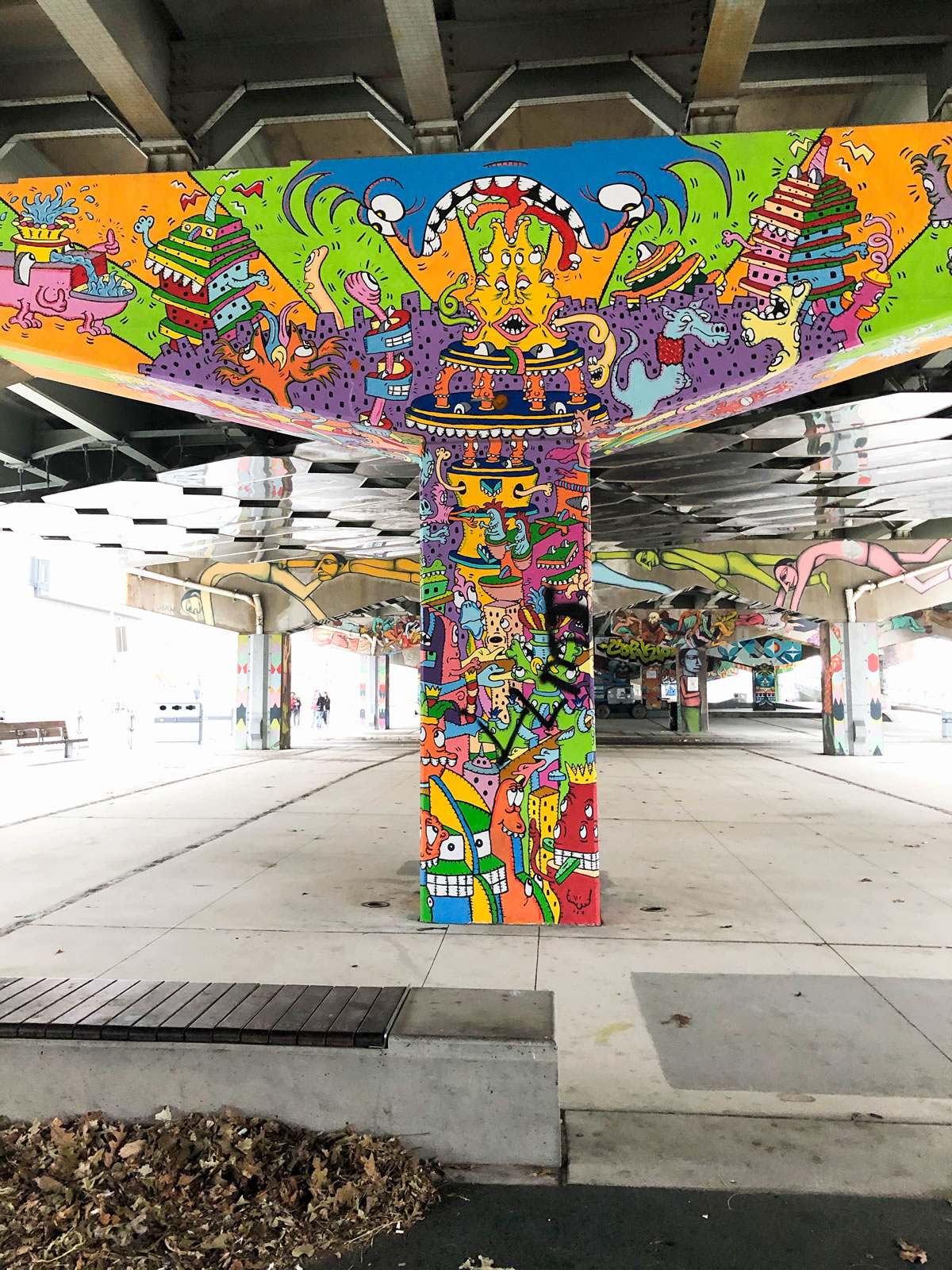 This on by All Runt was also don't in 2017. He has painting murals for a long time. I think as far back as the 1980's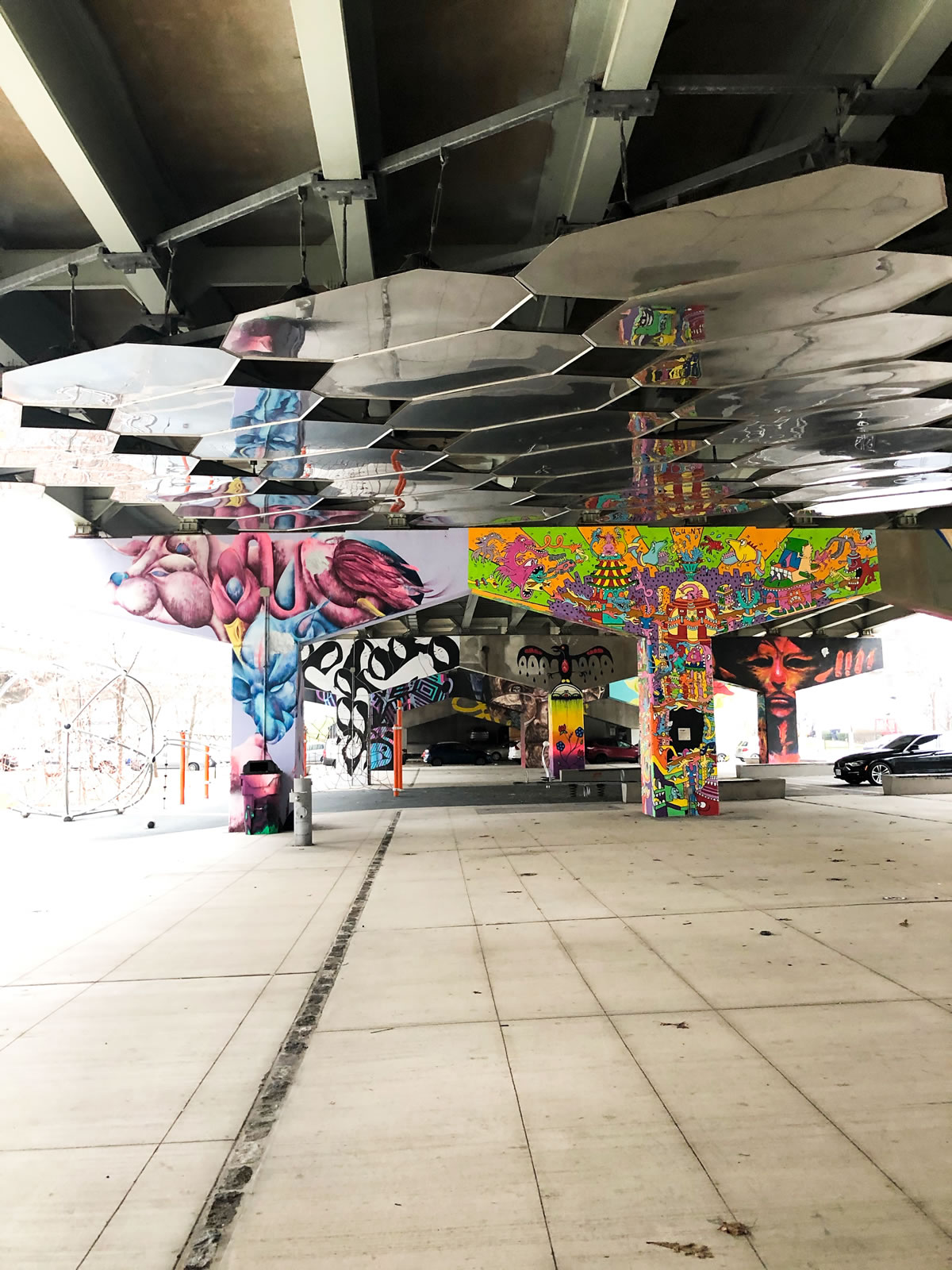 It's probably better to let him speak for himself.. so this information is from his website:
Widely recognized as one of Canada's truly unique creative visionaries, Runt's passionate sense of adventure has fueled his work for decades. Known for his large-scale detailed murals, his work has been gracing walls for over 30 years. His work has been commission by some of the top companies in the world, including Pabst Blue Ribbon, Transit Commissions, YouTube offices and many more.

At once familiar and unfamiliar, Runt's works are of this world but definitely not of this world. Informed by a wide range of influences, from Hieronymus Bosch to Dr. Seuss, Runt's work embodies a love and critique of humanity as his monster scenescapes play out in front of the viewer's eyes. If one could press "play" on any of his scenes and advance them, the scenes would look entirely different. Runt's characters capture the joy and aggression of our urban existence. In addition to his large-scale work, Runt's art is found in many private collections.

Al Runt
Christopher Ross Street Art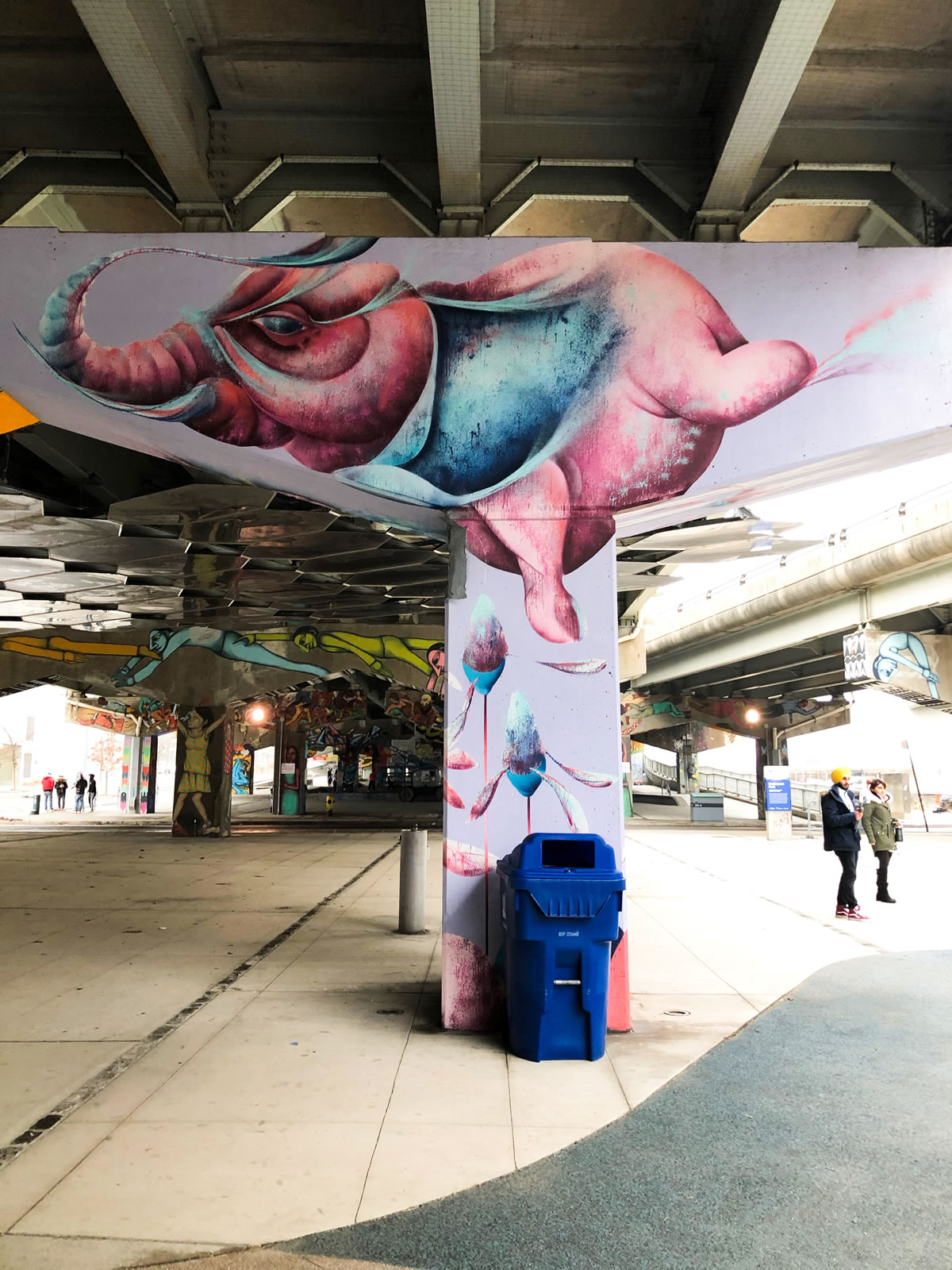 This artist I know nothing about.. even his Instagram is blank.
When I was taking pictures there were a lot of other people making videos. I am guess that these guys were making a TikTok video. I've seen so many people use street art as a background. If you do.. make sure to mention that artist.. that goes for the photographers, videographers, actors, dancers etc.. etc.. street artists got bills to pay 2.. so all the exposure they can get helps.
Omen 514 Street Art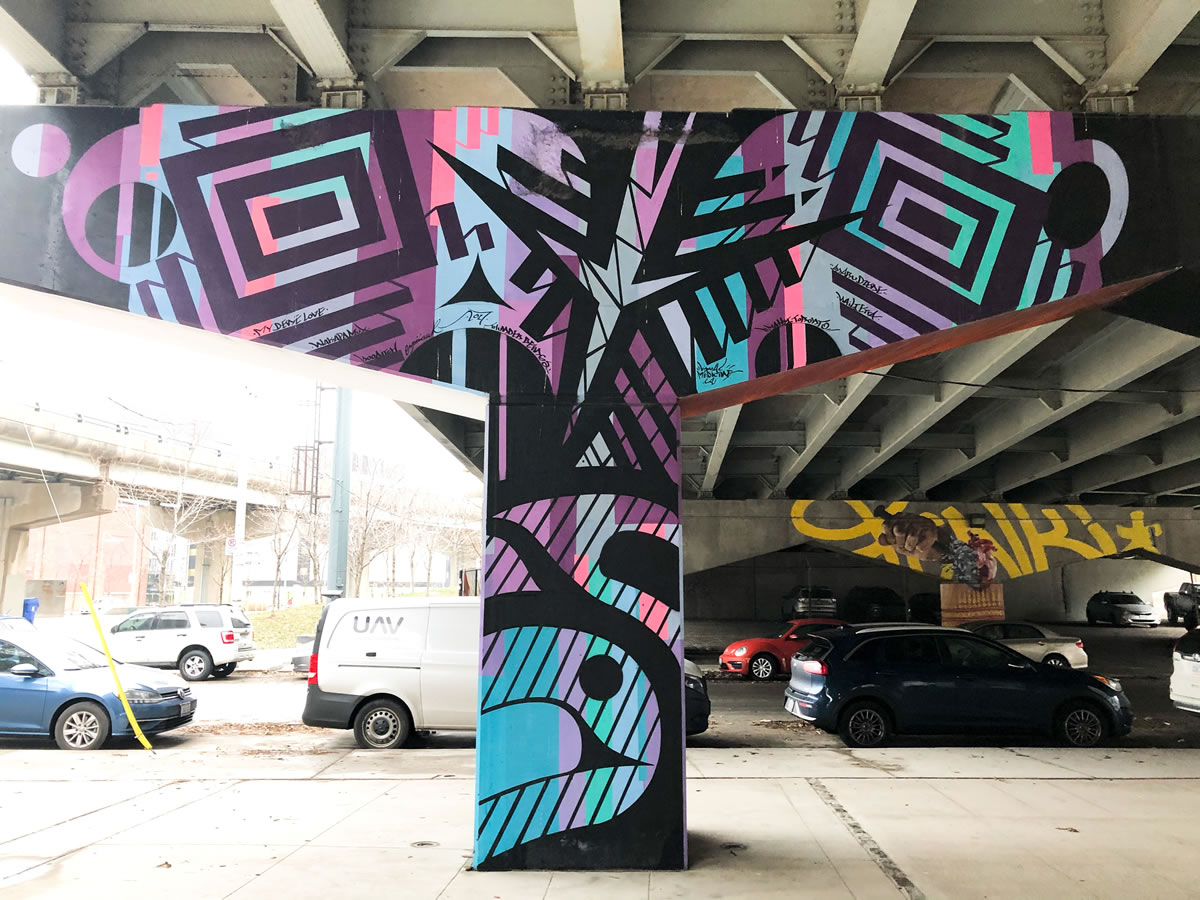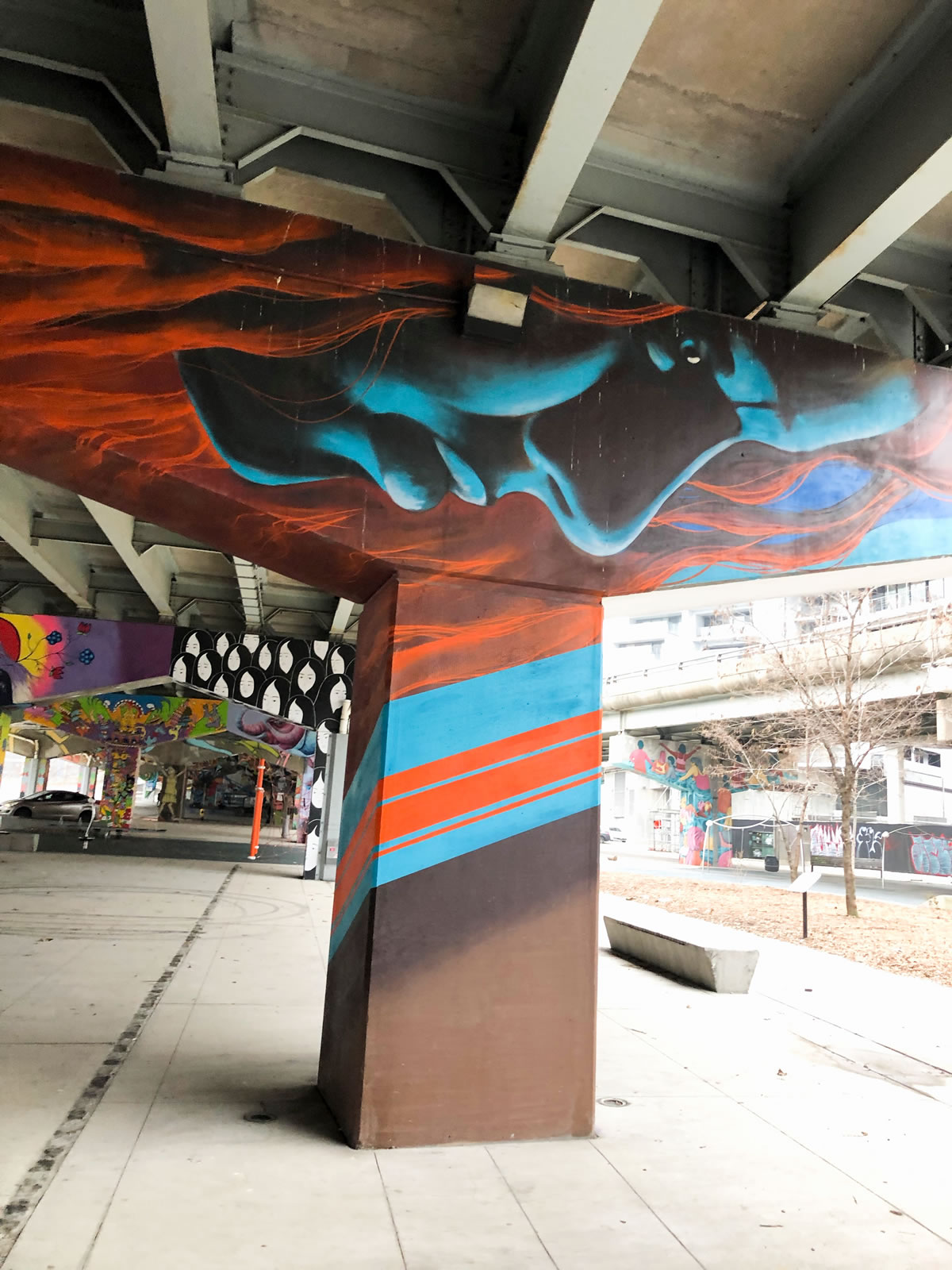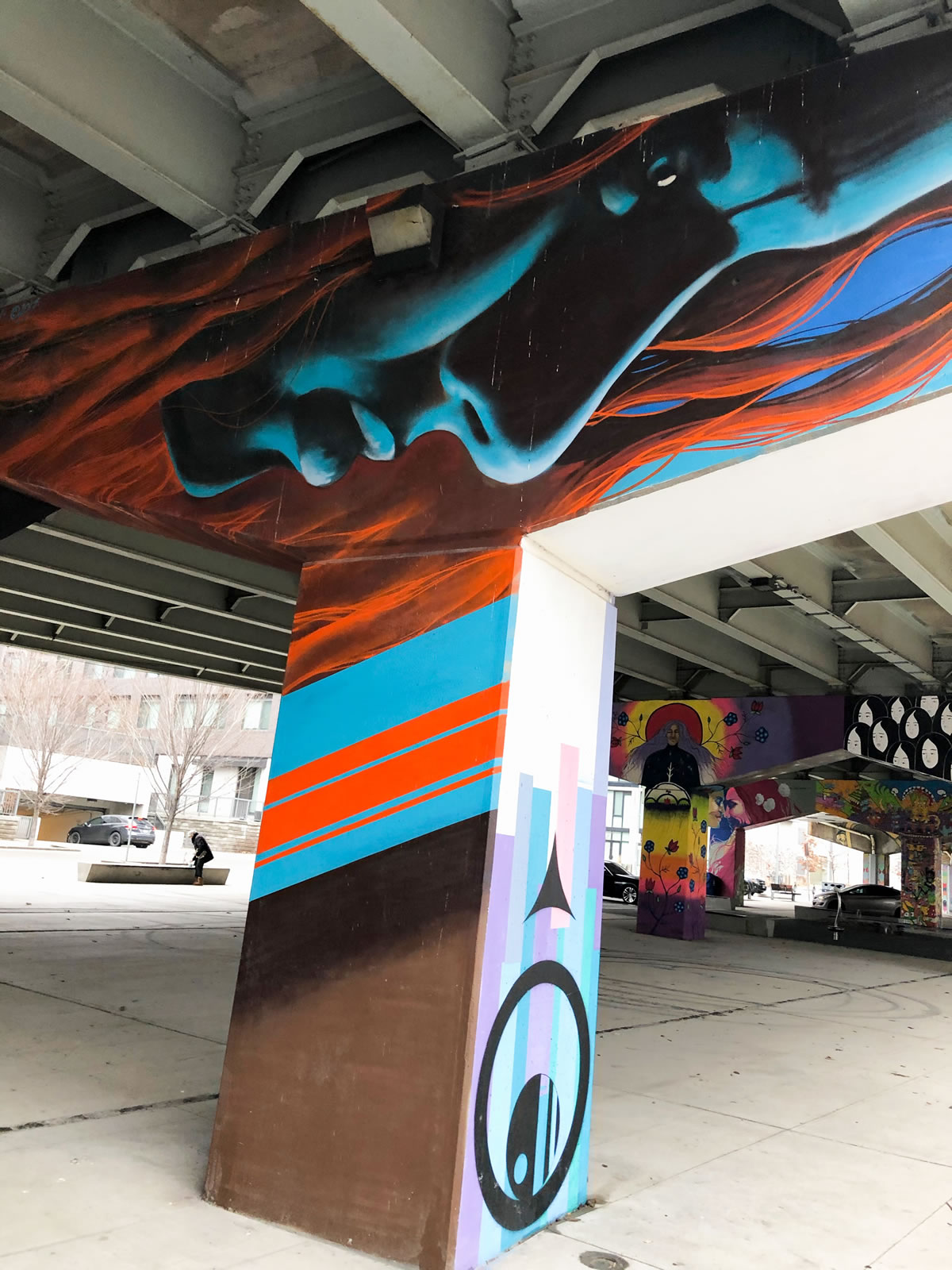 Another incredible artist with lots of talent along with experience is Omen514. He did the Sick Kids hospital campaign a few years back.
From his website:
I am canadian artist who succeeds at making a living using my skill of painting large hyper-realistic murals.

I believe in enhancing people's daily interaction with their environment by contributing to public art for them to enjoy, breaking up the mundane. Some of my art has depth and weight in the image while some are just purely visual pleasure. Most have both and that is the key to making good art.

Omen514
Elliott Elicser Street Art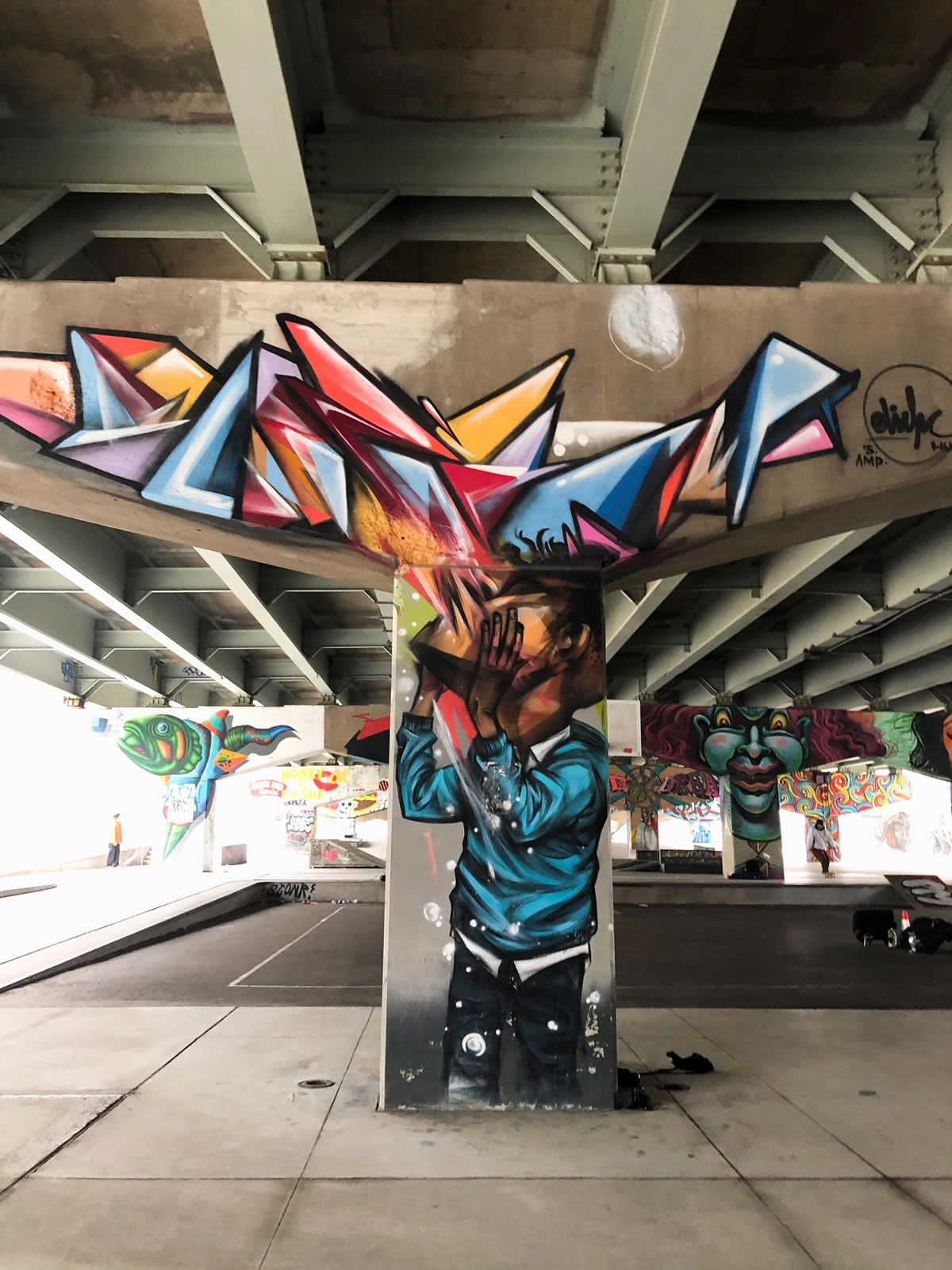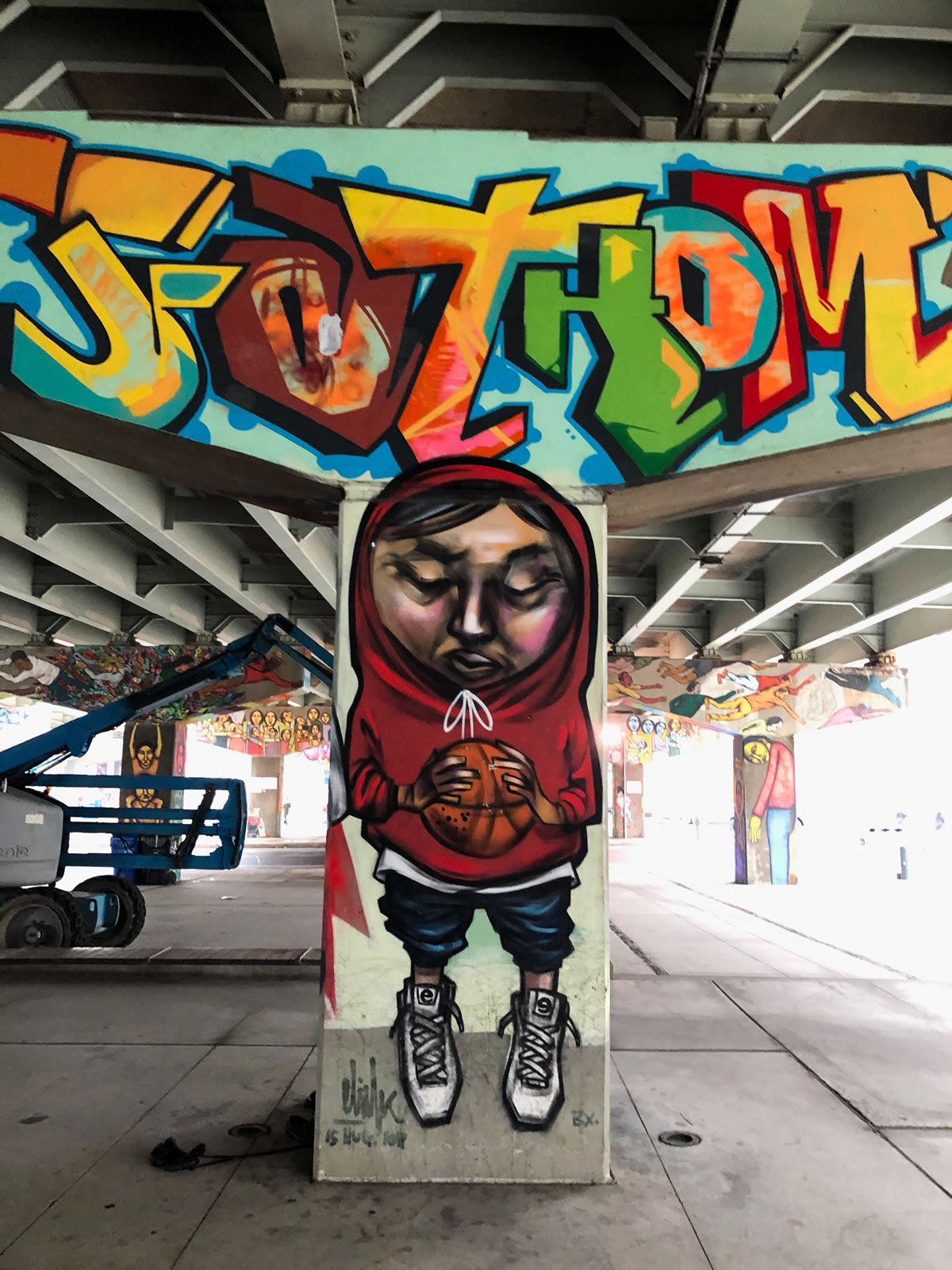 Finally, another artist with lots of talent and experience is Elliott Elicser. This was a collab with FATHOM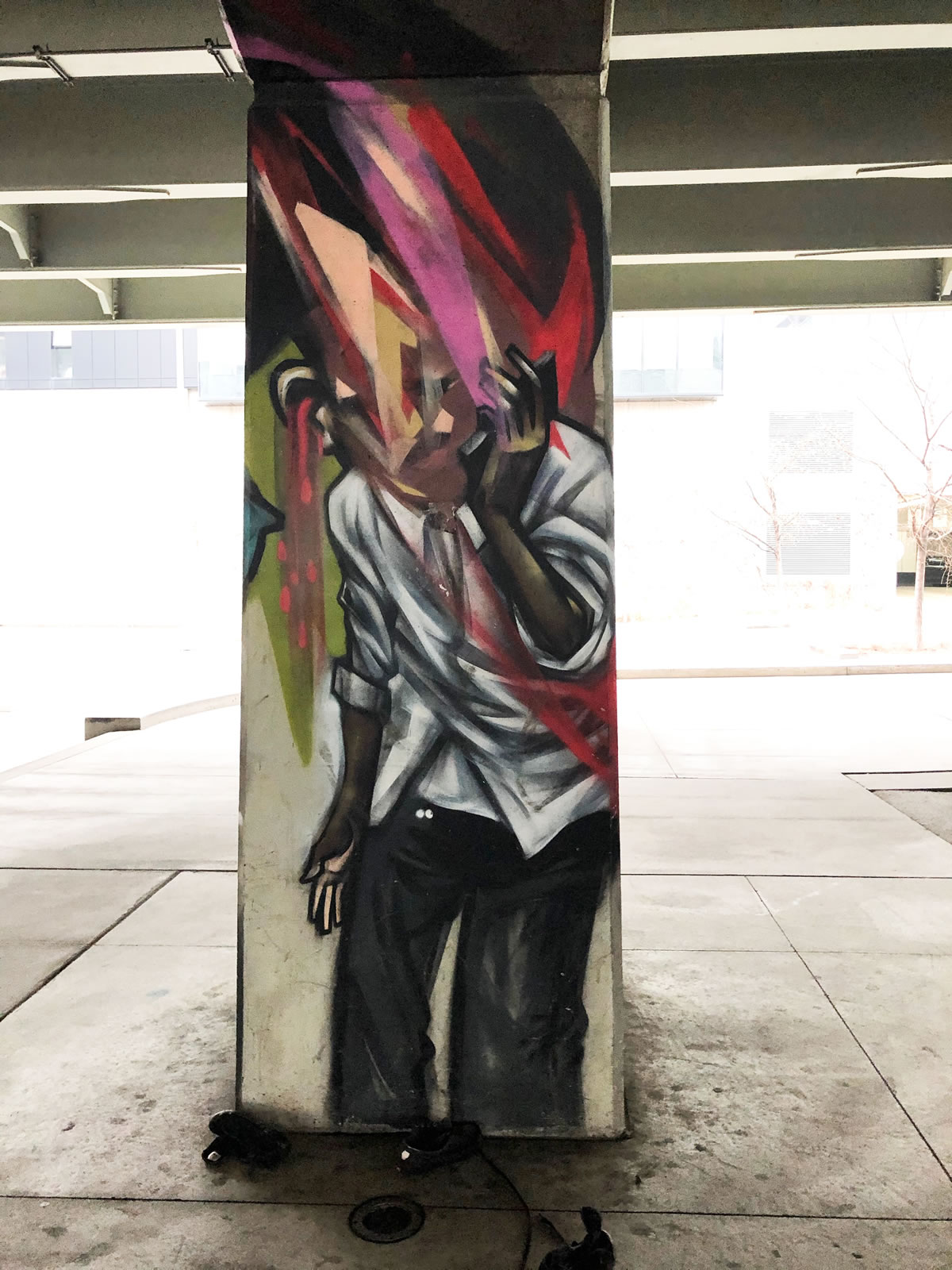 I didn't photograph all of the sides of the pillars. Some of the sides had artwork on them.. and others did not.
I will definitely be going back this way soon.. so I will grab some more photos!
Again ! Happy New Year !