Urban Exploration Street Art
Some recent street art finds from this past weekend ! I'm including a sculpture because … well. ..it was on the street !
Birdo Wall Mural
I got to see the new Birdo mural up at St. Clair subway station this weekend. He did this with Jeff Blackburn. It's off of Yonge St so you have to go to the east side right by the McDonalds. It's really amazing to see in person.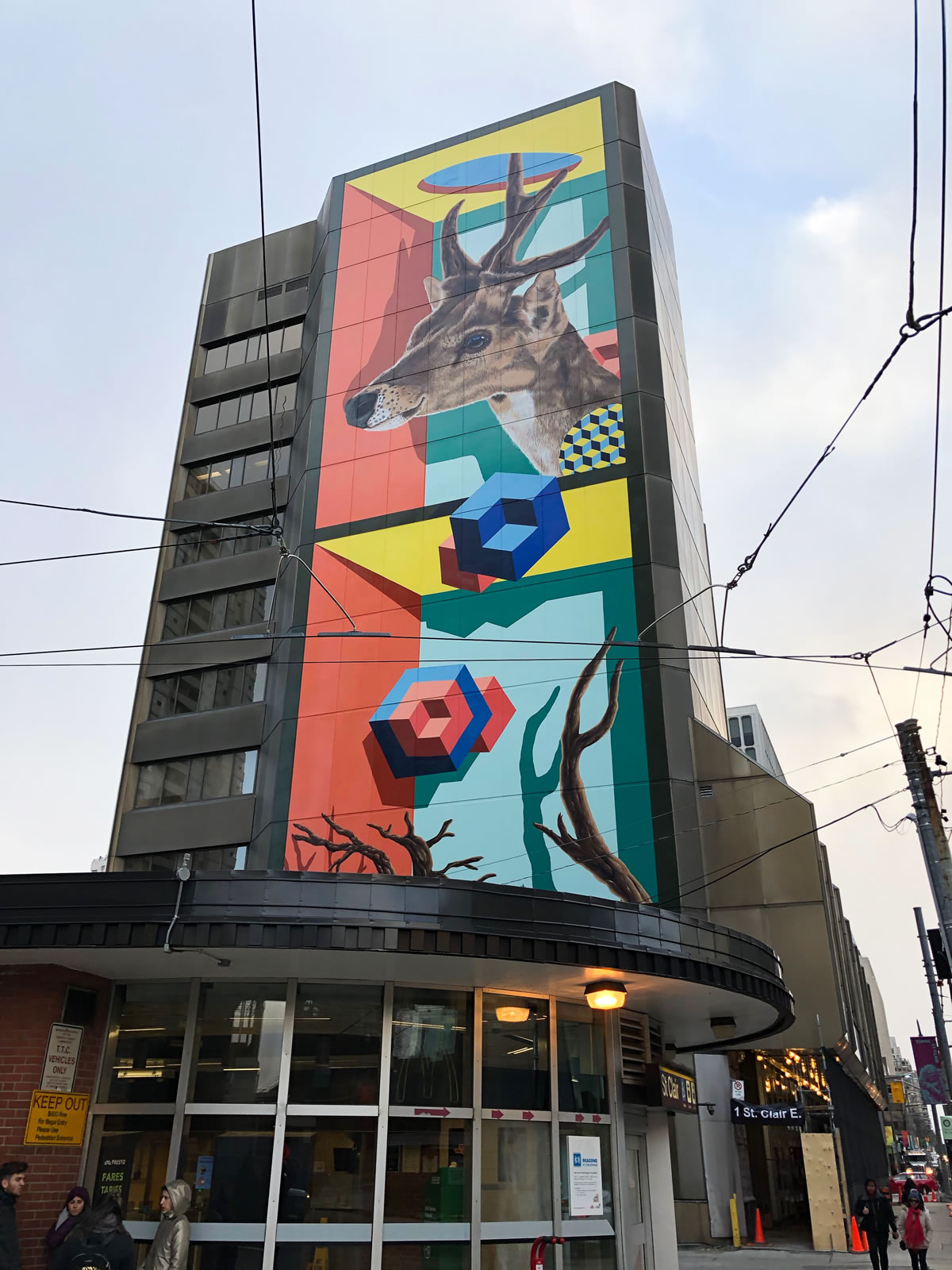 There's been a zillion articles about his mural already.. I found this blurb from Toronto Life:
His Deer Park piece—created alongside comic book wizard Jeff Blackburn—is his biggest piece to date. "I've always wanted to paint something to this scale, especially in my home base," he says. "I only want to go bigger from here. Hell, if I could paint something on the moon that you could see from earth, I would." Here, Rugg gives us a bird's-eye view of the sprawling mural.

Toronto Life
Toronto Graffiti Street Art Found Here:
Phlegm Wall Mural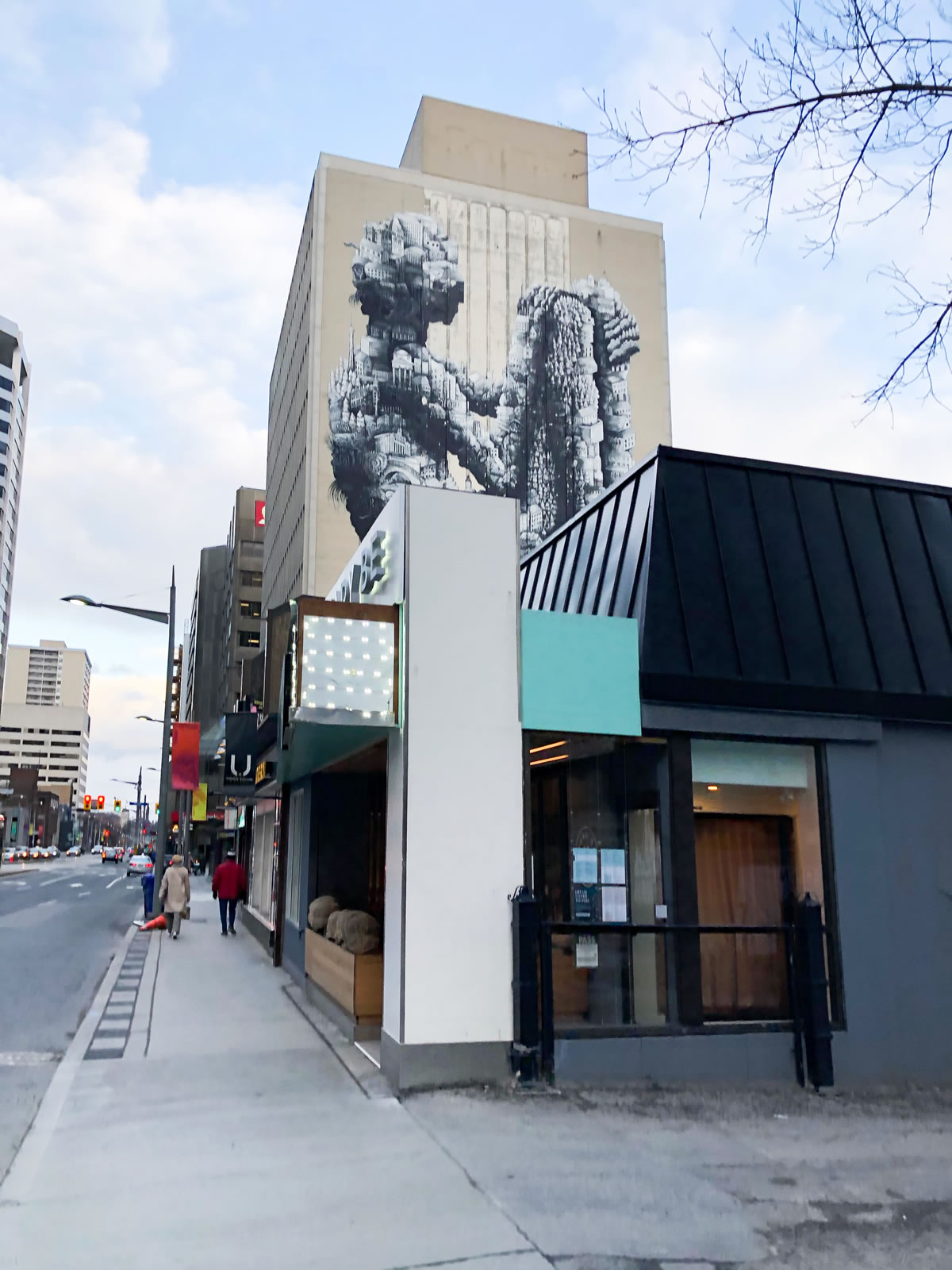 On the same side of the street is this Phlegm mural that was done back in 2016. It's on the other side of Yonge in case you go looking for it. The mural is hard to capture from streetview.
Phlegm is a Welsh-born Sheffield-based muralist and artist who first developed his illustrations in self-published comics.[2] The name 'Phlegm' came from one of the four temperaments in ancient Greek medicine; blood, yellow bile, black bile, and phlegm. Phlegm was believed to be responsible for an apathetic and unemotional temperament.[3]

Wiki
Toronto Graffiti Street Art Found Here:
Stephan Balkenhol Sculpture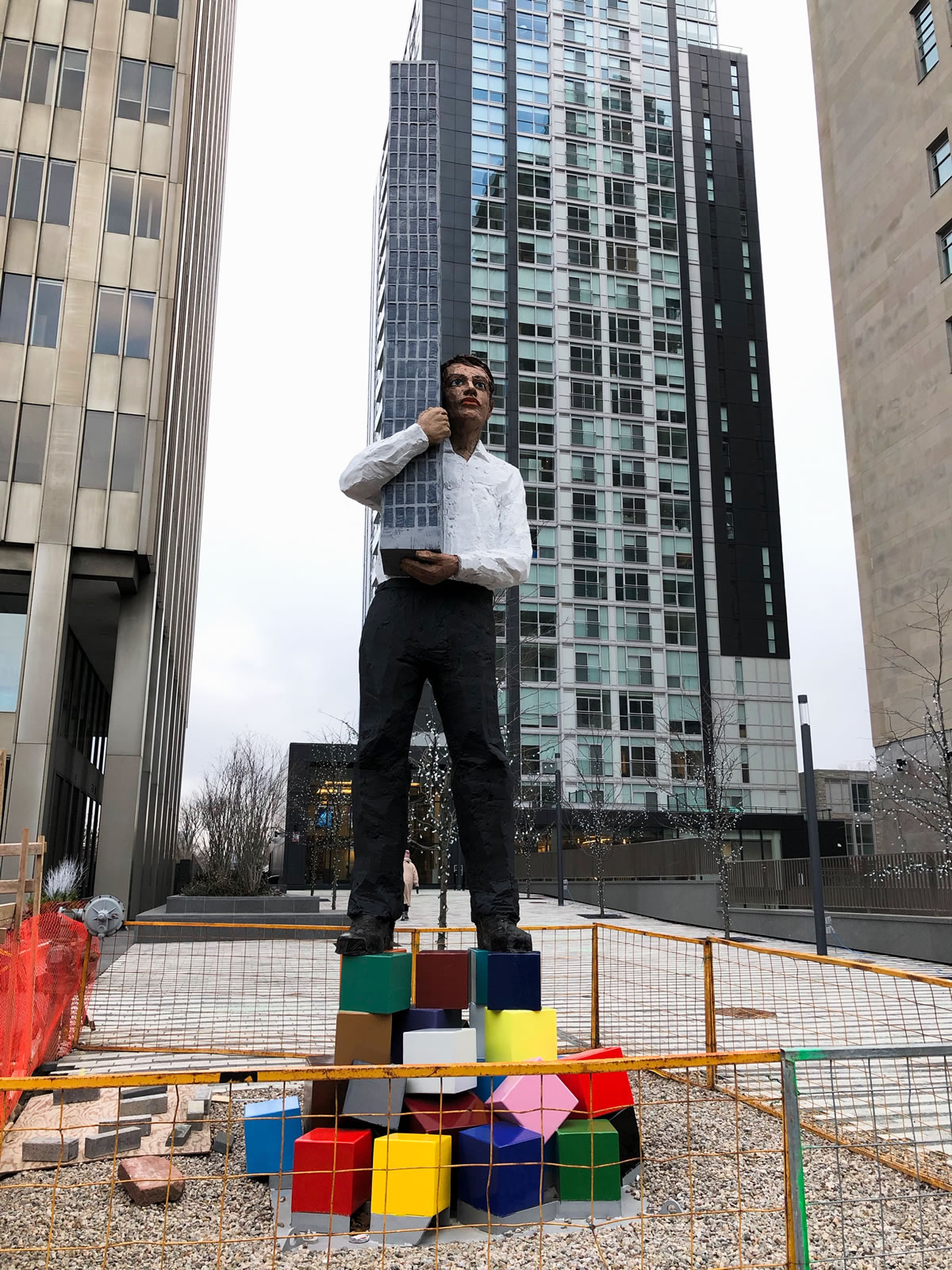 I don't generally post sculptures but again this in on the same side of St Clair as the Phlegm and the Birdo murals.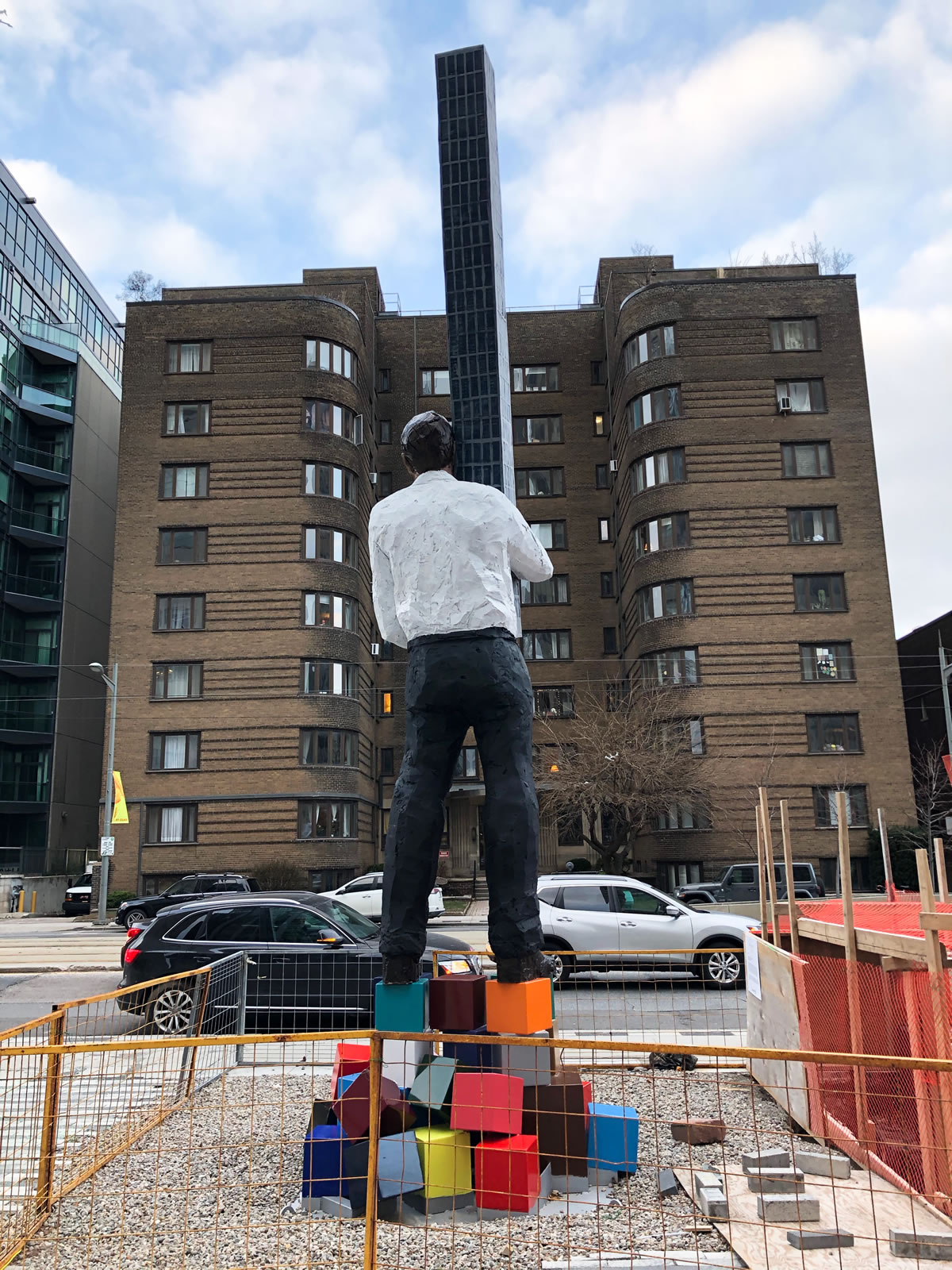 From the placard: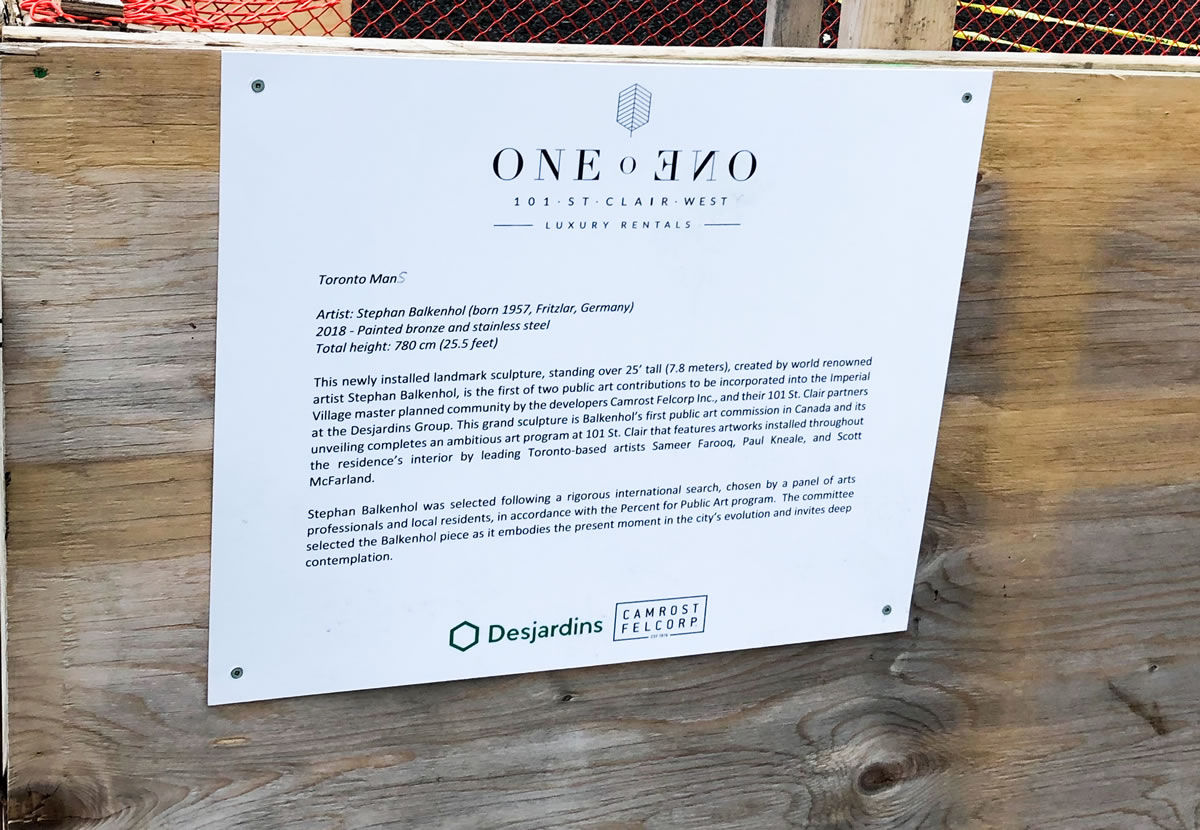 2018 – Painted bronze and stainless steel
Total height: 780 cm (25.5 feet)

This newly installed landmark sculpture, standing over 25′ tall (7.8 meters), created by world renowned artist Stephan Balkenhol, is the first of two public art contributions to be incorporated into the Imperial Village master planned community by the developers Camrost Felcorp Inc., and their 101 St. Clair partners at the Desjardins Group. This grand sculpture is Balkenhol's first public art commission in Canada and its unveiling completes an ambitious art program at 101 St. Clair that features artworks installed throughout the residences's interior by leading Toronto-based artists Sameer Farooq, Paul Kneale, and Scott McFarland.

Stephan Balkenhol was selected following a rigorous international search, chosen by a panel of arts professionals and local residents, in accordance with the Percent for Public Art Program. The committee selected the Balkenhol piece as it embodies the present moment in the city's evolution and invites deep contemplation.

One O One
It's fitting that it's under construction .. much like the city of Toronto.
Toronto Graffiti Street Art Found Here:
Hello Kirsten Traffic Signal Box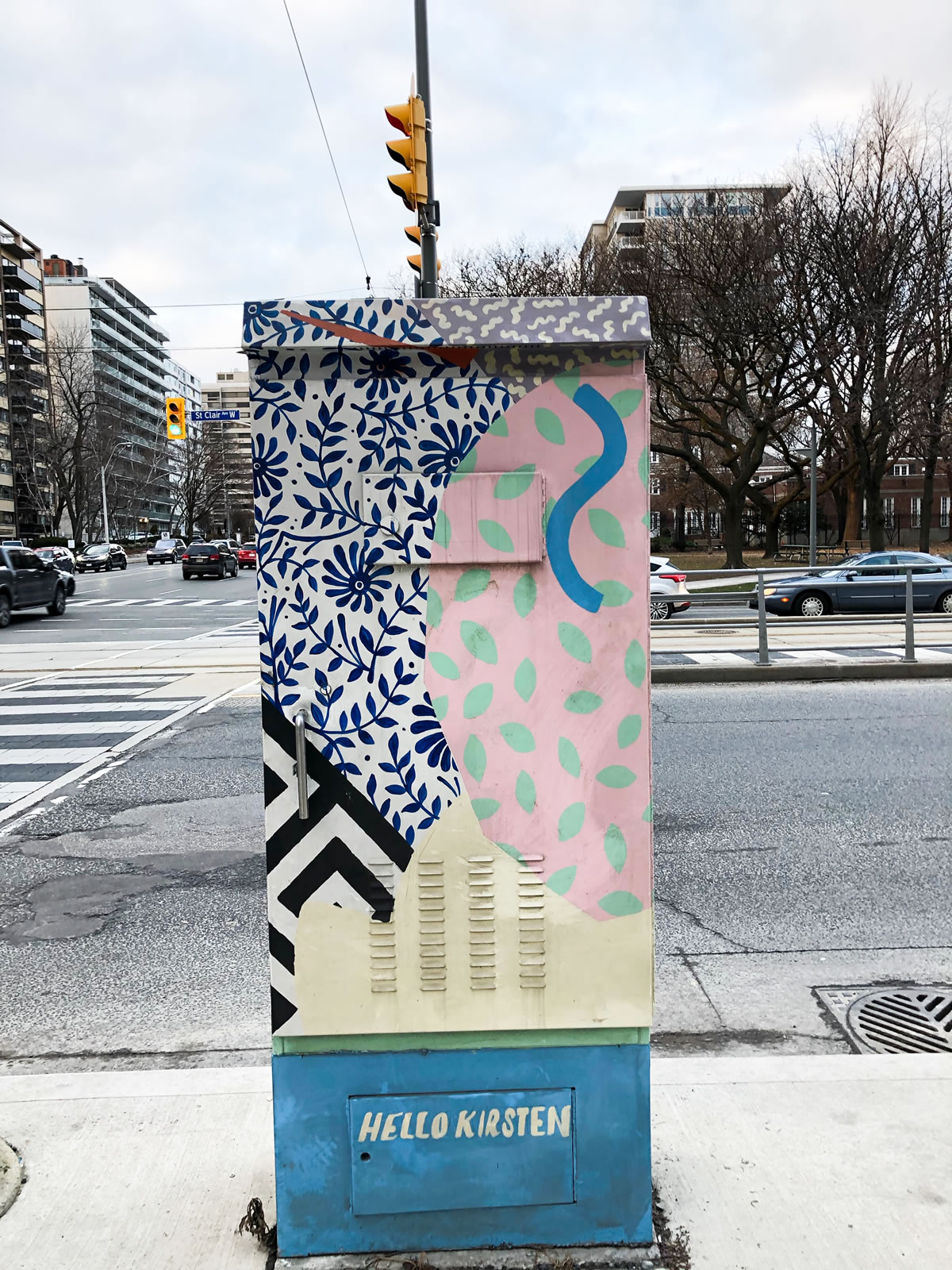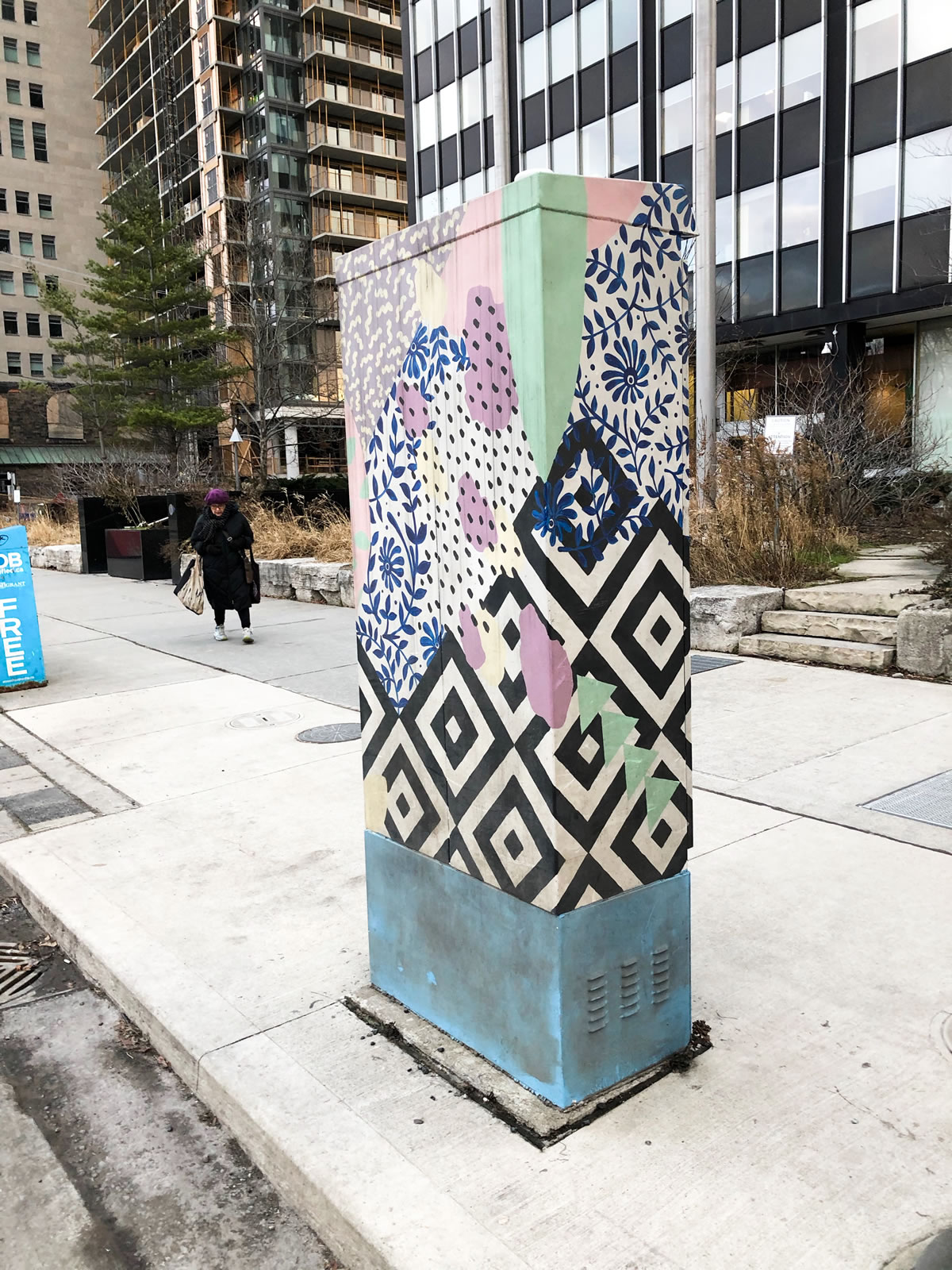 A traffic signal box by Kirsten McCrea is right by the sculpture and yes it's on the same side of the street. This part of St. Clair is lucky to have all this cool art so close by.
Toronto Graffiti Street Art Found Here:
Jeff Blackburn Traffic Signal Box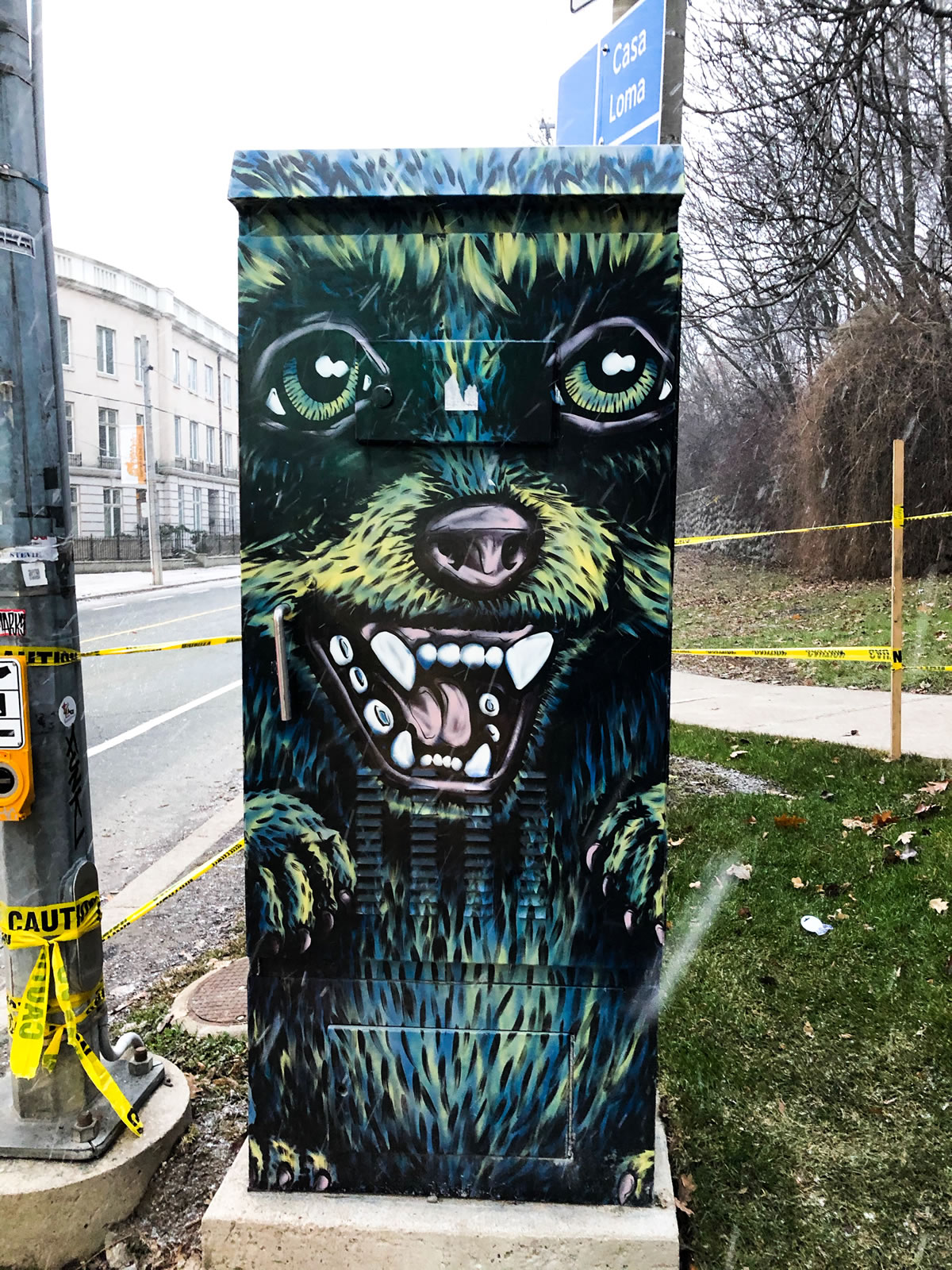 Another raccoon by Jeff Blackburn. This one is at the bottom of the stairs when you climb down from Casa Loma. I think Jeff said there are 8 of these in total and they are scattered all over Toronto.
Toronto Graffiti Street Art Found Here:
Timmy Drift Mural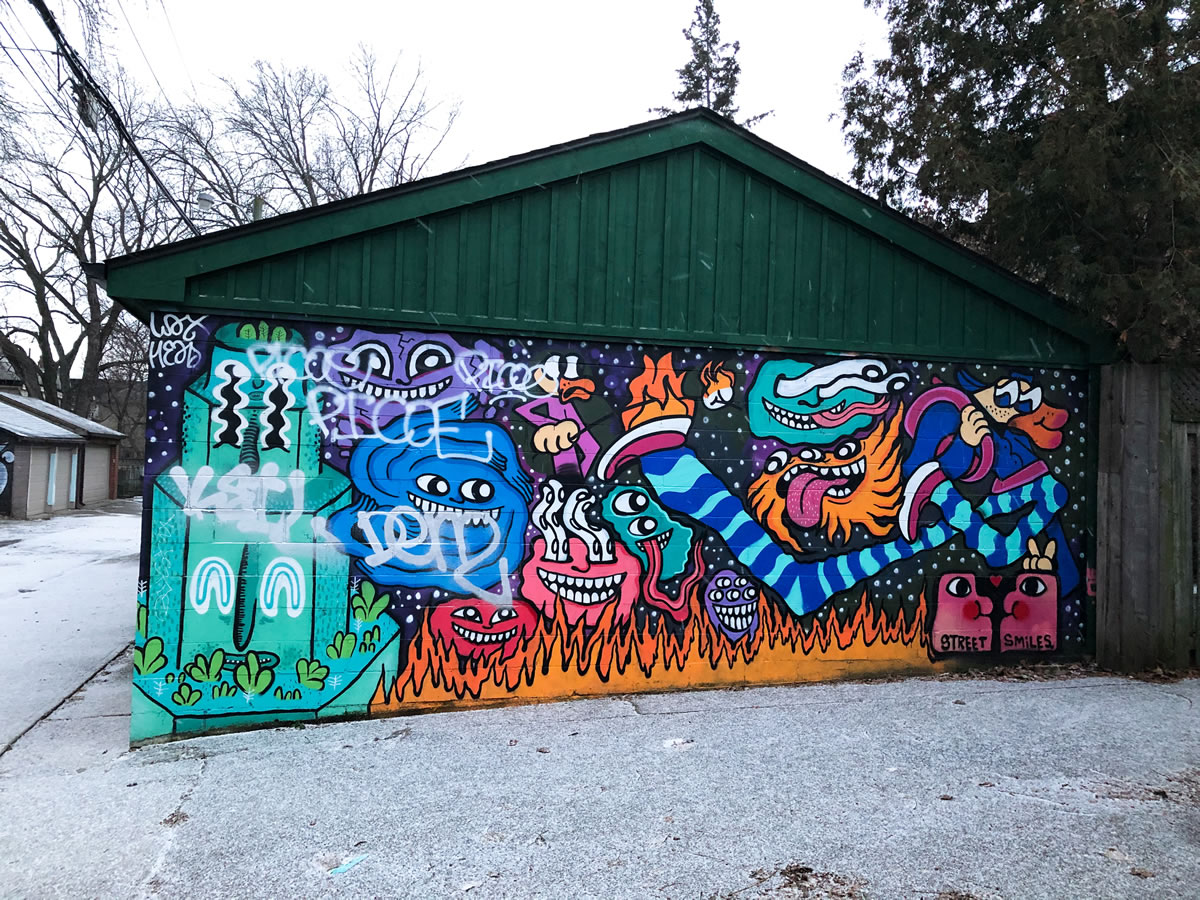 This mural by Timmy Drift replaces another that he did in the same spot. Unfortunately, it looks like its been tagged (like the previous mural).
On Instagram Timmy says he did this with WaxHead and Trip2thetop
Alex Bacon Mural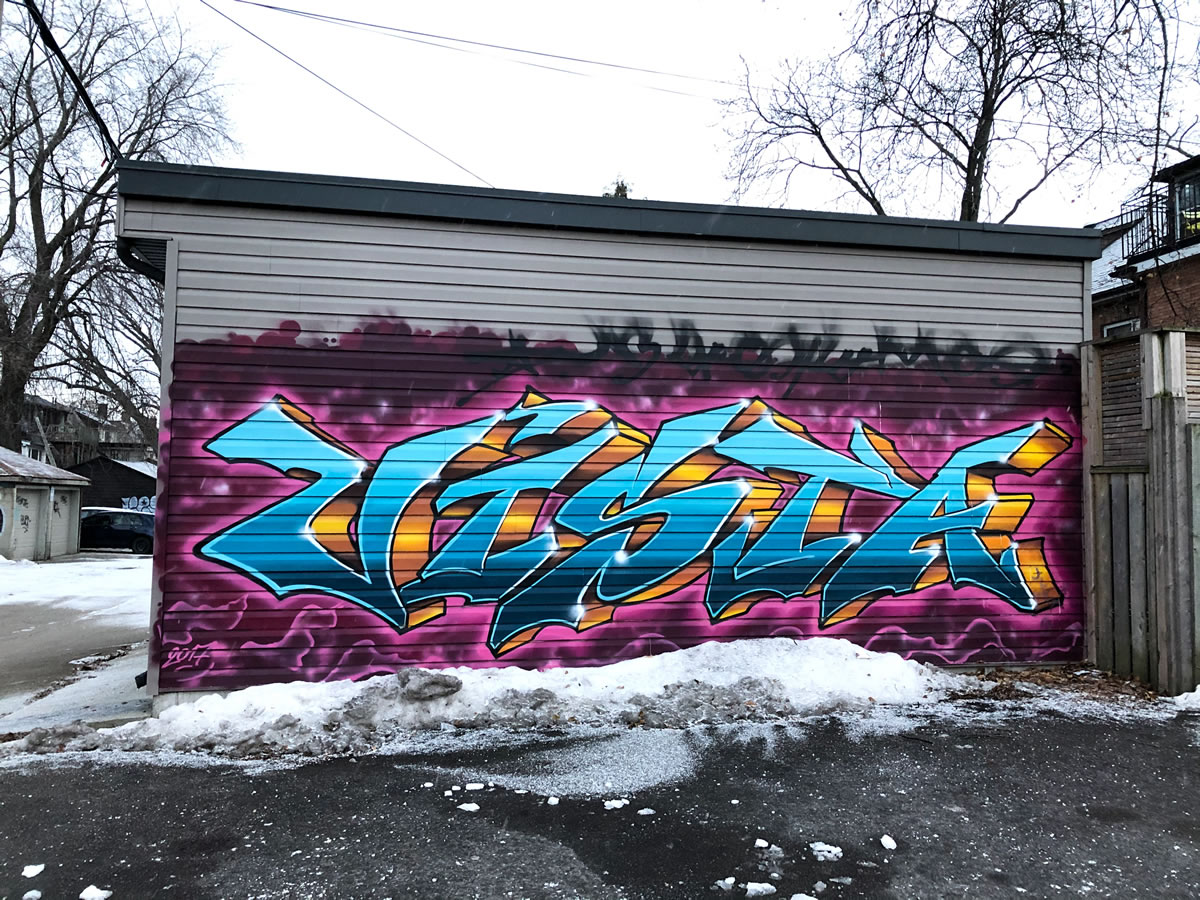 Didn't even realize this was by Alex Bacon.. says 2017 on it. He's a super busy guy !
Toronto Graffiti Street Art Found Here:
Old School Hues Garage Door Mural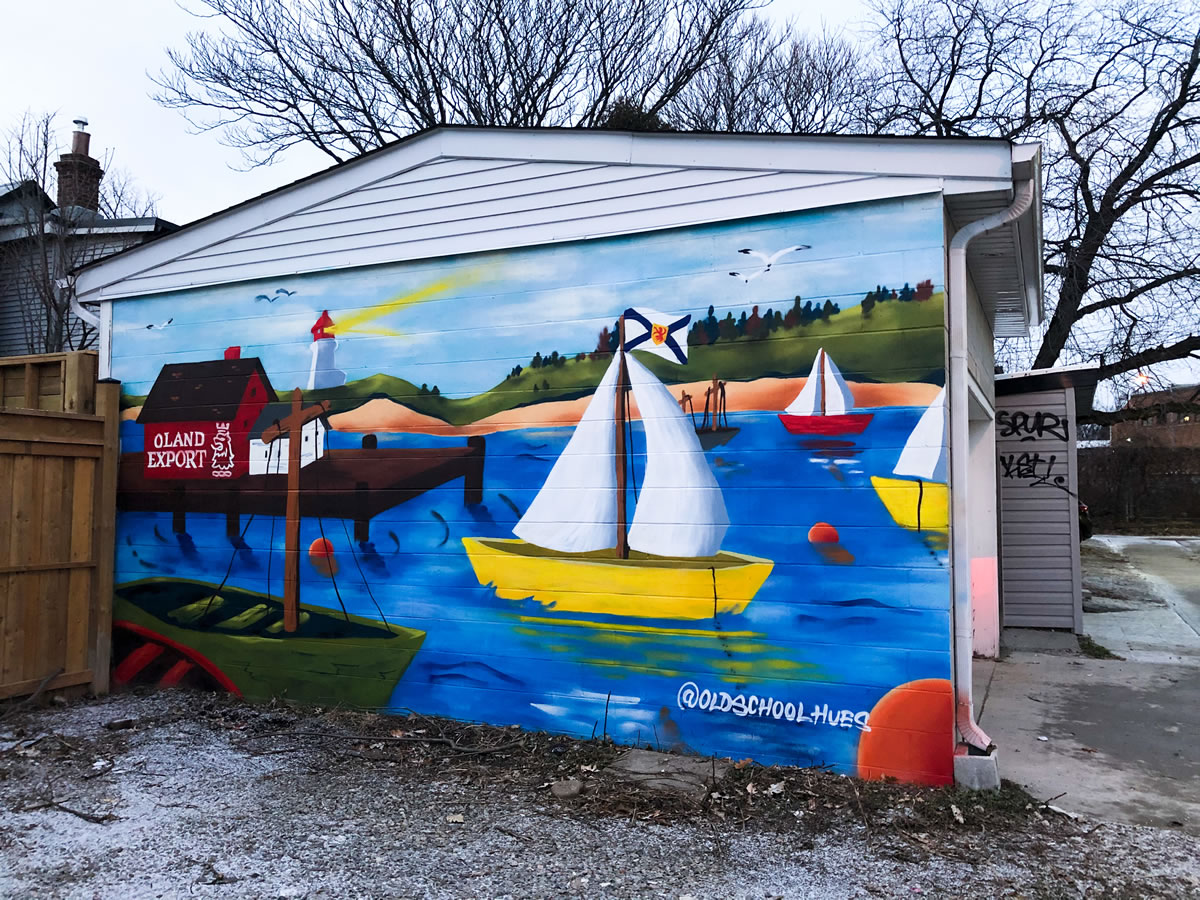 I spotted his mural by Old School Hues and had to get a closer look. It's pretty awesome. It looks like a scene from Nova Scotia as that is the provincial flag.
Toronto Graffiti Street Art Found Here: